Anyone who knows anything about the '90s Lawrence, Kansas, music scene knows that their meeting was anything but coincidental. Both Gardner and Hammel were in a number of bands while they attended the University of Kansas -- Gardner pursuing a career in teaching while Hammel's focus was cancer research. With their separate bands crisscrossing the insular scene, it was only a matter of time before the two met, formed Mates of State, and then blew out of Lawrence for greener musical pastures.
"Lawrence was great because there were so many good musicians there. I guess growing up in the Midwest, there's not a lot else to do but play music," said Gardner, who's originally from Connecticut. "But it was also limiting to us because there were so many bands around, doing the same thing. Things were repeating themselves so much, and people were coming out to shows less and less. We left in '98 but were ready to go in '97."
Gardner said she and Hammel weren't sure that Lawrence was quite ready for a keyboard-and-drum-based indie rock duo, anyway. But one listen to Mates of State's debut full-length, 2000's My Solo Project, and the just-released Our Constant Concern on Polyvinyl Records, and you realize the project is more than just a hip version of Saturday Night Live's Marty Culp and wife Bobbi.
Gardner's keyboards run the spectrum from quiet, lilting chimes to circus-like shrills. Hammel's drums are syncopated rock bombasts. But the real fireworks come from the couple's tightly interwoven harmonies and melody/countermelody interplay that have the charm of best friends arguing over an order of Biggie Fries only to agree that, yes, they really do love each other. Cute, but with a decisive edge.
Part of the charm comes from not quite knowing where the music is headed. Though the melodies can be slightly reminiscent of stuff by Suddenly, Tammy! or Tsunami, the intricate compositions, which abruptly jump from one melody and time sequence to another without warning, have a definite prog/art rock feel to them, as if the couple's songs naturally progress out of assorted keyboard riffs.
"That's a pretty accurate description, actually," Gardner says. "We usually work off an organ part, and the words come last. To quote Jason, it's a piecemeal approach. We'll stay in one part, but then add other strange parts together. We keep adding and adding until we think it's done. We never write with structure in mind."
It's that spontaneity, Gardner says, that ultimately drives their music. "We both love to sing and harmonize, that's always a part of it," she said. "But we don't want to get bored with what we're playing. When we listen to songs, it's the bands that have surprises in their music that we love. I like the idea of strange, unexpected change."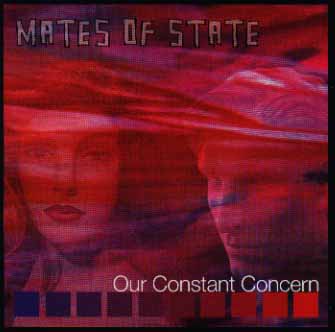 ---
| | | |
| --- | --- | --- |
| | "The fact that we met is a coincidence, because we would be doing music even if we had never met." | |
---