Milemarker

Frigid Forms Sell

Jade Tree

Originally released on D.C.-based Lovitt Records way back in 2000, this rerelease on Jade Tree blows away last year's Anaesthesia, thanks to a looser, jammier dance vibe. When the synths are at full effect, Milemarker is modernized synth-pop cross-pollinated seamlessly with angular post-modern guitars, resulting in new-art-prog by proxy. What the hell does that mean? The whole thing feels like the soundtrack to a horror film on the Sci-Fi Channel; the kind of music that would be playing in a bar in Blade Runner.

We're talking tear-your-head-off, D.C.-style angle-punk fused with futuristic synth noises and sneering vocals -- what would happen if you cross-bred The Faint with At the Drive In. "Cryogenic Sleep" is a laid-back indie stroller that changes gears, carving itself to pieces with bandsaw guitar, before dropping back into a robotic synth thing. On the trip-hoppin' "Industry for the Blind," synth/vocalist Roby Husick sounds like a strung-out Gwen Stefani, glowering over a synthesized haunted-house choir. The track ends with other-vocalist Dave Laney screaming PiL-style. Couldn't tell you what those two are singing about, though I imagine it's something either sexy or futuristic, judging by the bits and starts of lyrics: "Turn on the microwave and defrost the world." (Sex Jam One: Sexual Machinery) or "She looked at me / With the biggest brown eyes / And screamed at me / Would you like to fuck?" (Sex Jam Two: Insect Incest).

Despite being all over the place, the Frigid Forms Sell is surprisingly thematic and, ultimately, danceable. What brings all the chaos together is Sean Husick's incredibly precise, powerful drumming. The sound coming from his set consistently propels every track with a sense of urgency, unsettling almost on the verge of panic.
---
back to

Posted Jan. 21, 2002. Copyright © 2002 Tim McMahan. All rights reserved.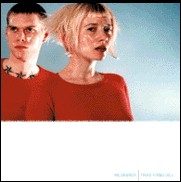 | | |
| --- | --- |
| | Rating: Yes |
| | Obligatory pull-quote: "We're talking tear-your-head-off, D.C.-style angle-punk fused with futuristic synth noises and sneering vocals -- what would happen if you cross-bred The Faint with At the Drive In" |