The Mother Hips

Green Hills of Earth

Future Farmer Recordings

At first glance, this full-length by the Bay Area four-piece is pure hippy stuff, right down to the title. Further listenings place it in that same hippycore category as other pseudo retro jam outfits like Apples in Stereo or Gomez, though generally more subtle and easy-going.

They say they were inspired by the Bee Gees and Kinks, whereas all I hear is The Beatles, Cat Stevens and Dave Clark Five, three bands that did it for the melody, harmonies and psychedelic love, baby. But when the Hips add modern touches, like the bouncy grunge bass and falsetto vocals on the funky "Channel Island Girl," they more closely resemble Teenage Fanclub.

Okay, so there are the comparisons. More often than not, especially when they're playing low and serious, the sound is pure piano-driven heaven. The lush lament "Sara Bellum" adds gorgeous strings to the layered vocal harmonies (this technique can go too far -- "Emotional Gold," with its 10,000-strings echo effects, stirs images of nurse Ratchet handing out medication to the cuckoos).

They're the most endearing when they're goofing off -- creating perfect music for a hash-laced, bell-bottoms-wearing day in the park. "Such a Thing," with its groovy sitar and chunky fuzz guitar screams VW microbus. "Singing Seems to Ease Me" closes with the boys doing their best sheep impersonations. Sometimes it's so retro it verges on parody. "Rich Little Girl," and its side-burn wearing line "I can't see with my head on fire, walking around like I'm some kind of woman," could have been lifted off one of the last good Three Dog Night/Grand Funk Railroad/Rare Earth sessions. Meanwhile, tour diary "Smoke" owes a nod to Robbie and The Band and maybe even Jerry G.

None of this matters, of course, because when you get down to it, all you'll remember is the catchy hooks, the harmonies and the ah-ah-ahs. Out next month, just in time for a summer of love.
---
back to

Posted Feb. 28, 2001. Copyright © 2001 Tim McMahan. All rights reserved.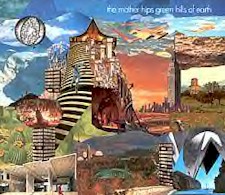 | | |
| --- | --- |
| | Rating: Yes |
| | Obligatory pull-quote: "They're the most endearing when they're goofing off -- creating perfect music for a hash-laced, bell-bottoms-wearing day in the park." |