Sorry About Dresden

The Convenience of Indecision

Saddle Creek Records

My fear is that amid the new-hype crush of revivalist NYC Velvet tribute bands and the ongoing folk-rock slowcore undertow that this will be overlooked or discarded as just another indie band's stab at thoughtful big-guitar rock and roll. But whereas the Strokes do only a passable job stealing from Lou Reed and company (among others), SAD succeeds in marrying their nods to Elvis C. and Graham P. with the best shrugs of '90s-era indie slacker rock (who remembers Soul Asylum, Sugar and Superchunk?).

These days it's hard to find a melody in any indie song that you'd want to sing along to. There are at least six here at last count, with the very best falling into the anthem category. "I want to go back to sleep tonight / I'll never go back to sleep tonight" (One Version of Events); "I know where my sympathies lie / I know where my sympathy lies" (A Brilliant Ally); "What's the worst part? / In your eyes / In your eyes" (Deadship, Darkship). You'll be barking along with Matt Oberst and company after the first few spins, I guarantee it.

If Oberst does a passable Costello/Parker croon, he more than passes the songwriting audition; producing a better album than either of those two have in 10 years. Maybe S.A.D. isn't the latest cool thing, but this is consistently the first (and among the only) CD I reach for when I just want to enjoy myself.
---
back to

Posted Dec. 11, 2001. Copyright © 2001 Tim McMahan. All rights reserved.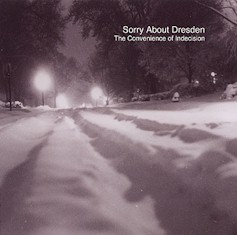 | | |
| --- | --- |
| | Rating: Yes |
| | Obligatory pull-quote: "Maybe S.A.D. isn't the latest cool thing, but this is consistently the first (and among the only) CD I reach for when I just want to enjoy myself." |