Starlight Mints

The Dream that Stuff Was Made of

SeeThru Recordings

Most Pixies-influenced outfits only get the fast/slow/fast routine down pat and completely overlook that band's real charm -- their inventive quirkiness. The sizzle wasn't in the pop-funlove of "Here Comes Your Man," it was in the '50s-schlock horror weirdness of "Debaser" and "Tame." That said, Starlight Mints gets it and gets it good. They've managed to apply the Pixies spirit to their own unique, violin-driven sound. Allan Vest's vocals have that slacker-freakshow quality and just the right amount of Black Francis snarl, while Marian Love Nunez adds the needed Kim Deal-shriek accompaniment. Most tracks open with baroque cello or violin before exploding into some big choppin' guitars and slab o' drums. They're slaves to the hooks, however, and that's a good thing. Standouts: the wee opener "Submarine #3," the whistle-accompanied "The Bandit," and the pouty, violin-intro-ed "Air Prize." Addictive and cool.
---
back to

Published in The Omaha Weekly Aug. 24, 2000. Copyright © 2000 Tim McMahan. All rights reserved.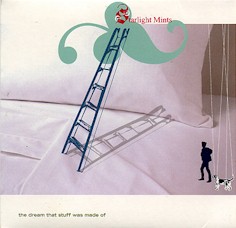 Rating: Yes