I didn't stop there. I told them about the vote. "You guys had to be 'approved' by the powers at the label -- the Conor Obersts, the Tim Kashers -- all had to give you the nod," I said, my voice rising to a painful howl. "And only then -- only after the vote -- did you get invited to join the family."



Stephens and Vogel sounded startled (or maybe just annoyed). "So, do you think that we're worthy?" Stephens asked. "I guess it's kind of an honor."


Stephens said that he and Vogel already knew about the label before hanging out with Nansel in Austin a few weeks after their Sokol gig. "It was pretty comfortable," he said. "Robb wasn't trying to impress us by buying us a lot of drinks like most of the industry folks do. He just seemed like someone who enjoyed music. There wasn't any pretending going on."



Shortly thereafter, the deal was done. I don't know all the details. Nansel said that there was, in fact, a vote held. Would Creek be signing more "strangers" (my term, not his) to the label? "Yeah, but we don't have an active A&R department, so I don't know how active we'll be," Nansel said.



Two Gallants' music is a departure from Creek's usual singer/songwriter or angular punk or electro-dance style. Or maybe not. Come to think of it, Creek bands don't really have a specific "style." If anything, it's the songwriters' personal, diary-esque lyrics and their non-commercial approach that ties everyone together.

"The one way we do fit in is that most of the bands are different," Stephens said about Saddle Creek. "We don't sound like anyone else, and I think that's what's interesting about the label. They're not getting stuck inside a specific genre. I think that a lot of bands on Saddle Creek are going in a different direction than what's typically considered indie."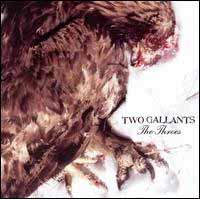 ---

"In terms of the evolution of the blues, I think of B.B. King as someone who has no connection with where it came from."

---