And sort of like Bright Eyes, Warren has used a cast of friends to help him make his music, a cast that has changed with each project. The band that played on American Art, Weatherbox's 2007 full-length debut released on Doghouse Records, disappeared before Warren recorded the follow-up LP, The Cosmic Drama, released just last fall.

"The touring band has always been changing," he said. "Cosmic Drama was weird because in the time after we toured in '07 and '08, that band left and we did the record in a bizarre way with me getting together with (drummer) Marc (Deriso) and hammering everything out quickly. The songs had never been played live when we recorded them. It was an experimental project, rather than a rock record like American Art and what we're doing now."

Though the album feels homemade and off-the-cuff, The Cosmic Drama captures Warren in the midst of the creative process, emoting personal confessions that start small and rocket forward powered by a quick, crisp backbeat.

"It was rewarding doing (Cosmic Drama) all myself," he said, "but it also was extremely stressful because there wasn't a lot of money or time, and I was recording with a friend, which put more strain on everything. It was not the ideal recording situation."

So despite the fact that the tour that brings Warren to Omaha Saturday is supposed to be supporting The Cosmic Drama, the real focus is on music he's making with Hedges and the rest of his new band, which is rounded out by drummer Drew Bent and Andrew Lucia. The new Weatherbox already has recorded a two-song single that Warren says is "the favorite recording I've ever done."

Recorded by veteran San Diego producer Ben Moore (Rocket From The Crypt, Hot Snakes, The Night Marchers, The Soft Pack), the two-song single titled Christpuncher features "The Bullets" b/w "Broken Glowsticks," an angular punk anthem with a stuttering, brazen rock sound reminiscent of yet another Saddle Creek band that Warren admits Weatherbox has been compared to in the past: Criteria.

Don't look for copies of Christpuncher on Weatherbox's merch table, however. The song currently is only available digitally, and Warren isn't sure there will ever be a physical version available. "We might do it ourselves," he said. "We're just figuring it out."

They're also "figuring out" their next full-length recording, despite the fact that The Cosmic Drama was released only last fall. "We're already working on new songs and have a clear vision of what we want to do for the next record," Warren said. "We might as well get started.

"Cosmic Drama was just a bunch of songs that I wanted to get out of the way. I'm more excited about the new stuff and working with Landon and the rest of the band rather than having total control of everything. I don't want to control Weatherbox anymore."
---
Back to

Published in The Omaha Reader Feb. 10, 2010 Copyright © 2010 Tim McMahan. All rights reserved.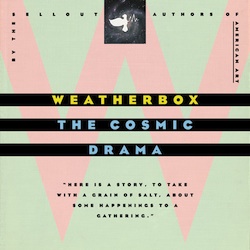 ---

"

We're already working on new songs and have a clear vision of what we want to do for the next record. We might as well get started.

"

---