Rachel Yamagata


Happenstance

RCA

There's no denying Yamagata's influences, and no, they're not just Carole King and Roberta Flack. "Letter Read" and "Under My Skin" sound dead-on like they were lifted directly from an early Fiona Apple CD, complete with the tangle-finger piano-chords-to-minor arrangements. Or, to say the least, the exact same slurry, cooing vocal style. Yamagata should have left them off the CD, or considered putting them at the end because anyone who takes one listen to these tracks will scream "fake!" It's obvious to the point of robbery, and unfortunate when you consider that the rest of the album is much more genuine.

Yamagata likes her FM melodies big and souring (who doesn't when they're done this well?) and personifies them with the exactitude of someone who grew up listening to Southern California hits circa 1975. The upbeat numbers scream "adult contemporary" louder than anything by Grammy lover Norah Jones. And her slight blues cleverness out-trumps the static (and boring) Beth Orton. Her knack for finding interesting melodies within melodies makes her more interesting than Sarah McLachlan will ever be.

You could argue that this was produced as slickly as a car commercial, and you'd be right (and it's a credit to Yamagata that none of this stuff has been used to sell Chryslers), but isn't that the whole point to this sort of music, to at least try to create a perfect, cloud-free moment?

And that's exactly what Yamagata does, on tracks like "I'll Find a Way" that, when/if it ever gets discovered, will become the ultimate senior prom song.
---
back to

Posted May 7, 2005. Copyright © 2005 Tim McMahan. All rights reserved.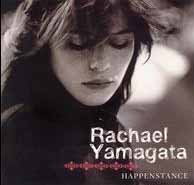 | | |
| --- | --- |
| | Rating: Yes |
| | Obligatory pull-quote: "Yamagata likes her FM melodies big and souring (who doesn't when they're done this well?) and personifies them with exactitude of someone who grew up listening to Southern California hits circa 1975." |
| | |