Hey, you gotta start somewhere. For Whipkey, it began as a solo artist back in '00 with the self-release of The Innocence EP. Shortly thereafter, he formed The Movies with drummer Doug Kabourek (Fizzle Like a Flood), guitarist Mike Friedman and bassist bassist Bob Carrig. The Movies released a collection of rootsy Stones-meets-Springsteen tunes called Anonymous American in early 2002. Whipkey liked the CD's name so much that he'd use it for his next band. He formed Anonymous American in late 2003, with Carrig still on bass but adding drummer Wayne Brekke (Five Story Fall) and guitarist Corey Weber (The Get).
Though still distinctly twangy, Anonymous American's debut, When the Drummer Counts to Four, took on more of an Americana bar-rock sheen, capturing the energy of the band's over-the-top live show highlighted by Whipkey's numerous drum drives.
Now with Lonely Town, Whipkey returns to his solo roots while moving the band even further toward a pure rock sound. How does he do both? The EP features three Anonymous American tracks followed by three Whipkey solo efforts. In fact, it's billed as "Anonymous American / Matt Whipkey."
Touring schedules drove Whipkey and the band to take the unorthodox approach. "We didn't plan it this way," Whipkey said. "We figured we might as well put out a split because I'll be doing a lot more out-of-town solo stuff. Touring solo as Anonymous American just didn't seem right."
Though purposely disjointed, the EP holds together remarkably well. The title track and "Must Have Been You" are electric-guitar fueled bar rockers proudly bearing their Rolling Stones influence. CD centerpiece "Happy Endings," with its monster riffs, Skynrd-style guitar solos and holler-chorus, is easily the best rock song Whipkey and Co. have ever recorded. What better way to follow the bombast than with one of Whipkey's gentle heartbreak ballads? "How Was She Sleeping (Tell Me Sir)" and "Somebody Call a Cab" are solo only in intent. A handful of backing players join Whipkey, including old pal Friedman, and local legends Sarah Benck and Korey Anderson. You'll likely hear CD closer "Darkness Passes" as part of this year's local United Way campaign. The enhanced CD even includes the Bozell-produced United Way video for "Darkness Passes," which features Whipkey and pianist J. Scott Gaeta.
Whipkey says one of his first goals will be to pay back the $1,500 he put on his credit card to pay for Lonely Town. He should get a good jump on it thanks to the 20 or so out-of-town gigs he's scheduled in August and September, including shows in Denver, Chicago, Marysville and Milwaukee.
---
Back to

Published in The Omaha Reader Sept. 7, 2005. Copyright © 2005 Tim McMahan. All rights reserved.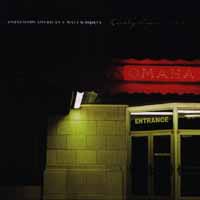 ---

"I've been doing this since the late '90s. Playing out of town is the only way you're going to make anything of yourself, which is silly because most of the time you're only playing for five people."

---