That was years before Heather first picked up a drumstick, before she and her brother and a couple friends got together on a Superbowl Sunday (Superbowl XXXVI to be exact) for their first impromptu band practice. "We were just messing around," Heather said, "and had this epiphany and said, 'Wait a second… could we?'" And Eux Autres was born.
The duo's French connection comes from sharing the common second language and Nicholas' love for '60s French pop music. "We were going to sing only in French and realized we don't know enough French to do all the lyrics," he said. "At the time, French pop was new to me. They have lots of songs where they sing in English, and it's generally pretty poor English. I figured we could do the same thing, but in French."
Nicholas rattled off a handful of his favorite French pop artists, including Serge Gainsbourg, Françoise Hardy, Jacques Dutronc and the so-called Yé-Yé Girls that included France Gall and Brigitte Bardot. But other than the language, it's hard to hear the French influence. Eux Autres sounds more like a mix of '60s British garage rock and groovy late-'90s K Records indie pop. Their latest CD, Hell Is Eux Autres, comes complete with hand claps, call-and-response vocals, and more than its share of undecipherable French phrases (actually, only on two tracks). I can imagine a young, rebellious Bardot strutting her stuff to their rowdy beat.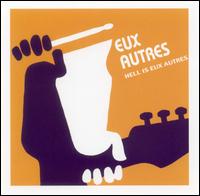 ---

"They have lots of songs where they sing in English, and it's generally pretty poor English. I figured we could do the same thing, but in French."

---