The Skinny is a column that appears in Lazy-i.com as well as in The Omaha Weekly. The intent is to include everything happening in the Omaha music scene, from who's in the studio, to CD releases, to band personnel changes -- all that cool inside stuff you've been missing.
I'll also be including a lot of local live reviews and such, also slated for publication in Omaha Weekly and elsewhere.
For the column to work, I need your input. Do you have some hot news about your band, label or recording project you want to share with the world? E-mail me at timmymac29@aol.com and get it on the web and in print. Aloha.
* * *
Two shows on the same night at venues just a block from each other; the bands' styles, however, couldn't be further apart.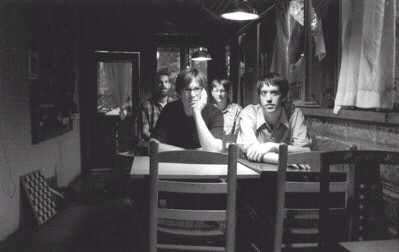 Okkervil River returns to The Junction June 3, with its unique brand of rural-flavored alt-country that gives a nod toward slow bluegrass and dustbowl folk. They've been compared to everyone from Tindersticks, Arab Strap and Bright Eyes to Simon Joyner, Counting Crows and Will Oldham. The Austin, Texas, 4-piece is on the road supporting their latest release, Don't Fall in Love with Everyone You See, a handsome collection of song stories rich with detail and fleshed out with a broad variety of instruments including horns, strings, pedal steel, mandolin, banjo, Wurlitzer and accordion all blended seamlessly with the band's simple acoustic accompaniment, pulling everything together like kudzu covering a deep forest.
But don't let the CD's acoustic flare fool you into thinking you're in for a quiet, atmospheric evening of folk music. When the band was here in February, they turned the amps to 10 and transformed their simple melodies into all-out rockers. Opening for Okkervil River is Omaha's own alt-country rock outfit The Movies. The show is $5, is 18 and over and starts at 10 p.m. at The Junction, 1507 Farnam St.
Wanna know more about the band? Read the Lazy-i interview with Okkervil River from February.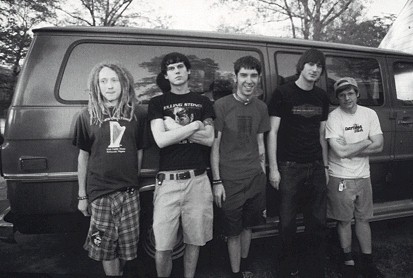 Meanwhile a block away, Richmond, Virginia-based Strike Anywhere is headlining a show at Farnam St., Omaha's new all-ages rock club that just opened with the goal of filling the rather large shoes left by the closing of The Cog Factory a few months ago.
The white-knuckle five-piece has been thrown into the crowded and rather tired hardcore genre where they simply don't belong. They've managed to harness the chaos of hardcore and fuse it seamlessly with the right amount of rock sensibility to create the perfect noise of joyous dissent. Their guitars are as influenced by AC/DC and Def Leppard as Avail and Boy Sets Fire. And while so much hardcore vocals are nothing more than a lead singer grunting three-word phrases directly into a firmly grasped, spit-covered microphone, Strike Anywhere vocalist Thomas Barnett actually sings. He understands melody and throws every ounce of emotion behind every note. The lyrics are not only a call to action, but an honest view of a world he knows all too well. In the end, it all comes together because you believe he really means what he's saying. And by the time he gets to the end of the first song, you're ready to join him in the trenches.
The band was here last September headlining a thinly attended Monday night show at the Cog Factory (Why is it that we get all the best bands through Omaha on Mondays anymore?). Opening the show are Omaha's own Putrescine and Boycaught. The show is $6 and begins at 7:30 p.m. Farnam St. 14th & Farnam
Wanna know more about the band? Read the Lazy-i interview with Strike Anywhere from last September.
* * *
Published in The Omaha Weekly Feb. 20, 2002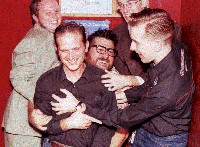 What's all this talk these days about "alt-country"? What the hell is that, anyway?
All these alt-country bands on the road, coming through Omaha. Everyone going plum-crazy over Jay Farrar like he was the second coming of Bobby Bare. Then you got your Movies making hay with their country-rock-fusion, and those goddamn Monroes bragging about their "tractor punk." Well that's all fine and dandy, but for one night, Feb. 22, you gotta just forget about all of them and remember what real country is all about, minus the alt.
Kansas City's very own Rex Hobart is coming to Knickerbockers this Friday night. Rex does the honky-tonk sound for real. He don't need no rifle-action guitar riffs. He don't need no "punk attitude." He's just your typical lost son of Buck Owens, with nothing more on his mind than making sure you don't go drowning in your Budweiser when your heart goes all a-flutter over his twanging croon and the sweetest slide pedal the likes of which you ain't heard since that time you won an all-expense-paid trip to Nashville on The Price Is Right and got to see Johnny Paycheck and Charlie Walker on the same night!
Rex's backup band, The Misery Boys, are a piece of work, too. Solomon Hoeffer on pedal steel, "Black" Jack Charlotte Snow on electric bass and Vincent Floyd alternating between guitar and drums. Together they put out a couple records on Bloodshot, including their latest called Forever Always Ends, produced by that guy Lou Whitney who's twisted the knobs for Robbie Fulks, Skeletons and Syd Straw.
Rumor has it that Rex Hobart is somehow connected to that boy Scott Hobart, who used to sing in that K.C. emo-schleemo band Giant's Chair back in the '90s, but I'm not buyin it. Find out for your own self Friday at Knickerbockers. Opening for Rex and the boys is 13 Country. Hell, it's only $3 to get in if you're over 21, $5 if'n you're 18 to 20. And don't forget your Stetson.

* * *
Published in The Omaha Weekly Jan. 30, 2002
Wesley Willis
w/ Grand Buffet, Putrescine
Tuesday, February 5
Sokol Underground
13th & Martha
8 p.m. (early show)
$7
This should be an eclectic night. Headliner Wesley Willis is a Chicago street singer whose made a name for himself recording a ton of homemade tapes which have captured the attention of folks in The Smashing Pumpkins, Foo Fighters, Urge Overkill, Beastie Boys and Pearl Jam to name a few. Accompanied only by a portable keyboard with pre-programmed samples, Willis sings about whatever pops into his head.
Oh yeah, did I mention that he's a 6-foot-5, 350-pound black guy that's been diagnosed as a chronic schizophrenic? Willis says "schizophrenia demons" in his head take him off his "harmony joy rides" and put him on "torture hell rides," according to his record label, Alternative Tentacles. The result is sort of like "A Beautiful Mind" starring James Brown and a Casio.
With that preface, the music is pretty much what you'd expect -- spoken word observations backed by a karaoke-style keyboard, centered around the off-key singing of the song's title, over and over. Take "Fuck with Me and Find Out," for example:
You think you can get away with murder
You don't know who you're dealing with
I'm going to shoot you with my BB gun
(repeat song title four times)
or how about "He Goes to Prison":
John Cook was found guilty of possession of cannabis
His sentencing date was set
He received three years in prison
(repeat song title four times)
or "I'm Running My Inkpen"
Every year I draw 2,000 posters
I do make me a lot of money
I draw all the time
I can really work my ass off
I'm running my ink pen/ I'm running my mouth (repeat)
Genius or head case? You decide.
Grand Buffet is Pittsburgh hip-hop duo of Lord Grunge and Grape-a-thon. Their beats are phat, you know what I'm saying? Sort of DJ Jazzy Jeff and the Fresh Prince meet The Beastie Boys. Dope. The boyz are said to be releasing a concept EP called Undercover Angel this spring, which means we might get a chance to peep it at the show. Dig?
And if that wasn't eclectic enough for you, kicking off the night's festivities will be Omaha's own Putrescine, featuring bassist Ethan Jones, drummer Pat Oakes and vocalist/guitarist Lincoln Dickison (who also slings the ax with The Monroes). Priding itself on a sound it calls "thoughtful, aggressive, complex and heavy," the band recently released a split 7-inch with Sound of Rails.
Get there early because this is an early show -- doors open at 7 and the fun starts at 8.
* * *
Published in The Omaha Weekly Oct. 24, 2001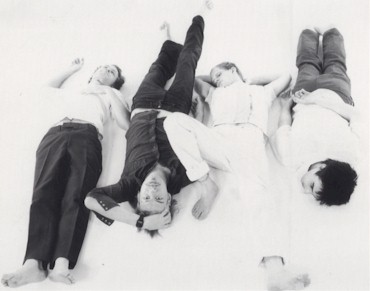 LIARS
Oct. 31
Pete's Place (906)
and
The Cog Factory
You could say that LIARS is NYC by way of Lincoln, Neb., or CBGB's by way of Duffy's.
The Big Apple four-piece features two Nebraska natives. Drummer Ron Albertson was part of the legendary Lincoln punk assault team Mercy Rule, while Bassist Pat Noecker played a role in Lincoln's throbbing Opium Taylor. Albertson moved out to NYC a couple years ago to pursue his art career, met up with Noecker, L.A punk guitarist Aaron Hemphill (Phil's Throne, Viral Index) and a six-foot-six Australian freak named Angus (beef). The result is a rhythm-fueled punk mix that's a cross between Dirty-era Sonic Youth, PiL, early Cure, and The Strokes.
The band is on the road supporting their debut full-length on Gern Blandsten Records They Threw Us in a Trench and Stuck a Monument on Top, produced by Steve Revitte (Beastie Boys, Jon Spencer, Antarctica). Charles Maggio from Gern Blandsten said one of the members of Radio 4, a Gern band, saw LIARS at Brownies and passed the word on. "I was familiar with Opium Taylor and Mercy Rule, and after seeing them live, it didn't take much convincing," Maggio said. "It was very quick. They wanted the record out for the October tour so they immediately went into the studio and recorded a gem. I had to fight off converging labels as news about great bands travels fast in NYC."
They Threw Us… is a short stab of pure snarling '80s punk strutting retrofitted with some interesting, though subtle, modern touches -- lots of funky rhythms, punk guitars, huge breaks and snarling vocals. "Mr. Your on Fire Mr." is infectious Clash meets Faint sassyness, "Tumbling walls buried me in the debris with ESG" is "Bull in the Heather"-style Sonic Youth pulled through Boys Don't Cry-era Cure. "We Live NE of Compton," complete with electronic hand-claps, pulses on a bouncing Sandinista! bassline and angry Strummer-esque vocals (note the slight cockney flair).
Early reviews of the band's NYC shows highlight the weird Australian's antics, which include your typical writhing-on-the-stage frolicking that is all the more effective when you're tall enough to play forward for The Knicks.
LIARS is playing two shows on Halloween. They'll be opening the annual Halloween Party at Pete's Place (906) at around 9:30. Also slated to play the party are M138, Haunted Reason, and Ravine in the Flatfield -- the former Ritual Device member's tribute band featuring King Dick from Six Speed Universe and the Beef Curtains. Afterward, LIARS drives cross town to The Cog Factory for a late appearance.
In addition, the band will be at Duffy's in Lincoln Oct. 28, and is also slated to pass through the region again on their way back to NYC for shows at Knickerbockers Nov. 23 and again at The Cog Factory Nov. 24.
* * *
Published in The Omaha Weekly Oct. 10, 2001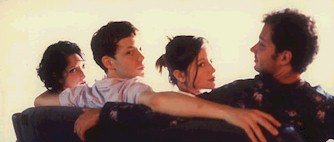 Now It's Overhead
w/ The Faint
Thursday, Oct. 11
Two show: Early all-ages show at 7 p.m.; Late 21+ show at 10 p.m.
Sokol Underground
13th & Martha
$7
Forget about the fact that The Faint drew an astounding 1,400 people to the Sokol Auditorium just a couple months ago for a show that was hallmarked by hundreds of sweaty, dancing kids all grooving to the band's sexy, synth-based rhythms.
Nevermind the fact that The Faint's new CD, Danse Macabre, just reached No. 3 on the College Music Journal charts, hovering right below the new one by Bjork and the overrated, boring Stereolab LP.
Forget that MTV.com just did an interview with The Faint's Todd Baechle, where they said the band's new album "may not immediately convince listeners to re-evaluate their lives, it ought to at least get them dancing."
Put all of this out of your mind, because the night's real curiosity is co-headliner Now It's Overhead, who's just-released debut on Saddle Creek Records is far and away that label's most refined recording in its short but auspicious history.
Based out of Athens, Ga., the band is headed by vocalist Andy LeMaster (Bright Eyes engineer and road regular), and includes the Azure Ray duo of Maria Taylor and Orenda Fink forming a sort of mini indie choir. Drummer Clay Leverett fills out the combo. Think breathy trip-hop indie rock with keyboards that sound like they're underwater (a good thing), LeMaster's medium-register vocals that cut through the fog like a sonic knife, all wrapped in a warm blanket of angel-like Azure Ray harmonies. More down-sound and quiet than rocking, the band has the chops to light it up if they want to, but prefer (for the most part) to keep it on the low-end for a bigger emotional wallop.
Now It's Overhead is officially Saddle Creek's first full-length release from a non-Nebraska-based band. Recorded at Chase Park Transduction Recording Studio in Athens (LeMaster's studio, owned jointly with former Sugar bassist David Barbe and current Glands bassist Andy Baker), the CD is one of the label's most professional outings both in recording aspects and overall production values. In other words, the tracks simply gleam.
With a brief opening in their tour which has taken them from Florida to the West Coast, Saddle Creek Records is rushing the two bands to Omaha for a two-show date Thursday, Oct. 11. Robb Nansel, Saddle Creek's major domo, said Sokol's upstairs auditorium was already booked and he couldn't find a sizeable venue to host what was sure to be a sell-out if held to a single Underground appearance.
* * *
The Places
Friday, October 12
w/Dropless, The Storied Northwest, Fromanhole
The Junction
15th & Farnam
$5
8 p.m., 18+
Portland rockers The Places carry on a quiet tradition. Consisting of singer-songwriter Any Annelle, guitarist Ryan Stowe (ex-Slower Than) and a handful of Portland musicians, The Places provide soothing, mid-tempo ditties reminiscent of Yo La Tango, Barbara Manning, and Ida. In fact, Annelle's voice is a dead ringer for YLT's Georgia Hubley and the band sports that same laid-back, jangly guitar and straight-backbeat snare. Sometimes they even pull out a fiddle and a slide guitar. This is quiet, down-sound indie rock at its best.
The band is on the road supporting its 2000 debut release on Absolutely Kosher Records, The Autopilot Knows You Best, earmarked by haunting, quiet melodies with the propensity to rock when needed. But more often than not, The Places provide tuneful, melodic, female-voiced 'K'-style (Retsin, Ida) indie stuff. Nice.
Opening bands are Kansas City's The Storied Northwest (formerly known as Sinatra), Omaha instrumental outfit Dropless (formerly known as McBand), and the Omaha power noise rock trio Fromanhole.
* * *
Published in The Omaha Weekly Oct. 2, 2001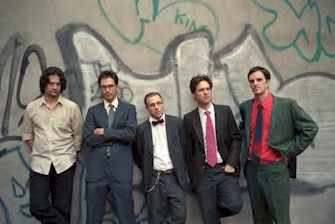 Clem Snide
w/The Movies
October 4
The Music Box
7777 Cass St.
$7
File this in the "under the radar" department.
A week ago I get an e-mail saying Clem Snide is coming to The Music Box and I should do an interview with them. My first thoughts are "Who is Clem Snide?" and "What a terrible name for a band."
I ask around and no one's heard of Mr. Snide. I mention my complete lack of knowledge to the guy promoting the show and he hands me the band's latest CD, along with a handful of press clips, which I put in my bag and forget about. The CD, by the way, rocks (more on that later) and I ask if we can still do the interview. For whatever reason, the phoner never happens and I turn to the clips, expecting to find a half-dozen write-ups from obscure online 'zines and a couple local weekly A&E reviews. Instead, I find:
A "New Faces" profile from Rolling Stone, where the writer compares the New York-based 4-piece to Hank Williams, Nick Drake and Sebadoh.
A Rolling Stone review (three and a half stars), where the reviewer says of The Ghost of Fashion, the band's latest on SpinART: "Almost every track tucks shrewd commentary into gag lines…"
A SPIN review (8 out of 10) of Ghost… that goes "For Clem Snide, comfort comes from the arch manipulation of angst, ironic jokes, and memories…"
A review from Details where the CD is called "An Aspartame soundtrack for slackers in -- yuck -- love."
A review from Interview, where the writer says "Lead singer Eef Barzelay can croon about Corey Feldman and Calgon soap and still break your heart."
A review from Interview, where the writer says "Lead singer Eef Barzelay can croon about Corey Feldman and Calgon soap and still break your heart."
A review from, get this, Playboy, where some dirty old man compares Clem Snide to "the Stones doing country back in the late Sixties."
And it doesn't stop there. Alternative Press (7 out of 10) calls it "A ragged good time;" CMJ, the whore of the music press, says "refreshingly easy-going musical style;" Magnet, the bible of indie rock, gives its usual noncommittal nod, while legendary critic Robert Christgau in an August 2001 Village Voice article deems Ghost… "The best new 'rock' record of the year so far." There's even a review from The New Yorker (along with a cartoon drawing of the band), where the critic says Ghost's "front porch ballads and lilting, whimsical waltzes are haunted by images of Dairy Queen and bus trips into the unknown, and the band, with its earthy emphasis on cello and upright bass, gives them just the right amount of hopeful melancholy." And there's more -- clips from Maxim, Mojo, Gear, Shout, and Time Out New York, all of them raves.
You'd expect a band with this much press to be playing alongside Radiohead at Hammersmith Odeon. Instead, they're playing The Music Box with Matt Whipkey and The Movies.
Okay, so what do they sound like? Boasting an ensemble sound that includes horns, cello, organ, keyboards along with the typical rock-and-roll set-up, imagine Pinetop Seven or Lullaby for the Working Class blended all twangy-like with The Band, Wilco, The Silos and Centro-matic. We're talking a dense, southern- heartbreak alt-country rock with enough lyrical irony to make Lyle Lovett blush. It's two-stepping fare, no doubt, but when crooner Eef Barzelay belts out lines like "I don't want to know me better," you know you're getting more than the typical C&W turn.
Will this be the best local show by a band no one's heard of? Find out Thursday night at The Music Box, 7777 Cass St. Cover is $7.
* * *
Published in The Omaha Weekly Sept. 20, 2001
Sept. 25
The Rapture
Real Time Optimists
Kid Icarus
The Junction
$5

The Rapture, a NYC trio influenced by the likes of post-punk icons such as PiL, Television and Chrome, carry on the tradition of jangled noise rock with a strut.

On their 6-song SubPop debut, Out of the Races and onto the Tracks, the tunage goes from a loose Clashy, punky groove, complete with bouncy bass and jangly guitar (the first two trippy songs) to an assaultive, jumbling noisefest (the rest of the CD). The ironically titled "The Pop Song," is a dissonant howler that circles around whiner/vocalist Luke Jenner's ear-splitting screech of "You're growing older." Funny, but these guys remind me of Railroad Jerk meets the recent, unlistenable stuff by the Kinsella Bros. (Owls, Joan of Arc). On this new one (they've also got an 8-song EP on Gravity Records and an Insound tour EP), they say they've added Chic, the Byrds and The Happy Mondays to their influences, though you'll be hard-pressed finding them among the sonic clutter. Art for art's sake? You be the judge when they visit The Junction Sept. 25 with Real Time Optimists and Kid Icarus.

* * *
Published in The Omaha Weekly Aug. 22, 2001
Most bands get pretty peeved when they're compared to another band's sound. But not The Diplomats of Solid Sound.
The band doesn't deny that they're unabashed Booker T and the MGs, James Brown and Meters fans, outfits known for the same style of laid-back jazz-funk the The Diplomats will be laying down at The Junction Sept. 8.
"Our local paper described us as 'either surf music for spy movies or spy music for surf movies.' That's pretty accurate," said Diplomats guitarist Doug Roberson. "When we started the band, we combined The Ventures and Booker T because we didn't have enough knowledge or chops or balls to do stuff that was tougher to perform. You've got to start somewhere. "
Formed in 1999 as a side project to garage band The Bent Scepters, The Diplomats was a fun aversion for a bunch of guys who preferred to rock. But when the Scepters split, The Diplomats became Roberson and company's main focus. Shortly afterward, they added organist Nate "Count" Basinger and opened a whole new world of possibilities to their sound.
Bluesy, Jazzy, funky, with plenty of surfy licks, the Iowa City 4-piece anchors its sound around Basinger's Hammond and Roberson's spy electric shuffle. On their debut album, Instrumental Action Soul, the band leans back and closes their eyes with songs that are more relaxing than anxious, more soothing than sassy. If you believe there is such a thing as "cool jazz," than this is instrumental "cool funk" on the verge of boiling over.
Roberson said the band has attracted a small following playing local clubs in Iowa City, but is trying to grow its fan base on the road. They've played throughout the Midwest, in Omaha, Milwaukee, Kansas City, Des Moines, Dubuque and Chicago.
"We'd like to do lots more touring," he said, "but it's slow going, especially if you're doing your own booking. The Scepters had an agent for its last two years and I didn't have to book a single show. Now I have to do it and juggle the schedule of the other band members, who have regular jobs and families."
Few people know better than Roberson how frustrating it can be trying to book gigs with irritating out-of-town club contacts -- he's one of them. Roberson's been making a living for the past 15 years buying talent for Iowa City club Gabe's Oasis, a regular stop for touring indie rock bands.
"You just have to keep calling people," he said about booking shows. "Cajole them. Don't expect much from them, especially much money, and have a sense of humor. You didn't start your band to be on MTV. Touring is an absolute necessity for any band that wants to sell more than just a few hundred copies of their CD in their home town."
Also on the Sept. 8 bill is twangy Omaha-based rockers, The Movies, sporting a sound influenced by Whiskeytown, Son Volt and more than a little Exile on Main Street-era Rolling Stones. The recent addition of pedal steel guitarist Mike Friedman and drummer Doug Kabourek (Fizzle Like a Flood) has pushed The Movies onto the top level of original Omaha bands.
Headlining the night's festivities is the ever-irascible tractor punk hi-jinx of The Monroes. Featuring former Frontier Trust frontman Gary Dean Davis, bassist Mike Tulis (ex-Full Blown, ex-Great Dismal), guitarist Lincoln Dickison (Putrescine, ex-Product 19 out of Columbia, Mo.), and drummer Jesse Render, The Monroes' get-out-of-the-way punk stomp will provide a stark contrast to The Diplomats' smooth funk.
Sept. 8
The Diplomats
The Monroes
The Movies
The Junction
15th & Farnam
9 p.m.
$5
18+
* * *
Sept. 7
Operator Generator
Men of Porn
Putrescine
The Junction
15th & Farnam
8:30 p.m.
$5
Why does it have to be so heavy? Because it just does. Especially on a night that features nothing but stoner rock, noise, punk and metal bands. Bring your earplugs. I'm not kidding; it's gonna be loud.
Operator Generator, the San Francisco stoner rock outfit that records on Kozik's Man's Ruin label, is any Black Sabbath fan's dream come true. Listening to Polar Fleet, the band's most recent teeth-gnashing CD, is like taking a step back into legendary Council Bluffs' club Fat Jacks circa 1985 (a reference for all those oldsters out there who remember that long-defunct metal barn's tradition of bringing in the heaviest Dio-flavored touring rock outfits. I think I saw Warrant play at Fat Jacks, but I can't be too sure since it was a "Twofer Tuesday"). Translated: Operator Generator's bare-knuckle guitar grunts are odes to all those heavy metal acts we grew up on and can still hear on the Z -- Dio, Sabbath, and Zeppelin.
Formed in '98, OG includes vocalist Mitchell French, who played with San Francisco heavyweights Dear Deceased and Imperial Spacepod, guitarist Tom Choi from It Is I and Asbestos Death (later to become stoner legends Sleep), bassist Joe Tucci and drummer Michael Parkinson.
Men of Porn features former Omahan and Ritual Device frontman Tim Moss redefining the word "sludge" with his stoner pals Guy Pinhas, bass (Acid King, Goatsnake, Obsessed), and Sean Tyler, drums (El-Dopa).
Based out of the Bay City, Men of Porn released full-length American Style a couple years ago on Man's Ruin Records, and recently finished an EP for Small Stone Records, Experiments in Feedback, slated for a fall release. Shortly after the Omaha gig, Moss goes back to San Francisco to take part in a special show with Tapeworm, a project Pinhas started in Los Angeles with Greg Rogers (The Obsessed) and that's included Buzz Osbourne and Dale Crover from the Melvins.
Kicking off the night's festivities will be Omaha's own Putrescine, featuring bassist Ethan Jones, drummer Pat Oakes and vocalist/guitarist Lincoln Dickison (The Monroes). Priding itself on a sound it calls "thoughtful, aggressive, complex and heavy," the band recently finished laying down tracks at The Nevada Room for a split 7-inch with Sound of Rails that feature their song "Everlasting Heart Stopper."
* * *
Published in The Omaha Weekly Aug. 22, 2001
Aug. 25
Pinback
The Good Life
Son, Ambulance
Sokol Underground
13th & Martha
9 p.m.
$7
Booked since early spring, the long wait will finally be over Saturday night as San Diego's Pinback finally makes its way to Omaha's Sokol Underground.
Formed in January '98, Pinback consists of bassist/vocalist Armistead Burwell "Zach" Smith IV (former 3 Mile Pilot), guitarist/vocalist Rob Crow (Heavy Vegetable, Thingy), and drummer Tom Zinsor (3 Mile Pilot). The band is on the road supporting their new CD, Blue Screen Life on Ace Fu records, the follow-up to their self-titled debut.
Pinback sports a distinctly laid-back indie sound that soothes more than swings with its stripped-down arrangements that take advantage of strong melodies and delightful keyboards. This is sweet pixie-dust rock. It'll be interesting to see live interpretations of the band's CDs, which are recorded, mixed and mastered at Smith's home on a PC.
Opening for Pinback are two Saddle Creek Records' bands. Son, Ambulance, featuring former Bright Eyes drummer Joe Knapp, will be playing songs off his amazing new full-length, Euphemystic, due out Sept. 11. The Good Life, featuring Tim Kasher of Cursive, just finished recording at Lincoln's Presto Studios for a full-length due in January 2002.
* * *
Published in The Omaha Weekly Aug. 1, 2001
So what's Ravine been up to? The noise-powered trio consisting of former members of Ritual Device and Reset hasn't been on stage since last April, and rumors started buzzing that the band had broken up.
Not so said guitarist/bassist Randy Cotton and guitarist/vocalist Mike Saklar.
"We're working on a new record right now with (drummer) Oliver Morgan," Saklar said. "Oliver is still in the band, but working his way out. He wanted to be on this record."
Morgan has formed a new band, The Quiet Type, where he handles a larger share of the vocals and writing chores, leaving Ravine without a drummer outside the studio.
Recording is under way at Ant Records recording space in Saklar's house. A number of tracks already have been laid down for the proposed full-length CD, which, he said, "isn't as dark as the band's previous efforts, though not a night-and day difference."
"We're recording all the material we've worked on for the last year and a half," Cotton said. "We've got another couple months of recording left and haven't discussed how we're going to release it.
"We're not jumping into finding a replacement drummer," Cotton added. "It's something we want to think about and discuss. We were right in the middle of promoting an album (the "Killing Diva" soundtrack) when Oliver came into the picture back in the fall of 1999."
"Our No. 1 objective is to complete and release our next record," Saklar said. "We're very one-track minded. When we do find another drummer, it'll take a while to work him in."
He said Morgan has done a great job helping with the recording project. "He's taken it upon himself to not leave us high and dry," Saklar said. "He could have quit before the recording sessions with us and this whole project would not have happened."
During this hiatus for recording, Cotton and Saklar also have been working on a number of side projects. Saklar has put together a solo show, while Cotton is working with his side band, Members of the Press.
Cotton and Saklar's last recorded project, the 19-track The Decline of Midwestern Civilization compilation, has sold well. Released on Saklar's Ant Records and distributed by Lumberjack, the CD featured music submitted by local and Midwestern touring punk, metal and noise bands that Ravine has crossed paths with over their years of touring, including Tanger, Season to Risk, Evil Beaver, Sound of Rails, Bad Luck Charm and Fromanhole. The 1,000-CD run has sold out and the two are mulling over the idea of pressing more.
"All the bands involved were excited about promoting the record, that's why we chose them," Cotton said, adding that the CD had just as much to do with their involvement in The Junction, the club at 15th & Farnam that he books. The Junction is seeing an upsurge in business these days, and now other local promoters are getting into the act to help book the venue. "It's nice to be able to go down there and see a show and not have to work it," Cotton said.
Upcoming shows at The Junction include:
Aug. 17 -- Filthy Jim from Lawrence, Kan., and Omaha's own flame-flowing favorites The Carsinogents.
Sept. 7 -- A Man's Ruin Records showcase, featuring Men of Porn (Tim Moss, formerly of Ritual Device), Hog Molly and Operator Generator -- all bands from the San Francisco area.
Sept. 8 -- The Monroes (Gary Dean Davis, formerly of Frontier Trust) and The Diplomats.
And keep your Halloween open, as the Junction will host a party featuring the return of early '90s industrial goth band Haunted Reason in their first reunion show, along with The Filthy Few.
* * *
There's also a number of notable indie rock shows coming up at The Sokol Underground and Sokol Hall, 13th and Martha.
Cursive will host a CD release party for their new EP on Saddle Creek Records, Burst and Bloom, this Friday, Aug. 3, at Sokol Underground. Also on the bill are Real Time Optimists, Desaparecidos (featuring members of Bright Eyes and The Good Life), and Fusaine. The all-ages show starts at 9 p.m. and is $6.
Then for those who complain that the Underground's space is too cramped and smoky, or who have been burned by early sell outs, The Faint is hosting its CD release party for their new full-length, Danse Macabre, Aug. 17 at the Sokol Auditorium upstairs. Bright Eyes and another "special guest" also are on the bill that will provide a rare opportunity to see these two bands in a more-spacious Omaha venue. Tickets are $8.
This will be the last time to see Bright Eyes in the near future. Bright Eyes will leave shortly after for another European tour that will include an Aug. 24 date at the Reading Festival in Reading U.K., followed by dates in Sweden, Denmark and Ireland through early September.
Sokol Underground will host Pinback Aug. 25 w/ Son, Ambulance and The Good Life. Expect Son, Ambulance to play songs off their upcoming Saddle Creek release, Euphymistic, due out Sept. 11. Show starts at 9 p.m. and is $7.

Finally, Sokol Underground will host the return of Mike Watt to Omaha Monday, Sept. 24. Tickets are $10.
* * *
Published in The Omaha Weekly July 4, 2001

They're smart, they're colorful, they're vinyl and best of all, they're free. I'm talking about the new www.lazy-i.com stickers, made especially for placing on the back of your car, your window, your guitar case, your amp crate, just about anywhere. Want one? Just e-mail me your address and I send one to you via snail mail, or look for stickers at upcoming Omaha shows.

Now we're in the Big Time!

* * *
Decisions, decisions… Two great shows on the same night -- July 5 -- both featuring national touring acts and plenty o' scouring punk attitude.
Let's start with the strongest ticket -- The Dropscience, Desaparecidos and Bombardment Society at The Cog Factory, 2224 Leavenworth St.
From San Diego, The Dropscience is a five-piece featuring members of Trans Megetti, Sterling Silver and Camera Obscura. The band spent the last year and a half touring the West Coast with the likes of Versus, The Black Heart Procession, The Dismemberment Plan, The All-Scars, H.I.M., Physics, Sunday's Best, and Omaha's own The Faint.
Their debut full-length, Experimenting with Contrast, was recorded at the close of 2000 by Gar Wood (Hot Snakes, Tanner), and is slated for release Sept. 18 on Happy Couples Never Last Records.
At an hour in length (there's 10 minutes of pointless beeping tones at the end of the CD prior to a "hidden track" cover of Phil Collins' "In the Air Tonight"), Experimenting with Contrast is a punk-prog odyssey, merging The Clash's slower stuff with snarling Fugazi or Jawbox riffage. Lots of angular guitars, backbeat kick drums and arty dynamics. Most tracks have that broken/syncopated math-rock flaunt to them, but the band shows another, more melodic face on longer, detailed songs like the 8-plus-minute "Silhouette of a Symphony," a track that builds on a guitar part that rings like a police siren blazing straight toward your head. The band's vocalist (individual duties aren't listed anywhere) has a flat, atonal howl like a young, scruffy Joe Strummer.
Also on this bill is Desaparecidos, a band consisting of members of The Good Life (Landon Hedges) and Bright Eyes (most of the rest of the band, but most notably lead singer Conor Oberst). They sound like a poppier version of Commander Venus, another band that had Oberst at the helm. Good stuff.
Then there's Bombardment Society, a three-piece punk outfit that sounds like a drunk, sloppy, good-times version of Mission of Burma, or as a friend described them after their June 22 show at The Junction, "Mission of Burma after they had their stroke."
Here's where the confusion -- and overlap -- sets in. The Cog Factory show could also include a performance by The Holy Ghost, the same band headlining another rock show the same night at The Junction, 15th and Farnam.
The Junction show features The Holy Ghost, The Champaign Kiss, The Monroes and The Black Dahlias.
The Holy Ghost includes Chris Heine, formerly of Lincoln's Opium Taylor, and brother Kent, both of whom now live in New York. The Champaign Kiss features a member of defunct band Fischer. The Monroes is Gary Dean Davis' new tractor-punk outfit that takes Frontier Trust to the next level; while The Black Dehlias hail from Lincoln.
So here's the deal. The Holy Ghost is slated to play early at The Junction (an 18+ show), then drive over to the Cog Factory and play there for that all-ages show. Will they make it? Find out Thursday night.
The following night, The Junction will host With Your Shield or On It, a Chicago band that recently played with Dogstar (you know, Keanu Reeve's band). They got the Dogstar gig "because Omaha native Nate Flansburg was Reeve's 'stand-in' in a recent movie filmed in the Windy City," said Randy Cotton, who books shows at The Junction. What do they sound like? "Brainiac meets Unwound meets Beastie Boys," Cotton says. Also on stage Friday, The Quiet Type.
* * *
Published in The Omaha Weekly June 16, 2001
So are The Monroes the reincarnation of Frontier Trust? Not exactly.
The band, which had its debut June 3 at Duffy's in Lincoln, will play its first Omaha gig this Friday, June 22, at The Junction, 15th and Farnam, with Sound of Rails and Bombardment Society.
The Monroes consists of former Frontier Trust frontman Gary Dean Davis, bassist Mike Tulis (ex-Full Blown, ex-Great Dismal), guitarist Lincoln Dickison (ex-Product 19 out of Columbia, Mo., Putracine), and Jesse Render on drums.
I confess to being a huge Frontier Trust fan from way back. That four-piece consisted of Davis, precision drummer Joe Kobjerowski, bassist Brian Swanson and grit-guitarist Joe Thornton. Their "tractor-punk" sound was comprised of as much dirt-road twangin' as punk thunder. Davis' sing/screaming about fishing holes and deserted highways induced visions of seed-capped farmers inspecting their fields in leather jackets and Doc Martins.
The Monroes continue the tradition, but with even more power and precision. The guitar is harder, louder, punkier, but doesn't lose its prairie flair thanks to Dickison's use of slide that makes these western stompers that much more sleazy. Davis says Dickison is Chet Atkins to Thornton's Buck Owens, but I hear more Bob Mould and D Boon in the mix.
The crowd of 75 at Duffy's June 3 included a lot of familiar faces from the Omaha/Lincoln music scene's golden age a few years back, come to see a hero take the stage once again. Davis was in full gear, sporting his trademark Kent seed cap, garage jacket and thick, black-rimmed glasses. He bounced his 200-plus-pound frame on the plywood stage like a man possessed (the crowd eagerly anticipating his feet busting through the boards; miraculously, it never happened), while a bald Dickison leaned back on guitar and a city-hatted Tulis tried to stay out of his way. Midway through a set of fun-loving C&W punkers, the band tore into a cover of The Minutemen's "Corona," which never seemed more at home. Davis punctuated the end of every song by yelling, "Thanks!"
Davis said the band hopes to do some touring later this summer.
* * *
Speaking of belated rock show reviews, the same weekend as The Monroes' world debut, a number of new Omaha bands hit the stage for the very first time.
Magic Kiss' June 2 date at Sokol Underground had been promoted on the Internet and by word-of-mouth for over a month, and as a result was very close to a sell-out by my guestimate. Helping out was the built-in buzz factor that comes from the band consisting of former members of The Faint and Park Ave.
Magic Kiss wasn't the only one making a debut at the Sokol that night. Opening band, Race for Titles, also debuted, but without a drummer. I had reported a week earlier that Roger Lewis, the drummer for Saddle Creek band The Good Life, was a member of Race for Titles. Imagine my surprise to find Lewis slouched over the cash register moments before the band hit the stage. Seems he won't be joining the band until sometime in July. Instead, the band performed as they have been in practice, with a drum machine.
The early skinny was that Race for Titles was a departure from the emo stylings of Red Menace, the band that two of its members came from that had reveled in its emo stereotype. But if anything, the new band overshadowed Red Menace with a more heavy, mathy take on emo that was squarely in the Sunny Day Real Estate camp -- big guitars and earnest vocals on songs that drip angst like a wet dish towel. At times the three-piece bordered on droning anthem rock. Not bad, but they could use a tad more variety in their melodies -- too much emo can get boring, no matter whose playing it. While the drum machine was adequate, imagine how a live body behind a kit will loosen things up on stage.
Next up was Magic Kiss. From the moment they plugged in their guitars the band was plagued with sound problems that stayed with them throughout their entire set. Nothing sounded right on any song -- either the mix was heavy on bass, the guitars sounded muffled or you couldn't hear the keyboards and the vocals. Throughout the ordeal listeners suffered through shrill shards of feedback and stage buzz. Between-song patter consisted mostly of lead guitarist/vocalist Matt Bowen begging for more sound in the monitors. It was obvious that the vocalists were having a hard time hearing themselves as portions of songs were off pitch or lost in the mix, while the harmonies were often out of sync.
Was it a disaster? Not at all. Regardless of the sound problems, listeners could still catch a glimpse of the band's uncanny knack for writing fun, hook-filled rock ditties. Some things worked better than others. Jamie Williams' tap-dance accompaniment on the set opener was fun and added steam to the song's rhythm parts. The hand-clap break on "Stay in Bed All Day" caught the crowd by surprise. The set closer -- their best song of the night both technically and artistically -- helped listeners forget the earlier bloops and technical glitches.
An inauspicious debut, to say the least. Regardless, the band was having fun in the face of adversity. Unfortunately, it could be a while until Magic Kiss gets together for much needed practice, as keyboardist Bernard is out of the country for a month.
How much of the Magic Kiss' problems were due to the sound system? You'd think the troubles would bleed over into the next band, but Chapel Hill rockers The White Octave were spot-on from the moment they launched into their first song. No feedback, great mix. Led by vocalist Stephen Pedersen, formerly of Cursive, there was more than just a passing resemblance between Pedersen's old and new bands. The core melodies and ideas are very similar to Cursive's, but without the intricate guitar harmonics. Pedersen's vocals even have an eerie similarity to those of Cursive lead singer Tim Kasher's.
Finally, with about a third of the crowd already gone, Desaparecidos took the stage for the band's first real gig in a venue that didn't resemble a blimp hangar. Consisting of members of The Good Life (Landon Hedges) and Bright Eyes (most of the rest of the band, but most notably lead singer Conor Oberst), the band had a hauntingly similar sound to Commander Venus, another band that had Oberst at the helm. If anything, Desaparecidos' music is a bit poppier than Commander Venus', though Oberst showed the same howling, screaming style, much less in control than when he's performing his confessionals as Bright Eyes. But then again, this is suppose to be his rock side project.
Some other upcoming shows at Sokol Underground, 13th & Martha: June 28 -- Smog / Son, Ambulance / TBA; July 13 -- The Faint, Swearing at Motorists, Putracine; Aug. 25 -- Pinback / Son, Ambulance / TBA.
* * *
In Saddle Creek Records news, Cursive will release its five-song EP Burst and Bloom July 23. The Faint has finished recording its follow-up to Blank-Wave Arcade, called Danse Macabre, slated for release Aug. 20. The band is currently crossing the country on tour. Son, Ambulance has finished recording its full-length debut, Euphymistic, tentatively scheduled for release Sept. 10.
Now It's Overhead, consisting of Andy Lemaster (half of the engineering duo behind Bright Eyes, former singer of Drip, engineer at Chase Park Transduction in Athens, Ga.) and Azure Ray's Orenda Fink and Maria Taylor, will be releasing a full-length on Saddle Creek Oct. 1.
Sorry About Dresden, a Chapel Hill, N.C.-based band that features Matt Oberst, will release The Convenience of Indecision on Saddle Creek Oct. 22.

* * *
Men of Porn, the noise-rock outfit that includes former Omahan Tim Moss (ex-Ritual Device) just finished recording an EP for Small Stone Records to be titled Experiments in Feedback. Moss calls the EP "very ambitious," clocking in at a very EP length of 60 minutes. Look for a late August/early September release followed by an American tour through the end of the year.
* * *
Former Omahan Alex McManus of The Bruces is preparing to leave for the UK in July with his band Lambchop (he also plays in Empire State).
According to Absolutely Kosher Records, Lambchop will begin recording a new album when they return home. Sometime in between, McManus will lay down some tracks as The Bruces, but don't look for anything until 2002.
* * *
Fans of the band Jimmy Eat World are rejoicing these days as the band will finally see its latest opus, Bleed American, released July 24 on DreamWorks.
To get the hype machine in full gear, the label has released the video for title track and first single on line. Check it out, if you got the right download:
The band talked about the new CD in an interview with Lazy-i from last fall. Check it out.
* * *
Published in The Omaha Weekly May 8, 2001
After two years, Omaha alterna-pop trio Good Speed are calling it quits, says lead vocalist/guitarist Ryan Osbahr.
"There's a lot of reasons, but ultimately the dedication wasn't across the board so we decided to end it," he said.
Osbahr said the band's inability to tour ended up being the breaking point. "I wanted to start playing out of town on weekends as well as do some regional touring, but no one else could get away."
Part of the problem, he said, was that drummer Cris Harbold and bassist John Hiers had perceived Good Speed as a band that was solely targeting the Omaha market. Osbahr, 22, also is the only unmarried member of the trio.
The band had contemplated reentering the studio to record a follow-up to last year's All the Life Money Can Buy, a CD that Osbahr said was generally well received and had garnered some local airplay. He said the band distributed -- but not necessarily sold -- more than 1,000 copies of the CD, and though the labels weren't pounding down their doors, the band did receive offers by parties interested in financing the recording of their next CD.
"We had 15 new songs and were ready to record but decided we better end it before we enter the studio," he said. "We've all known this was gonna happen over the last three months."
The band's last show is slated for May 23 at The Ranch Bowl. While Harbold and Heirs have no immediate plans, Osbahr, who has been performing solo acoustic sets at the Latte Lounge, said he hopes to have a new band together by the end of summer. And this time, the prerequisite for joining is a willingness to hit the road.
"I've learned that you have to be more straightforward with musicians," he said of the experience. "I figured if we got our thing together, we'd be able to take off, tour, do what we wanted. But the reality was that Omaha was as far as we'd ever get."
* * *
Published in The Omaha Weekly May 1, 2001
There's a good reason why Frank Black has distanced himself from his work in the Pixies. None of his solo music has sounded like anything that seminal rock band released in its brief, influential history. Okay, maybe there's a slight similarity in the vocals, but even then, back in the day, Black (then Francis) wasn't quite the crooner that he is on Dog in the Sand, his new CD with The Catholics on WAR? that brings them to the Music Box May 3. And that's not necessarily a bad thing -- I mean, you've got to grow up sometime, don't you?
Pixies would never put out something as retro as the mid-tempo "Stupid Me," with its tinkly, '50s-style, Chubby Checker piano and broken-hearted lyric, "Oh why did I send her away?" "I've Seen Your Picture" has Black sounding Mick Jaggarish, and with his sensibility, there's no question that it's intentional. The piano-driven "I'll Be Blue," is Carol King pulled through Black's weird id by way of steel guitar. Something about the biographical "Bullet" reminds me of Nancy Sinatra. The closest Pixies comparison comes on the title track, which has that same slightly drugged ocean-shore feel as "Wave of Mutilation (U.K. Surf)" from the Pump Up the Volume soundtrack.
Sure, Black still rocks, in a Stonesy roadhouse sort of way. "Hermaphroditos" and "If It Takes All Night" are among the best straightforward rockers I've heard by anyone in a long time. But for the most part, old baldie is content knocking out soft-rock, southern-twang ballads a la Wilco or Son Volt. Can a country album be far behind?
Because it's more thought-out, more approachable and totally unforced, Dog is the best CD Black has released on his own. It's as if, with his innovative days behind him, he's relaxed and accepted his fate as a simple, solid rocker. And who's old enough to remember the Pixies, anyway?
Opening for Frank Black and The Catholics is House of Large Sizes. The Cedar Falls, Iowa, trio has been together since '86 playing their unique brand of punkish, poppish rock. They're on the road supporting their most recent full-length, Idiots Out Wandering Around, on WAR?. Tickets are $8/$10 at the Music Box, 7777 Cass St.
* * *
Look out for The Monroes. That's the name of former Frontier Trust frontman Gary Dean Davis' new band, which also features bassist Mike Tulis (ex-Full Blown, ex-Great Dismal), guitarist Lincoln Dickison (ex-Product 19 out of Columbia, Mo.), and Jesse Render on drums.
The band has booked its inaugural gig at Duffy's in Lincoln June 3.
* * *
Speaking of inaugural gigs, those of you who missed the April 21 Collin McElroy Benefit performance of Desaparecidos -- a new supergroup of sorts featuring Conor Oberst and Matt Baum of Bright Eyes and Landon Hedges of The Good Life -- will get another chance to see them June 2 at Sokol Underground.
The show will feature a veritable basketful of ripe new talent, including The White Octave, a North Carolina band headed by Stephen Pedersen (ex-Cursive); Magic Kiss, a new project with Matt Bowen (ex-The Faint, Commander Venus and Lullaby for the Working Class) Jamie Williams and Jenn Bernard (both ex-Park Ave.); and Race for Titles, a new project featuring former members of Red Menace.
For the full review of the McElroy benefit concert and pics, click here.
It'll be interesting to hear what the band with the unpronounceable name sounds like in a club setting like the Sokol Underground. Oberst and Baum will have just returned from Europe after a month's worth of dates performing as Bright Eyes in the opening slot for Matador Records artist Arab Strap.
* * *
Ravine bassist/vocalist Randy Cotton continues to book some of the hardest sounding shows in town at The Junction, 15th & Farnam. Among the upcoming events:
-- Omaha punk-funk masters Groove Champion, Mad Trucker Gone Mad from Madison, Wis., and Snake Handlers (ex-New Ave. Kings, Disaster Team). Saturday, May 5, all ages.
-- Operator Generator, a Man's Ruin Records recording artist featuring Guitarist Thomas Choi who played with members of seminal stoner rock pioneers Sleep, and Buzzo (Creatures of Habit, ex-Row 9 Plot 30, ex-Episode). Thursday May 10. 18 & over, $5.
* * *
Published in The Omaha Weekly April 18, 2001
The Great Dismal are no more.
The band, consisting of ex-13 Nightmares/Clark County frontman Greg Cosgrove, bassist Mike Tulis (ex-Fullblown), guitarist Matt Rutledge (ex-Compost), guitarist/cello/lap-steel player John Holtorff (ex-Acorns, ex-Pleasure Chest), and keyboardist Dana Rauch, have decided to call it quits after playing only a few shows.
* * *
The Great Dismal's loss is Gary Dean Davis' gain. The former leader of Pioneer Disaster, Frontier Trust and D Is for Dragster, has formed a new band with Mike Tulis on bass, along with guitarist Lincoln Dickison (ex-Product 19 out of Columbia, Mo.), and Jesse Render on drums.
"We've been practicing as a 4-piece since December when Mike joined the band," Davis said. "Lincoln and I had been writing songs together for a while before that."
Davis said the as-yet-named band features Dickison's slide guitar supporting a bluesy, country-rock groove. Look for the band's unveiling in the very near future, followed by touring throughout the Midwest this summer when Davis, who teaches junior high, goes on summer break. A trip to the recording studio will follow soon after.
"We're the Speed Nebraska house band," Davis said, referring to the record label he runs with Tulis that concentrates almost solely on vinyl releases. "We've got some good songs we could record now, but we want to play them for awhile first."
* * *
Speaking of Pioneer Disaster, who remembers that classic Omaha band when they were tearing up the scene between 1988 and 1992 with their unique brand of politically fueled tractor punk?
Well if you missed their first coming, you'll have a chance to relive those thrilling days of yesteryear as Speed Nebraska, Davis' record label, is rereleasing three songs ("Texas" "Bootstraps" and "Cactus Town") from the band's Oh My Land cassette as a vinyl-only single.
"The tape came out 10 years ago and most of the songs are about the Reagan/Bush era and what it was doing to the Midwest," Davis said. "Ten years later, we have another Bush doing it the Reagan way. It seems poignant how much things have changed and stayed the same."
The single -- limited to a pressing of 300 on red vinyl -- will be available in June at The Antiquarium, Drastic Plastic, Homers and the -Isimist Records website -- http://www.ismista.com/
Pioneer Disaster featured Gary Dean Davis on vocals, Bob Garfield on bass and other instruments, Joe Fogarty on guitar, Joe Kobjerowski on drums. Rock historians will note that after Pioneer Disaster broke up in '92, Davis and Kobjerowski formed a new band with Garfield (who was later replaced with Brian Swanson) and Bob Thornton called Frontier Trust.
Davis said Thornton is now living in Athens, Ala., and has been working on a solo project called "Low Rent Guild," with Alex McManus (The Bruces), Kobjerowski (who now lives in Portland) and members of Lambchop. The group have recorded tracks in Athens, Ga., and Thornton is now looking for a label to release the CD.
* * *
A sizable chunk of Saddle Creek Records' stable of bands will be performing together April 21, including Desaparecidos, a new rock project consisting of members of Bright Eyes and The Good Life.
The event is a benefit concert for the family Collin McElroy, the brother of Bright Eyes/Desaparecidos band member Ian McElroy and cousin to Bright Eye's leader Conor Oberst. Collin committed suicide March 26; he was 24 years old. Money raised will be used to cover his funeral expenses.
Among the bands to perform are Desaparecidos, Bright Eyes, Cursive and Sorry About Dresden, a Chapel Hill, N.C., band led by singer/guitarist Matt Oberst.
The all-ages benefit is Saturday, April 21 at the Holy Name Gymnasium, 3014 No. 34th St., (45th and Maple). The show starts at 8 p.m. and admission is $8.
* * *
Published in The Omaha Weekly March 15, 2001
Hot Carls Studio Bound
"No one in the band is actually named Carl," says Hot Carls' drummer Mat Kister. "Our guitar player came up with the name, and we just thought it sounded funny."
The name may sound funny, but the band's plans are anything but. The Lincoln-based four-piece that includes Deejay Scharton on guitar/vocals, Amos Joseph on bass and Brady Johnson as designated backing vocalist/on-stage wildman, is entering Lincoln's SoundChaser Studios in April to record an ambitious debut CD.
"We don't want to record a normal album," Kister said. "It'll be a double disc with 25 to 30 songs. We'll be in the studio for 40 to 50 hours. All the songs are written and ready to."
In addition to pressing a thousand double CDs, Kister said the band will put out a vinyl version of the recording. The Grand Island transplants, who describe their sound as alternative rock leaning on pop-punk, have only been around for about a year and a half and already have been approached by a couple small indie record labels, including My Records, which put out Lagwagon's last CD, Kister said. "We've had a lot of big stuff happen in a short amount of time," he added.
But before they hit the studio, the Carls will be hitting The Ramp -- a Grand Island venue in the tradition of Omaha's Cog Factory. "It's legendary," Kister said. "The place has been around since the '80s. It has a huge vert-ramp inside and a stage in back so people can skate while bands play. It got shut down for over a year and a half because it had no bathrooms."
After making needed renovations and reopening recently, The Ramp's operators were told that they lost their lease. The March 17 benefit, which also features the JV Allstars and The Leftovers, will raise money to help find a new location for the venue. A second benefit for The Ramp -- which will mark the venue's last show at its current location -- will be held March 31. "Grand Island is the third largest city in Nebraska and has virtually no venues," Kister said. "There's a lot of bands there, but there's no place to play."
That's part of the reason why the band moved to Lincoln, and is headed out on a 2-week tour this summer, where they'll hit clubs in Kansas City, Chicago, Minneapolis and all stops in between, Kister said. The Carls recently had its first Omaha show at the Ranch Bowl opening for a handful of local hardcore bands. "We always end up playing with hardcore bands, that's our curse," Kister said. "But we don't care who we play with, as long as we're playing."
* * *
For information about the March 18 Death Cab for Cutie/John Vanderslice/Nina Dinova show at Sokol, go to the end of the 764-HERO/Bright Eyes show review.
* * *
Go to The Skinny Archive (May 11 2000 to March 8, 2001)
---
Back to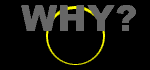 Copyright © 2001 Tim McMahan. All rights reserved.