Relations with the label became stormier after 2002's The Golden Dove, which continued on the same path as Mountains and failed to catch fire with fans.
Timony said she found out that Matador had dropped her only after she began gearing up to make the follow-up to The Golden Dove. "I called Chris (Lombardi, founder of Matador) to tell him I was ready to record and discuss the budget," Timony said. "That's when he told me they weren't going to do another record with me. They had already made the decision, but never let me know. It was hard times for about a month, and then I realized this could get interesting."
With her Matador ties slashed, Timony decided to take a different approach with her next album. "Since I was on my own, I said, 'Who do I respect most that I could get to record?' I fell into this really awesome group of people that I never would have worked with had Matador still been around."
The group included old D.C. friends Devin Ocampo (Medications, ex-Smart Went Crazy, Faraquet), who became Timony's chief collaborator, and Fugazi's Brendan Canty, who produced the recording sessions at legendary Inner Ear Studios, the proving ground for such bands as Minor Threat, Rites Of Spring, Fugazi and The Dismemberment Plan.
Released April 19 on D.C.'s Lookout Records, Ex Hex sports the same snap and bite that made Helium float so effortlessly. Songs like the poppy "Friend to J.C." and snarling "Hard Times Are Hard!" combine Timony's girlish low-fi charm with early-'90s Sonic Youth abrasion both in tone and structure. Timony even seems to vocally channel Kim Gordon from time to time. On the other hand, don't look for traditional Sonic Youth noise orgies here -- Timony and company are more interested in putting listeners in a trance with their chiming, mantra-like cadences than bludgeoning them with feedback and distortion.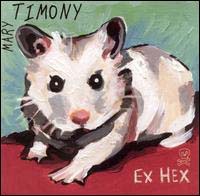 ---

"It was hard times for about a month, and then I realized this could get interesting."

---