Though just released, Keen is less than enthusiastic about the track these days. "I like to do funny weird things," he said sipping hot cocoa at Caffeine Dreams, pointing out that the CD was recorded more than a year ago. "I'm really trying to separate myself from being this crap-talking guy. It was a funny time in my life. To me, the Conor stuff is old news. I've played shows and traveled with Saddle Creek bands. I think it's dead."
With that, Keen wanted to close the topic, and wisely so. The fact is The Show Is the Rainbow can stand on its own these days without resorting to trash talk, thanks to Radboyz' collection of catchy, upbeat and funny rap/punk/new wave songs that caught the ear of European label Tsk Tsk Records, who released it in the U.S. this spring and just last month in Europe.
With its release, Keen has continued his relentless touring, performing his in-yer-face blood-spewing sets to a slowly growing fan base. A typical show is performed from the floor, with Keen running around with a microphone, screaming stories about drugging mentally handicapped kids and having sex with underage girls while prerecorded breakbeats, samples, guitars and synths blaze in the background. On stage a homemade i-movie is projected on a big screen that shows footage of Keen and his friends combined with mod graphics and text, all sequenced to the music.
Keen's gone from driving alone around the country selling homemade CDs from the trunk of his car to playing a European tour with Les Georges Leningrad and opening a handful of U.S. dates for industrial metal act Mindless Self Indulgence. The band asked Keen to join their tour after being "freaked out" when he opened for them at The Ranch Bowl.
"Mindless was a band that was kind of like where I am now, playing the college circuit, doing vulgar and weird stuff," Keen said. "Then Jonathan Davis from Korn saw them and freaked out, and they got on these package tours. After a few years of doing that without major label support, they were going gold on their own terms. They compromised nothing, but ended up at a weird place with shirts at Hot Topic and playing for goth kids every night."
It's a place Keen doesn't want to end up. "I came back from that tour with a weird view of how the music industry works," he said. "You can't control who listens and enjoys your band."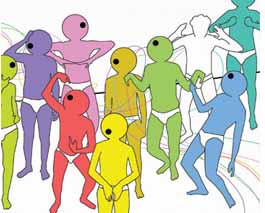 ---

"I'm really trying to separate myself from being this crap-talking guy. It was a funny time in my life. To me, the Conor stuff is old news."

---