Blog Archive table of contents
July 2005 to Dec. 30, 2005
The Blog Archive -- July 2005 to Dec. 30, 2005
Column 53: What Have We Learned?
Looking back at a year's worth of Lazy-i.


It's been a year since this column began appearing in The Reader -- Dec. 2, 2004, to be exact. Fifty-two weeks and 52 columns later, what have we learned? Here's an update on some of the people, places and things covered over the past year:



Column 1 -- Stronger than Bombs: Willy Mason Blows Up All Over the Indie Scene -- Wherein we meet young Willy Mason, singer/songwriter extraordinaire who had just signed with Conor Oberst's new Team Love Records (A label's name hasn't gotten any better with the passage of time). Incessant touring and the vices that come with it took its toll on ol' Willy, and he pulled himself off the road early the following year, only to re-emerge, older and wiser, opening for Bright Eyes at the recent Orpheum show.



Column 2 -- New Day Rising: Indie Music Returns to Omaha's Air Waves (12/9/05). The 2-hour all-indie radio show, an experiment by our friends at 89.7 The River, continues to introduce Omaha to new music every Sunday night at 11. Eric Zeigler, half of the original on-air team, is gone, but Dave Leibowitz continues like Omaha's version of John Peel (RIP). Hey Sophia, this show deserves a better time slot.



Column 4 -- There Are Giants in the Earth (12/22/05) -- A profile of band The '89 Cubs. They have since broken up. Ryan Fox is now touring with Mayday, while drummer Matt Baum can be heard in Race for Titles.



Column 6 -- Young Eyes, Big Vision (1/6/05) -- A profile of Omaha filmmaker/actor Nik Fackler. When he wasn't hanging out with Lea Thompson and Dave Foley, Fackler was lining up financing for his first feature film, Lovely Still, which could begin shooting sometime early next year with an all-star cast (I'm not kidding).



Column 12 -- INXSessive or American Idolatry? (2/10/05) -- Myself and most of America forgot to watch the Mark Burnett-produced reality series, Rock Star, which aired this past summer and fall. No one who took part in the Omaha try-outs made it to LA. One local performer invited to the final call-back turned it down, not wanting to be hounded by cameras 24/7 -- a wise decision.



Column 16 -- Grant-ed a Second Chance (3/10/05) -- The story of the re-emergence of Todd Grant, an influential singer-songwriter from the Golden Age of the Omaha music scene circa early-'90s. Grant's series of on-stage implosions last summer (including a brawl at Mick's) all but guarantees that he won't be seen on an Omaha stage anytime soon. Nonetheless, he continues his musical pursuits.



Column 21 -- Selling the Ranch (4/14/05) -- A look at the activities of former Ranch Bowl owner Mike Brannan, with WalMart looking over his shoulder. Brannan's rumored 500-capacity venue at the old Club Joy never materialized. Something tells me we haven't heard the last from him.



Column 26 -- Heavy Rotation (5/19/05) -- With the subhead "Has the River changed its course?" an interview with 89.7 The River's program director Sophia John on the station's shift to more indie-flavored programming. Six months later, that course seems to have changed back to their usual goon rock/aggra-rap/screamo formula -- a pity.



Column 27 -- Behind the (Omaha) Music (5/25/05) -- An interview with VH1's Eli Lehrer on a proposed documentary about the Omaha music scene. Lehrer visited Omaha a few weeks after the column appeared, looking for dirt about personnel conflicts within the Saddle Creek Records family. Methinks the project got shelved.



Column 32 -- The Border Wars (7/6/05) -- An interview with Shag owner Terry O'Halloran on the division between east and west Omaha venues (and their clientele). That division runs as deep as ever, with yet another west O venue -- The O Zone -- catering to cover bands and bands that sound like cover bands. Meanwhile, Saddle Creek Records' Slowdown complex has broken ground on North 13th St., promising to provide everything indie.



Column 37 -- One Hundred and 1 Percent (8/16/05) -- One Percent Production's Marc Leibowitz talked about quitting his day job, but it was partner Jim Johnson who took the plunge, quitting his job a few months after this column. Look for more One Percent news in next week's column.



Column 40 -- The 49'r Takes Five (9/1/05) -- Where 49'r owner Mark Samuelson assured us that the mid-town tavern would pump up its live music after a brief hiatus. Funny, there were no shows at the Niner last weekend. We're all waiting, Mr. Samuelson.



Column 41 -- Brother, Can You Spare $3.30? (9/8/05) -- Seems like only yesterday that bands (and the rest of us) were whining about $3.30 per gallon gas. Who remembers Katrina?



And so on. Thanks to all the "deep throats" who provided the inside poop that helped make Lazy-I -- both in The Reader and online -- an interesting read. Now, onto year two...


Column 52 -- Be Thankful for Nothing
Omaha's music scene has no one to thank but itself.




About two weeks ago, the editorial staff at The Reader approached me and the other writers to lend a hand on this issue's cover story based on the question: "What are you thankful for?" I was given a list of local musicians and important figures from the music scene, which I was assigned to call or e-mail asking them what they're thankful for during this holiday season.



My reaction: This has got to be the lamest idea I've ever heard. Look, I'm not going to pick up the phone and call Simon Joyner or Marc Leibowitz or Tim Kasher and waste their time by first, asking what they're thankful for and second, explaining why The Reader thinks their comments are relevant to anyone outside of their immediate family, close friends or whatever deity they worship.



Beyond the basics -- their health, and the health of their friends and family -- what could they possibly say that would be interesting? What curveball could they throw that would be "good reading" to the guy or gal sitting at O'Leaver's or The Blue Line or your local convenient store or any other place where The Reader is stacked? "Dude, I'm thankful for my sweet, sweet Electro-lux Flying V with duo pick-ups and flaming starburst finish." Right on.



Yeah I know, I flew off the handle, as per usual. I'm sure the story, which is tucked somewhere inside these pages, is absolutely riveting. And upon reflection, the local music scene and its participants do have a lot to be thankful for. But once you get past thanking the obvious -- the venues, the labels, the promoters, the recent national attention, and, of course, their natural talent -- there's not much left to be thankful for.



Our music scene was built on hard work. Not luck, not fortune, not the good will of some omnipotent rock god. The bands that have made a name for themselves did it by busting their asses in the studio, in the clubs, on the road. Beyond that, I can only image what they could be thankful for:



A good van
A better mechanic.
Cheap(er) gas.
Free booze at gigs.
A quiet place to throw up after all that free booze.
Getting away with it.
Getting caught by the right people.
The decision to not press charges.
Staying together, because it makes sense.
Breaking up, because it makes sense.
Just getting rid of fly in the ointment.
Thinking through every possible consequence before saying no to a groupie.
Those times when you said yes.
Catching the flu on off nights.
Being able to fake it when it catches you.
Staying away from the wrong drugs.
Surviving those time(s) when you weren't smart enough to avoid them.
Making that one last phone call.
Sending that one last e-mail.
Making and sending one more after that.
Listening to the right people.
Ignoring the wrong ones.
Not giving a shit either way.
Being clever enough to come up with the right riffs,
The right fills,
The right lyrics
At the right times.
And most importantly, doing things the right way when tempted time and time and time again to do it the easy way.



This is getting preachy. And trite. And it's just the kind of thing I wanted to avoid by not participating in that article in the first place. What do the fans and musicians and everyone involved in the Omaha scene have to be thankful for? That there is an Omaha scene at all. And who can they thank? Themselves.



Column 51 -- Goodbye, Caulfield
Nebraska's original indie label calls it quits


Before there was Saddle Creek, there was Caulfield Records.



It was 1988 -- a time when the thought of Nebraska ever being the center of anything other than college football, telemarketing or insurance -- let alone the indie rock music world -- was insane. Record labels belonged in New York or L.A. (or maybe Seattle), certainly not Nebraska.



Then along came a 17-year-old Lincoln entrepreneur who conned his loving mother into cosigning a loan to finance the release of a 7-inch EP by his band, Peer Puppet.



"We actually changed our name after the record was pressed," said the entrepreneur in question, Bernie McGinn. "We crossed out 'Peer Puppet' and stamped it with the new name, 'Sideshow,'" McGinn told me the story from his new home in sunny, soothing San Francisco, California, where he moved seven weeks ago to pursue an offer he couldn't refuse from CNET News.com. The move decidedly spelled the end of one of the most influential record labels in our scene's rather young history. Caulfield Records and its roster of bands that included Frontier Trust, Mercy Rule, Christie Front Drive, Giants Chair, Opium Taylor, Mineral, The Sound of Rails, The Lepers and Her Flyaway Manner, were the predecessors to a phenomenon that would emerge a decade later called Saddle Creek Records. McGinn proved that you could run a successful, nationally distributed indie label out of your house and have fun doing it. Making money at it, well, that's another thing altogether...



The label's heyday was in the early '90s. Caulfield grew from a regional label with local acts like Mercy Rule and Frontier Trust, to a national entity with the release of CDs by Denver's Christie Front Drive and Kansas City's Giants Chair, two bands that toured extensively. Things got so busy around the Caulfield offices that there wasn't enough room for McGinn's own band -- Sideshow released their second LP on Flydaddy, a subsidiary of Sub Pop.



Then over the course of '95, Giants Chair, Christie Front Drive and Lincoln band Opium Taylor all broke up, just after Caulfield released those bands' follow-up LPs. "Opium Taylor's last show was their CD release show," McGinn said. "For all intents and purposes, not having bands on the road was the beginning of the end."



But McGinn soldiered on. In 1999, the label released the debut by Traluma, a project fronted by former Gauge guitarist Kevin. J. Frank. It was the first time McGinn had to work with a band's independent publicist. It would prove to be a souring experience.



"I struggled with it for quite a while -- do I want to make this my job or is this a passion or hobby?" McGinn said. "I did try, on a number of levels, to make it a record label by putting out music by (bands) Kolya and m.i.j., and working with people who weren't part of my close circle of friends. Afterward, I decided that this isn't fun and it isn't the reason I started the label."



Add to that the fact that by 2000 McGinn's last band, Luck of Aleia, had folded, and he no longer was performing on stage. "That meant I wasn't meeting new bands," he said. "It just didn't make sense anymore."



Caulfield's last gasps were releases by his brother Brendan's band, Her Flyaway Manner, as well as The Lepers and The Sound of Rails. In May 2003, Caulfield released Fractions and Exaggerations, a compilation of material from '90s noise-rock band Germbox. Catalog number 41 would prove to be the label's final release.



"There was no official tent folding," McGinn said of Caulfield's demise. "It was an organic process of not putting out any records, in the same way that putting out records in the first place wasn't an effort to start a record label."



These days, McGinn and his wife, Tammy Childers, are busy enough just keeping up with their 3-year-old daughter, Stella. He says he's still going to keep material in print that people want (You can find it at Caulfieldrecords.com), as well as make the catalog available on digital services such as i-Tunes, Rhapsody and Napster.



"It's been an honor working with bands that I have been huge fans of, and being trusted to help get their music out there," McGinn said. "That's been the best part of it."


Column 50 -- Shelter on the Road
Shelter Belt epitomizes the term DIY


I never again want to hear woe-is-me laments from local rock bands complaining about how they'd just love to go on the road but they can't figure out how to book a tour.



Not after talking to Jesse Otto and Anthony Knuppel, two of the 7-member indie folk-rock orchestra called Shelter Belt.



Whilst clicking through the daily gig calendar on SLAMOmaha.com this summer I kept coming across listings for Shelter Belt shows at such obscure and faraway venues as Beaner's Central Coffeehouse in Duluth, The Brown Bean in Fredonia, NY; Soul Infusion Tea House and Bistro in Sylva, N.C., and Reptile Palace in Oshkosh, Wisconsin. Hardly the towns and venues I'm used to seeing on a touring band's typical itinerary.



As of last Saturday night's gig at Shea Riley's, Shelter Belt has logged 58 shows this year throughout the North Central, Midwestern and Eastern United States. That follows a 70-gig year in 2004, all without the help of a record label or booking agent.



Booking is hard, frustrating work, Otto and Knuppel said over espressos in a packed Blue Line coffee shop Saturday. "You have to be persistent, and it can't bother you to be ignored," Otto said. "When a venue says they've never heard of you and they don't have time to listen to your record, you just have to move on to the next one on the list."



There's a method to the band's touring madness. Knuppel said it involves identifying colleges and universities within driving distance, then researching nearby venues. They bypass large cities and big clubs. "Unless you're a really huge band, forget about it," Knuppel said. "We've had our best luck at smaller cities with bigger schools. We try to avoid 21-and-over clubs for venues that are 18-and-over or all-ages. Coffee houses are the best. We'll sell 15 to 20 CDs at those shows."



But it's not only juggling venues' schedules, Otto and Knuppel also have to juggle the band members' seven day-jobs. Otto, for example, works at UNO and is a history grad student, while Knuppel does accounting for a downtown parking company. "We're lucky everyone has flexible jobs," Knuppel said, adding that the band takes vacations days at the same time to facilitate longer tours. "We've only had to turn down four or five shows because of job schedules."



With the gigs booked, the band piles into both a van and a car and hits the road to venues like The Boheme Bistro in Ames, Iowa -- a favorite because of its generous owner, its roomy stage, and of course, its loving crowd. "The Iowa State Daily and the radio station have been good to us," Otto said. "We've had large crowds there from day one."



Otto and company received the ultimate compliment the first time they played The Main Street Pub in Brookings, South Dakota. They began playing "Sad Thing" from their last album, Rain Home, and members of the crowd already knew the words. "That's the ultimate compliment," Otto said.



He says touring is like being on vacation, but not a paid one, as the band usually struggles to break even or get a few dollars ahead. Still, without a record label, touring is the only effective way that Shelter Belt is going to get their music heard outside of the Omaha area. So far they've sold more than 1,100 copies of Rain Home -- almost all of them sold at gigs.



The band is winding down its tour schedule for the year as they reenter their homemade Belt Cave Studios located in the basement of a Dundee home, to record the follow-up to Rain Home. Fans can expect the finished full-length sometime next spring. And then it's back to the road.



"We want to do more shows than last year," Otto said. "Every year it gets a little easier now that we've done the initial leg work. More people know who we are."


But wouldn't it be a dream come true if the new CD caught the attention of a record label and Shelter Belt got a booking agent? Otto and Knuppel aren't holding their breaths. The band didn't even bother shopping Rain Home to labels. They might send the new one out to a few this time, but if no one bites, that's okay.

"We've always done things DIY and it's worked for us," Otto said. "We would love to make a living traveling and recording and not have to work day jobs. We're told that it's possible.



"We wouldn't be doing it if it wasn't possible," Knuppel said.


Column 48: Digging Through the Stack
A round-up of worthy recent releases



Dipping through my stack of CDs, here's a handful of recommendations to check out at your local record store. The keyword here is "retro," as in "tribute" or "influence" or "return of a style" or "art repeating itself" or "there is no such thing as 'original' anymore." Oh well. Rock's been eating itself since before Bo Diddley and will continue gnawing away at its own foot long after the kids from Smoosh (rocking from the age of 8) are finally put to bed.



Ester Drang -- Rocinate (Jade Tree) -- Think Avalon-era Roxy Music with a touch of The Sea and Cake and Flaming Lips and you're halfway to this Oklahoma band's summer-breeze vibe. Tracks like "Hooker with a Heart of Gold" and "Great Expectations" sport a cushion of lush strings, brass and piano that would make Burt Bacharach blush with admiration. Jazzy and carefree, it's hard to believe this was released on post-punk label Jade Tree, home to such angst brutes as Girls Against Boys and Onelinedrawing, and Omaha's own Statistics.



Early Man -- Closing In (Matador) -- I profess to rarely listening to metal of any stripe these days. Sure, I dug Queensryche and Iron Maiden as much as the next guy, but that was back in my younger, stupider days (he said with a sniff). Then along comes Early Man, and suddenly I feel like a 17-year-old again, riding around in my brother's El Camino cruising for chicks and booze. Fist shaking. Bloody nose. Angry for no reason. Angry because it rocks! Sure, it sounds like the riffs were lifted directly from 1) Black Sabbath, 2) Judas Priest, and 3) Metallica (not necessarily in that order), but there's no denying the pure head-bangin' extravagance of rippers like "Death Is the Answer," complete with Bobby Beers a.k.a. Steel Dragon falsetto intro. Could they single-handedly bring metal back from the dead? If it all sounds like this, I sure hope so.



Eagle*Seagull -- Self-titled (Paper Garden) -- I've already proclaimed that these swinging Lincolnites as being Nebraska's version of red-hot Canadian "It" band The Arcade Fire. Why? Could be because Eli Mardock's breathy moan resembles AF's Win Butler's, or that both bands have a penchant for jaunty non-traditional arrangements on a grand scale ("Your Beauty is a Knife I Turn on My Throat" sounds like it came straight off Funeral). Still, the comparison ain't fair. Too often E*S's debut veers headily away from AF's Bowie worship, especially on tracks like the momentous "Lock and Key," with its late-song waltz that creates a majesty uniquely its own. Ambitious, and good too.



Acid House Kings -- Sing Along with the Acid House Kings (Twentyseven Records) -- Like the last Kings of Convenience album, Sing Along... sports a falling leaves / Simon and Garfunkel texture thanks to its gliding strings, chiming acoustic guitars and twee vocals. Add more reverb to the guitars, hand claps and some sweet West Coast harmonies and you've got a modern-day version of The Association. Elevator music for a new generation.



Sufjan Stevens -- Come on Feel the Illinoise (Asthmatic Kitty) -- Like listening to a choir of indie slackers led by a Little Prince in a Cubs hat whose voice is a morph of Art Garfunkel and Ben Gibbard singing lullabies to Jacksonville, Decatur and Chicago. Fans of Greetings from Michigan will find it all too familiar (In fact, if you weren't paying attention, you'd be hard-pressed to differentiate between the two). Can there be too much of a good thing? I don't think so. On the other hand, it could get pretty tired if he repeats it over the next 48 states (albums).

My Morning Jacket -- Z (ATO/RCA) -- Am I the only one who thinks that the CD's first single, "Off the Record," with its Hawaii Five-O guitar riff and trippy reggae beat, sounds like a laid-back Who track circa Who's Next? Maybe it's because of how they've made Jim James sound like Robert Daltrey or the fact that there's so much reverb throughout the album that it feels like it was recorded from the bowels of whale... or the back of a smoky arena circa 1972 haunted by the memories of Neil Young, Alex Chilton and Joe Walsh.


Live Review: Swords, Dios (Malos) – Oct. 23, 2005 –



I went to see Swords last night. I left discovering Dios (Malos). Swords weren't bad. The six-piece band that included two drummers (one of whom also fiddled with electronic noises), a keyboard/violinist and a couple guitarists had way too much going on and the result was muddled and unfocused. Their music actually sounds bigger and more thought-out on CD. Live, it's a bit too fey and yearning for my tastes. One guy described them as sounding "pretty." Another patron complained "Could they sound anymore like Death Cab?" Well, other than the lead vocalist's upper-register voice, they sounded nothing like DCFC, not nearly as catchy or interesting. Maybe they just didn't have it last night. O'Leaver's small size can be either intimidating or disappointing to bands, even if its full as it was last night. Their set seemed like it lasted about 20 minutes and was over without a flourish. "Are they done?" the guy in front of me asked. Looks that way.
I had zero preconceived notions about Dios (Malos). Like I mentioned yesterday, I got lost on their website and never found any music files online. After last night, I don't think I've been turned on by a band as much since maybe The Smithereens' first album. No, Dios doesn't sound anything like The Smithereens. They do have a similar aesthetic regarding traditional song structure. But the comparison ends there. Dios also has a relationship with My Morning Jacket in that giant-sized singer/guitarist/keyboardist Joel Morales uses a huge amount of reverb and delay in his vocals, which make them sound -- appropriately -- big and haunting. You knew it was going to be special when, during the pre-set sound chec,k Morales improvised piano fills to New Order's "Temptation" which was playing on the juke box. Their first song played off the opening organ chords of Led Zeppelin's "All of My Love" before turning into a Dios original, sort of (I think it was merely a warm-up exercise). Whereas everything seemed lost and confused with Swords' mix, the sound couldn't have been any better for Dios -- they did have an unfair advantage in that drummer Jackie Monzon would make my top-five "best of" list for drummers seen and heard at O'Leaver's -- unbelievable stuff. So were the songs, whose So Cal sensibilities and nod to retro supersede any indie rock labels, though they certainly are an indie band. Uber-engineer Phil Ek produced their just-released eponymous CD on Star Time that captures the band's crisp take on laid-back rock. A pleasant surprise.
Tonight: Fromanhole at O'Leaver's with Landing on the Moon and touring band from Minneapolis, Self-evident. Just added to the bill: self-proclaimed rock/blues/death metal band Black Horse.

<Got comments? Post 'em here.>
Live Review: Metric; Swords tonight... – Oct. 22, 2005 –



The night started out on the wrong foot. I missed the two opening bands, and then was told that earlier in the evening, a member of Metric was pissed at the headline used in The Reader story (He didn't understand why the media keeps getting hung up on the whole "metric system" thing... it might have something to do with the fact that the band is named Metric). Apparently the same Metrician was overheard making a colorful comment about our fair city. "We went downtown this afternoon. Sucks!" I guess when you're from Toronto, Omaha's Old Market is going to be somewhat lacking. Hey, you know what? It's all we got. So whatever love I had for the band was slightly tarnished by the time they took the stage at around 11. Despite all the hostility, I gotta admit that they put on a pretty good show. If you read their one-sheet you'd think they were symbiotically tied to Goo-era Sonic Youth (In fact, their soundguy played "Kool Thing" over the PA right before their set), but the way they were mixed last night, they seem more like descendants of Depeche Mode or The Cure. The kick-drum was so amped that you could feel the thump-thump-thump shake your insides to Jello -- it was huge. So huge that it overpowered the rest of the mix. Instead of an experimental noise rock band, Metric has turned itself into an electro-clash dance band, someone you might hear opening for The Faint. A number of songs started off subtly, pretty, toned with edgy keys or echoing guitar, but once the drums came in, all you got was THUMP-THUMP-THUMP. If you were there to dance, that's not necessarily a bad thing, but it killed Jimmy Shaw's gorgeous, shimmering guitar lines and overpowered pretty Emily Haines' too-thin vocals. A few times they reached some sort of equilibrium (or maybe I just channeled out the kick drum) and created an unstoppable dance vibe. Shame that so few people in the crowd picked up on it (Come on, we all know that nobody dances in Nebraska!). The 150 or so in the crowd did what they usually do -- stood and stared as Haines and bassist Josh Winstead tried to get their groove going. They didn't succeed until the encore -- the two best songs of the set, neither of them recognizable from the new CD. Ten minutes into the last song, during a killer guitar solo drenched in reverb, Haines coaxed part of the crowd on stage. It wasn't easy, in fact she had to ask three or four times and practically drag them up. After the first couple got up there, though, 20 or so more slowly came up and did their thing with the band. I have no doubt that Metric could easily jump to the next level if they got on the right tour (Yeah, they would be perfect opening for The Faint). Instead, they may be satisfied playing their string of sold-out Canadian shows scheduled through the end of October. Something tells me the downtown scene is cooler in Edmonton, Calgary and Saskatoon.
I mentioned to a couple people last night that I'm probably going to pass on the sold-out Decemberists show at Sokol Underground and head to Swords at O'Leaver's. No one's heard of the Portland-based six-piece, apparently, though their new CD, Metropolis, on Arena Rock Records has gotten accolades from The Boston Globe, Magnet and Time Out New York, among others. I dig it. Fred Mills from Magnet called it "chamber music for post-rockers" and that sums it up well. The title track, for instance, reminds me of brooding early Genesis with vocals as light and airy as Lindsay Buckingham's. They have a big sound, maybe too big for O'Leaver's. We'll find out tonight. They are not the headliners -- apparently Dios Malos is. Trying to figure out something about that band, I got totally confused and lost on their website. I did find the Startime Records site, where you can download their cover of Beck's "Asshole." Nice. $5, 9:30.
<Got comments? Post 'em here.>
Metric tonight, and the rest of the weekend... – Oct. 21, 2005 –



The weekend starts with an all-Canada showcase at Sokol Underground, headlined by Toronto band Metric and opening acts The Most Serene Republic, a Milton, Ontario, six-piece who sound heavily influenced by Death Cab/Postal Service, and The Lovely Feathers, who sound like a strange cross between Two Gallants and Pavement. 9 p.m., $10. If that doesn't trip your trigger, check out The Terminals with Austin's The Midgetmen and Lincoln's Ideal Cleaners at O'Leaver's. $5, 9:30 p.m. Also tonight, the Sixth Annual "Sisters Doin it for Others!" all-girl revue at Mick's featuring Goodbye, Sunday and Sarah Benck, among others. It starts at 7:30, and all donations go to the Lydia House, a shelter for battered and abused women and children.
Tomorrow night's hot show is the sold-out Decemberist concert at Sokol Underground with opening band Cass McCombs. So mad should that house be that I will probably instead go running to O'Leaver's, where Swords is opening for Dios Malos (I'm going for Swords). $5, 9:30 p.m
The weekend winds down on Sunday, again at O'Leaver's, with Fromanhole, Landing on the Moon and Minneapolis band Self-evident. $5, 9:30 p.m.
Look for live reviews here all weekend...
<Got comments? Post 'em here.>
Column 47: Zero Street Records... – Oct. 20, 2005 –



This column makes Mike Garber's Zero Street Records sound like it only deals in rare vinyl. Not true. Garber sells all kinds of stuff. In addition to foreign pressings of, say, a Beatles albums or an early copy of Captain Beefheart's Strictly Personal, you can also find a nice, clean copy of your favorite Jethro Tull album, on vinyl of course. Most of the stuff in the bins is only a couple bucks -- these are the records that he isn't going to bother putting on eBay even though he could get more for it there. When I first approached this column, I wanted to focus on why anyone would want to open a record store in the first place, what with the advent of downloading -- legal or otherwise. But one look inside Zero Street and you realize downloading won't touch a place like this. The target audience is strictly vinyl junkies, most of whom would never consider owning an iPod. Garber insists that it's the economy, not technology, that's been killing record stores. "If the economy was better now, people would be buying the same as when Clinton was president," he said. "We're in a time when we're paying an arm and a leg for gas. You can't buy stuff like you used to. Some people are doing well, but generally people are struggling. It's a lot harder to have that expendable income to buy stuff."
Column 47 -- Biography of a Digger
Zero Street is more than a store, it's a way of life




Mike Garber is a reformed digger.



No, I'm not talking about a guy who makes a living preparing final resting-places. Diggers are record collectors (not CD collectors) who think nothing of flipping through a few thousand pieces of vinyl at record shows, garage sales or places like Zero Street Records at 65th & Maple in Benson -- Garber's new shop -- to find that hidden, elusive side that's been haunting them all their lives.



Garber's quite familiar with the digger's lifestyle. He was one for years. He speaks of his early record collecting days like a reformed junkie recalling a bleary-eyed life on the street desperately looking for a fix, living off Ramen noodles to save every dime he could scrape together. Not for drugs, for more records.



"I scored some great stuff back then," Garber said from behind his store's counter. "Every penny I had went to pay off records. A thousand dollars for one 45 meant nothing to me. I loved owning this stuff. I recognized the beauty and value in it."



So much so that after earning his degree in Fine Arts at UN-L, Garber dashed any thoughts of a career in graphic design when he was offered ownership of his first record store, Lincoln's original Zero Street Records, named after Alan Ginsberg's poetic dig on "O" St., where the store was located. Growing up in Omaha, Garber spent his youth digging through stacks of sides at The Antiquarium. He wanted Zero Street to be Lincoln's version of that classic record store, selling not only used, but new music.



So dedicated was he that he gave up one of the most important things in his life -- his record collection. "I sold it at market rates and took the money and invested it in the store and the building it was in," Garber said. "I recognized life is more than a record collection."



But it only took five years of sitting behind a counter all day and trying to keep up with stocking new music before Garber burned out on Zero Street. He closed the Lincoln store last August, and just like he'd done before, someone stepped up and reopened it -- but it didn't take long before the store closed for good.



Garber spent the next year traveling to record shows and buying private collections. One New Jersey collection of fewer than 100 records set him back six grand, but included two ultra-rare singles -- one by a '70s Connecticut punk band called Tapeworm, another by a Texas punk band called The Rejects. Never heard of them? Neither had I. Regardless, each fetched more than $1,000, thanks to the wonders of eBay, the 21st Century diggers' hunting ground and Garber's new field of dreams.



So why open another store? Garber said he got tired of the road and being stuck in his apartment eBaying all day. "I wanted that social interaction again that I got from running a record store," he said. After considering Chicago and Minneapolis, he was drawn back to his hometown and the low-rent storefront in the heart of Benson.



Things are going to be different this time, however. Zero Street sells no new records or CDs, only used vinyl. Step inside and there's not much to see -- freshly painted blue walls, shiny aluminum heating ducts, and lots of waist-high wooden crates filled with record albums.



"Half the people who come in to check out the store think it's a novelty," Garber said. "When you walk in, it doesn't look like much, but if you're a record person, you'll recognize it. If you're a digger, you're gonna come in and think there's some really great records here."



The proof was right before our eyes. While chatting, a mustachioed guy worked his way through a stack of rare R&B 45s, playing them on a small turntable behind the counter before buying about 50 bucks' worth. Meanwhile, another guy laid a 2-inch-thick stack of albums and singles on the counter -- again consisting mostly of R&B sides -- which ran him well over $100.



As important as guys like these are to Zero Street's success, Garber says there's one clientele even more important, and it could include you: It's people cleaning out their apartment, house or garage looking for a place to sell those old records that have been sitting around unplayed for so many years.

"The only way this store will survive is if people sell me their records," he said. "I won't last long without them."



Spoken like a true digger.


<Got comments? Post 'em here.>
Feature interview: Metric; New Black tonight... – Oct. 19, 2005 –



This week's feature interview with Metric just went online (read it here). I didn't get a lot of space, but I didn't need much, either. Metric guitarist/songwriter Jimmy Shaw mostly talked about the process of recording the band's new CD, Live It Out, and how much he hated going to Julliard. Since Julliard appeared so prominently on the band's one-sheet, I figured he'd be tired of talking about. "Actually, no one's asked me about Julliard before," he said, then went on to rail against the institution. Guess that whole dancing-in-the-streets-of-New York thing you see in Fame is bogus, or Shaw just never took part. He also talked about his apprehension to finish the CD, second-guessing the quality of the tracking and underscoring the need for an outside voice to give the project perspective -- in this case, mixing engineer John O'Mahony, who would stop Shaw from rerecording or throwing out tracks destined for the eraser head. "Someone's got to kick you out of the studio or you'll twiddle to oblivion," Shaw said. "Someone was interviewing Miles (Davis) when he was painting in his back yard. They asked him to define jazz, and he put one last stroke on the canvas and said 'That's it, now it's done.' The whole point is to call it finished. You could go on forever, there's no such thing as perfection. I got too close to the recording. 'Poster of a Girl' (off the new album) happened as it is right now on tape. I had it in my head that we had to go back and fix the arrangements. The first time John heard it, he said, 'It's finished. Give me the hard drive.'"
I didn't go to United States Electronica last night because I plan on going to New Black tonight at O'Leaver's with Ris Paul Ric, the new project from Christopher Richards of Q And Not U. New Black has been compared to Le Tigre, Yeah Yeah Yeahs, Lost Sounds, Death From Above 1979, Sonic Youth, X-Ray Spex, ESG, Suicide, X, and Siouxsie And The Banshees. Yikes. 9:30 p.m., $5.
<Got comments? Post 'em here.>
United States of Electronica tonight... – Oct. 18, 2005 –



Tonight, United States of Electronica again graces Omaha with its frontal-assault dance party at O'Leaver's. Here's a profile I wrote about the band last March when they came through with Aqueduct, and here's the review of the show. This being a Tuesday night, who knows what kind of crowd it will draw -- I suppose it'll be a testament to whatever buzz they've managed to generate between gigs. Opening the show is Seattle band The Divorce, which is touring a new album out on Made in Mexico Records. The couple songs on their website sound like '80s Breakfast Club music, sort of Simple Minds meets The Cure. Probably a good fit with USE. $5, 9:30 p.m.
<Got comments? Post 'em here.>
A few things of note... – Oct. 17, 2005 –



- The only show I hit this weekend was The Gunshy at O'Leaver's Friday night, and boy did I get the preview write-up wrong. I expected a soaring indie band, but what I got was a singer/songwriter and his guitar. I should have known better. Although this guy has just finished recording a full-length with a full band, he rarely tours with one. Everyone I talked to seemed to know this already (He's apparently toured with Darren Keen of The Show Is the Rainbow on a number of occasions). He told me after the show that his modus operandi might change for his next tour. There weren't many people there anyway, and only a few actually paying attention to the stage. Unfortunate.
-- Regular versions of the Two Gallants story (here) and Public Eyesore story (here) went online yesterday; the Public Eyesore story was restored to its original 1,200-word version, so there's a couple more details included.
-- Look for a feature on Metric Wednesday and a column on Zero Street Records Thursday. Fun, fun.
-- Tonight, hip-hop artist Hangar 18 plays at Sokol Underground with Cryptic and local artist Breathless. $8, 9 p.m.
<Got comments? Post 'em here.>
Onward, the weekend... – Oct. 14, 2005 –



Tonight: The Gunshy, Austin Britton, and Bill Latham at O'Leaver's. The Gunshy are from Lancaster, PA/Chicago, IL and play souring indie rock fronted by a guy with a raspy voice that's a cross between Tom Waits and Dicky Barrett. They've got a new album coming out on Latest Flame Records. The track I listened to on their site prominently featured trumpets. Wonder if they'll have a trumpet player in tow. Austin Britton plays in Kite Pilot. Good stuff. $5, 9:30 p.m. Down at Sokol Underground, Irving, CA, band Thrice is playing with Underoath and Veda. $18, 9 p.m.
Saturday: The Cops, featuring former Omahan Mike Jaworski, is playing at The 49'r with Mt. Fuji labelmates Little Brazil and Race for Titles. The Cops are touring their new CD Get Good or Stay Bad, due in stores Nov. 1 -- consider it a modern revisionist version of The Clash's London Calling. Nice. $5, 9ish. Meanwhile, The Show Is the Rainbow is headlining downtown at Sokol Underground with Books on Tape and Lincoln legends Her Flyaway Manner. $7, 9 p.m. And if that wasn't enough, those swinging kids, One Mummy Case, are playing a gig down at The Foundry Coffeehouse on 60th and Maple. 8 p.m., free.
Sunday: Underground hip-hop artist Sage Francis performs with Sole & Sol.iLLaquists of Sound at Sokol Underground. $15, 9 p.m.
<Got comments? Post 'em here.>

Column 46: Public Eyesore Records; metal, blues, pop tonight... – Oct. 13, 2005 –



I did not make it to Sleater-Kinney last night. In addition to smashing my toe yesterday morning, Built to Spill just took too much out of me the night before. Anyone who did go, give us a quick review on the webboard, will you?
This week's column again was slated to be a feature story in The Reader, but the paper again cut my word-count limit down to 400 -- not nearly enough. I could either cut it myself or make it a column. The story was born out of a discussion I had with musician Lonnie Methe after his band, Mancini's Angels, played a gig at O'Leaver's last May. Methe, who was about to move to Austin, said that the local media all but ignored a thriving experimental scene that was making waves internationally. He pointed to Public Eyesore Records as an example. One of the goals in writing this piece was to better understand the so-called "sound art" scene, its recordings and their appeal to, well, anyone. The results are below. I'll likely post an extended version of this article online in the next few days in the "Interviews" section.
Column 46 -- Omaha's Other Record Label
Public Eyesore could be an earsore to some


Sure, everyone knows about Saddle Creek Records, but did you know that there's another record label right here in river city that produces CDs that are distributed all over the globe by bands that tour all over the globe to fans all over the globe?


Public Eyesore Records has been thriving right under your nose for the past seven years. How could such an enterprise exist without your knowledge? Probably because most -- if not all -- of the bands on the label's roster are known only by the tiniest of audiences who listen, collect, perform and enjoy a genre of music that's been referred to as "avant-garde," "minimalist" or "experimental." In fact, your typical FM radio listener probably wouldn't consider it "music" at all.



"I call it music," said Public Eyesore owner Bryan Day, who operates the label out of his midtown apartment. "I might call it 'sound art' or something like that. Referring to it as 'experimental noise' is naïve terminology since there are so many subgenres within it."


As research for this article, Day sent a care package that included a handful of CD-Rs in colorful cardboard sleeves, jewel-cased CDs and some vinyl. Among them:


Monotract, Pagu. Released in 2002, the LP contains rhythms beneath layers of electronic noise/static/squawks that sound like messages received from outer space. Amidst the chaos are tracks like "Birao de Lao," a pleasant tone poem lightly sewn together with clicks that fall on a beat.



Jad Fair and Jason Willett, Superfine (May 2003). Known as the frontman of the underground punk band Half Japanese, this solo collaboration between Fair and HJ band mate Willett is almost commercial sounding. Fair's solo work has been released on such labels as Kill Rock Stars, Jagjaguwar and Matador, but this is still an oddity in the Public Eyesore tradition. Fair and Willett play a variety of instruments, pick out weird melodies and blend it with shrieks and comic vocals. The 20-song "enhanced" CD also includes 155 mp3 tracks for more than five hours of additional music.



Blue Collar, Lovely Hazel. Released this year, the trio plays trumpet, flugelhorn, trombone, percussion and "sings." Opening track "48/1" sounds like boiler pipes moaning in an old building or someone moving furniture in the apartment upstairs. The bleeping horns have an improvisational feel and often build to a noisy conclusion. Along with Superfine, it's among the label's best sellers.



Jorge Castro, Sin Titulo #2. The 2001 CD-R contains pulsing noises like faraway satellites that slowly mutate into ambient tones over its single 44-minute track. Atmospheric and somewhat soothing, it has no discernible melody.



Jesse Krakow, Oceans in the Sun. Krakow is a member of Fast and Bulbous, a Captain Beefheart-influenced avant-prog band. The 2004 CD-R opens with "Tree for Me," a track that features beatbox, organ and Krakow actually singing a melody.



Onnyk, Private Idioms. The 2001 CD-R contains two live sessions recorded in October 1995 and January 1997 in Morioka, Japan, that sound like stringed-instrument improvisation but could be confused with random noodling. The band includes Day's wife, Yoko Sato.



Naturaliste, A Clamor Half Heard. The Omaha-based ensemble has included among its members Lonnie Methe, Simon Joyner, Chris Deden, Charles Lareau, Chris Fischer and Day himself. This 2001 CD-R is a wall of noise, distortion, pure nihilism that's both grating and disturbing.



Day admits that to the untrained or unwilling ear, some of his label's music will sound like noise. He markets his catalog nationally via magazine ads and the Internet (his website is publiceyesore.com), but he's never focused on Omaha, though his discs are available at The Antiquarium record store.



"There' such a small market for this kind of stuff to begin with," he said. "It's something where if you're naïve to the whole scene you can't appreciate it as much as if you're actually a part of it. It's difficult to get into unless you're doing something with experimental sound."



Despite the limited audience, Public Eyesore has released 14 recordings so far this year and is on target to release his 100th catalog item by year-end. CD releases have 1,000 to 2,000-copy runs. CD-R releases are painstakingly hand-produced in lots of 250 -- a process that Day said he's dropping because of the manual labor required to cut and assemble the sleeves.



The work doesn't end there. Day also books tours for his bands in the U.S., Europe and Asia. "The tours are much more successful in Europe," he said. "Japan has a big scene as well, and there are some places on the coasts of the US where you can tour successfully."



That said, his own band, Paper Mache -- which he describes as "definitely not as loud as Naturaliste and easier to understand" -- is taking off on a two-week tour of the US heartland later this month, including gigs in Iowa, Minneapolis, Wisconsin, Milwaukee, Tennessee and Missouri. "It should be interesting," he said. "You never know who's going to show up."
Tonight's festivities: One Percent is hosting a metal show down at Sokol Underground with Norma Jean and Darkest Hour ($12, 9 p.m.), while uptown at The Scottish Rites Hall One Percent is hosting New York blues-hammer guitarist Joe Bonamassa ($25, 8 p.m.). Just as compelling is The Ointments (Reagan Roeder, Kyle Harvey, Landon Hedges) and Lifeafter Laserdisque at The Spotlight Club at 120th and Blondo. ($?, 10 p.m.).
<Got comments? Post 'em here.>

Live Review: Built to Spill; Sleater-Kinney tonight... – Oct. 12, 2005 –



Last night's Built to Spill show sold out sometime yesterday afternoon as expected and when I showed up at around 11 Sokol Underground was filled to the gills, it was like stepping into a third-world Customs holding tank, but with smokers -- lots of them. I chatted with someone outside the venue while one of the openers was on stage. "What's going on in there?" I asked. "Just a lot of sweating and secondhand lung disease." There's something weird about Built to Spill attracting so many smokers. Maybe unbeknownst to me they're sponsored by American Spirit, though I didn't see anyone passing out free pastel-colored boxes of their cigarettes.
As per usual, Lea Thompson and Dave Foley were there. Okay, guys, it's time to go back to Hollywood now (I guess their movie wraps tomorrow). I never saw Foley. Thompson spent part of the show on the stairwell leading outside, I assume to gulp in fresh air or something else. I also saw some people who looked exactly like Steven Spielberg, Vincent Gallo, Sean Penn, and Napoleon Dynamite, as well as a guy who looked exactly like Doug Martsch, though he was older and balder than the Martsch I saw at Sokol Underground six years ago. But other than playing guitar better -- and longer -- he and his band didn't sound much different. Martsch isn't exactly a stage ham. He stands up there with his guitar, surrounded by four other guys, and does his thing, separating songs by saying "Thanks a lot." We got treated to at least three songs from Keep It Like a Secret. I can't tell you more than that because I don't have any of his other CDs. I thought the band sounded tight, though the mix was too muddy for my taste. It wasn't as loud as typical shows (maybe all the bodies in the room were acting as buffers) and I was able to take out my earplugs for most of it. The biggest complaint I heard was that the songs went on too long. He used them merely as starting points for 10-minute "jams" (probably the wrong word to use since these guys are anything but a jam band). I was standing in the back of the room toward the end of the set and one die-hard fan I knew stopped to say so long. "Where are you going?" I asked. "It's just more of this for 20 minutes" he said, referring to another one of the structured rock odysseys that seemed to tail up and down forever. I hung around just to see if they played "While My Guitar Gently Weeps" which I had heard they were playing at other shows. Sure enough, Martsch and Company launched into it as the encore, but I left before he finished his solos. It was a looong set, probably over 90 minutes.
Tonight is Sleater-Kinney with The Gossip. I figured this one would have sold out by now, too. Seems like I'm the only person in the continental United States that doesn't like S-K's new CD The Woods. It's been lauded as one of the best records of the year in almost every indie/rock music publication. I think it sounds like they tried too hard to be hard, and sacrificed melodies for gronk to create a Zep-meets-grunge noisefest better suited for L7. That won't stop me from going tonight, though (being exhausted might). $14, 9 p.m., with two bands, it should be over by 11:30. We'll see.
<Got comments? Post 'em here.>
Built to Spill tonight... – Oct. 11, 2005 –



Something of a surprise is that tonight's Built to Spill show at Sokol Underground is not sold out (at least at the time of this posting). In a post on SLAM Omaha last night, One Percent Productions said that there were fewer than 50 tickets left. I have no doubt that they'll be gone before show starts. I blame their lack of sell-out power on the fact that the band hasn't released a new CD in four years (frontman Doug Martsch's solo album, Now You Know, came out three years ago), which made me wonder why they're touring now. Apparently they're playing a number of new songs for an album to be released this fall. Funny, when I interviewed them waaay back in 1999 they were an icon band that had just signed to Warner Bros. and were positioned to become huge. Meanwhile, a fellow Pacific Northwest-based band that took root in their shadow called Death Cab for Cutie was quietly emerging. Well, we all know the rest of the story.
The last BTS show was one of the smokiest in Sokol Underground history -- that was before they installed the SmokeEaters though. Look for a cover of "While My Guitar Gently Weeps" during the encore. Opening are Mike Johnson (ex-Dinosaur Jr.) and Helvetia. $15, 9 p.m. This will be an event.
<Got comments? Post 'em here.>
Brief Columbus Day update; strange pairing tonight... – Oct. 10, 2005 –



I essentially took the weekend off from hitting shows and got some well-deserved sleep as we prepare for a big week's worth of huge shows, well, two for sure anyway. Before we get to that, however, there's tonight's pairing at O'Leaver's -- San Francisco indie rock band Audrye Sessions, who's music is described on their site as "beautiful and bittersweet," headlines a show with opener Mars Black -- yes, that Mars Black. I'm sure there's a good story behind all this, but you'll have to go to O'Leaver's to find out what it is. Also on the bill is The Cushion Theory. $5, 9:30 p.m. It's day 3 of 11 straight days of One Percent Productions shows.
<Got comments? Post 'em here.>
Live Review: The Double, John Vanderslice; the weekend ahead – Oct. 7, 2005 –



Strange pairing of bands last night. Not sure why The Double -- essentially a noise/art band -- is touring with Vanderslice -- a run-of-the-mill indie singer/songwriter.
I figured The Double would come off experimental live. They did. Imagine Ian Curtis fronting The Fall with lots of drone and you begin to get the drift. A four-piece featuring organ/keyboards right in the middle and nice drums but with no real beat. At times it reminded me of Interpol if Interpol weren't a dance band. Trippy stuff that came close to reaching epic proportions but never quite got there. Funny how their single, "Icy," sounds just as out of place in their live set as it does the CD. I assume Matador listened to the demos and said "You can have all the strange organs and jangle-drone shit you want, but we need a single to use on the comp." And it is a good single.
Vanderslice started out strong -- I loved the first two songs -- but then he got into his regular indie-pop groove, which is a bit too vanilla for my taste -- sort of a less fun version of Matthew Sweet or a watered down Ted Leo. The crowd seemed into it, but after about a half hour people started to leave. I'm somewhat guilty of never having given Vanderslice much of a chance from the beginning of his career. I never got into Mass Suicide Occult Figurines when it came out in '00, and I still don't get what all the fuss is about. Seems like a nice guy, though. Head count: I'm guessing 125. I left before the encore.
A glance at the weekend's best:
Tonight: Lee from Bad Luck Charm does a solo set at Mick's. Cross town at O'Leaver's Shinyville is headlining a four-band bill consisting of bands I've never heard of. I've never heard Shinyville, either, but I hear good things about them. $5, 9:30.
Saturday: The Street Urchins at The 49'r for what's being billed as "their final Omaha show." Opening is Brimstone Howl. This will be a mob scene. Come out and see The Urchins one last time so you can say you saw The Urchins. They're that good, by the way. $5. Also Saturday, Mal Madrigal is at O'Leaver's opening for Medications (ex-Smart Went Crazy, ex-Faraquet). $5, 9:30. Down at The Goofy Foot, Kite Pilot is opening for First Fight recording artist The Floating City, a straight-up, laid-back indie band. It's an early show -- 8 p.m. -- and will cost you $4.
Sunday: Good ol' William Elliott Whitmore is back, this time at O'Leaver's. It's worth it just to see a 27-year-old white guy sound like a 70-year-old black man singing Texas blues a la Blind Willie Johnson. Opening is local blues artist Sarah Benck sounding like a 20-year-old white girl. $5, 9:30.

<Got comments? Post 'em here.>
Column 45 (see Oct. 1 entry); John Vanderslice, The Double, McCarthy Trenching tonight – Oct. 6, 2005 –



This week's printed column in The Reader is a tightened up version of the Oct. 1 Lazy-i entry/review of last Friday's Two Gallants show. There are a couple tiny differences, but nothing worth putting online again. Next week you'll get a fresh column and a fresh feature story about another record label here in town, one that you probably don't even know exists…
Tonight it's John Vanderslice, McCarthy Trenching and The Double at Sokol Underground. I know more people who are interested in seeing the openers than the headliner. McCarthy Trenching is Omahan Dan McCarthy (Mayday). Brooklyn's The Double is a new band on Matador Records that released its label debut, Loose on the Air, Sept. 13. Their music can be trippy or jangly, experimental (in a Flaming Lips sort of way) and even straight forward ("Icy" off their new CD is a bouncy, organ-driven rocker). There used to be a time when being on Matador was all it took to draw a crowd. Those were days... $8, 9 p.m. Should be fun.
<Got comments? Post 'em here.>

Live Review: Mark Mallman – Oct. 5, 2005 –



I knew it was going to be weird when I saw the sign out front of Sammy Sortino's a.k.a. Slammers that welcomed "Piano Man Mark Mallman." When I walked in, the guy who took my money said, "You here to see Mark Malberg?" Uh, you man Mallman? "Mallberg." OK.
The show was supposed to start at 7:30. I got there at 8:30 and the opening acoustic guy playing cover songs was still on stage. He went on to play for another hour.
Mallman didn't mind. Including me, there was only three people there to see him play. He said the venue wouldn't let him use the big P.A. stacked on either side of the stage. Instead he was told to use a couple tiny Peavey amps the size of cereal boxes. That meant that he wasn't going to be able to do his regular show, which involved he and a drummer playing on top of prerecorded instrument tracks - supposedly recreating the full sound heard on his records. Instead, his drummer watched with the rest of us, videotaping Mallman's solo set. Lord knows he wanted a record of his gig in Omaha.
I guess it was the kind of disaster show that all touring bands dread. Here was a guy who, just a year ago, opened for Head of Femur at an SRO Sokol Underground show. His records are released on one of the more respected indie labels - Badman Records - home to such acts as My Morning Jacket, Mark Kozelek, Rebecca Gates and Hayden. And now here he was, playing in an Omaha pizza restaurant, propped up on a riser looking at row upon row of empty tables. Let's face it, he could have bagged -- he could have simply canceled the gig and passed up his portion of the $15 door. But instead he hunkered down and pulled out a memorable solo set that included a couple songs from his self-released comp CD, which I highly recommend you find. Heck, Mallman didn't even mind when someone walked up to the stage between songs and asked him to play a cover - any cover. "I might be on a great indie label but I'm not too big to do a cover," he said before going on to do a half-assed version of Billy Joel's "Piano Man" that included a few new lyrics written especially for the occasion. Priceless.
I gotta tell you, Mallman has a helluva voice and knows what he's doing on a piano. The whole set sounded kind of Elton John/Billy Joel-esque, and I think he knew it. His songs, however, took on a darker hue when sung alone. I talked to him before the show as he was compiling his set list, crossing off songs he couldn't do solo. He said he felt kind of weird playing songs about loneliness, death and incarceration while families sat around and ate pizza and watched the Yankees. Let's hope Mr. Mallberg -- uh Mallman -- has better luck tonight in Denver. He deserves it.

<Got comments? Post 'em here.>
Mark Mallman tonight, somewhere... – Oct. 4, 2005 –



Somewhere in Omaha tonight, Mark Mallman performs. I've been told by Omaha's busiest bass player, Mike Tulis (The Third Men, The Monroes, Simon Joyner), that this show should not be missed, that Mallman is the ultimate showman. I'm listening to his new CD, Seven Years, released on Eagles Golden Tooth, as I write this. It's an enticing combination of Ben Folds, ELO and T. Rex sung in Mallman's Midwest-via-Minneapolis nasal voice. His sound is relentlessly throwback, sort of a tribute to '70s glam and so absolutely embraceable that I'm shocked he hasn't broken through the real-but-invisible radio barriers that keep indie down. You might have seen him before as he's opened for Guided by Voices, Beth Orton, Linda Ronstadt, Cat Power, Donovan, Tegan and Sara, Ozomatli, Everlast, Exene Cervenka, Howie Day, and Cracker, among others. Sounds good to me.
The problem: I'm not sure where he's playing. O'Leaver's has Mallman listed on its show schedule, but Mallman's site says he's playing at Slammers, formerly Sortino's at 1414 So. 72nd. St. The venue's shows are booked by Dreamweaver Productions, but their website is either broken or not updated. So what the hell? If I find something out that's more definitive by lunchtime, I'll update this page.
Noon Update: I now know that Mallman will not be playing at O'Leaver's tonight. I assume, then, that the show will be at Slammers. If I can confirm this, I'll update the site again when I get home tonight.

<Got comments? Post 'em here.>
Live Review: Eagle*Seagull, The Heavenly States – Oct. 3, 2005 –



Saturday night's sparsely attended show at O'Leaver's could very well make it onto my year-end top-10 "best shows of the year" list, just because the music was that good -- two hot bands playing two hot sets for 30 or 40 people.
Jeremy Buckley -- boy wonder behind the Lincoln Calling music festival -- gave me a head's up a couple weeks ago about Eagle*Seagull. So excited was he that he e-mailed me a couple of their mp3 files, one of which wasn't properly mastered and sounded pretty bad. I didn't hear whatever he was hearing.
Buckley was right, though. Eagle*Seagull - a band whose name is a pain in the ass to type because of the unnecessary asterisk - is a 7-piece ensemble that includes three guitars, a violin and two keyboards. You can imagine how crowded they were on O'Leaver's "stage." Their intricate, new wave-esque, and perfectly executed arrangements make them Nebraska's version of The Arcade Fire - at times they sounded just like them. E*S has only been around a year or so. Lead singer Eli Mardock told me he's well aware of Arcade's music. Still, he didn't list them as a specific influence, instead referencing Leonard Cohen, who they obviously sound nothing like (He said he meant it from a lyrical perspective). At other times, E*S also has an Interpol sheen. Regardless, their songs are at times more tuneful than both those bands, while during quieter moments Mardock reminded me of Jarvis Cocker and during the fast parts, a yelpy James Johnson from The Wilderness. The live set was more upbeat and focused than their new CD, which demands further study. We need to get these guys back on an Omaha stage soon.

They were followed by Oakland's The Heavenly States, an upbeat 4-piece ensemble that prominently features violin on most songs (I could honestly barely hear E*S's violin during their set). Unbelievably entertaining. If pushed for comparisons, Spoon or Dismemberment Plan comes to mind, but neither really fits. Leader Ted Nesseth plays a left-handed guitar and sports a wicked phrase (for whatever reason, his vocal phrasing sometimes reminded me of Phil Lynott). His between-song patter is also some of the funniest stuff I've ever heard on stage. The motor behind their sound, however, is their rhythm section anchored by Jeremy Gagon on drums, a veritable dynamo that keeps it simple and keeps it moving. Violinist/keyboardist Genevieve Gagon blew me away as well. I picked up a copy of their new CD, Black Comet, and while the songs were just as good, the mix sounded muddy and unfocused -- it just didn't pop from my speakers the way this band popped from the stage.

<Got comments? Post 'em here.>
Live Review: AA, Holy Ghost, Two Gallants, when the stars come out to play... – Oct. 1, 2005 –



Just another typical night at Sokol Underground? Hardly.
The draw was around 150 if I had to venture a guess, not as many as I thought would show up. So much for the we-just-got-signed-to-Saddle Creek drawing power. Two Gallants is still on the rise, they're not going to sell out the Underground. Not yet, anyway. Someday, probably. Sooner than you think.
Anyway. Opening the show was Anonymous American, who I've seen at least a dozen times. They're good. Look, if you like your rock and roll with a double-shot of bourbon and a long-neck chaser, if you like massive hooks (not indie hooks, not prog hooks, not country hooks for God's sake), the kind of hooks you expect to hear on your local FM, you have to check out AA. They're a top-drawer saloon band that would be right at home behind a wall of chicken-wire fencing. Frontman Matt Whipkey is and will ever be a top-notch showman, a throwback performer to a time when people expected more from a band than four slouching beatniks that look like they're about to cry. That said, AA doesn't belong in Omaha. Austin? Maybe. Nashville? Possibly. The West Coast, definitely. Omaha, hmmm… I don't know. They definitely were out of place on this bill, but it didn't matter. They just wanted to rock.
So now, the star turn…
After they finished their set I was standing by the cash register and in walks Lea Thompson (Caroline in the City, Back to the Future, Jaws 3D) and Dave Foley (Kids in the Hall, News Radio, Celebrity Poker Showdown), along with soon-to-be-star Nik Fackler. I'd heard that all three had been cast in a movie being shot around town. And here they were, checking out some of Omaha's gritty nightlife. My recollection of the two out-of-towners: Both are very short. Thompson is as lovely as ever. Foley looked like he grew up in South O instead of Canada, sporting a head o' gray hair and an old-guy beer gut. They looked like a couple of locals, which I guess is what they're playing in the movie.
But I digress. The stars showed up just in time to see The Holy Ghost Revival, the band touring with Two Gallants who's music is somewhat in the same vein, though a little more fleshed out with keyboards, a bass, sort of like a regular band but with a frontman who looked like Iggy Pop's son complete with tit-length hair and exposed abs throughout his shirtless set. I heard them described as a cross between Nick Cave and the Bad Seeds and Frank Zappa. I likened them more to a psychedelic jug band. I will say that I didn't dislike them as much as everyone else I spoke with, none of whom "got" what they were trying to do (The clarinet on the opening song was a bad way to start). Fact is, their style seemed identical to Two Gallants' albeit a little more proggy and sung by Geddy Lee.
Finally, on came Two Gallants. For as many people who had seen them before, there were just as many who had not and had come out to hear who this band was that Saddle Creek Records just invited into their fold. My girlfriend probably caught the gist of their sound best when -- listening to their track on the new Saddle Creek records compilation, Lagniappe -- she said "Who is this guy? He sounds like Rod Stewart." I hadn't thought of that before, but I couldn't get it out of my mind while watching them on stage last night. Lead vocalist Adam Stephens does have a certain Steward-y gravel-drawl that's even more noticeable when he reaches his raggedy limits.
Two Gallants' music comes in two distinct flavors. First, there's the high-energy, 3/4-time pirate songs, where Stephens belts out an endless stream of lyrics over his electric guitar and Tyson Vogel's all-over-the-place-but-with-no-bottom drumming. Vogel's style is completely scattershot, a miasma of rhythms like a beatbox with the knobs twisted to "hyperactive." Their upbeat songs all sounded identical to me, like rousing ship-galley sea-shanty ballads on meth.
Then there's their slower, quieter tunes that downplay Vogel and accentuate simple, repeated melodies along with the endless stream of lyrics. While less ferocious, the gentle ballads are more interesting.
In both cases, the songs are too long -- a criticism that I know the duo is sick of hearing. Regardless, they have no intention of moving away from largess -- Stephens told me that their new CD has one track that's over nine minutes long.
On the surface, Two Gallants appears to be an odd fit for Creek except for the fact that, other than maybe The Holy Ghost Revival, no one else sounds quite like them. Their music is unique, done without a scintilla of concern as to its commercial potential or critical acceptance. You'll either "get it" (as most of the folks near the stage did) or get bored. I fall somewhere in the middle. Their songs always start out great, but lose me at about the five-minute mark, when I start to wonder how many verses I'm in for. A little goes a long way.
The duo played about 45 minutes and did a one-song encore (Stephens asked for an acoustic guitar, I think it was "All Your Fatherless Loyalties" off Lagniappe) then called it a night.
Outside of Sokol after the show I got a chance to meet tiny Lea -- a very nice lady. Foley came out moments later, shirt unbuttoned exposing his white T-shirted gut. Before long there were about 20 people standing around on the sidewalk along 13th St. I snuck away wondering where their entourage of local indie musicians was headed next.
Tonight: The Heavenly States with Lincoln's Eagle*Seagull at O'Leaver's -- the usual $5 and 9:30 start.

<Got comments? Post 'em here.>

Two Gallants tonight; the weekend ahead – Sept 30, 2005 –



Two Gallants tonight at Sokol Underground with Anonymous American and The Holy Ghost Revival. Just $7. Is it me or are prices going down for shows lately (Cursive shows for $2)? It's probably just me. Also tonight, Life After Laserdisque, Petracovich and Stephanie Rearick at O'Leaver's ($5, 9:30).
Tomorrow night, Oakland's The Heavenly States with Lincoln's Eagle*Seagull at O'Leaver's. I've heard a few E*S tracks online and am intrigued. $5, 9:30.
Sunday night, Austin Americana band The Black roll into O'Leaver's with Danica Newell. $5, 9:30.
It looks like the beginning of a long month at O'Leaver's. I clarified with owner Sean Conway the whole 30-shows-in-30-days thing. They're not doing a show every night in October, though it sounds like he tried to book it that way. He said he couldn't find enough bands to play every night. I find that hard to believe, especially in this town. Still, he's doing a lot of shows (check out their updated calendar) with the help of 1 Percent Productions, which, just glancing at their calendar, looks like they're doing a stretch in mid-October of 13 straight shows. They're putting it in road gear. Hang on.
<Got comments? Post 'em here.>
Little Brazil/Statistics tour announced; Simon Joyner to start recording; MDC tonight – Sept 29, 2005 –



Nice turnout at O'Leaver's for movie night last night. Landon Hedges from Little Brazil told me at the bar that his band is headed out with Statistics for a brief tour in late October. In fact, members of Little Brazil will be Statistics -- that is, they'll be Denver Dalley's backing band for the tour. Though it's not listed on their site, Hedges said they hope to kick off the tour with a gig at O'Leaver's (probably around Oct. 25).
I source close to the action tells me that Simon Joyner and his band, the Wind-up Birds, will begin laying down tracks for a new album in the next week or so at an undisclosed location (not at a studio). Expect it to be a full-band recorded live. I'm also hearing that Joyner has been added to the Nov. 15 Rachels/Mariannes show at Sokol Underground -- no confirmation yet.
That Millions of Dead Cops show I wrote about weeks and weeks ago is tonight at Knickerbocker's in Lincoln. $10. Wear your Docs.
<Got comments? Post 'em here.>
Column 44 -- Two Gallants are welcomed into the fold – Sept 28, 2005 –



This column was originally slated to be a feature on Two Gallants, but at the last minute The Reader pulled back the story's word-limit. They gave me the choice of keeping it at 400 words or using it as this week's column, which would double my word count. I chose the latter, though making it a column involved a different style of writing, one that incorporated more comment than what's found in a simple profile. Regardless, here it is.
As always is the case, there was a ton of stuff that didn't get used. For example, the band already has recorded their new record out at Tiny Telephone studios in San Francisco. Creek says expect a late-January release date. Their last album, The Throes, was recorded in nine days. This time they had three weeks to record and mix it, says guitarist/vocalist Adam Stephens, and as a result, the album will sound bigger and better. That said, I assume Saddle Creek paid for the recording time even though the band opted not to use Lincoln's Presto! Studios. "The prospect came up to do it in Lincoln," said Stephens. "But we needed to stay at home. It's important to be somewhere where you're comfortable. They were open to giving us the time we needed, being aware that we don't want to waste their time and money. That allowed us to do things that we wanted to."
Stephens also went into detail about his songwriting process. I'd commented that songs from The Throes, like "Train That Stole My Man" and "My Madonna," betray experiences that are beyond their experience. "Through songs you can question things more and come up with new scenarios," Stephens said. "I think it comes out more as a very personal feeling, out of respect for people who suffered, not necessarily ourselves. It's not a very thought-out process. The songs come up on their own in a lot of ways. It (the songwriting) follows a whole new invention of modernism in literature, of stepping out of yourself and describing things from a different point of view and a different voice. It's not anything new."
Got that? I'm not sure I did, especially considering his comments later on about blues music, but you'll read that soon enough.
Finally, I asked them what they grew up listening to. The duo has known each other and been playing music together since they were 12, though Two Gallants has only been around for three years. "We both kind of wanted to make loud music and play guitar because we thought it was cool," said drummer Tyson Vogel. "No one in our families urged us to play music. It came out of an indescribable desire to make noise, and we've been doing it ever since in some form. We both listened to Guns 'n' Roses and Nirvana, but that was back when we were 11 years old. Our tastes have changed a lot since then. We listened to a lot of old country blues and such."
Stephens said the band will be pulling out a lot of new material for Friday night's show. "It's hard to tell how a show will go; we never know until after the first songs," he said. "But there will be some newer stuff along with older stuff. And we'll be touring with Holy Ghost Revival, one of our favorite bands."
Column 44 -- All in the Family
Two Gallants adopted by Saddle Creek family



I think I sort of freaked out the guys from Two Gallants.



I interviewed them a couple weeks ago when they were in San Francisco having just returned from a brief tour of England. They were getting ready to head out to Saddle Creek Records' CMJ showcase followed by Omaha.



So I'm on the phone with both of them -- singer/guitarist Adam Stephens and drummer Tyson Vogel -- and off I go about how Two Gallants is really the first band to get signed to Saddle Creek with absolutely no links to the label. They didn't grow up in Omaha, they didn't go to Creighton Prep, they didn't hang out at The Brothers, they never recorded at Presto! Studios or toured with any of the label's bands.



They just played their strange-yet-endearing personal brand of pirate-voiced blues-waltzes at a couple O'Leaver's gigs before opening for Beep Beep at Sokol last January. The hoopla generated from those shows caught the attention of Creek label chief Robb Nansel, who ran down a copy of the band's CD, The Throes, and the rest, as they say, is history. That chronology of events, I told the Gallants, was unheard of. It just doesn't happen. Don't you get it? Creek doesn't sign bands out of the blue like that.



I didn't stop there. I told them about the vote. "You guys had to be 'approved' by the powers at the label -- the Conor Obersts, the Tim Kashers -- all had to give you the nod," I said, my voice rising to a painful howl. "And only then -- only after the vote -- did you get invited to join the family."



Stephens and Vogel sounded startled (or maybe just annoyed). "So, do you think that we're worthy?" Stephens asked. "I guess it's kind of an honor."


Stephens said that he and Vogel already knew about the label before hanging out with Nansel in Austin a few weeks after their Sokol gig. "It was pretty comfortable," he said. "Robb wasn't trying to impress us by buying us a lot of drinks like most of the industry folks do. He just seemed like someone who enjoyed music. There wasn't any pretending going on."



Shortly thereafter, the deal was done. I don't know all the details. Nansel said that there was, in fact, a vote held. Would Creek be signing more "strangers" (my term, not his) to the label? "Yeah, but we don't have an active A&R department, so I don't know how active we'll be," Nansel said.



Two Gallants' music is a departure from Creek's usual singer/songwriter or angular punk or electro-dance style. Or maybe not. Come to think of it, Creek bands don't really have a specific "style." If anything, it's the songwriters' personal, diary-esque lyrics and their non-commercial approach that ties everyone together.

"The one way we do fit in is that most of the bands are different," Stephens said about Saddle Creek. "We don't sound like anyone else, and I think that's what's interesting about the label. They're not getting stuck inside a specific genre. I think that a lot of bands on Saddle Creek are going in a different direction than what's typically considered indie."



There isn't anything typical about Two Gallants. Don't mistake them for other guitar-and-drum duos like The White Stripes or The Black Keys. Their sound is rooted in a different kind of musical tradition. When I saw them last winter, their set consisted of long, three-quarter-time ballads that married Arlo Guthrie with Janis Joplin (sort of) to create a nasal-esque folk-blues 'explosion.' I mentioned that I could hear Janis singing every one of their songs, how she was influenced by people like Bessie Smith and Otis Redding and Big Mama Thornton. Did those artists influence them?



Silence.



"No, not really," Stephens said. "I can get down with some Bessie Smith, but I haven't heard much Janis Joplin. Both of us are deeply influenced by music from the '20s and '30s by people who actually experienced the blues. In terms of the evolution of the blues, I think of B.B. King as someone who has no connection with where it came from. His stuff wails and people dig it, and maybe it has heart and soul, but we're more into the people who lived the lives the songs described."



Somewhere, members of the Omaha Blues Society are collectively gnashing their teeth.



Check out the newest member of the Saddle Creek family Sept. 30 at Sokol Underground with non-Creekers Anonymous American and The Holy Ghost Revival.


On a side note, I was told by organizer Mike Tulis that tonight is Rock Movie night at O'Leaver's featuring Thin Lizzy in "The Boys Are Back in Town." Meanwhile, local singer/songwriter Reagan Roeder has posted on my webboard that there's actually a rock show at O'Leaver's tonight featuring him, local band The Atlas and Tucson act The Sweat Band (who also have the date listed on their website). Keep an eye on the webboard for any updates or clarification, or else just show up and prepare to be surprised.
<Got comments? Post 'em here.>
Omaha from A to Z on the BBC; Race for Titles/Precious Metal tonight; Wednesday is O'Leaver's movie night… – Sept 27, 2005 –



That BBC Radio 1 program -- titled One World -- that's focused entirely on the Omaha music scene (for which I was interviewed a week or so ago) was broadcast yesterday and is now available for your listening pleasure via the Internet at this site. Click on the "Listen again to this week's show" link, or click here. The producer took the clever approach of discussing something about Omaha for every letter of the alphabet ("B is for Bright Eyes" "K is for Kite Pilot" "V is for Venues" etc.) The difference between this 2-hour show and the majority of national (and international) coverage of the Omaha scene is that producer Jimmy Devlin actually went out of his way to gather material about bands and elements outside of the Saddle Creek sphere of influence. The program's track listing includes Simon Joyner, Kite Pilot, Little Brazil, Ladyfinger, Mousetrap and Statistics, as well as the usual Creek suspects. You will finally be able to hear what your favorite Omaha music journalist sounds like as my comments are used throughout. The quote that I'm most please with: My gritty, real-life description of O'Leaver's that I'm sure will elevate the venue's profile to that of CBGB's or the 40 Watt Club. Sean, prepare for the multitudes. Check it out -- it's an accurate, interesting depiction of our scene that includes some nice touches about our history.
Tonight's big show is heavy indeed: Back When, Race for Titles, Precious Metal and Father at Sokol Underground. It's being billed as "the return of Race for Titles after months of hiatus." It's also another opportunity to hear Precious Metal, the side project of Faint guitarist Dapose. Bring your earplugs, it's gonna be loud. $8, 9 p.m.
Also, an early head's up for the monthly Rock Movie Night at O'Leaver's, which is tomorrow night (Wednesday). This time it's "The Boys are Back in Town" -- an October 1978 performance by Thin Lizzy at the Sydney Opera House in Australia. Read more about it here. It's fun and it's free.
Tomorrow morning, look for my feature on Two Gallants that talks about how the band found itself signed to Saddle Creek.
<Got comments? Post 'em here.>
Live Review: Landing on the Moon; Pretty Girls Make Graves, Ladyfinger tonight… – Sept 26, 2005 –



A couple quickies to pass on over lunchtime:
I caught Landing on the Moon Friday night and never had a chance to type up my thoughts over the weekend. To put it simply, I dug them. LOTM is a five-piece anchored by drummer Oliver Morgan (Little Brazil, The Quiet Type) with two guitars, bass and his wife Megan on keyboards (who also was in The Quiet Type). Stylistically, there's nothing like these guys 'round town. First, no one is kicking out original ballads, not like this. LOTM closed their set with one after having played a cover of The Zombies' "Tell Her No" that was as good as it gets. Their sound is all over the board. The opener had a Bowie vibe going on, while the second or third song reminded me of an old Reset tune, which makes sense since two of the band's members were in Reset. There's even a TV on the Radio thing that happened a couple of times. The two guitars play opposing picked counters anchored by a solid bass and Morgan's usual perfection on the sticks -- though he's more reserved and precise here than in his other bands. He seemed a bit surprised when I told him after the set that LOTM reminded me nothing of The Quiet Type. It's more reserved in a good way, more musically formal. "More grown up?" Oliver added. Yeah, that. In a world where indie seems to be the rule of the day, there's nothing indie about Landing on the Moon, and that's the whole point.
Also playing that night at O'Leaver's was Kite Pilot and Mariannes, which explained why it was so damned crowded. I left right after LOTM though, not because I don't dig those bands, but because I had to be at work early the next morning, thanks to Hurricane Rita.
Overheard that night: O'Leaver's is apparently doing 30 shows in 30 days in October, throwing caution to the wind, taking the plunge, putting the hammer down, doing whatever it takes, blah blah blah. Now if they'd only start updating their online calendar...
Tonight, it's Matador band Pretty Girls Make Graves at Sokol Underground with Ladyfinger and Latitude, Longitude, all for a mere $8. Expect a crowd.

<Got comments? Post 'em here.>
It's a Lincoln Calling weekend… – Sept 23, 2005 –



Of course the most notable event this weekend is Lincoln Calling. Two marquee shows tonight: Neva Dinova, Tilly and the Wall, Dave Dondero and Orenda Fink at Knickerbockers; Ladyfinger, Bombardment Society and Ideal Cleaners at Duggan's (The Stay Away is staying away, apparently). As far as I can tell, there are no individual ticket prices listed on the Lincoln Calling site, I guess as an incentive to buy the $20 all-access weekend pass, available at Homer's in the Old Market.
If you're staying in Omaha tonight, check out Landing on the Moon (Oliver Morgan of Little Brazil and his wife, Megan, among others), Kite Pilot and Mariannes at O'Leaver's. $5, 9:30 p.m.
Tomorrow's marquee Lincoln Calling event: The Prids, For Against and Eagle Seagull at Duffy's. If I go to one show surrounding this event, it'll be this one, though I fear it'll be so packed in Duffy's that I won't be able to get in. No idea what the ticket price is, and there's nothing listed on the Duffy's site, though I'm told no show will exceed $10.
Sunday's Lincoln Calling main attraction: Little Brazil, Her Flyaway Manner and Life After Laserdisque at Duffy's with an unannounced opening set by Landing on the Moon. Nice. A few blocks away Anonymous American is playing at Duggan's. Again, the full Lincoln Calling schedule is here. They've also added some film events and a rock poster show (discussed here).
<Got comments? Post 'em here.>

Column 43: FNB Omaha music comp; Tonight: Atmosphere vs. Waking Ashland Vs. Sonata Form – Sept 22, 2005 –



Despite what you may think about First National Bank's One.one compilation CD, the effort should be applauded -- at least the bank's trying to acknowledge the good things going on in our city musicwise. FNB's Sporhase wouldn't give me details (dates, times) about the on-campus events mentioned at the end of the column, but if I catch wind I'll pass on the info. He said the colleges were concerned about non-student attendance, which of course is completely untrue at least as far as UNO is concerned. My alma mater does just about everything it can to attract non-students to campus in hopes that they can also lure them into the Registrar's office. Creighton, on the other hand, is a different story.
Column 43 -- The First National Bank of Rock 'n' Roll
Comp CD (tries) to reflect local scene.




Looks like the bank is getting into the rock 'n' roll business.



When I say "the bank" I'm obviously talking about First National Bank, because let's be honest, FNB dominates the financial landscape 'round these parts, thanks in part to aggressively sponsoring community-based cultural events. So leave it to the great grey institution to have the wild idea of putting together a compilation CD that attempts to capture our nationally recognized Omaha music scene.



FNB Second Vice President Clint Sporhase, 33, said the bank's involvement in One.one, the compilation in question, isn't really any different than their support of other cultural events like the symphony or opera. Says Sporhase, "What a great way to do something that supports a segment of the arts in Omaha that also reaches out to that younger, twentysomething demographic."



Ah, those twentysomethings -- a demographic that historically has viewed white-collared stuffed-shirted institutions like the bank as "The Man." You want them to let down their guard? Better start speaking the language. Hence, the CD. Sporhase, however, is the first to admit that pop music is a language that he and most of The Suits in the white tower downtown don't understand.



That's where Homer's comes in. Sporhase says the record store was the first place that came to mind when guys in the board room were kicking around the idea. A phone call was made to Homer's president Mike Fratt, who called his Saddle Creek store manager Marq Manner. Not surprisingly, both were happy to lend a hand.



To their credit, the duo didn't do a "call for entries" and openly solicit bands to contribute. Instead, they relied on their own knowledge and taste to come up with the track listing. "We didn't want any one type of music," Fratt said. "My objective was to make a compilation that represents the best of what's going on in Omaha."



The 13-track end product certainly tries, but hardly represents the entire scene. How could it? Look, if you've ever put together a comp CD you know that no one is going to like everything on it. The same holds true with One.one.



FNB and Homer's get high marks for including some innovative acts, such as Little Brazil, Kyle Harvey, Le Beat and Ladyfinger. Fratt says more commercial bands like Eyes Catch Fire, Emphatic, Venaculas and Straight Outta Junior High got the nod in part because they're heard on 89.7 The River.



Like any good comp, there's a "discovery track" -- a pleasant surprise from a band you never heard before. From my standpoint, the honor goes to Civicminded, whose "Stoplight Traffic" is the bouncy alt-rock track that you've been waiting for. The CD is rounded out with songs by Anonymous American, Grasshopper Takeover, Sarah Benck and the Robbers, and Fratt's own Goodbye Sunday.



What's missing?



For starters, there's no hip-hop on One.one. Sporhase and Fratt both said that the two tracks they considered for the disc illegally used samples, which would have been too difficult to acquire rights to.



Next, it's hard to say any comp represents the Omaha scene that doesn't include at least one song by a Saddle Creek Records artist. Yeah, I know they've already received more than their share of visibility, but to most people locally and nationally, the Creek is the Omaha scene. Fratt said he didn't think there was any possibility that Saddle Creek would participate." He's probably right. We'll never know.



Finally, where are the Speed! Nebraska bands and the white-knuckle rockers like The Terminals, Bad Luck Charm, Race for Titles and The Philharmonic? "Some of the bands mentioned won't sell their product at Homer's," Fratt said. "We have to carry it if I'm going to hear it."



And some stuff didn't make the cut because it just plain sucks. Fratt knows there's going to be plenty of pissing and moaning from those left off the record. Where's the death metal? Where's the hardcore? Where's the Ukrainian string bands? At the end of the day, he's satisfied with the CD. So is Sporhase, who said "If the project is well-received -- if we feel good about what happens -- we would love this to be an annual project or a rite of passage for local artists."



About 7,000 copies of One.one will be distributed for free in the next few weeks at UNO, Creighton and other local colleges. Students should keep an eye out for related on-campus events. Copies also are available at Homer's with the purchase of any participating band's CD.
One Percent Productions has its hands full tonight. Indie hip-hop wunderkind Atmosphere performs in Sokol's "big room" upstairs with Blueprint and P.O.S. One Percent points out that they're "one of the only promoters in town that attempts hip-hop show." They've been doing it for years, and have managed to grow a sizable following for indie hip-hop, as evidenced by moving this show to the auditorium. Tickets are $20, show starts at 8. Meanwhile, down in the underground, One Percent is hosting Waking Ashland, Jamison Parker and An Angle. I don't know diddly about the first two acts. An Angle is the notorious Bright Eyes imitation band, whose lead singer even sports Conor's famous quivering bray. Tsk. tsk. $8, 9 p.m. So where the hell are we all going to park?
Well, you could always park in Benson, where acoustic prog songsters Sonata Form a.k.a. Jeff Carlson (formerly of The Gladhands) will be performing at Mick's with singer/songwriter Richard Schultz, who will be joined at the end of his set by his band The Miracle Men. $3, 9 p.m.
<Got comments? Post 'em here.>

This week's feature: Lincoln Calling; Live Review: Sufjan Stevens – Sept 21, 2005 –



First, this week's feature, a look at the second annual Lincoln Calling music festival and chat with event organizer Jeremy Buckley (read it here). Yes, I think this year's line-up easily eclipses last year's, thanks to the Creek/Team Love showcase at Knickerbockers (brought to you with the help of One Percent Productions) which is being held concurrently Friday night along with the Ideal Cleaners/Ladyfinger/Bombardment Society/Stay Awake show at Duggan's. But the real highlight (for me, anyway) is The Prids/For Against/Eagle Seagull show the following night at Duffy's. Buckley tells me that this could be the last time you Prids fans will get to see your band until maybe 2007 as they head out on 18 months or so of touring. Legendary ambient rockers For Against, which rarely if ever plays live, will be celebrating the rerelease of their December CD, which is a must-have. Why doesn't Omaha do something like Lincoln Calling? Because, as Buckley pointed out, we don't have six decent live music venues in walking distance of each other like they do in Lincoln. As for the great divide that separates the two cities scenewise, Buckley points out (rightly so) that it doesn't have to exist. I, for one, would love to see more Lincoln bands take the stage at O'Leaver's and Sokol and The 49'r and The Goofy Foot and Mick's. Maybe events like this will help make it happen.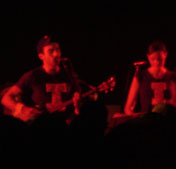 Onto the live review: Packed it was last night at Sokol Underground. It was sold out, and we'll leave it at that. Packed from stage to the merch table, wall to wall, a mass of humanity come to see Sufjan Stevens and his 8-person band of cheerleader musicians dressed in their Big "I" T-shirts, some holding pompoms, all playing a myriad of instruments, most singing. The pompoms weren't mere props. Stevens and crew began four or five songs with well-choreographed cheers, complete with arm signals and spirit fingers. It was that kind of set, a goodhearted rah-rah for ol' Illinois, all in celebration of his second "state LP," this one dedicated to The Prairie State.
Seriously, at times it was like listening to a choir led by a little guy in a Cubs hat with a voice that was a morph of Art Garfunkel and Ben Gibbard singing lullabies to Jacksonville, Decatur and Chicago. I didn't know what to expect from the arrangements, I knew Stevens would be hard-pressed to recreate the lushness heard on the CD. But by God, he captured the majesty thanks to the glockenspiels and brass (especially his trumpet player) and keyboards and battery of percussion and those four female cheerleaders whose angel-voices made the whole thing float. Listening to Come on Feel The Illinoise as I write this after the show, I think everything was a tad funkier live, especially "Decatur," which sported a nice bass riff and finger snaps and probably some sort of synchronized cheer-dance. After playing high school pep-rally standard "Varsity," the band came back and did a one-song encore that nicely rounded off the hour-long set.
<Got comments? Post 'em here.>

Late Live Review: The Ointments, Pomonas, Fizzle/Flood; my chat with The BBC; Sufjan Stevens tonight – Sept 20, 2005 –



The usual Tuesday message: Too busy yesterday morning writing a feature on Lincoln Calling (it'll be online tomorrow) and this week's column (about the First National Bank comp CD, it'll be online Thursday) to write an update. Such are the pressures of deadlines.
Saturday night. Packed crowd at O'Leaver's (what else is new?). Ointments on stage -- that swinging Kyle Harvey, that commie Reagan Roeder, that madman Landon Hedges. Hedges looked like an emaciated Animal from the Muppet Show on drums, but man, could he play, swinging the lumber like a real pro, like a tribal warrior. It was Hedges' stickwork that fueled this revitalized version of The Ointments, along with the songs, of course. I just saw these guys a couple months ago at Shag and was only mildly amused. There's something about Shag and its big stage so far away from the audience that just seems to suck the life out of bands. The Ointments that played Saturday sounded like a different outfit altogether. Much more animated, much more soulful, much more into the crowd. And the crowd was into it right back. Roeder has a way of adding something filthy from his guitar at the end of every song. Feedback, squeal, static, like Crazy Horse but different. Their songs are, of course, pure indie pop that, as I mentioned before, reminds me of Big Star or Teenage Fanclub, especially on songs whose endings stretch out ad infinitum.
Then there was the Pomonas. No more slop for these guys. Nope, they're true professionals, now playing every note tight as a tick. Consider them a Midwestern version of GBV or Pavement but with poppier hooks and three-man harmony and playful hi-jinx usually involving a tambourine. A few people even came up from Lawrence to see the set (Don't know why, since they're from Lawrence). I grieve at the idea that it could be months until they come back to Omaha, though our friends at Someday Never swear that they'll do what they can to book them here soon. I was there when Joe from SDN told frontman Justin Ripley he was going to make it his personal mission to get these boys back on an Omaha stage toot-sweet. And now, through the power of the Internet, the whole world knows. Get on it, Joe.
Finally, there was the White Stripes version of Fizzle Like a Flood, featuring singer/songwriter Doug Kabourek on drums and guitarist Travis Sing on, uh, guitar. The gig was celebrating the rerelease of Golden Sand and the Grandstand, a lush, multi-layered opus that combines 40 tracks on each song. Needless to say, the version heard Saturday night in no way resembled that recording. Kabourek stripped it all down to raunchy guitar chords and big-fisted drumming while he struggled to sing along Don Henley style. The new arrangement completely changed the complexion of the music, not necessarily in a better way, but in a different way. Kabourek is said to be putting together a bigger supporting line-up for when he opens for Okkervil River later this year. He even talked about making a rock record. This could get interesting…
Speaking of interesting: Last week I was interviewed for about a half-hour by BBC for a 2-hour program dedicated to "the Omaha scene," but with an emphasis on Saddle Creek Records (of course). The chat took place in a studio off 110th and Mockingbird, where we were patched in to Ireland via an ISDN connection. Very high tech. It was kind of fun answering questions for a program that I probably will never hear (The interviewer said it'll air at 3 a.m. sometime in the future, no specific date was given). They wanted to know about old days circa mid to late-'90s. They asked about Mousetrap. They asked about Simon Joyner. They asked about how Creek influenced the whole scene. They asked about other Omaha bands not on Creek and said they were going to play some songs from them (Kite Pilot was one mentioned, as was Ladyfinger and a few others). They asked about the hot venues (I described O'Leaver's to the Nth degree, mentioned Sokol, etc.). They asked if there was any resentment about Creek's success -- how could there not be? And on and on. This was apparently the same producer that posted on the Saddle Creek webboard a few weeks ago, asking for people to call and give their impressions of their favorite Creek bands. He told me no one called, probably because no one wanted to eat the international long-distance charges. Or maybe because they may never hear the finished program. I'll let you know if they let me know when it'll air.
Tonight at Sokol Underground: Sufjan Stevens with Liz Janes. This will be the first time Stevens has ventured into this part of the Midwest. I'm told by our friends in The Pomonas that despite selling out three nights in NYC, Stevens was unable to sell out The Bottleneck for a recent gig. Something tells me this one will either sell out or be damn close. Get there early if you want to get in. 9 p.m., $14.
<Got comments? Post 'em here.>

Live Review: FFA, Danny Pound, Arthur Dodge; weekend "happenings"… – Sept 16, 2005 –



This is a briefer-than-normal review, mainly because I'm running late (not because of the quality of bands). There were a good 50 or 60 on hand at O'Leaver's last night (which equates to SRO), surprising considering that The Vibrators/Bad Luck Charm was going on over at The 49'r. Fine, Fine Automobiles a.k.a. Landon Hedges was backed by a band (at one time referred to from stage as The Decepticons). Kyle Harvey was among them, and they changed the complexion of Hedges' usually sweet, withdrawn, personal acoustic songs to laid-back rock ditties that perfectly complimented the other bands on the bill. With the band, the songs were fleshed out, and FFA could be the The Good Life to Little Brazil's Cursive, which would be somewhat ironic for those of you that know Landon's history. Afterward, Hedges said he only recently threw the players together; that they only had practiced a couple times. And that he plans on swapping them out for another band in sort of a rotating fashion. Kite Pilot, for example, might back him next time; Someday Stories the time after that, etc., constantly providing a new interpretation of songs from band to band -- I guess sort of like Bright Eyes, which would be somewhat ironic for those of you that know the history…
Arthur Dodge and the Horsefeathers were up next. Dodge is a grizzled veteran and sounds like one, with a voice like a Midwestern Randy Newman singing bluesy, Dylan-y rock songs that demand your attention -- attention I couldn't give them from my perch at the bar, boxed in behind a wall of people ordering drinks. I should have stood up, but there was nowhere to stand up. I should have bought a CD cuz I can tell I'd like the lyric sheet. Someone should bring back these troubled souls (preferably someone like Mick's).
Lastly was David Pound and his band, which consisted mostly of Horsefeathers. The two acts are touring together, so it makes sense to share the horses, especially when these horses have such strong backs. I have a confession to make: I had no idea going in what Pound's current music would sound like. I haven't seen or heard from him since his grunge-rock Vitreous Humor days. Mr. Pound is all grown up and playing grown-up music a la '70s-era southern Cal-style groovy rock that's all about telling stories in a laid-back (though still rocking) vibe. I loved it. Pound is a helluva songwriter, and this band of horses could power any late-model muscle car (I'm thinking maybe a '69 Pontiac GTO a.k.a The Judge). Especially Jeremy Sidener, who never failed to provide jaw-dropping bass lines on ever song he played for either frontman.
Hmmm… that review ended up being longer than I expected.
Anyway. This weekend:
Tonight: You lucky Lincolnites have The Third Men with Strawberry Burns and The Static Octopus at Knickerbockers. You Omahans, it's worth the $12 in gas to drive there (it'll cost another $5 to get in the door). If you're too lazy to visit the capital city, then why not motor over to Counciltucky, where The Lepers, The Stay Awake and Virgasound (formerly The Philharmonic) are playing at Mike's Place (162 W. Broadway)? I've never been there. They tell me it's nice.
Saturday afternoon is Mavfest, which I discussed in yesterday's blog/column. Drop by and drop some cash for a good cause.
Tomorrow night: The Pomonas w/The Ointments and Fizzle Like a Flood, who is celebrating the rerelease of his Golden Sands and the Grandstand album on Earnest Jenning Records. Methinks The Ointments will open, followed by The Pomonas, then Doug and Co. will be last (it's their party, after all).
Close out the weekend Sunday night with Fromanhole and Kieskagato at O'Leaver's. Ah, but if you're in Lincoln, check out Tangelo and The Holy Ghost at Duffy's. Lately I've been getting into The Ghost's Welcome to Ignore Us… it's damn good.
That's all for now.
<Got comments? Post 'em here.>
Column 42: a grab-bag of old news, MavRadio ; Danny Pound (of Vitreous Humor) tonight – Sept 15, 2005 –



My original intention was to write the column that'll appear next week this week, but interviews and schedules couldn't be worked out. So instead, I wrote the following, which is somewhat old news for any local indie music fan who spends any amount of time on the web. That said, one must remember that the initial audience for my columns are the fine folks who pick up The Reader, and the intent all along has been to cull items that appear in the daily Lazy-i "blog" once a week to educate and inform the poor unwashed masses who still read the printed word. So, you daily readers of Lazy-I will have read some of the the following already. Perhaps most of note (and what you haven't seen here yet) is the item about MavStock this weekend at UNO. I don't listen to or follow the bands that are on slated to perform at the event, but I do support MavRadio and the artists on its playlist. It is, perhaps, truly wishful thinking that the station could ever get a real license and tower, and that Omaha would finally get a radio station that actually plays college music. I think for a variety of reasons both economic and political that it'll never happen, but if a miracle were ever to occur, it would begin at Saturday's fund-raiser at UNO's Milo Bail student center. As the column suggests, go to www.mavradio.org for more details. Drop by and drop some cash in the bucket. You'll be helping the folks in New Orleans and the future of local college radio at the same time.
Column 42 -- An (Old Country) Buffet of Music News
Saddle Creek, Cursive, Ladyfinger and MavStock



This week, a few observations, rumors, suggestions and hyperbole -- the stuff that make columns worth reading.



-- In Saddle Creek news: Touched by the devastation and need coming out of the Gulf port states, Omaha's premiere record label is putting together a compilation CD whose proceeds will go entirely to The Red Cross for Hurricane Relief. Among those signed up are a cadre of local superstars, including Bright Eyes, Cursive, The Faint, The Good Life, Mayday, Orenda Fink, Maria Taylor, Broken Spindles and Criteria. The Creek says the collection will be available on iTunes shortly, while the CD version will be available for order from saddle-creek.com in the coming days. It's just another way to do your part to help get the Gulf and its people back on their feet.



-- And speaking of getting back on their feet, so is Saddle Creek band Cursive. The scuttlebutt was that the band had been preparing to hit the road. Now in a move reserved for the likes of The Rolling Stones and U2, they're performing as an opening act under assumed names for a mini-tour leading up to the CMJ Music Festival in NYC (where they'll be a surprise "special guest" at the Saddle Creek showcase at the Bowery Ballroom Sept. 15). Cursiverarmy.com spilled the beans late last week with this post on its homepage:



"You should look for the following bands in the next week or two: Flippy and Hambone, T Lite & the Heavies, Jazz Hessian, Cursifix, Stuffy Dumbfuck, and Sgt. Snippy, in these cities: Chicago, Columbus, OH; Wilkes Barre, PA; New London, CT, North Manchester, IN, and Lansing, MI. Oh boy, if you like seeing Cursive you should really see these shows."



-- So who is the pseudo-Cursive opening for? None other Ladyfinger -- Omaha's current "It" band. I caught Ladyfinger's pre-tour warm-up at O'Leaver's last Friday with The Third Men -- themselves a pop-rock gem the combines Matthew Sweet pop, Replacements bar, dB's cool and a little bit of The Feelies irascibility thrown in for good measure.



Maybe Ladyfinger can do what another gutter-groove band from the past was unable to. That band was Ritual Device -- one of the city's Golden Age icons, the band that often gets left out of the who-influenced-Creek discussions though they, along with Mousetrap, undoubtedly laid the foundation for the label's heavier acts (Beep Beep comes to mind). Ladyfinger is the Second Coming of Ritual Device except they're faster, and in some respects, harder than RD ever was. But in spite of their fleetness, they bare RD's unmistakable knack for finding a head-bobbing groove via their rhythm section and chop guitar. What they don't have is a frontman like Ritual's Tim Moss, who was not only a stage ham, but a real factor in RD's overall sound. Not so with Ladyfinger's vocalists Ethan Jones and Chris Machmuller. Blame the mix, blame the sheer volume of the band, but I could not hear their vocals all night, and when I did, they were mere wisps before a hurricane. They certainly have the vocal chops -- by god they both can sing better than Moss (Hell, I can sing better than Moss).



-- And finally, there is MavStock. As an alum, I feel compelled to talk about this one-day, six-band music festival to be held at UNO's Milo Bail Student Center Sept. 17, if only for the charities involved. Proceeds reaped from your $5 attendance fee will be split between the American Red Cross and MavRadio. The student-run station has a transmitter on UNO's North Campus broadcasting at 93.7 FM. It can only be heard, however, on campus. Their biggest potential audience comes from those who listen via the webstream at mavradio.org. As I type this, the station is playing Spoon "I Turn My Camera On," leading into Aqualung, "Brighter Than Sunshine." Imagine if this station ever got a real license and transmitter. Dare to dream...



MavStock begins at around 3 p.m. The all-local lineup includes Liquid Static, Endeavor, Dielated, Emphatic and Smilin Liar, and headliner Venaculas. Find out more at mavradio.org.
Tonight's marquee must-not-miss-show: In 1998 Lawrence band Vitreous Humor released Posthumous, a collection of singles and whatnot that were released throughout their brief history. You can read my review of it here. The kicker was that the CD was released after the band had disbanded. Frontman Danny Pound continued on in The Regrets and now The Danny Pound Band, which also includes Zoom bassist Jeremy Sidener. Most people don't remember either Vitreous Humor or Zoom, but both were among my favorite bands from the late-'90s that performed at one time or other at the old Capitol Bar & Grill. Well, Danny Pound band is playing tonight at O'Leaver's along with hot Lawrence band Arthur Dodge and the Horsefeathers (mentioned in yesterday's Pomonas story), and Landon Hedges' Fine Fine Automobiles (with Kyle Harvey and Tyler Cook). This is a show that should not be missed. I predict that word of its quality will leak out to Omaha's trendy underbelly and it could actually get crowded, so get there early. It starts at 9:30. It costs $5.

<Got comments? Post 'em here.>
The Pomonas feature o' the week – Sept 14, 2005 –



Just placed online, a nice story about a nice little band from Lawrence called The Pomonas (read it here). I saw these guys last winter at O'Leaver's and was knocked out by their sloppy-yet-fun set, so much so that I told them afterward if they ever come through town again, let me know and we'll do some press. Well here they come, this Saturday at O'Leaver's with Fizzle Like a Flood and The Ointments. Among the stuff that didn't make it into the article are comments about making of their EP, Jubilation, specifically the part about how it was recorded in 24 hours in the all-analog studio run by Tom Wagner of rock band Conner. "It was recorded on the same reel-to-reel machine that was used to record Jefferson Airplane's Volunteers album," said guitarist Andy Gassaway. "Tom collects vintage recording equipment." The band recently acquired a practice space where they'll record their next CD using conventional digital equipment -- i.e., a computer and some microphones. "The sound quality won't be what the EP was," Gassaway said. "We all dig low-fi recordings. We really latched onto Guided by Voices." He said the band loves Omaha, even though they didn't like their performance the last time they were here. "Afterward we got invited to this fun house party. The next day we ate at this burger place called Big Daddy's." Big Daddy's? What the hell is Big Daddy's?
<Got comments? Post 'em here.>
Headlines; Aqualung tonight – Sept 13, 2005 –



No update yesterday (there rarely is one on Mondays anymore) because I was feverishly finishing a feature on The Pomonas, which will be online tomorrow, and a grab-bag column for Thursday. I hear from Mr. Whipkey of Anonymous American that his gig at Shag did well and he moved 50 copies of his AA/Whipkey split. Not bad. That said, here are a few interesting headlines/stories from the 'net:
Brainy 'geek rock' is posting smart sales numbers -- New York Daily News -- There's no question that indie rock needs a different name other than "indie rock," but I don't think "geek rock" or "dweeb rock" is it. Bright Eyes is mentioned, of course. Pompous quote from SPIN editor Doug Brod, who calls where-are-they-now star Chris Cornell "larger than life": "Frankly, these guys are nerds in sweaters and polyester pants who sing sensitive songs. That can only take you so far."
Onion's A.V. Club gives Criteria a "buy it" rating -- For whatever reason, Criteria is now being compared to Foo Fighters in reviews and interviews, a comparison that I don't get.
For example, here's one from U of Missouri-Columbia's Maneater, except it's actually Criteria's Stephen Pedersen making the comparison. "We get a lot of people saying that we sound like the Foo Fighters, too," Pedersen said. "I don't really listen to much of their stuff. I just hear it on the radio. They're a great band though, and we get compared to them sometimes." Don't encourage them, Steph-o.
311's SA Martinez makes an off-hand remark about the Omaha music scene in this story from The Oklahoma Daily. The writer asks "How has it been being one of the bands that has really gotten a scene going?" referring to the Omaha scene. "It's gone in cycles. When we were coming out, there was a scene goin' on in early '90s—late '80s. Now there's a new independent music scene centered around people like The Faint. It's like every town. Scenes come and go. They're the bee's knees, you know? To each his own." Not sure what that means...
Tonight's show of note: Aqualung with The Perishers and Tracy Bonham at Sokol Underground. Aqualung has been herded into the Radiohead/Coldplay category. I think they sound something closer to a quiet Ben Folds, but who knows? The Perishers are equally laid back. $12, 8 p.m.

<Got comments? Post 'em here.>
Live Review: The Third Men / Ladyfinger – Sept 10, 2005 –



It was a night of light and darkness at O'Leaver's. Light in the form of The Third Men, who, by the way, now include a woman on keyboards (she doesn't seem to mind the band's moniker -- hey, it was there before she joined, right?). By 10:30 or so O'Leaver's was already elbow-to-elbow packed and not with people watching the Ohio-Pitt game on the plasma (which guitarist/vocalist Matt Rutledge turned off with 10 seconds left in regulation and Pitt driving -- good thing I wasn't paying attention). I'm not entirely sure the crowd was there to see 3rd Men either, but they were there nonetheless and got what they deserved -- a scorching set of tightly wound pop rock from a group of laid-back veterans too cool to care if you don't like their sunshine-vibe (One guy next to me kept saying "Come on, where's Ladyfinger?" before he disappeared -- his loss). I liken them to an groovy combination of Matthew Sweet pop, Replacements bar and dB's cool with a little bit of The Feelies irascibility thrown in for good measure. These are songs with top-down hooks and lots of grins. And if their own pop ditties weren't enough, the band threw in two covers -- Mott the Hoople's "All the Young Dudes" and McCartney/Wings' "Jet" -- that's right, "Jet" -- with bassist Mike Tulis barking out the dog's name like a Midwestern Jerry Lewis. Gold.
Then came the darkness in the form of Ladyfinger. Has there been another band in the Omaha scene that bears their gutter-groove mark of the devil? The answer is yes. That band was Ritual Device -- one of the city's Golden Age icons, the band that often gets left out of the who-influence-Creek discussions though they, along with Mousetrap, undoubtedly laid the foundation (or at least provided the bad influence) for the label's heavier acts (Beep Beep comes to mind). As I've said in this here blog a few times before, Ladyfinger is Ritual Device's second coming, although it's a thoroughly different revelation. Ladyfinger is faster, and in some respects, harder than RD ever was. But in spite of their fleetness, they have RD's unmistakable knack for finding the head-bobbing groove in the rhythm section, bass and chop guitar, all blended into a very dark brew. The other huge diff -- Ritual Device had a frontman in Tim Moss that was not only a stage ham, but a true factor in that band's overall sound. Amidst the chaos there was always Moss's throaty voice, mumbling, growling or yelling (not screaming) twisted, obscene lyrics about nightmare sex visions and John Wayne Gacy child molesters. When I think of Ritual Device, I can hear Moss' voice like the memory of a bad dream. Not so with Ladyfinger's vocals, shared by two frontmen. Blame the mix, blame the sheer volume of the band, but I could not hear Ethan's or Chris' vocals all night, and when I did, they were mere wisps before a hurricane. Those guys need to lean right in there and spit it out, over the band, over the crowd. Else they become another edgy instrumental band, of which there are too many already. They have the vocal chops -- by god they both can sing better than Moss (who got by on intensity, not range). Their voices -- and whatever ideas they convey -- must be heard if this band is going to break through to our nightmares.
<Got comments? Post 'em here.>
The Chicago Tribune; what's Joe Kobjerowski up to?; Third Men / Ladyfinger tonight and other weekend hi-jinx – Sept 9, 2005 –



Before we get into the weekend, a couple notable items that crossed my inbox. First, the Chicago Tribune interviewed me for a story about the new Saddle Creek DVD (the story is here, but you have to register to read it, which is free). Writer Patrick Sisson chatted with me over my lunch hour a couple weeks ago, mainly asking me about the history of the Omaha scene pre-Creek, and the nature of scene today. Not surprisingly, he didn't mention anyone other than the Creek bands in the article (which I guess makes sense since the DVD only briefly discusses pre-Creek Omaha). Sisson called the DVD "a mosaic of old video footage, concert fliers and interviews with the production value of a 'Real World' confession." I get a pitch in for ol' Caulfield Records and make a nice comment about Creek bands' lack of commercial interest when they write their songs. Sisson says that Digital Ash and Wide Awake have sold a combined 600,000 copies so far.
A friend sent a link to the myspace page for The Lodge Club, a Portland band that includes "4 Nebraskans and 1 Californian...no one under the age of 30." One of the Nebraskans is former Frontier Trust and Darktown House Band drummer Joe Kobjerowski. The other members are "Dave, Nancy, Ben, and Alex." I don't know their last names but I'm sure someone reading this does. The band has four songs available on their MySpace account (which is here) and even list a gig tonight at Portland's The Town Lounge. With four Nebraskans in the band, you'd think someone could lure them down here for a show one of these days.
Well, if you're Omaha instead of Portland tonight, your best bet is catching The Third Men (ex-The Sons of…), and Ladyfinger tonight at O'Leaver's. Ladyfinger now draws SRO shows at O'Leaver's, so get there early if you want a seat. $5, 9:30 p.m.
As for the rest of the weekend: Tomorrow night (Saturday) the only show of merit is Shelterbelt and Papers at Knickerbockers in Lincoln. It's Papers' CD release show. $5, 9 p.m. Sunday night is Anonymous American and Matt Whipkey at Shag for their CD release show. Korey Anderson opens the early show, which starts at 7 p.m. ($6). Could be crowded, seeing as AA performed live on Z-92 yesterday morning. If you're curious about Shag, here's a review of the joint from a couple months ago.
<Got comments? Post 'em here.>
Column 41 -- Have you seen the price of gas these days?; The Tremula, McCarthy Trenching tonight – Sept 8, 2005 –



It cost me $41 to fill up my little car yesterday. $41. And while I have no room to gripe (I can afford it and my living room isn't filled with toxic waste), I found the gas-pump experience to be rather disturbing. Another reason not to gripe -- my living doesn't involve filling up my tank multiple times to get to work, as it does for your typical touring indie band, which may be squeezed right out of playing distant, isolated markets like Omaha because it just cost too much to drive here from Chicago, Denver, Kansas City or Minneapolis. For those who say "Don't worry, the price will drop back down to the mid-$2s after the Gulf Coast pipeline problems are resolved" I say "Fie." I'm skeptical. Someone's making a lot of money off these prices. Too many "someones" for the price to ever drop back down significantly. Get used to $3 a gallon, folks, and thank your lucky stars you don't have to drive a 12-mile-per-gallon van to Denver tomorrow, then Seattle, then L.A., only to play a string of non-guarantee gigs that might get you $50 each. Chasing the rock and roll dream has never been so expensive.
Column 41: Brother, Can You Spare $3.30?
Gas prices slowing down bands on the road


So I'm talking to rock guy Matt Whipkey and he tells me he's flying to Chicago for his next gig. Flying? Since when did Whipkey become such a big-ass rock star? Who does he think he is? Springsteen?



"Flying will cost me half as much as driving to Chicago," Whipkey said. What's the matter? Hadn't I seen the price of gas lately?



Ripples from the disaster known as Hurricane Katrina has made it all the way to the gas pumps, where for the first time we're seeing $3 per gallon gasoline. As shocking as that is to drivers of gas-guzzling ego-machines like Escalades, Expeditions and Hummers, it's a painful reality to touring bands. As if driving around the country in a metal furnace called a van isn't bad enough, now bands will pay for the torture in something more substantial than sweat.



Whipkey gave me the easy numbers. Driving to Chicago for his gig would have cost him $170 if he rented a car. If he drove his van, it would have cost $270. Meanwhile, a round-trip ticket on Southwest was a mere $80. "When my band (Anonymous American) played Madison and Milwaukee, it cost us $180 in gas. Touring has never been a money-making prospect, but this is hilarious."



It's not just the little guy who'll feel it says Eric Dimenstein of Ground Control Touring, the company that books fish both big and small, including Statistics, Bright Eyes, Yeah Yeah Yeahs and Sonic Youth. "I've heard some of the smaller bands mentioning it can be tough," Dimenstein said of gas prices. "(I) would guess it hits them harder for the obvious reason there is less money coming in and more money going out. But it's an added expense end of day for bus tours as well."



Dimenstein, who deals with local promoters like Omaha's One Percent Productions, says he hasn't worked the cost of extra gas money into any bookings yet, "but who knows."



One Percent Production's Marc Leibowitz says he hasn't seen the impact of high gas prices on his costs. "I think it would affect the smallest bands the most," he said. "That means bands playing places like O'Leaver's have an even harder time making it to the next town with $60 or whatever."



So what can bands do to combat high gas prices? Not much, said Criteria frontman Stephen Pedersen. His band is poised to head out in their van on a 40-day tour in a few days realizing that they're going to take the cost of touring right in the shorts.



"Our guarantees (the amount they're paid for performances) are set in stone," he said. "We're not getting any extra money because the price of gas is going up. We just eat peanut butter more often."



Passing on the extra expense to promoters in the form of a fuel surcharge isn't even a consideration. "Promoters will just pass the cost onto the kids in the form of higher ticket prices," he said. "As a band that's looking to build a fan base, the last thing you want to do is increase the cost of shows."



Pedersen says Criteria's GMC Sierra 15-passenger van gets about five to six hours of travel time per 31-gallon tank -- that's about 13 miles per gallon. Their last tour -- a brief five-day jaunt -- cost them $200 in gas, and that was at pre-Katrina prices of around $2.29 per gallon. A dollar more per gallon equates to about $70 per day more for gas, which means Criteria will spend anywhere between $1,800 and $3,000 on gas for their upcoming tour, Pedersen said.



"Typically, for us, our guarantee is used for gas and food," he said. "There's also merch money, a percentage of which goes back to Saddle Creek (their record label). We use the remainder to pay rent and bills. Hopefully in a month, when we're two weeks into the tour, gas prices will go down. I think we'll be safe from operating at a loss, but beyond that, I don't know what to expect."



At the end of the day, however, Pedersen realizes the costs are nothing compared what New Orleans is facing. "The price of gas is relative to what's happening in New Orleans," he said. "One situation is a nuisance, the other is a tragedy."


Tonight at O'Leavers: Angry art/math rock band ensemble The Tremula with The New Trust and McCarthy Trenching. A fine, fine line-up for only $5.
<Got comments? Post 'em here.>
Anonymous American interview; The Terminals tonight – Sept 7, 2005 –



Just placed online, a profile of Anonymous American via an interview with Matt Whipkey (read it here), which is appropriate because the new EP for which they'll be hosting a CD release party at Shag Sunday is credited as "Anonymous American / Matt Whipkey" -- a combo of band and solo stuff, all on one disc. There was a ton of information that didn't make it into this story because of the space limitations placed by The Reader. Stuff about what the songs are about (mostly an old girlfriend and the breakup); that the band doesn't like the "alt-country" label ("It carries the same weight as the term 'indie.' Everyone has their own idea what it means, but you don't really know. Anyone would get frustrated with being labeled"); their plans to line up a distro deal ("My goal is to sell 1,000 CDs; that should be enough to lure a distributor") and the possibility of major labels ("I'm not going to quit chasing them"). And then there was Whipkey's comments about gas prices and touring, which you'll read tomorrow as I used them in this week's column about gas prices and touring.
Tonight's show de jour is The Terminals and Plastic Letters at O'Leaver's. It should make for a night of hard, fast punk-ified fun. 9:30, $5.
<Got comments? Post 'em here.>
One Mummy Case and pizza…; The Fruit Bats – Sept. 6, 2005 –



Not a lot to report from the weekend past. The only show I attended was One Mummy Case at The Pizza Shoppe in Benson on Sunday night. It was a nice turnout and good music (not to mention good pizza). Like I mentioned in an earlier review, these guys are the next generation of Omaha singer/songwriters (the youngest member is 15). It's the band that Creek begot, so to speak, and is definitely worth keeping an eye on. The Pizza Shoppe isn't a bad place to see a show, except that they made the band turn it down after their first song. I guess there are people living upstairs. That'll put a damper on things.
Look for a new interview with Matt Whipkey in Lazy-i tomorrow morning as he prepares for his CD release show at Shag this Sunday…
The Fruit Bats, Spelled in Bones (Sub Pop) -- More than a mere Elephant 6 retro rehash but still in the same category of Sub Pop soothers as The Shins. Sub Pop is riding this psychedelic throwback rock craze for all it's worth. The Fruit Bats fit the bill. It's trippy stuff with '60s keys and a style that reminds me of Cat Stevens ("Traveler's Song") but without Cat's wrenching personal take. I like it, though I think the arrangements are a bit too heavy handed at times. I would have preferred a more stripped-down approach,