Blog Archive table of contents
January 2005 to July 2005
The Blog Archive -- January 2005 to July 2005
Column 31: The New Breed
Two bands elbow their way to the front of the line.




Getting tired of that ol' indie-rock shtick?



You know what I'm talking about -- all those bands that have cornered the market on jangling guitars, warbly off-key vocals, shuffling snare rhythms and bad posture? The bands whose songs are studies in introspective navel-gazing by guys who can't seem to get over their last break-up?



I am. Seems like we've been hearing that same ol' song way too much lately. Even yours truly -- Mr. Indie Rock himself -- is beginning to yawn and nod off during long sessions with his i-Pod. Really, how many low-fi, low-energy, introspective, pseudo-folk, sons/daughters of Pavement, REM and Sebadoh can a person stand before blacking out on an overdose of ennui?



As cheesy as this sounds, sometimes you just wanna rock. And this past week I saw a couple bands that did just that.



It started Thursday night. Ladyfinger was at O'Leaver's playing at their coming out party of sorts, even though they've been out for quite a while. Too bad I didn't get to see much of it. Oh, I heard it all, the whole blistering set, but I couldn't see it because the place was stacked from "stage" to railing with people standing to watch the sweat fly. It was a crush mob, the type of O'Leaver's crowd usually reserved for a Simon Joyner or Tim Kasher show.



And why not? Word is out that these guys are the next "it" band. Consisting of Ethan Jones, bass/vocals; Pat Oakes, drums; Chris Machmuller, guitar/vocals, and Jamie Massey, guitar, Ladyfinger's style is pure throwback, buzzing and howling to a beat that's distinctly mid-'90s agro-punk a la Ritual Device; ratcheted minor-key buzzsaw guitars bordering on metal planted atop a throbbing bass line. Listening to Ladyfinger is like putting a couple feral cats in a cardboard box, shaking it up, and dropping it down a tumbling flight of stairs. Once it comes to a stop, open up the carton and put your hand inside. Static aggression. Anger and energy. Simultaneously frightening and exhilarating, but with a beat.



Sure, you won't remember a single melody when you get home and take out your ear-plugs, but you'll remember it was tight; you'll remember they were good. Repeated listenings are a must if you want to figure out what in hell it all means. I don't know how they'll do it in the studio. Rumors have circulated for months that labels are sniffing around these guys. Thursday night's crowd will keep the rumors buzzing.



Then there's The Philharmonic -- a company of hard-rocking degenerates featuring guitarist/vocalist and chief pouter Chris Esterbrooks (or just "Brooks" for short) and once-handsome bassist Marc Phillips -- both formerly of the rockabilly-gospel-firebreathing-freak-out act The Carsinogents. Add second guitarist Mike Saklar (No Blood Orphan, Mal Madrigal, ex-Ravine), and out-of-control drummer Jeff Heater (ex-Men of Porn, whether he likes it or not) and you've got yourself a bomb ready to explode.



I've heard them described as a cross between The Wipers and The Hot Snakes -- and still don't know what that means. I liken them to edgy '70s guitar punk meets edgy '70s bombastic heavy metal -- brash, fast and ready to pose for the cameras, boot-up-your-ass music without a hint of ennui. Brooks, held back as a sideman for years with the Carsinogents, lets it all hang out with classic rock 'n' roll panache (Spitting out a burning cigarette before screaming into the mic; doing the ol' stand-on-the-chair-during-my-solo routine).



Like Ladyfinger, don't ask me what their songs were about. I don't know, and I don't care. And neither did a standing crowd at The 49'r Saturday night that looked like they were ready to pounce when Brooks said there was no more.



As the scene begins to tire of all the flaccid indie posing, these two bands stand at the forefront of where it's all headed next. Don't get in their way.
Column 29: The Passion of the Fratt
Homer's new leader does it for the love of it...



Rick Galusha's announcement that he was stepping down from the helm of Homer's Records came as no surprise. Galusha sounded less than upbeat last year when he and I took part in a panel discussion for a UNO business class for entrepreneurs. Maybe he was distracted since the panel took place smack-dab in the middle of his heated race for Register of Deeds, which he would eventually lose. Regardless, that day in class Galusha seemed to make the point that rock and roll was a young man's game, not something that someone his age should be involved with. It's an opinion that I happen to disagree with, but hey, everyone's got a point of view.



Enter young Mike Fratt (only 46), who's been playing the role of second banana at Homer's for years. Now with his ascension to top banana (Fratt says he still doesn't have a title and isn't in any hurry to get one, thank you), the boy wonder has a lot to figure out. Like how he's going to keep Homer's afloat amidst market-share killers like music downloading and file sharing, big-ass box stores like Wal-Mart, Best Buy and Target, and the ever-fickle whims of the Omaha music-buying public.



Fratt says no prob on all three. In fact, despite all those forecasts of doom and gloom for the music retail industry, he's confident sales will continue to come up roses through the end of the decade.



The operative word there is "continue." Because in spite of all the hype about downloading eating up the music retail biz, Homer's revenues have been on an upswing for the past 18 months. Fratt says the chain's combined six-store sales are up over last year, and that it's a trend that's being seen throughout the independent music retail sector. While the industry as a whole is down 8 percent so far for the year, Homer's sales were up by single digits (Fratt wouldn't say how many).



It's more evidence of how the big box stores have seen their dominance slip to indie chains and online sales. As a result, they're cutting back on their selection. Best Buy, for example, dropped its CD selection from 15,000 titles just a few years ago to only 5,000. Add to that the fact that most people who go to box stores to pick up the latest chart-topping Britney crapola at loss-leader prices leave with only one CD; while Homer's shoppers tend to pick up a couple more items before heading to the check outs.



Selection didn't matter as much a few years ago. The big money was in the mega-sellers. But those mega-sellers are becoming fewer and fewer these days. In 2000, only 100 CDs sold more than a million copies in a single year. Last year that number dropped to 60. "People are finding that these big, hyped records are bullshit, and that there are a lot cooler records out there," Fratt said. Records that you're not going to find at Wal-Mart.



Yeah, but what about i-Tunes and downloading? Fratt, whose been involved in music retailing since '75, says the Internet and satellite radio are helping -- not hurting -- his business because they're exposing listeners to more music than ever before. "That's influencing sales," he said. "All those predictions that Internet web stores and file sharing would wipe us out haven't come close to reality."



If anything, Fratt says the web has hurt the box stores more than the small indie retailers. And Homer's is making money with its own internet ventures, including a web store and sales efforts in conjunction with Amazon, eBay and Django's.



Still, Fratt is quick to point out that there's never been a lot of money in the music retail business, even at the head office. What keeps him going is what got him started way back when he was a stock boy at Brandeis in Crossroads. "I kept going down to Musicland on my breaks and bugging them for a job, until they finally broke down and hired me," he said. "I fell in love with it. People that come to work here have a passion for music and want to share it with every customer that walks through the door."
Column 28: An Irish Rover Returns
Finding a lump of gold in a pot of cheese.


There was no column here last week because, well, I wasn't in the country. Instead, I was in Ireland for a week's worth of boiled potatoes and cold Guinness, crumbling castles and jagged cliffs, bad hotels and tacky gift shops, and of course, lots and lots of St. Patrick's' Day-style music.



Other than the Cliffs of Moher, it was the pubs and music that made spending 35 hours in cramped jets and crowded airports worthwhile. You go to the pubs in Ireland expecting to hear the same traditional music that we've all come to know from Lucky Charms commercials and reruns of "The Quiet Man." I never deluded myself into thinking that I was going to find Ireland's hidden underground indie-rock scene.



Instead, I was content to find comfortable pubs and drown my nights in pints of Kilkenny, Guinness and Smithwicks (pronounced "Smitticks" -- you best not pronounce the "w" if you want a decent pour). If you get there at 8:30, the place will be nearly empty, with only a handful of locals staring up at the live horse races televised from Newton Abbot, Folkestone or Naas and bet on at Ladbrokes booking parlors located almost everywhere. But by 9:30 -- the unofficial starting time for all bands -- the pubs are crush-full with camera-toting tourists looking for a "slice of real Ireland," and a smattering of locals whose bane in life is putting up with camera-toting tourists.



On the first four days, there weren't any surprises. The music sounded pretty much like what you'd hear if you venture out to our versions of The Dubliner or The Brazen Head on a live music night. Irish bands are essentially cover bands playing songs handed down from generation to generation, with the most popular ones eventually making it over to the states where they're played every St. Patrick's day for the beer-soaked masses. The tourists not only want -- they expect to hear "Wild Rover" with its 4-beat clap-along or "Rye Whiskey" ("I'm a rambler / I'm a gambler / I'm a long way from home…") or, god help me, "Danny Boy," which is blared through every gift shop and Blarney Wollen Mills outlet from County Wicklow to County Clare.



And so it was in Dublin and Kinsale, groggy nights filled with drunken group singing and annoying banter from brogue-inflicted band leaders who know just what to say to please the needy tourists, all of whom are proud, chest-thumping great-grandsons of Ireland whose own brogues were worn away generations ago, replaced with nasal Boston accents.



Then, six days into the trip, came Killarney. As the evening began, my companion and I, worn down from the past five days of reveling, decided to stick close to the hotel and stumbled into a hole-in-the-wall pub called Paddy Murphy's. Sitting in a corner right behind the front door was the night's entertainers -- a twenty-something accordionist, a banjo player who looked like his father and a guitarist/vocalist that was probably an uncle. Unlike the elaborate set-ups from prior evenings, there was no sound system or lights, just the trio sitting behind a table with three jars of Guinness.



Instead of playing the usual crowd-beloved standards, the lads performed traditional instrumentals I'd never heard before. How do I know they were traditionals? By the look on the face of the old man -- a local you could tell by his clothing -- who sat across from them and grinned with every satisfying keystroke and banjo pluck. It wasn't until the third song that Uncle Guitarist took voice, and what a sad, lonely voice he had. His moan was drawn in layers of sorrow, singing stories of famine deaths, lost wars and broken hearts. There were no happy sing-a-longs; no clapping, unicorns or laughter. Ireland's true song is one long, tragic dirge, a testimony to suffering and survival even if it means leaving your home behind forever.



The next night, also in Killarney, we found the usual barn full of drunken, happy tourists pleading for their "Whiskey in a Jar." We snuck out early and found Courtney's, a room so dark with 18th Century lighting that you could barely see your pint in front of your face. This time it was a banjo, guitar and harp -- no vocals -- playing intricate instrumentals augmented by chiming, syncopated plucking. Called Sliba Luchra (I'm sure my spelling is wrong, thanks to Guinness), the young trio's arrangements were slightly askew, purposely odd and strangely sad and yearning. It was like listening to a Celtic version of Tristeza or Tortoise. I hadn't found Ireland's indie rock. I had found something better.



Two days later I was back home, with "Danny Boy" and Guinness still ringing in my head, but thinking about Paddy's and Courtney's and the music I left behind.
Catching up: The return of Cursive; Homer's new management; Wide Awake breaks 250k… – June 7, 2005 –



So I'm back from Ireland. I'll fill you in on the "music scene" tomorrow when I put this week's column online and talk more about the trip. I can tell you right now that the worst part was traveling there and back. Avoid Aire Lingus at all costs. Fly American or British Airways, it's worth the extra jack. Believe me. Coming back was the worst overall flight experience I've had in a long time (I have had worse, though).
Incidentally, I would have gone to the Neko Case show last night had I known it was a no-smoking show. As always is the case when you're in a jetliner for 10 hours, I picked up a chest-cold thing and didn't want to make it worse. There's no smoking allowed at any bars and restaurants in Ireland. The ban doesn't seem to have had an impact on their bar scene whatsoever. The flight did give me a chance to write a dozen or so CD reviews, which will be going online over the next few days, so watch the reviews page and the matrix for updates.
What happened while I was gone?
-- The hiatus is over. Saddle Creek confirmed rumors of the much-anticipated second-coming of Cursive. The label says the band will start working on new music later this summer, with possibly a new record mid-late next year in terms of release date. Does that mean the inevitable hiatus (or end) for The Good Life? Well, maybe The Good Life as we've known it…
-- I'm told Homer's has had a change in management, with Rick Galusha announcing his departure and Mike Fratt taking his place as the company's president. Who knows what it'll mean. I'm trying to track Fratt down to see. The story of Homer's and its continued survival in the now-viscious, cut-throat business of music retailing needs to be told along with Fratt's plans for continued survival (and prosperity?).
-- Before I left, Fratt e-mailed to tell me that Bright Eyes' I'm Wide Awake, It's Morning sales have surpassed 250,000, passing Lifted… by many thousand. Saddle Creek confirmed this. I figured Wide Awake would lift Lifted's sales. It has, but not to the degree I expected. At this pace, Wide Awake is on target to be the first Creek CD to go gold… Digital Ash sales are at 176,000, by the way...
<Got comments? Post 'em here.>

On hiatus; a glance at the week ahead... – May 27, 2005 –



Lazy-i will be on hiatus for the next few days as I head to over the water for some well-deserved R&R. In addition to sleeping, I'll be spending the plane-ride over catching up on reviews, so you'll have that to look forward to when I get back, as well as my take on Dublin's edgy music scene.
So what am I going to miss while I'm gone? All the hot action is on Sunday night:
-- Kasabian w/Madaction and Rock 'n' Roll Soldiers at Sokol Underground. This could wind up being a classic "I-was-there" type of show, depending on what happens to Kasabian in the next couple years. $10adv/$12 DOS.
-- No Things w/Rocket FM and Haywood Yard at Duffy's in Lincoln. No Things is the new project by former Mercy Rule drummer Ron Albertson and Opium Taylor's Pat Nature. After getting booted from The Liars (a band they formed), the duo rebounded with this new ensemble. This is a must-see show. $5.
-- Anonymous American w/Sarah Bench and the Robbers at Shag. Shag is the former Funnybone comedy club which, like all business in that area, is doomed to extinction after the dreaded overpass is completed. $5, 7 p.m.
What else?
-- Next Thursday is Pinback at Sokol Underground with Pit er Pat. $12.
-- Next Friday is Little Brazil w/Clair de Lune and Fromanhole, also at Sokol Underground. $7.
-- And then there's a handful of shows at O'Leaver's by bands I don't know, starting tonight with io, The Atlas and Life After Laserdisc; tomorrow with Red #9; next Thursday with Valient Thorr and Rent Money Big, and next Friday with VCR, Life After Laserdisc and Fizzle Like a Flood. O'Leaver's shows are somewhat tentative in nature, so don't blame me if you show up and the bands cancel or you're stuck listening to bad local metal.
See you when I see you…
<Got comments? Post 'em here.>

Kasabian's David St. Hubbins... Mary Timony tonight – May 26, 2005 –



My profile of Kasabian went online this morning (read it here). I had about five minutes to talk to the band's guitarist/keyboardist/songwriter Serge Pizzorno, and considering his answers to my questions, that's all I really needed. It was like interviewing David St. Hubbins of Spinal Tap. Anyway, it's my sincere belief that Kasabian actually could be the next big thing out of bonny ol' England. Their single, "Club Foot," is a mammoth hit over there, and they're selling out arenas throughout Europe. It could be awhile, however, until that reach that status in the colonies... if ever.
Tonight is Mary Timony at Sokol Underground with Medications (the other touring band that includes her drummer/collaborator Devin Ocampo) and Omaha's own Bombardment Society. Can Timony pull it off with just her and Ocampo performing as a two-piece? We'll see. I asked he why she didn't have a full band and pointed out that two-piece outfits are becoming more common these days (The White Stripes and Black Keys come to mind). She said she hadn't thought about it, but yeah, I guess there are a lot of two-piece bands. Why is that? "I think it's just economical. It makes going on tour easy. Actually, I don't know why it is." The show is $8 and starts at 9.
<Got comments? Post 'em here.>
Column 27 -- VH1 raids Omaha? – May 25, 2005 –



When I say VH1 has talked to almost everyone in town, I mean everyone. You name it, and Eli Lehrer has talked to it. Like I say below, it's a departure from the usual national media coverage: A reporter blows into town, hangs out at the Saddle Creek offices, goes to a Saddle Creek show, goes to The Brothers with Saddle Creek staff, and then leaves. A month later the writer's definitive article about "the Omaha scene" comes out, and it doesn't mention a single band that's not affiliated with the label. I can't say I blame the writer -- it's the Creek bands that will be playing at Webster Hall or North Six in the coming months, not The Monroes or Kite Pilot. Still, when you say you're covering the Omaha scene, you gotta go beyond Creek, or else you're really just covering Creek. VH1 sounds like it's going beyond Creek, but something tells me all the hoopla's for nothing...
Column 27: Behind the (Omaha) Music
Why is VH1 sniffing around town?



Just when you thought that every media outlet already had passed though our fair city looking for the Next Big Thing, out of the blue comes an e-mail from Eli Lehrer of VH1 Development.



Seems Lehrer had been sicced on Omaha by one of the powers that be at the cable station to find out all he could about the Omaha music world. Lehrer wanted to know if I, too, would be willing to share my breadth of knowledge with him.



Turns out I wasn't the first person that Lehrer had contacted. Far from it. He'd already talked to a number of local scenesters and musicians, and they all wanted to know the same thing: What does VH1 want with Omaha?



Sure, the Omaha indie music scene is now world-renowned thanks to Bright Eyes, The Faint, Cursive and the rest of the bunch at Saddle Creek Records, but isn't indie just a tad bit off the mark for a station whose prime demographic appears to be 30- to 40-year-old housewives? On the other hand, I admit that I watch VH1 tons more than MTV and its embarrassing menu of sophomoric "real life" humiliation plays, bling-bling-powered look-at-my-shit "Cribs" shows, and 24/7 T&A spring-break extravaganzas, none of which have anything to do with music. VH1 is now the closest thing to "music television" on Omaha cable -- from the classic "Behind the Music" series to last year's "Bands Reunited," which I proudly programmed into my TiVo Season Pass list.



After a few back-and-forths, Lehrer and I finally met over the phone, where we talked for a couple hours about the Omaha music scene beginning back in the '90s through the glamorous present. It quickly dawned on me that Lehrer and his unnamed VH1 Sith Lord had something different in mind than the usual New York Times/Fader/Spin magazine pieces that only looked at Omaha through Saddle-Creek-colored blinders. In the past, whenever a national journalist called for expert perspective, they weren't in the least bit interested in anything beyond Saddle Creek. Every time I listed a dozen or so other great local bands, the writer would clear his throat and say, "That's nice, but what's Conor really like?"



That didn't happen with Lehrer. In fact, most of our time was spent talking about Omaha's incubator-like environment for creating unique singer-songwriters who seem uninterested in "making it big." Instead, they're busy trying to line up a gig down at O'Leaver's, or figuring out ways to get studio time or buy a van for their next tour.



Like the half-dozen or so that spoke to him before me, I pointed Lehrer in the direction of a half-dozen others who I thought could add their own perspective to the Omaha story. Though weeks into his research he said he still hadn't spoken to anyone from Saddle Creek -- yet another sign that this wasn't going to be just another Conor lovefest.



But what exactly was it going to be? The Fabulous Life of Matt Whipkey? I Love The '90s Omaha-style? An Episode of Storytellers featuring Simon Joyner? Lehrer didn't know and couldn't even say if anything would ever come of the interviews.



But one thing's for certain -- the project isn't over yet. Lehrer said he'll be visiting Omaha sometime in the next couple weeks to put faces to names. When I told him I was writing a column about his research, he became skittish and quickly called me, imploring that I not make a big deal about it, emphasizing that the odds are good that nothing will ever come of it.



But, of course, something already has. Whether or not a VH1 camera crew ever lands at Eppley, the fact that the channel is interested in Omaha music -- and not just Saddle Creek -- is a pretty good sign that people are beginning to wonder what undiscovered treasures lurk in Omaha that Saddle Creek hasn't discovered.
Look for an interview/profile of Kasabian online tomorrow morning.
<Got comments? Post 'em here.>

Mary Timony interview; Slowdown announced; The Good Life tonight… – May 24, 2005 –



Just placed on the site, an interview with ex-Helium frontwoman Mary Timony (read it here). Timony talks about Matador's round-about way of ending its relationship with her, and how she picked herself up and moved on. She can count herself among those who were at that label during its mid-'90s golden years, back when you bought whatever the label put out regardless of whether you even heard of the band (a status that Saddle Creek is approaching). These days Matador is a shadow of its former self. Sure, they still have Yo La Tengo, Stephen Malkmus and Interpol, but after that it gets rather spotty. I haven't sought out a Matador CD since Interpol's debut back in 2002.
There weren't too many out-takes from the interview that didn't make the story. Timony did talk about growing up in D.C. and following the local hardcore/punk scene and how it influenced her music. "I went to a lot of punk shows, I hung out at The Wilson Center," she said. "I was aware of the bands and was a fan of the bands. They were so powerful; it was definitely a big influence in playing music and getting started. Then I was in a band called Autoclave that put out a record on Dischord in '91." In fact, Timony said she first met Fugazi's Brendan Canty (who produced her new CD, Ex Hex) when he recorded Autoclave.
I threw this story online early this week because Timony is playing Sokol Underground this Thursday, and because I'm putting the Kasabian piece up tomorrow. It's turning out to be a busy week. Yesterday the Omaha World-Herald reported (in this story) that the label's Slowdown project is now slated for a downtown location -- from Webster to Cuming between 13th and 14th streets, just as rumored last fall. Unlike the original, doomed Metcalf Park Slowdown project, this one is more than just a music hall, offices and bar. The latest proposal includes a two-screen art-house movie theater, a pizza joint and condos, with a targeted completion date of June 2006. An hour after the story broke Saddle Creek's Jason Kulbel e-mailed to say that despite the World-Herald report nothing about the project was definite. "Still many details to be worked out and the city has not accepted our proposal as of yet, but the cat is fully out of the bag," he said.

And speaking of Saddle Creek, tonight is the victorious return of The Good Life to Sokol Underground in what has been said to be one of their last local gigs for a long, long time. Opening the show are tourmates Make Believe and Zykos. I foresee a sell-out.
<Got comments? Post 'em here.>
Live Reviews: Last night and the night before… – May 22, 2005 –



Last night was sort of a second coming for Criteria. Things change once you get signed to Saddle Creek. People take notice. You're no longer "just another Omaha band (that's not on Saddle Creek)." You've joined a fraternity of sorts, and with it comes the spoils in the form of larger crowds. Though The Nein were the touring band, it was Criteria that was the headliner and who most of the 260-something paid to see. And the band did not disappoint them.
I took my position along the wall adjacent to stage right, but this time it was somewhat crowded over there and I found myself further behind the stage than usual, providing a view mostly of the band's corduroys and their adoring crowd leaning forward and upward. By god, there were a lot of them singing right along to songs off En Garde. And the young girls, well… Indie music is the exception to the old crow that rock attracts only angry, disassociated teen-aged guys. There's always a lot of girls at indie shows, especially Creek shows, maybe because there's a sizable percentage among the radio rock guys who think indie/Creek is waaay to fey for them to listen to. That's their loss.
So far back was I behind the stage that the vocals got lost in the roar -- what do you expect when you're on the backside of the speakers? After the first couple songs, the guy next to me laughed and said, "These guys obviously grew up listening to the Scorpions." When Criteria frontman Stephen Pedersen said he was "really stoked" about everyone coming out, I turned and said, "It's the '80s all over again." My sideman left halfway through the set -- I guess it wasn't his thing. But for the most part, he was the exception to the rule. Criteria fills a void in the Creek cadre of bands. Other than maybe Beep Beep, no other act on the label is trying to burn the house down with their guitars -- a characteristic that Cursive also used to have, and maybe still do, if they ever return from their hiatus.
The sound was much better in front of the stage (obviously), and it was in the back of the room that I noticed the small contingency of people in their 50s (and maybe 60s) who I assume were representatives of the Kutak Rock law firm checking out the wares of their prodigal son, thinking to themselves how far away smoky Sokol Underground is from the lacquered oak and leather chairs of their boardrooms. Were they wondering if they'd made a mistake by taking the path less traveled by? We'll never know.
Shifting gears… It was true what I heard about Bunnygrunt. I actually found out that afternoon when someone e-mailed me that they were indeed going to play at O'Leaver's Friday night. So I made it out and it was pleasingly crowded. Low-fi poppers Grape Soda was up first, consisting I'm told of some folks who work down at The Antiquarium. It was more folk rock than indie rock and for some reason reminded me of Celtic music, though I'm sure there was no reason for it. I asked a guy next to me if it sounded Irish and he said, "Yeah..., sort of." It was sloppy fun.
Next was Lonnie Methe's group Mancini's Angels. I've seen Methe a number of times as has anyone who has seen Simon Joyner over the years -- he's the guy in the sweater playing the violin with his back to the audience. He's also a member of Omaha avant-guard ensemble Naturaliste, with Chris Fischer, Simon and Josephine Joyner and Chris Deden, among others. That group has a reputation for creating low-fi art/noise pieces, summed up on a full-length released by (Omaha's most unknown label) Public Eyesore, which I haven't heard. Mancini's Angels was far from avant-garde, instead bordering (again) on folk rock, with Methe handling the lead vocals, and quite well, I might add. Underlying every song were layers of structured dissonance that would drive any pop-music lover up a wall. In that context, it was arty and probably lost on the crowd that came to hear Bunnygrunt's three-chord "twee-punk." Still, if you looked, you found some interesting stuff hidden among the feedback. Methe told me after the show that he's headed to Austin to live in mid-June.
Up next was a band that I thought was Bunnygrunt -- three girls and a guy drummer playing the style of indie-pop that Bunnygrunt plays. The flat, female vocals even reminded me of the band. Turns out it wasn't Bunnygrunt at all, but a side project by one of its members. So as I was about to leave, on came Bunnygrunt, sounding much more confident and aggressive than the previous, unknown-named band. The trio included two guys and a girl drummer, and the vocals were mostly dominated by the men -- something I don't remember from the Bunnygrunt of the past. Despite the crowd yelling out song names, the band didn't play any of their "hits" during their disappointingly short 15- or 20-minute micro-set. Maybe next time (if there is a next time).
Lots of stuff coming this week, and the sched looks this way -- Mary Timony profile/interview online Tuesday; Kasabian profile/interview online Wednesday, and the column online Thursday -- if I get all of it written…
<Got comments? Post 'em here.>

Bunnygrunt tonight? Criteria tomorrow. Some Internet headlines... – May 20, 2005 –



According to a mass e-mail sent to me and other members of Omaha's elite music media by sometimes Simon Joyner sideman Lonnie Methe, St. Louis cuddlecore legends Bunnygrunt is playing at O'Leaver's tonight with Methe's own Mancini's Angels and Grape Soda. I've been unable to confirm this with anyone including a contact at O'Leaver's, who says scheduling is in disarray there these days, what with all that volleyball going on. Bunnygrunt doesn't have a website. According to AMC, the band broke up in 1998. I know them from having seen them play with Frontier Trust sometime in the '90s, and from their single, "Macho Beagle," w/"Cry," a cover of The Raspberries classic. I hope this is happening, and I'll be down at O'Leaver's to find out.
Tomorrow night, of course, is Saddle Creek Records band Criteria with The Nein and The Philharmonic at Sokol Underground. Meanwhile, Fromanhole is hosting a CD release show at The 49'r with No Blood Orphan.
A couple headlines of interest:
-- The Bright Eyes/Faint saga continues with more of the same. This review of their Toronto show again goes out of its way to point out that The Faint is crushing BE in the popularity contest, at least with the critics. "All in all, a good show, but in the end Bright Eyes couldn't muster up enough energy or enthusiasm to claim best band of the night." Ouch. Says that Oberst rolled out a new song during the set -- wonder how they did the video for that one...
-- Rilo Kiley now appears to be using their defection from Saddle Creek Records as a publicity peg on their tour. In this item in yesterday's Boston Globe, frontwoman Jenny Lewis talks about "struggling" with the concept of indie vs. major "every day." "People make such a big deal about indie vs. major. But if you're making the same music, what's the fuss about reaching more people?" She then goes on to say that the band wanted to do things that Creek wasn't comfortable with... involving radio. Who knows what that means, although I would bet it has to do with Clear Channel.
-- Meanwhile, in this Detroit Metro Times story, Neva Dinova's Jake Bellows talks about a couple things concerning Jenny Lewis that I'm sure she's not comfortable with. "When we heard that she was a child star, we found Foxfire with her and Angelina Jolie. In it there's this topless scene where all the girls are hanging out together, burning each other and touching their tits, and Jenny is the only one of the five girls who doesn't take her shirt off. I was like, 'This is fucking bullshit. I rented this movie because I thought I was going to see your naked tits.' I talked to her about it and the first thing I said was, 'We were all disappointed.'" Classic.
-- Finally, Tim Kasher talks about his budding screenwriting career in this Omaha World-Herald story. Kasher says he's working a play that that he hopes to score with music from The Good Life, and then goes on to say he and members of Cursive plan to work on a new album.

<Got comments? Post 'em here.>
Column 26 -- Radio Days; Kite Pilot, Simon Joyner tonight; Bunnygrunt tomorrow? – May 19, 2005 –



There was a ton more info gleaned from my interview with Sophia John that wasn't included in this week's column. So much, in fact, I'm toying with the idea of doing a second part next week that discusses the station's advertising and other nifty things. As stated below, I noticed the programming changes just driving around, but another indicator was talking to one of the guys who puts together New Day Rising, the indie show on The River late Sunday nights. I asked if he was going to play the new Kasabian. "Nope, it's on The River's regular playlist now. We don't play stuff that they're already playing." Makes sense. How 'bout Tegan & Sara? "Same story." Okay, how 'bout the new Beck? "Same thing." Etc...
Column 26: Heavy Rotation
Has The River changed its course?




It may be time to turn the radio back on again.



I turned mine off years ago, when all I could find on the dial was freedom rock, goon rock, C&W warblers and gansta hate-hop. Why should I devote even a scintilla of my time to that noise when I have a CD player and an i-Pod in my car? The irony about Omaha radio has always been that we live in the nationally recognized indie rock capital of the world and can't hear a single indie band on a local station.



But then the other day as NPR was bringing me down with yet another report about third-world child rape camps or the extinction of another life form, I twisted the dial to 89.7 The River. On came the latest by none other than Omaha's very own Bright Eyes. Was I dreaming? Moments later, up popped the new one by Nine Inch Nails, which was followed by a track by …And You Will Know Us by the Trail of Dead, which was followed by something from the yet-to-be-released Criteria CD.



What the hell was going on? Could this be the same 89.7 The River that I've known and loathed for its tooth-drilling metal and agonizing Cookie Monster grunt rock?



I asked station program director Sophia John if I was dreaming. We talked at Sokol Auditorium the morning of the station's sold-out Mudvayne show, where John was busy wrangling a crew of young grips setting the stage for the night's performance.



Seems Ms. John indeed has slowly been working indie tracks into The River's regular rotation for months. And people are just now beginning to notice. "We're trying to mix elements of rock, pop, indie and even rap into the playlist," she said.



No, The River hasn't turned into a CMJ station. You're still going to hear grunters by Slipknot, System of a Down, Kottonmouth Kings and, yeah, Mudvayne. That's where John's job becomes a real balancing act, because indie shoegazers will immediately turn the dial when Slipknot comes on, just like metal heads will rifle straight to The Z rather than suffer through Tegan and Sara. Going too far either way could mean ostracizing a portion of the station's listeners.



John knows this all too well. She's been inundated by amateur program directors telling her she should be playing everything from 24/7 metal to 24/7 CMJ. "If I did that, I wouldn't be doing what's best for everyone," she said. "I want to bring the masses what they really want while opening their minds to something different."



She admits that even she doesn't like every song on the play list. "If you understand the basic breakdown of music, there's a pop element to everything, even hardcore and metal," she said. "If you hear something you don't like, it'll only take two or three songs before you hear something you do like. If you don't like The White Stripes or System of a Down, just wait awhile."



Working indie into the mix hasn't been easy. Saddle Creek Records' spate of new releases last year helped her logically work the local label into rotation. But getting Trail of Dead on the air took sheer chutzpah. "We wanted to see if we could open doors to people who don't know the band yet, and change the attitude of those that listen to bands like Trail of Dead but never expected to hear them on the radio."



It seems to be working. John said The River has gone from having a 3.8 share when she arrived over a year ago, to a 5 share in the latest book, which equates to roughly 170,000 listeners at any given moment (and being ranked No. 7 in the Omaha radio market).



Sure, I'd be happier if The River only played indie rock, but I'm smart enough to know that such a severe program shift would only kill the station. And then we'd be left with nothing but freedom rock, goon rock, C&W warblers and gansta hate-hop. I can withstand a little Slipknot as long as I can have my Garbage, too.


There's a pretty good show tonight at Ted & Wally's: Everyone's favorite local folk legend Simon Joyner is doing a solo set with everyone's favorite local neu-wave-esque, trumpet=powered pop-fun dynamos Kite Pilot, who will be playing stuff from their forthcoming LP. I've never seen a show down there before, but I hear it can be a blast. It starts around 10:30 and costs $5.
Also, I received an e-mail last night saying that legendary St. Louis cuddlecore band Bunnygrunt is sneaking into O'Leaver's tomorrow night. I will investigate further and report my findings in tomorrow's edition...
<Got comments? Post 'em here.>
Criteria talks Creek and Kutak Rock, and here's the out-takes… – May 18, 2005 –



I just placed online, an interview with Criteria's Stephen Pedersen (read it here). Pedersen talks about leaving nationally respected law firm Kutak Rock where he's an attorney, to pursue his rock 'n' roll dream with the help from his friends at Saddle Creek Records. The word limit for The Reader article was 1,000. Here's some out-takes from the 2-hour interview that didn't make the cut:
There's already those who think Criteria could rise to become the second most popular band at Saddle Creek. Pedersen pooh-poohs those comments. "Every band on that label has earned it from years of touring and focusing full-time on music for the greater part of the past decade. I kind of dilly-dallied."
He said he had no idea what he and the former members of White Octave are going to do with their last album, Menergy, now that they've acquired the rights to the CD from Initial Records. "I would be surprised if there was a label that wanted to release it," he said. Interestingly, White Octave also owns the masters to their first record, released on Deep Elm who only had a five-year licensing agreement on the recording, which has since expired.
Pedersen said Saddle Creek's 50/50 royalties split is a rarity in the business. "It's about as pure of a partnership as you're going to get in the music business," he said. "While the front-end isn't that great, the back end is incredible. It's the difference between an 11 to 15 percent royalty and a 50 percent royalty. If you're successful, the payoff for record sales is fabulous, but that wasn't the reason I wanted to be on Saddle Creek.
"These are my friends, the people that kept me going. I've known them half my life. And it's also a great label with an amazing reputation that's well deserved. I like their business model and can totally trust them."
It was here that Pedersen referred to the famous Spoon/Ron Laffitte debacle that was immortalized in Spoon's Saddle Creek-released single "The Agony of Laffitte" b/w "Laffitte Don't Fail Me Now."
"The only reason to go to a major is to raid their coffers," Pedersen said. "If there was a $5 million non recuperable advance dangled in front of me, that may have made things difficult."
So how does one get signed to Creek these days? Pedersen said there are two possible routes. "Either Robb, Jason and the people at the office love the record and want to put it out, or you appeal to the greater community of bands -- you get Todd and Joel from the Faint and Conor and Tim and Matt behind you. The artists in effect are like an appellant court when the district court denies you. Luckily it never came to that."
Pedersen discussed the process of writing his music. I've always thought that he must have consciously gone out of his way to create the stuttering, waltzy lope that's indicative (to me, anyway) of their sound. "I don't know why I do that," Pedersen said. "The music wouldn't be talked about if it was in 4/4. When I was writing En Garde, it was the first time I had the chance to make the beats, but I don't know where I got the beats."
Like En Garde, much of When We Break was recorded in Pedersen's dingy basement studio. There is nothing fancy about the set up, you almost expect the guitarist to be leaning against a washer/dryer while recording a solo. Amidst all the sound equipment is a bicep/curl bar and some weights, I guess to get pumped up with before rolling tape. Though the guitars and vocals were recorded there, the drums and bass were tracked at Presto! Studios in Lincoln. AJ Mogis did the mix.
"The reason the record sounds the way it sounds is AJ," Pedersen said. "He is the engineer and producer and the wizard behind its massiveness. It doesn't sound like a record that was, in a large part, made in a basement and that's entirely because of AJ. He just captures sound, and is also an incredible musician. The guy shreds. I'm, like, the worst guitar player in the band."
When We Break wasn't the first name chosen for the album. "We were thinking of calling it Danish Soul or Rock and Roll Miracle," Pedersen said, clearly joking. "There were some more serious considerations, too, like From the Dead Center, and Touché -- sort of a response to En Garde. But that would have been too cute. When We Break is a lyric from one of the songs. It's referring both to when a band breaks and gets popular, and as humans when you get hurt."
Which brings us to the album's "meaning."
"Lyrically, it's not about a break-up, it's about a lot of things," Pedersen said. "At the end of the day, I'm singing for myself, and if other people get meaning out of it, that's great, but I don't try to define my words."
Just as important, he said, are the songs' sound and tone. "The delivery can convey as much or more meaning than the words, and I'm all about delivery," he said. "I'm a defacto songwriter because I write a lot of songs, but I don't see myself as a songwriter."
He said he doesn't write lyrics down, or anything else for that matter. Everything is composed in his head, from the beat to the guitar to the vocals.
"I don't quite understand it," he said. "It's just a combination of having a Danish father and a Sicilian mother. You have a very strict, structured, disciplined side of you and a very passionate, emotional just sort of a very-lucky-to-be-alive side of you. And that's where the music comes from."
<Got comments? Post 'em here.>

Catching up; Le Beat, Mal Madrigal, Son, Ambulance tonight… – May 17, 2005 –



The reason why there was no update yesterday is because I was busy pulling together all the content for this coming week. Among it, look for an in-depth story with Criteria tomorrow morning. Frontman Stephen Pedersen talks about his decision to drop the lawyer biz and take on rock 'n' roll full-time. Methinks you'll enjoy it. Then on Thursday, look for this week's column focused on my interview with The River's Sophia John about the station's gradual shift in format over the past year. Good stuff. In fact, though both stories are also slated for this week's issue of The Reader, you'll get some exclusive extras right here on Lazy-i -- Sheesh! This is beginning to sound like a promo for Access Hollywood.
And speaking of Hollywood, looks like our old friends Rilo Kiley have up and dumped the whole Brute/Beaute ruse outright and signed to Warner Bros., who will be rereleasing More Adventurous under its moniker later this year (See story here). And all that talk about wanting their own label -- pish. Says frontwoman Jenny Lewis about signing with Warners: "I felt like it was inevitable that this is where we were going to end up. It seemed like the time was right for us. I don't know what sort of success that will bring us. That doesn't really concern me. I just wouldn't want to regret not having taken a chance." If success "doesn't really concern her" then why sign with Warners?
Meanwhile, Bright Eyes continues to get beaten and battered around the head and neck by critics as The Faint/Bright Eyes tour rolls throughout our United States. The latest attack comes from the Chicago Sun-Times, home of Roger Ebert, which didn't like anything about last Saturday's windy city show, from Oberst's singing to the use of two drummers (read it here). "He glowers beneath his mop of raven hair, which he wears in his eyes, and acts aloof, if not petulant." God, the critic sounds like a spurned lover. How will Conor bounce back from a month's worth of media hazing?
It's not all negative in Saddle Creek land. The Good Life received a nice write up in New York Newsday, which called Album of the Year "a small masterpiece, a 12-song tale of a yearlong relationship." And then went on to describe the band's set last Friday night at The Knitting Factory (read it here) The show also got a strong preview in the last issue of Time Out New York.
But who cares about shows in New York when you've got some good ones right here in River City, like tonight's Le Beat CD release show at Sokol Underground with Mal Madrigal and Son, Ambulance? The new Le Beat is some of the most laid-back stuff I've heard coming out of Omaha, more laid-back than even the latest Neva Dinova stuff, which it most closely resembles though Le Beat has much more allegiance to the Velvets. Didn't know this show was even happening? Maybe it's because neither One Percent nor Someday Never are involved. Will anyone show up? It starts at 9 and costs $5.
<Got comments? Post 'em here.>

A ridiculously quiet weekend; Column 25 – May 13, 2005 –



After a strong week of shows, a suspiciously quiet weekend is ahead. In fact, a quick glance at the calendar shows that there's almost nothing worth seeing except for goon-rock acts. In fact, I can't find any shows at all for tonight -- a good time to head to The Brothers. Tomorrow night, Goodbye Sunday and 5 Story Fall are slated for the Niner, but I suspect the draw will be light as all their fans will be down at sold-out Mudvayne show (just kidding, of course). Sunday night Evil Beaver is at Duffy's. And that's it. I don't know if it's due to acquiring all the volleyball traffic from the soon-to-be-closing Ranch Bowl, but O'Leaver's -- once an oasis for interesting rock shows -- has nothing booked until May 20. What's up with that?
For those of you who missed my column this week -- which was pre-empted due to the Bright Eyes/Faint show review -- here it is in all its boring glory. It's just a mailbag column…
Column 25: Opening the ol' E-mail Bag



One does get mail.



And though The Reader appears to get none of its own -- or at least never prints any of it -- I get more than my share, probably because I ask right at the bottom of the column for you to send your love/hate mail to tim@lazy-i.com.



In addition to those kind words from the faithful readers (thank you for your support, it keeps me going), the most common (and voluminous) mail comes from hopeful bands making sure that I received their CD for review. Since The Reader doesn't print CD reviews, I'm pretty sure this e-mail is generated from my website. As stated online, I do my best to listen to everything that's submitted, but a man only has two ears, and with feature-story deadlines breathing down my neck, the time for absorbing CDs is scant. Patience, grasshopper.



The rest is hate mail.



First and foremost, last week's Tegan & Sara column prompted a long, non-apology apology letter from Sara Quin herself explaining why the band never got back to us after countless rescheduling attempts following their interview cancellation and no-show. "We would have been happier with a friendlier welcome to Omaha, but we understand that maybe we hurt your feelings. But you hurt ours too. Don't write off young bands so soon! Some of us really do care about this world and music we are making in it." I'm told by people who were at their show last week (I wasn't because I was under the weather) that Sara sarcastically dedicated the set to me from the stage. Nice.



Look, my gripe was more with their publicist then the band, who had four days after my run-in with their answering machine to get back to us if only to say that the interview was off. Instead, she was too busy revvin' it up at Coachella. Sorry, that's just bad biz. I will add this caveat -- T&S aren't the first band to do a no-show, and they won't be the last. It comes with the territory.



A reader who goes by the initials "AES" was "slightly aggravated" by the April 23 column that highlighted how only the rich and lucky are able to take advantage of so-called "top-drawer" acts performing at the Qwest Center these days (U2, Paul McCartney, etc.). He thinks the ticket prices are fair.



"I think you are MORE upset at the fact that the Qwest Center did not give you a pass to 'Get to know the band' or 'front center seats'… I think the attendees to the U2 show would rather have you walking around Sokol's dirty halls, griping about what you know is right and is cool, and the piss smelled bathrooms full of 'cool coke heads' than have you at QCO ruining their opportunity to see a band they like."



Ol' AES missed the point. The biggest problem concerning these shows is scalping -- not the tickets' face value. With scalpers making a flush living off the current system, only the lucky and determined few have a chance at paying face-value for tix. It's turned into a game that I'm not willing to play. I would have been happy to pay the tickets' face value to see Bono and The Edge, but not $2,000.



And yes, I'd much-much-much prefer to see U2 (or even an old has-been like McCartney) at a piss-scented Sokol than at Qwest. That, of course, will never happen. However, I am able to see tomorrow's U2 (Kasabian, for example) at Sokol today.



Keep them cards and letters coming, folks.


<Got comments? Post 'em here.>

Live Review: The Faint, Bright Eyes – May 12, 2005 –



Those critics in K.C. and Seattle who so boldly dissed their Bright Eyes sets didn't get it. They were blinded by The Faint's boom-boom-boom bravado, thinking that they had been invited to a dance party, which was the last thing on Conor Oberst's mind. There would be no dancing at the mighty MAC Center during his set, only upside-down crosses and lots and lots of angst. Oberst wasn't trying to redefine electro-dance with his live rendition of Digital Ash, instead he was creating some sort of new electro goth.
I could hear The Faint ripping into their set just walking from my car to the arena, pushing through crowds of smokers who were trying to get a last one in before settling down to the set. Once inside, there was plenty of space for us gen-ads to find a seat. All the fun was down on the floor, anyway, which from my vantage point looked like a seething flesh-mass of hysteria. The Faint always have known how to get people moving, and last night was no exception, even though they've never been so separated from the crowd. Big stages in big arenas mean barriers between the band and the throngs, and for the first time watching an Omaha act on stage I had flashbacks of my first arena shows way back in the '70s and '80s (Who remembers Lover Boy? Styx? Journey?). This was a real concert, from the bigger-than-life sound system to the battery of synchronized spotlights that -- when striking you head-on -- felt like they were burning a hole through your retinas.
Faint shows always have been glorified multimedia extravaganzas, but not last night. Were those the same projection screens that looked so massive inside Sokol Auditorium? Split in two and separated by a few feet in the Mac, they lost all of their punch and distracted from the live performance in a way that was never intended. If The Faint is going to continue playing arena gigs, they're gonna need screens about 8 times larger than these little projector numbers that made their videos look like overheads in a poorly lit board room, which is a shame because the videos lovingly created by Dapose and Jacob are such a big part of what they're trying to do on stage.
The band sounded as good as I've ever heard them, though I thought Todd's hollow vocals were too low and lost in a mix that, as always, was way too bass heavy. But hey, you gotta have lots of bass if you're gonna get those rumps moving, right? I would guess that the audience indeed did enjoy The Faint's set more than Bright Eyes', and why not? If you were on the floor you had no choice but to jump and bump with the sweat-hog next to you. By contrast, no one moved during Bright Eyes' set, and I'm not entirely sure they were supposed to.
At one time during BE I counted 10 people performing on stage, including a violin and cello player, trumpet, keyboards, two drummers (including Clark Baechle), bassist Joel Petersen, Mike Mogis playing two instruments at once, and Nick "Edward Sissorhands" Zinner on guitar. Despite all that, all you could really hear were the two drummers and Petersen, with Oberst chirping through the chair-rattling rumble. When the rhythm section actually gave the other performers some space, like on a couple Zinner guitar solos that burned like acid on glass, things got interesting instead of maudlin.
It's obvious that pace is the reason some critics are saying Oberst's set is a downer. The Faint's entire set is one long throbbing dance orgasm that doesn't let up until the bitter end. And their music has been around so long that everyone knows it. On the other hand, people are still getting used to Digital Ash and I doubt that a lot of the crowd recognized music. In addition, not all of the songs on that CD are very interesting -- far from it. That means waiting for the dud to get over in hopes that the next one will be something interesting.
Oberst looked bored at times, or maybe it just seemed that way from the top of the bleachers. There were songs that he could have pushed up a notch (like "Lover I Don't Have to Love"), but instead seemed to be just mailing it in. I don't expect him to do a stereotypical rockstar turn, but he could have at least looked interested in what he was doing as he wandered around stage. At one point he seemed to be riding piano stand, eventually knocking it over -- interesting, but not very rock 'n' roll. Maybe he should have lit it on fire?
In the end, Oberst's set sounded like a modern indie rendition of Goth, what with its dark video images, semi-slow pace, throbbing electro-static sound, and lots and lots of talk about death and dying and the afterlife. I could see this going over big with the Goth crowd if Conor started looking the part, which he never will because Goth is probably the furthest thing on his mind when he was recording Digital Ash. Some say the album was a cash-in a la The Postal Service. I think he was probably going for something deeper than that, but I don't know if he succeeded.
The set ended with a two-song fake encore (you know it's fake if he's prepared videos for them). Oberst's only notable comment from stage was that he never thought he could pull off such a large show in Omaha. Tsk tsk, Conor, don't you know that you're a rockstar now?
Tonight, Rilo Kiley at Sokol Auditorium with Neva Dinova and Tilly and the Wall. Tickets were still available ($12) as of this posting. If it keeps raining like this, you'll be able to take a bass boat to the show.

<Got comments? Post 'em here.>
Bright Eyes/The Faint tonight... – May 11, 2005 –



Well, it should be a historic show tonight... for One Percent Productions. The Faint and Bright Eyes already have played their share of arena gigs, but this will be the first "arena" concert promoted by One Percent (that I know of) and it's already a success. Unlike Sokol shows, where the dynamic duo of Marc and Jim are front-and-center, taking your dough and stamping your hand, tonight they'll probably be holed away in the MAC Center's swanky rockstar green room, dining on the veggie tray and horse-tub of cold beer, surrounded by a covey of half-naked groupie-whores, completely oblivious to the territorial pissing going on upstairs by anxious/heartbroken teens and their angry parents searching for decent seats. Barring a tornado (and after last night, I'm not kidding) I will be among the mob. The show starts promptly at 8 p.m. with Mars Black opening, which means I'll get there around 9:30, just in time for The Faint's high-NRG dance routine. And then, Bright Eyes. With the days of emotional eruptions behind him, there will be nothing left to watch but Nik Fackler's fine videoworks. Will Conor and Company bring the room down, like in KC and Seattle? We'll find out tonight...
<Got comments? Post 'em here.>
Vote; early returns on Bright Eyes; Dick Dale tonight… – May 10, 2005 –



Election Day is today, at least for us mid-towners. Get out there and vote, people.
With the Faint/Bright Eyes concert slated for tomorrow night in Council Bluffs, the early reviews of this experimental mixed tour are dribbling in, and they ain't been good. The problem: How do you follow an act like The Faint?
The opening dates in Kansas City got panned by the Kansas City Star, who said The Faint just plain outperformed Bright Eyes. "The Faint played an opening set that was unusually long and significantly livelier and more entertaining, visually and musically, than the headliner's." The writer then went on to assign blame. "The problem wasn't with the performers or the performance or the videos. It was the concept: 11 new songs, none with a formal groove to grab on to or a chorus to dive into, each the same weight and hue of the others, all written to emphasize the difference between digital and analog."
Ouch. Read the whole review here.
Things got better a few days later at Coachella, where the L.A. Weekly gave the performance a thumb's up. "The Omaha supergroup -- from rival high schools, actually -- played quite nicely together, despite the lack of a rumored cameo from Vote for Change tourmate Springsteen." Imagine Springsteen being backed by The Faint... That review's here.
It was back to the barbs as the bands pulled into Seattle Sunday. The Seattle Times seemed more critical of the venue than the performance. "Downer music seldom works in nightclubs, especially after several hours of opening acts, during which the audience became well lubricated. That called for dancing, not brooding." As in KC, the writer got pumped up over The Faint's set, only to be confused by the BE set. "The Faint, a lively electro/dance outfit, with fancy video accompaniment for each song, had the place dancing and applauding. Then Bright Eyes came on and dragged everything down." Yikes! Read more here.
Of course the jury is still out until Wednesday night, when you might be seeing The Faint and Bright Eyes together for the last time around these parts.
Tonight, surf guitarist Dick Dale rolls into Knickerbocker's for an 8:30 show, which gives me a reason to link to this classic Dick Dale Lazy-i interview from way back in 1998. Tickets to the 18+ show are $18, and it starts at 8:30 with El Guapotones and Fallen 77 opening.
<Got comments? Post 'em here.>
Nothing last weekend; The Shins tonight... – May 9, 2005 –



I spent this past weekend healing and getting stronger, away from the shows, prepping for the week to come. Actually, that said, I probably won't be at tonight's Shins concert at Sokol Auditorium, which is sold out, by the way. I like The Shins on CD; I'm not sure I'd dig their live set judging by how they've sounded on various late-night television chat shows. Still, it could be a riot, especially with New Zealand's The Brunettes opening. Their latest, the jangly organ-and-guitar driven Mars Loves Venus, is pure glowing-rainbow kitsch and probably a perfect fit for The Shins goodhearted retro clatter. Looking at the One Percent website, there appears to be only two bands on the bill (sadly, no local opener) which means, along with an 8 p.m. starting time, it could be an early night. If I can get in, I might go after all.
<Got comments? Post 'em here.>
Wha' happened? Fizzle tonight... – May 6, 2005 –



So I'm told my name was bantered about from on stage at last night's Tegan & Sara show. And I received a rather long letter from Sara (or someone claiming that she's Sara, you know how the Internet is), who wasn't very pleased with Column 24 (below this entry). Other tasks and health-related issues (I'm getting better, thank you) kept me from the show. Now I'm sorry I didn't go. I've been name-checked from the stage a number of times, half the time from angry bands who didn't like something I've written (Brother Ali is one example). It's generally a hoot.
So what've we got for tonight and this weekend? Well Fizzle Like a Flood will be in the house at Ted & Wally's, opening for the ubiquitous Poison Control Center. I'm told Mr. Fizzle's new band is rather scorching. $3, 11 p.m. (late, because they want the kiddies to finish dessert).
Also tonight, metal giants Bloodcow are at O'Leaver's, who just updated their sexy website. The bad news is they only have four shows booked for the month of May.
Tomorrow night it's our old friends Bad Luck Charm at The 49'r. I haven't seen Mr. Wolf and the boys in many moons. $3, 9:30.
<Got comments? Post 'em here.>

Column 24: Finding Tegan… and Sara, tonight – May 5, 2005 –



Below is the unabridged version of this week's column. The version printed in today's issue of The Reader was cut by about 200 words and also includes an epilogue, which I didn't feel was appropriate or justified. After the deadline passed (it's all explained below), Sheila the publicist contacted The Reader explaining that Tegan & Sara were in Montana, out of cell range, and that she was busy at Coachella. Doesn't really explain why no one replied to the numerous messages left on Tegan's cell phone four days earlier, or why the numerous e-mails sent by me and Alissa asking for a resched were ignored. Believe me, they got the messages, but who wants to deal with a newspaper and website located in Podunk U.S.A. when Coachella's going on? Also after the deadline, the record label e-mailed and offered to send The Reader T-shirts as penance for the oversight, which was acknowledged in the printed epilogue, and ignored.
Fact is, this stuff happens all the time, it's part of the deal. Regardless, I still want to see Tegan & Sara tonight at Sokol Underground if I'm able.

Column 24: Searching for Tegan
Sometimes being a rock star means never answering your phone.



No one ever said it was gonna be easy.



I know that. I've always known that. You think the rock journalism thing is just a walk in the park clutching a handful of free CDs and all-access laminates? Think again. It means dealing with overworked publicists and burned-out "rock stars" in a lame attempt to glean a scintilla of profound insight on their music, whether there's anything profound about it or not. That is if you can get them on the phone.



You'll notice that there isn't a feature on Tegan & Sara in this issue of The Reader. It wasn't an oversight by the editors. They know T&S are hot stuff. The dynamic duo currently are opening for a sold-out Killers tour. No, yours truly is to blame, but not entirely, actually maybe not at all.



Let me explain something: When the editors throw out the assignments to us lackey writers, I'm always the first to say "me-me-me" when it comes to covering the hot under-the-radar indie musicians. With my experience why not try for the big fish like U2 or Paul McCartney or Neil Diamond? Because even if I was lucky enough to get them to talk (and not their faceless drummer or bassist), the interviews are so canned and formulaic that they add nothing to the story. They're not going to give up anything they haven't already given to Rolling Stone or Spin or The New York Times or any other national rag that is more important than The Reader will ever be.



Up-and-coming indie musicians, on the other hand, are another story. They're just getting used to talking to the press. Being interviewed by Rolling Stone is beyond their wildest dreams. The Reader may not be CMJ, but at least it's distributed in the city that they'll be playing in the coming weeks, and the last thing they want is to show up to a roomful of crickets at O'Leaver's or Sokol Underground. On top of that, these guys are still excited about the whole rock 'n' roll thing -- they feel lucky to be living in their own feces in the back of a shitty van, driving 10 hours a day eating nothing but Slim Jims and Red Bull, pissing in empty bottles so they don't have to stop on the way. All for the chance to share their music with the masses. Translated: They're not rock stars yet.


Tegan & Sara seemed to fit into that category. Sure, they landed the Killers tour, but for the most part, they're veritable unknowns, recognized only by the hip few who read Magnet, shop at The Antiquarium and listen to college radio or watch MTV2's Subterranean. I had my hand way up when the assignment was offered.



Here's what happens next: We figure out who their publicist is, snag a press kit which includes a copy of their latest CD, and schedule a phone interview (i.e., "a phoner"). The Reader's hard-working super-talented assignment editor, Alissa Martin, took care of the first half as she always does. I eagerly e-mailed a request to Sheila Breen at Tag Team Media begging for an interview. She lined it up -- noon PST Saturday April 23.



With the date in my book, I burned Tegan & Sara's latest, So Jealous, onto my i-Pod for intensive all-purpose listening. It's hardly a chore. The CD is amazing -- a retro-tinged classic that melds Til Tuesday and Missing Persons pop with a modern-day indie sensibility. And it rocks. Next up, research -- study the press kit and glean info from the Internet all to find that one thing to hook the interview around. Maybe it's the fact that Tegan and Sara Quin are twins, or that they're both lesbians? Pretty obvious stuff. Or how 'bout the fact that they're from Canada and record on Neil Young's record label? Maybe ask them how the Killers tour is going and why Omaha was dropped.



Then out of the blue, Sheila e-mails and cancels the Saturday interview. Seems the band will be in the middle of a photo shoot at that time. Can we reschedule? Sure, I say, anytime after 5:30 p.m. CT (I have a real job, you know). She immediately proposes 2 p.m. CT Monday. I explain the hour limitations again, and we reschedule for April 28 at 6:30 p.m. CT. I get the cell number, the time arrives, I have my questions in front of me and make the call… only to get a message that says, "Hi, this is Tegan & Sara, we're away from the phone now…blah blah blah." I leave a message and tell them I'll try back -- maybe they're just out of cell range. But 10 minutes later I get the message again. And again and again. And after an hour, give up.



My pleading phone messages to Tegan & Sara, alas, went unanswered. As did my reschedule requests to Sheila Breen. Then it dawned on me. Maybe I misjudged Tegan & Sara. Maybe they're bigger than I thought. Maybe they've crossed that unmarked boundary that divides the bands that need The Reader, from those that don't. Maybe they're rock stars after all.
If you go tonight, get there early. The opening acts are two of Omaha's finest: Son, Ambulance and Little Brazil. I predict a heavy turnout. $10, 9 p.m.

<Got comments? Post 'em here.>
Bright Eyes through Nik Fackler's lens; Bowie tribute, Kyle Harvey and friends tonight – May 4, 2005 –



Just placed online, an interview with Omaha filmmaker Nik Fackler (read it here). Nik talks about how he created the videos used to support Bright Eyes on the Digital Ash in a Digital Urn tour, from how he first got involved to the challenges of visually interpreting Oberst's music without interpreting its meaning directly from the songs' lyrics. In addition, you get a glimpse of stills from videos used for seven songs (including the still used on the Interviews page). It's eye-popping stuff. At 20 years old Fackler already has garnered a reputation for creating stirring videos and films. Is he the next Spike Jonze? Judge for yourself by going to the Bright Eyes/Faint concert in ol' CB May 11 and going to Fackler's website where you can see his music videos and short films.
A couple notable gigs tonight: The 49'r is hosting a David Bowie tribute that will include some interesting guest performers from the local scene, not the least of which is a sometimes-review-contributor to Lazy-i (though it's been awhile). Since the show also is the birthday party for local celebrity/man-about-town/music-gadfly-for-the City Weekly/all-around-nice-guy MarQ Manner, the place with be packed with people dressed like '70s-era white pimps (it's "glam night" after all). Who says Halloween comes only once a year?
Meanwhile, Kyle Harvey, Fine Fine Automobiles (Landon Hedges), Kisses for Kicks (Reagan Roeder), and Nick Freitus and the Headgates will be performing down the street at O'Leaver's.
<Got comments? Post 'em here.>

Bright Eyes on Leno – May 3, 2005 –



I've never liked Leno, not from day one. Letterman always seemed like the more genuine personality, certainly funnier. Not anymore. Letterman comes off like a coke-addled freak, unable to carry a natural-sounding conversation with anyone without interrupting. He's jittery like an insect or a fly cleaning itself. Leno on the other hand, is your typical good-ol' boy just trying his hardest to make all the execs happy, with a range of humor that's just slightly above Hee Haw. He's corny and phony, but at least he sounds like he listens when people talk to him.
But I digress. It was almost a year ago that Bright Eyes was on Letterman, and the appearance represented a significant achievement for an Omaha boy done good. Even though he's living in NYC a good part of the year, Oberst keeps his Omaha roots firmly in tact. Letterman's one thing, but The Tonight Show's made careers -- a program that caters to family-loving white bread Bush voters throughout the iron, bible and corn belts. I'm sure Leno's bookers thought Bright Eyes would be edgy, but add to that him singing "When the President Talks to God," well, you got yourself a controversy.
Leno must have listened at the rehearsal, because after his monologue and during the guest roundup, he turned to his bandleader and said: "You hear the song he's doing Kevin? I haven't heard a protest song like this… you know I grew up in the sixties. I used to do a Jesse Winchester, a Jerry Jeff Walker, and Kris Kristofferson doing these anti-Nixon… This is a song that's right up there. This will galvanize the audience. You'll go one way or the other but you will have an opinion when he's done."
I TiVo'd the show, so I fast-forwarded past Wanda Sykes and some fat guy - no idea who he was. Then at the tail end of the show, out trots Conor dressed head to toe in C&W performance gear, complete with a red rhinestone-trimmed western shirt and matching pants, black scarf and black cowboy hat. Breaking the look, of course, was Conor's trademark swoop cut, sticking out like black straw from beneath the brim. During the introduction, Leno said Conor's been compared to a young Dylan and a young Springsteen, and then held up vinyl copies of Wide Awake and Digital Ash - I'm sure there were kids watching who wondered how you play those gigantic CDs.
For what it's worth, this is the best Conor has sounded on TV. With no backing band and just his guitar, he spat out the lyrics like he was daring someone at the network to pull the plug. They didn't, though they blanked out the b-word in the last verse. Then Conor ended the song by saying "Fil mish-mish, fil mish-mish." No idea what it means, though a blog found by a Google search says that it's an Arabic euphemism for "don't hold your breath." Leno looked agitated when he strolled out and said, "Good job," but who knows. He may have just felt rushed, having to thank all of his guests in about 5 seconds. An interesting performance, and I suppose daring for Leno to air it. I doubt Letterman would have done it. Yet another milestone for Bright Eyes...
<Got comments? Post 'em here.>
Down and out in river city; Supersystem/El Guapo tonight … – May 2, 2005 –



I spent my weekend sleeping and blowing my nose having succumbed to a vicious spring cold. In fact, the malady still has me in its grip and will keep me from attending tonight's Supersystem, Thunderbirds are Now!, Coast of Nebraska show at O'Leaver's. Supersystem, btw, used to be the better-named El Guapo. Said I of the band's Oct. 22 show at Sokol Underground when they opened for Q & Not U: "I was somewhat surprised to hear a couple bands that were sort-of, kind-of dance acts. El Guapo more so. I joked that I blamed The Rapture for their sound, but that's probably not fair. The four-piece mixed NYC punk rock with dance beats and programming. I was initially confused by the drum parts -- I thought it was just a really clear, crisp snare. But in fact, they were using a combination of live drums and pre-recorded beats, which worked most of the time. I liked it, but when it comes to this sort of progressive punk-dance stuff, I prefer the live version of Radio 4." Though derivative, certainly worth the $5 cover. Wish I could go.
Tomorrow I'll catch up on all the Internet headlines that have been piling up in my inbox. Now if you'll excuse me, I have some phlegm to attend to...
<Got comments? Post 'em here.>
Another O'Leaver's weekend… – April 29, 2005 –



It starts tonight when Lincoln invades Omaha with The Killigans, Floating Opera, Tangelo, and Icarian Bird all on one bill for $5. It's part of starcityscene.com's Scenefest 3. Tomorrow night it's back to the basics, with The Third Men (ex-Sons of...), Left is West (Des Moines) and Mal Madrigal. Both shows are at O'Leaver's. And that's about it for the weekend. Note to O'Leaver's management -- update your friggin' online calendar!
<Got comments? Post 'em here.>
Column 23 -- Legends among us... – April 28, 2005 –



The day after I wrote this piece, the new Rolling Stone arrived in my mailbox explaining how scalpers have made buying tickets to huge concerts like U2 and McCartney nearly impossible. It explains how McCartney could sell out in 14 minutes. It doesn't explain peoples' bad taste in music. By the way, there are eight main floor McCartney tickets on E-bay now with a "starting bid" price of $3,500. What are you waiting for?
Column 23: Crouching Bono, Hidden User Fees
For most, the Qwest Center's dream is still out of reach.


What are you doing Dec. 15?



I know what I won't be doing. I didn't get tickets to the U2 concert.



I know what you're thinking: Surely, a rock music lover such as myself -- a critic no less -- with the obvious means generated from money earned by slaving over deadlines at The Reader shoulda/woulda/coulda glommed onto a pair of highly coveted floor seats located only a few rows from where a glistening Bono and The Edge will be showering sweat onto adoring fans who will rub the golden liquid into their skins in hopes that it will somehow merge with their very essence -- an unholy baptism into the church of rock and roll. Perhaps the fine folks at the Qwest Center, acknowledging my obvious importance as a local music scribe, slipped me a pair of laminated backstage passes so I could really "get to know" the band and share my eye-opening life-changing experiences with you, the reader.



But no. No tickets to the concert do I have. The day they were offered via a lottery system at the Qwest box office and online via Ticketbastard I was busy doing other things. It dawned on me later that morning that tickets had gone on sale only a couple hours earlier, but I knew it was too late, that the damn thing was going to sell out in minutes, which it did.



And you know what, I didn't care. It's not that I'm not a U2 fan. I practically wore the groove flat on my copy of Under a Blood Red Sky back in the '80s, back when U2 was still the angry young men from Ireland with 'a message." I stuck with them through their mainstream high-water mark of The Joshua Tree all the way through their inevitable mainstream downfall with '97's Pop.



Then I forgot about them, even though they came back with a vengeance with '00's All That You Can Leave Behind. By then, U2's music had become television commercial fodder, the perfect vehicle for selling product across X and Y generations. That idea would reach a zenith last year when their single, "Vertigo," became better known as "that song from the Apple commercial."



The irony is that just about everyone I know who's involved in the local music scene isn't going, either. They couldn't afford it or weren't "lucky" enough to snag a pair or simply weren't interested.



Meanwhile, folks who haven't been to a rock concert in years, who turned off music long ago for talk radio, whose only reference to Bright Eyes comes from "The Planet of the Apes," were crowing with great hubris over their good fortune. Their tales of ticket acquisition were burnished with pride -- how they waited in line for hours to land a lucky lottery number. How they concocted an arcane system involving five different networked computers laser-pointed at ticketmaster.com. How they knew someone who knew someone who knew someone who got them front-row balcony seats at face value. Oh yeah, they were going to U2 all right.



And it's not too late for you, too. E-bay's got a set of four center stage seats available right now for a buy-now price of only $1,999. Go get 'em, tiger.



Just as that U2 dust settled, along comes the next "big show" -- Paul McCartney, arguably the least talented and certainly least interesting of the Fab Four, will be dragging his badly dyed hair to the Qwest Center Oct. 30. Tickets went on sale Monday, and reportedly sold out in 14 minutes. Something tells me the lucky ticket holders will be the same people who will be watching Bono do his Vegas schtick this winter.



So two years after its completion, the dream of the Qwest Center has become a reality, at least for those wealthy enough -- or lucky enough -- to get tickets. For the rest of us, well, there's always Sokol Underground. And to be honest with you, I can't think of anywhere else I'd rather be on Dec. 15.
<Got comments? Post 'em here.>
Live Review: Criteria, The Sword, Trail of Dead… – April 27, 2005 –



You got to hand it to Trail of Dead. Last time they were through they drew fewer than 300 downstairs at Sokol Underground. Last night they drew around 700 upstairs, evidence that they've crossed that imaginary line that divides the men from the boys on the indie circuit. The tour buses parked on the south side of the building was more evidence. Somehow throughout their rise, I've managed to completely miss this band.
I made an effort to get there early, but still missed the opening band. Not Criteria, but a fourth band that was comprised of some Trail of Dead people and roadies doing acoustic numbers, or so I was told by one of the merch people. It must have been a quick set, because Criteria was on stage by about a quarter to nine. In all honestly, they were the reason I came out last night, hoping to hear some of the new songs off their upcoming Saddle Creek release, which Steve Pedersen announced from the stage has a scheduled street date of Aug. 23.
And play new stuff they did. Though in some ways distinctly different than the old material, fans of the band's debut, En garde, will dig it. The new stuff feels heavier, with thicker melodies and counters. Still, the basic recipe remains the same -- intricate, chugging 5-count riffs repeated in 6/8 or some other triplet meter (count 1-2-3-1-2 / 1-2-3-1-2 over and over). It's these rolling waltz counter lines -- that feel like being on a boat on a rough, wavy sea -- that differentiate Criteria from the other angular punk outfits. That and Pedersen's clear, throaty caterwaul -- vocals that sound like no on one else on the radio, reaching what seems to be an octave above the guitar lines. Pedersen pushes his vocals on every song, his face contorted and red. I don't know how he's going to pull it off night after night over the course of three months or more. I hope to god he's had vocal training to deal with the strain.
The fact that Pedersen's law career kept him off the road when En garde was released gives the band an interesting advantage. The new material while different isn't a great stylistic leap from the old material. It all blends together rather seamlessly. Hence the band will be able to effectively tour as if they released two CDs simultaneously, in many ways more effectively than Bright Eyes can tour its two CDs. I'm assuming that Creek will rerelease En garde along with the new one. Ka-ching!
Regardless of being their first live performance in a lot of months, it was one of the better Criteria sets I've heard. They took full advantage of the huge sound system. And you know what? That AJ Mogis just sounds better and better on vocals. He's becoming a regular Michael Anthony up there. I thought the mix was too bassy, but that's quibbling. It'll be interesting to see how it all sounds down in the Underground May 21.
Next up was Austin band The Sword playing run-of-the-mill Bevis and Butthead-style bass-heavy metal. It sounded like something from the '80s without the high-end opera vocals. Instead, the vocalist flatly moped though his uninteresting melodies while everyone else did their best Steel Dragon moves. Why is this band touring with Trail of Dead?
Then after about a half-hour break, which included 10 minutes of stage smoke and Styx singing "Mr. Roboto," on rolled Trail of Dead -- a six-piece rock band featuring keyboards, two drum sets (though I only saw them played at the same time once) and that weird, pudgy looking lead vocalist. Maybe it's because I haven't followed this band from the beginning, but I just wasn't feeling it last night. At times their music held a sense of drama, but it wasn't enough to keep my attention, and I left after six songs. Maybe it got better. Anyone who hung around, feel free to post a review and tell me what a lunk-head I was to leave early. The crowd seemed to love 'em (but then again, they seemed to love The Sword as well).

<Got comments? Post 'em here.>
Trail of Dead, Criteria tonight… – April 26, 2005 –



Never underestimate the power of a good band name… or a bad one. I honestly believe about half of this band's fanbase was derived from its name alone. …And You Will Know Us By the Trail of Dead -- or simply Trail of Dead -- sounds bad-ass right out of the box. It sounds cool when you say it: "Dude, you going to Trail of Dead tonight?" Sounds like you're going to see a death metal band instead of, well, an indie jangle-pop band. Their T-shirt sales must be massive.
I'll probably go to Trail of Dead tonight. My main motivation is seeing opening band Criteria, who are bound to unveil some of the new material from their soon-to-be released Saddle Creek CD. Don't know if they're playing before or after The Sword (probably before), so I recommend you get their early. Show starts at 8 and tix are $15. I'm surprised it isn't sold out yet, quite frankly.
If you don't feel like venturing downtown, mathy art-noise power trio Fromanhole is playing at O'Leavers' tonight after a somewhat lengthy hiatus. Also on the bill is St. Paul's V9R9D and local band Life After Lazer Disc.
<Got comments? Post 'em here.>

Hella tonight with Darren Keen's other project – April 25, 2005 –



I have made the unkind prediction that tonight's Hella show at Sokol Underground will be 1 Percent Production's smallest Underground show of the year, bordering on O'Leaver's territory regarding crowd size. The show has three strikes against it: 1) No one's heard of Hella, which in and of itself isn't much different than a lot of shows down at The Underground, but Hella is on a whole different level, attaining no airplay anywhere 'round these parts, with no members of the duo being "formerly a member of..." a more well-known band. 2) The duo disc the band is supporting is borderline unlistenable, and 3) It's a Monday night, with Trail of Dead tomorrow upstairs. That said, here's what I wrote as a "calendar pick" item for The Reader about tonight's show:
Hella is the Sacramento duo of guitarist Spencer Seim and drummer Zach Hill. What? Another guitar-and-drum outfit like The White Stripes or The Black Keys? Not quite. Hella's just-released 2-CD package on Suicide Squeeze splits the writing chores in half, with Hill responsible for the Church Gone Wild disc and Seim responsible for Chirpin Hard. Add it up and it's almost two hours of jittery, hard-to-decipher prog noise. How they'll pull it off live is anyone's guess. -TSM
What could save the show is the opening bands: Lincoln's Thunderstandable, a band that includes members of Her Flyaway Manner; and Gloves, the madcap side project of The Show is the Rainbow's Darren Keen. Keen does nothing halfway, which makes this unveiling of his "rock band" worth the price of admission ($8).
<Got comments? Post 'em here.>
Live Review: Aqueduct, The Golden Republic; Q & Not U/The Apes tonight – April 24, 2005 –



How did I manage to make a choice among the three shows going on last night -- The Stay Awake at The Niner, Aqueduct/Golden Republic at O'Leaver's and M. Ward at Sokol Underground?
The Niner was immediately disqualified because, well, it's the Niner. Bad sound and nowhere to sit on a typical Saturday (the only night they have live music) makes for no fun. And it's always more fun to be at a venue when you know someone there, and I don't. Looks like I'll have to wait to see The Stay Awake, again. I was told that M. Ward had sold 200 advanced tickets, which means it probably was sold out. Sokol Underground on a sold-out evening can be a blast if the act is high-energy. M.Ward is anything but. I've seen him a couple times before and wasn't in the mood for a night of solo acoustic confessionals (which is a nice way of saying I think he's boring live). I wouldn't be surprised if his buddy Oberst took the stage for a guest vocal. If anyone was there, please let us know how it went.
So the decision was actually pretty easy. O'Leaver's bands at least played upbeat rock. When I arrived at around 11 I ran into about a half-dozen people, all of whom asked why I wasn't down at The Underground. Seems the 70 paid had the same idea as me. Last night's show was the last on the Aqueduct/Golden Republic tour, with the bands returning to Denver and Lawrence respectively afterward. It made for a nice bon voyage, and probably explained the somewhat sloppy, if not happy-go-lucky, performances. Aqueduct was more laid back than when they opened for United State of Electronica a few months ago. Upbeat and tuneful, they played somewhat standard indie rock fare. The crowd favorites, unfortunately, were covers of Geto Boys' "Damn It Feels Good to be a Gangsta" and Journey's "Don't Stop Believing" -- lots of drunk people with their fists in the air.
This was my first exposure to Golden Republic, and they came off as sort of a poor man's Spoon, which is probably exactly what they weren't going for. Lead singer Ben Grimes vocally does a spot-on Britt Daniel, and some of the songs even had Spoon-like "ewws." Dance-y indie rock appears to be in vogue these days. Their best song was the set closer highlighted by a long repeated riff, one of the few times I got into what they were doing.
Tonight is Q & Not U and The Apes at Sokol Underground. If I get my column written, I might drop in.
<Got comments? Post 'em here.>

The weekend in preview; Creek talks Slowdown downtown... – April 22, 2005 –



Lotsa shows this weekend, mostly at Sokol Underground. Tonight it's a hip-hop offering with Atmosphere, Grayskul and P.O.S. -- Atmosphere, I'm told, is at the epicenter of the underground hip-hop movement, part of the Rhymesayers Entertainment crew. Personal critical mentor Robert Christgau gave their just released Headshots: Se7en a "B Plus," saying "Slug is so excited to discover how much rhyme he has in him that his creative optimism revs Ant's subtle tracks. He's not inventing alt-rap. But he might as well be." $15, 9 p.m.
If you're in Lincoln, Scenefest 3 is going on at Duffy's featuring For Against -- that band alone is worth the drive down.
Not such an easy decision tomorrow night with three quality shows worth checking out. The top of the list is M. Ward at Sokol Underground with DeVotchKa and Norfolk & Western. I wouldn't be surprised if there were some "special guests" showing up for this one. $10, 9 p.m. Meanwhile at O'Leaver's, Kansas City's The Golden Republic is playing with Aqueduct, who were just here with United State of Electronica last month. More people danced for USE, but Aqueduct was the better band (see review). $5, 9:30 (cheap!). Then there's the sleeper show: The Coast of Nebraska and The Stay Awake at The 49'r. The Stay Awake, featuring renowned musician/soundman Steve Micek (Mariannes), has been rather elusive throughout its career, and I wouldn't be surprised if something weird happens and this show gets canceled or moved or something. SomedayNever says this show is $3 and will get going around 9:30 (I doubt it, try 10:30).
Oh yeah, for all you tree-huggers out there, Earth Day festivities are going on noon to 6 in Elmwood, with Anchondo, Anonymous Americans (sic), Michael Murphy, Nifty 250, and Surcos slated to perform. Pick up a free tree while you're there.
Sunday is Q and Not U, The Apes, Food For Animals, & Manhunter at Sokol Underground. I originally wanted to write a feature on The Apes for The Reader but they nixed it. The Apes are a D.C. garage punk band that toured with The Liars back when The Liars were good. They recorded a couple CDs on Frenchkiss before moving to Birdman. $8, 9 p.m.
Those of you who don't read the Omaha World-Herald every morning may not know that Saddle Creek announced that it's looking to build Slowdown -- their bar/music hall/office megaplex -- downtown as part of the so-called north-downtown development project. The article (you have to register to read it) doesn't give hardly any details that we didn't already know. Creek manager Jason Kulbel acknowledged that he was excited by the "possibility" of being part of the revitalization project, and the article said that if "all goes as planned, Slowdown could be open sometime in 2006." Then Kulbel added, "It's not a done deal by any means."
The north downtown location has been rumored practically since the day after the Metcalf Park neighborhood association ran the Creek crew out of their neighborhood. One rumor had it being located near 14th and Webster on a piece of land that's dissected by a rail spur. A more recent rumor has it located further west, near 19th and Cuming. My guess is no location has been set in stone and that the City just wants some sort of commitment from Creek, and are willing to give away land to get it. The whole downtown development project, unveiled earlier this week, seems pretty iffy to me -- especially the new baseball stadium, which would leave a lot of people scratching their heads over why we're keeping the mammoth Rosenblatt Stadium empty 48 weeks out of the year...
<Got comments? Post 'em here.>

Column 22, rehash for further study... – April 21, 2005 –



This week's column is a rehash of Sunday's blog entry -- a review of the Mercy Rule/Frontier Trust split 7-inch release show at The Brothers last Saturday. If you're a daily reader, you might want to skip the rest, however a few additional comments are thrown in while other stuff was cut due to The Reader's word-count limit. I include it here again for the sake of completeness, and to give you a chance to compare and contrast the blog style with the column style (all of this, of course, will be on The Final, which will be a take-home essay. I expect Blue Books on my desk by the last day of the semester…).
Column 22: Deja Vu All Over Again
Last Saturday's show at The Brothers turned back the clock, for one night.


Before I get to the review of last week's historic show at The Brother's, let me stress that it's impossible to underestimate the impact that Linoma bands Frontier Trust and Mercy Rule have had on today's Nebraska indie music scene.



Those of you who weren't around in the mid-'90s or weren't paying attention probably will never understand this. Along with bands like Mousetrap, Simon Joyner and Ritual Device, Mercy Rule and Frontier Trust were doing the impossible -- they were making music in their own unique voice and performing it all over the country. The idea that you could be in a band that wasn't aping the current radio trend and be successful was revolutionary. These bands have been sited countless times by the Saddle Creek Records artists as not only influential, but inspirational.



I always thought both Mercy Rule and Frontier Trust could make it to the next level, but especially Mercy Rule. The trio's music combined Jon Taylor's guitar angst with Ron Albertson's hard-fisted drumming and offset it with Heidi Ore's throaty, girlie voice singing lyrics that were personal but not confessional. Their songs were anthems to individuality -- love songs with hope that any schmuck could understand and identify with, but without a sticky layer of sentimentality or treacle. The fact that national label Relativity screwed them didn't stop Mercy Rule from putting out a career-topping LP, The Flat Black Chronicles, on Lincoln's Caulfield Records. After that they could move on, comforted by the fact that they created a masterwork that stands as an icon to late-'90s Nebraska music.


I saw a lot of familiar faces from the past that night at The Brothers, all looking a little older, a little wiser, and a little heavier. Frontier Trust was really Half Trust, featuring only frontman Gary Dean Davis and guitarist Bill Thornton. No bass player, and drummer Double Joe Kobjerowski shacked up somewhere in Portland (though he apparently called in and heard part of the set via a held-up cell phone).



Gary didn't sound or look any different than he did a decade ago -- he still has that same off-pitch bellow which he yells into a microphone gripped like he's strangling a bunny, screaming right in its frightened, furry face stories about politics, unemployment, girls, swimming holes and race cars. A shaggy Thornton hadn't changed much either, sporting the same walkabout stroll as he peddled his ax with a smile.



Mercy Rule didn't get on stage until 12:30, probably because they had to set up their infamous floor lights. For this gig, it was only Heidi and Jon. As Heidi explained, "Ron is in New York, where he's making money, has a girlfriend and has a band." That was met with plenty of whoops and laughter. The time machine has been good to Heidi and Jon. Heidi looks like she just walked off the stage at Hairy Mary's circa 1994; Jon's put on a few pounds but carries it like a rugged farm dad in a crewcut and nerd glasses. Heidi never sounded better, and Jon was in his usual maniacal form, his guitar slung to his knees, bent over, chopping like a steam locomotive pushrod in full throttle.



Seeing them on stage again was a thrill for everyone there. Oh sure, it was great to see Gary and Bill playing the old favorites, but Mercy Rule... well, it may never happen again.



Their set lasted well past closing time, and before everyone left, Gary hustled as many copies of the new split as he could (It's also available at The Antiquarium, Drastic Plastic and probably Homer's). The Frontier Trust song, "Arlington," is vintage tractor punk, while Mercy Rule's single, "Don't Let It Go," is a treasure -- among the better songs from their oeuvre, pure pop-punk with huge, chiming guitars, a great mid-song break featuring Jon and Ron, and Heidi belting out the line "Never let it walk out the door / Never let it leave your life." A fitting message for what will likely be the last song they'll ever release.


If you own a record player you really should pick up a copy of this single. The Mercy Rule track was recorded during the Flat Black Chronicles sessions at Madison's Smart Studio and captures the band at their full-throttle best. The Frontier Trust track was recorded at Lincoln's Whoop Ass Studio -- the precursor to Presto! Studio -- by one of the Mogis brothers (or maybe both, there is no engineer/producer credit in the liner notes). Both songs were remastered for this release by Doug Van Sloun at Studio B. Liner notes by The Monroes' bass player/attorney Mike Tulis, and artwork by Mercy Rule drummer Ron Albertson (as testimony to Ron's artistic genius, there are no fewer than three Albertson originals hanging in my house). More info at the Speed! Nebraska website, though you still can't order the single from there...yet.
<Got comments? Post 'em here.>
Locust at Sokol; Mars Black at The Ranch – April 20, 2005 –



A couple wee shows tonight. The Locust brings the noise to Sokol Underground tonight with Lincoln phenom The Show Is the Rainbow and Luminoso Lashikar. That show's $8 and starts at 9. Meanwhile, Mars Black is playing a tune-up show in prep for his upcoming opening slot on the Bright Eyes/Faint tour. Also on the bill: Jamaaz, Breathless, Surreal, Buck Bowen and Humanity's Last at the soon-to-be-closed Ranch Bowl. $6' 8:30. That's all for now...
<Got comments? Post 'em here.>
Quiet week; love and hate on the Internet – April 19, 2005 –



No feature tomorrow, and this week's column will be a rehash of The Brothers' show review I posted Sunday. And it also looks like a quiet week for shows, which means I'll be focusing on CD reviews for the rest of the week. Anyway, here's some Internet stuff for your perusal:
-- I just discovered a rather negative review of Todd Grant's Duffy's show earlier this month (read it here). Looks like our friends at the Daily Nebraskan aren't fans.
-- Glancing at the SLAMOmaha calendar, looks like the folks in Shelterbelt are on a tour of some of the hardest hardcore polka cities in the country -- Ames tonight, Cedar Falls tomorrow, Waukesha and Madison Thursday, Oshkosh Friday, Green Bay Saturday, Des Moines Sunday. Grab a brat for me, boys.
-- They're loving ol' Conor down under. Here's a review of the April 5 Prince of Wales show. "We love you Conor!"
-- Pitchfork dismembered the new Mars Black CD, giving it a 2.5 out of 10 (here). Ouch.
-- And critical mentor Robert Christgau's latest Consumer Guide went online at the Village Voice (here). He can't get enough of those Rhymesayers artists.
<Got comments? Post 'em here.>

Live Review: Mercy Rule, Frontier Trust – April 17, 2005 –



It seems only fitting that The Brothers was the venue for last night's Mercy Rule/Frontier Trust split 7-inch release show. Tre and his wife are the last bastions of the '90s punk-rock scene in Omaha, living reminders of The Capitol Bar and Grill, looking and acting no different than they did back in the day. The Brothers, however, is no Capitol, and has no intention of every being The Capitol. Instead, it's your typical laid-back hang-out lounge, with the best jukebox in town and a permanent odor that's a combination of smoke, sweat, piss, spilled drinks and bathroom cleaner -- i.e., it smells like an old lounge. It's a far cry from a live music venue, and when this show was first announced, with Bill Hoover and Ted Stevens/Mayday opening, I figured it would be uncomfortably crowded, smoky with spotty sound.
In fact, it wasn't that crowded at all. I found some friends hanging out back by the pool table and leaned against it all night, providing a perfect view of the pseudo stage set up in the far back corner beneath the dart board. I got there just in time to see Hoover's last couple songs (I missed Mayday completely). Hoover is sporting a rock band these days, with Lincoln Dickison (The Monroes) on guitar, and they're pretty good. I have no idea what he's going to do with it; if it was a one-off thing or a new project. Afterward, the drumset was dismantled and the area cleared for Frontier Trust, which was really Half Trust, featuring only Gary Dean Davis and Bill Thornton. No bass player, and our man Double Joe shacked up somewhere in Portland (though he apparently called in and heard part of the set via a held-up cell phone).
The weird, funny thing about it was that Gary didn't sound or look any different than he did a decade ago; he still has that same off-pitch bellow which he yells into a microphone gripped like he's strangling a bunny, yelling right in its frightened, furry face words about politics, unemployment, girls, swimming holes and race cars. A slightly shaggy Thornton hadn't changed much either, sporting the same walkabout stroll as he peddled his axe with a smile. It was easily the longest Frontier Trust set I've ever seen (and I've seem more than my share over the years). Davis and Thornton dipped into their full body of work, from all the singles off One Hour, Caufield, and Faye, as well as the full-length (including everyone's favorite, the one about the swimming hole). The crowd ate it up.
Although it goes without saying (but I know there are a few out there who haven't heard Frontier Trust before), Davis' current incarnation, The Monroes, is a natural progression from the Frontier Trust days, just like Frontier Trust was taken from the loins of Pioneer Disaster. That said, if you own a Monroes CD you'd be well-served to pick up the new split, available at Antiquarium, Drastic and probably Homer's.
Mercy Rule didn't get started until 12:30, probably because they had to set up those famous floor lights that became their trademark "stage look" throughout the years. For this gig, it was only Heidi Ore and Jon Taylor. As Heidi explained from the microphone, "Ron is in New York, where he's making money, has a girlfriend and has a band." That comment was met with plenty of whoops and laughter. The time machine has been good to Heidi and Jon. Heidi looks like she just walked off the stage at Harry Mary's circa 1993, Jon's put on a few pounds but carries it with vigor, looking like a farmdad with his crewcut and nerd glasses.
You have to remember why Mercy Rule was so important to everyone in Omaha and Lincoln back in the '90s. Along with Frontier Trust, and a few other bands like mousetrap and Ritual Device, they were doing the impossible; they were putting out music that was uniquely theirs, and doing it on a national label -- Relativity -- and performing it all over the country. I always thought they were going to be the next break-out act from the Midwest because their songs were so powerful, yet personal. The trick to Mercy Rule's music was the combination of guitar angst, Albertson's hard-fisted drumming all offset by Heidi's throaty girlie voice singing lyrics that were personal but not necessarily confessional. They were anthems to individuality, love songs about hope that any schmuck could understand and identify with, without a sticky layer of sentimentality or treacle. The fact that Relativity screwed them didn't stop them from putting out a career-topping LP, The Flat Black Chronicles, on Caulfield. After that, they could move on, comforted in the fact that they created a masterwork that stands as an icon to mid-90s Nebraska music and as good as anything released nationally at the time.
Seeing them on stage again was a thrill for everyone there. Oh sure, it was great to see Gary and Bill playing the old favorites again, but Mercy Rule... well, it may never happen again. Heidi and Jon's lives have moved in a direction where rock and roll is only an interesting tangent, a direction that they've chosen even though they still have the chops and voice to make a go at it again if they wanted to. Heidi never sounded better, and Jon was in his usual maniacal form, his guitar slung to his knees, bent over, chopping like a steam locomotive pushrod in full throttle.
The set lasted until around 1:30. They played songs off Flat Black, God Protects Fools, Providence and the singles. It was fun, though Ron was sorely missed. I never realized just how much he adds to these songs, and now realize why no one could ever replace him. Their track on the split single, "Don't Let It Go," is a real treasure, among the better songs from their oeuvre, pure pop-punk with huge, chiming guitars, a great mid-song break featuring Jon and Ron, and Heidi belting out the line "Never let it walk out the door / Never let it leave your life." A fitting message for what will likely be the last song they'll ever release.

<Got comments? Post 'em here.>
Live Review: Beep Beep, Precious Metal; Mercy Rule/Frontier Trust tonight… – April 16, 2005 –



I walked around after the Dapose/Precious Metal set and asked as many people as I knew what they thought of it. The reactions were somewhat mixed. Most people didn't get it, certainly not the ones that never heard this style of music before. One guy told me it was the worst thing he'd heard so far this year, but that guy likes bands that resemble the Black Crowes, so what does he know? I asked one guy that I know is a real metal fan, and he dug it, said it was more "black metal" than "death metal." Another guy told me the music conjured the vision of a snake that had just been run over by a car, spastically flipping and turning onto itself, writhing in pain until it flopped over one last time and stopped.
For me, Precious Metal was unnerving, unsettling and somewhat disturbing, which I suppose is what it was supposed to be. Dapose stood on stage in his red Wolf Eyes T-shirt with downturned, bouncing head and played his electric guitar like it was violin, his fingers making odd contortions, stretching to pull notes from either end of the fret board. Meanwhile, a lap-top computer played prerecorded dark, distorted synths and rhythms that moved at about a million miles an hour -- faster than a machine gun and 100 times as loud, the beats rattled my chest and made me feel slightly nauseous. Above it all, Dapose would lean into the microphone and do a voice-of-doom growl that was indecipherable except for its assumed anger. Who knows, maybe he was singing about how much he loves Panera Bread or the joys of spring.
I asked the soundguy if this is what death metal sounds like. He said it was closer to industrial, which I could understand. Dapose's prerecorded cacophony was almost analytical in its approach, derived by breaking down 4's and triplets to fractions of a beat and stringing the pounding evenly throughout each movement very mechanically, cold and precise. The hyper-sonic guitar lines were strings of minor-key arpeggios and distortion, like an avant guard classical pastiche. About halfway through the set, Dapose played a series of sustained notes that changed the dynamics briefly, like watching the eye of a hurricane slide overhead, knowing the worst part of the storm is always on the back end.
I am the last person you or anyone should ask about death metal. That said, this isn't what I expected. It left me queer-headed and off-balance, like drinking caffeine until your hands shake (and mine were literally shaking afterward). That said, I thought the mix was rough. At times I couldn't hear the guitar, which was too low throughout the entire set, drowned out by the hyper-staccato backing track. The vocals also were lost in the midrange haze. As disarming as the rhythms were, I'd like to hear Dapose play it all again with only his guitar and vocals.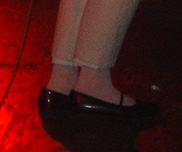 Bemberger's Mary Janes.
I have to believe that if more people knew that last night's Beep Beep show was the last show the band would be playing in 2005 that more would have shown up instead of the 153 paid. That was the announcement that Chris Hughes made from the stage after their first song, that this was the last time the band would be playing songs off Business Casual, maybe forever, but certainly for '05. With bassist Joel Petersen headed out on the road to play with The Faint and Bright Eyes throughout the summer, and then drummer Mike Sweeney headed out this fall with Criteria, Beep Beep won't be seeing any stage action, instead Hughes and Bemberger will write the next album, which they've already started, and which they say will be better than Business Casual. Cocky words.
Like the rare professional athletes that end their careers at the top of their game, Beep Beep closed out the year at the top of theirs. Anyone who hasn't seen this band since the fall of 2003 is missing something special. The road has honed their sound as tightly as two clenched -- if not somewhat sissy -- fists. Bemberger's stage outfit adds new meaning to the word "fey" -- glittery breast-revealing girl's top, slacks and shiny black Mary Janes (FYI, I could see no visible panty lines). One guy who doesn't understand fashion yelled from the crowd "nice sweater" -- the chump. Add to the wardrobe Bemberger's dinosaur-arms swagger and retarded-guy snarl and you got yourself the most unique stage performer since the New York Dolls. I will miss seeing this band, and now have another reason to look forward to '06.
Tonight: A show of historic proportions at The Brothers: Heidi Ore and Jon Taylor of Mercy Rule along with Gary Dean Davis and Bill Thornton of Frontier Trust performing together again for the first time since probably the mid-'90s. The event is the release of a Mercy Rule/Frontier Trust 7-inch on Speed! Nebraska Records. It's not a reissue, as the songs have never been released before. I don't want to hype this show too much because getting in will be tough enough as is. The openers alone are worth $20 let alone the $5 cover: Ted Stevens a.k.a. Mayday and Bill Hoover. I'm told that Tre will be particularly careful not to go over the room's limit -- which is around 150. That means getting there early -- it'll be a long night of rock.
At the same time, there are two other very hot shows going on tonight: Kite Pilot and The Philharmonic at The 49'r; and the Sarah Benck CD release show with Anonymous American at Mick's. As good as those shows are, I doubt they'll siphon any of the draw from The Brothers.
<Got comments? Post 'em here.>

Precious Metal, Beep Beep tonight; Happy tax day – April 15, 2005 –



As mentioned Wednesday, Precious Metal is Dapose from The Faint's one-man death metal project, which you can read about in detail here. He opens tonight's Sokol Underground show featuring Bombardment Society and Beep Beep at 9 p.m., which means you have to get there early. Beep Beep's Jan 28 show sold out, and this one will likely do the same. The only other show in town: According to The Reader, Charlie Burton and the Dorothy Lynch Mob are playing at Trovato's.
A brief reminder that today is tax day. There is nowhere to hide where they can't find you, so just pay up.
<Got comments? Post 'em here.>

Column 21: Ranch Bowl Redux; Mastodon tonight – April 14, 2005 –



Maybe the most interesting information from my brief, 5-minute phone call with Mike Brannan was the fact that he's working on a couple new band projects. Prior to backing Todd Grant down at Sokol Underground a month or so ago I hadn't heard him play guitar in years. He's good. He said his new projects are a bit twangier than his usual stuff. Like everything else involving Brannan, we'll just have to wait and see what materializes.
Column 21: Selling the Ranch



Mike Brannan isn't talking.



When news began buzzing through the music scene last Wednesday that the once legendary Ranch Bowl -- the venue Brannan owns and operates with partner Dan Crowell -- will be closing its doors, Brannan confirmed it, but said nothing more.



Rumors of the venue's demise had begun circulating earlier in the week, and were met with skepticism by those of us who have followed the music scene for any amount of time. We'd been hearing those rumors for years, from before Brannan and Crowell took over in 2003, back when Matt Markel ran the place. And every time the rumors ended up being false.



Like last October, when rumors were flying that Markel was about to somehow sell the joint out from under Brannan and Crowell, that the IRS had raided the bar during a Little Feat concert, and that the duo had been bouncing checks all over town.



Brannan responded that time, saying he had been involved in a very tough negotiation with the Markels, who had attempted a last-minute renegotiation of their purchase deal. That led to lawsuits from both sides, which eventually were settled. Brannan said that it wasn't the IRS but the Nebraska Dept. of Revenue that had made an unannounced house call to the Bowl and levied them for $800. He also said that he and Crowell had some additional property under contract, and that other projects would be coming on line that would be unveiled accordingly. "The Ranch Bowl will now receive considerably more attention from Dan and myself as we consider what to do with it," he had said last October. "We, however, had to resolve the deal with the Markels before we could push ahead with anything else, as that handcuffed us for quite some time."



Five months later and the rumors were back. But this time there were no denials. Brannan confirmed on SLAM Omaha -- the city's music-scene gossip Web board -- that the Ranch Bowl will finally be closed and torn down. A deal had been made to redevelop the site, finalized April 4. All their original renovation plans had been scrapped because they "lacked the local goodwill required for us to make the additional investments required" and that he and Crowell "look forward to putting the first proper mid-sized music venue online in Omaha."



The next day, The Omaha World-Herald made it official, but Brannan didn't add any Technicolor. Instead, the paper pursued the Wal-Mart angle. Seems Brannan and real estate man John Lund have been working together to acquire the Bowl property from Markel, which they will turn around and sell along with a sizable chunk of surrounding property. Instead of dropping big bucks on renovating the Bowl, it had to make more sense for Brannan to cash in and invest in a new venue that doesn't need as much renovation (and doesn't have a bowling alley attached to it). A place like Club Joy on the southwest corner of The Old Market, for instance.



But that's all speculation. When contacted Sunday, Brannan was unwilling to comment about the new venue and its location; he wasn't even willing to say what style of music it will cater to, only saying that there would be an announcement made when the time is right.



He did say that Artery Studios, located in the Ranch Bowl complex, would stay open after the Bowl closes, and that he's looking for somewhere to move the studio once the bulldozers arrive. Though not eager to run a studio, he said he likes the co-op nature of the recording business, and this time he'll be bringing in some new players.



But the real questions remain unanswered. Like why Brannan thinks he'll have better luck with a new venue when he couldn't make it work with an established enterprise like The Ranch Bowl, a club that once boasted shows by acts like The Red Hot Chili Peppers, Pavement and Bob Mould.



Or how a city the size of Omaha can support a new 500-capacity venue -- as well as second new live music venue rumored to be announced this month, also located downtown -- when it can't support the ones that are operating now.

All good questions. But Brannan ain't talking.
Tonight, go out and buy yourself a set of industrial-strength earplugs because Atlanta grindcore band Mastodon hits the Sokol Underground stage with Burning Brides and Early Man. The band's 2004 voice-of-doom epic, Leviathan, has been heralded as being on the forefront of heavy heavy-metal's inevitable return. $14; 9 p.m.
<Got comments? Post 'em here.>
Precious Metal a.k.a. Dapose (you know, the one from The Faint) – April 13, 2005 –



Most of the interviews used for the Precious Metal story that I just put online (read it here) were actually conducted last October, shortly after The Faint completed a European tour in support of the then just-released Wet from Birth. I had intended to write a feature on The Faint exclusively for Lazy-i (The Faint article for The Reader in support of Wet From Birth had, in fact, already been assigned to a different writer), but didn't want to run it until a week before a talked-about winter Faint show that was to be held at a venue other than Sokol Auditorium. That show never materialized, and neither did the story. Then along came this Precious Metal show, a project that Dapose and I had spent most of the interview talking about along with his background in death metal. I did a brief follow-up interview Sunday, and voila! here we are.
Needless to say, a ton of the original 2,500-word interview wasn't used, including more detail on how Dapose got involved with The Faint and how that band approaches rehearsals as more than just a band practice, but as a way of communicating art, culture and other interests among themselves. It's already formatted as a Q&A, which I'll probably put online in its entirety sometime before the upcoming Faint/Bright Eyes show in May.
Left out of this piece from the follow-up interview is Dapose's description of what you'll be seeing from Precious Metal on Friday night. Though he's among the team responsible for the videos used as part of The Faint's live shows, there won't be any multimedia elements used for Precious Metal. "I never even considered doing a multimedia thing for this project," Dapose said. "I really want it to be about the music -- the performance of man and machine."
So I asked him if he'd be nervous standing up there all alone surrounded by equipment instead of band members. "I suppose so," he said. "It's not a normal thing for any band to have just one person. I guess I feel comfortable with the music. I'm looking at it as if I'm the piano man at a bar, though it'll definitely have a different feel from that." In other words, don't expect to hear Dapose belt out a cover of Billy Joel's "She's Always a Woman." A word of warning -- get to the show by 9 p.m. If the order stands as posted on the One Percent Productions site, Precious Metal will go on first, and Marc and Jim have been rigorous about starting their shows on time this year.

<Got comments? Post 'em here.>
Assorted notes... – April 12, 2005 –



It's a quiet week as far as shows are concerned. Nothing really worth mentioning until The Mastodon show Thursday, which is followed by Beep Beep on Friday and the Mercy Rule/Frontier Trust reunion show at The Brothers on Saturday. Speaking of the Beep Beep show, look for an interview with The Faint's Dapose, a.k.a. Precious Metal, online here tomorrow morning. Precious Metal will debut as one of the opening acts for Beep Beep, along with Bombardment Society.
Headlinewise, looks like our boy Bright Eyes has been invited to play the Glastonbury festival, along with Kylie Minogue, Coldplay and The White Stripes. He'll be on the "John Peel Stage" for emerging acts, including Ryan Adams and Willie Mason. Read about it here. In other Conor Oberst news, seems he's become the posterchild for the so-called "hipster gay" look, according to this item in Metro Weekly.
That's it for now, other than I've been grooving on the new untitled E.P. by the Pomonas that showed up in my mail this weekend. Someone should sign those guys or at least get them another show at O'Leaver's.
<Got comments? Post 'em here.>
Live Review: Okkervil River, Kite Pilot – April 11, 2005 –



Point of fact: When it rains, it's hot inside O'Leaver's. Crazy hot. Humid. Smoky. Unpleasant. Thank god I only wore a t-shirt. I could have used a pair of shorts, though. The pouring rain and the fact that it was a school night didn't deter fans from coming out -- it was pleasantly crowded -- but not crazy crowded -- just crowded enough to raise the temperature inside the club to sweat-inducing proportions. Apparently it's still too early in the year for O'Leaver's to crank the A/C.
Enough about the weather. I got there just as Kite Pilot began cranking into a set that a featured a couple new ones mixed in with songs from last year's EP, which were met with cheers of recognition and even a few people singing along. Instrumentally, they were on the mark, with drummer Corey Broman behind the set once again. The vocals, however, were more off-key than usual, maybe due to the band's enthusiasm at playing to such a large crowd. Afterward, I watch Broman tear down his drum set -- he was soaked to the skin.
Between sets, people crowded around the open doors, hoping to get a breeze but staying out of the soaker. I began remembering last year's Saddle Creek floods and kept an eye on my car for fear that it might float down the street. Surprisingly, a handful of people left before the six-man version of Okkervil River took the stage at around midnight. Apparently they hadn't read The New York Times article that came out Saturday heralding the band as a return to literate rock, written by Saddle Creek head cheerleader Kelefa Sanneh. They opened with a song I never heard before that fed into "For Real," the pounding opener from their new CD. Frontman Will Sheff looked like a wet, inebriated cat, his wig-like hair eventually sticking to his forehead. Like any good crowd, people kept bringing him shots, which he gulped with gusto. By the time they got to their traditional closer, "Okkervil River Song," Sheff was a slurring mess, while the rest of his crew looked primed ready to tear the place apart.
I figured most of the set would be dedicated to their new CD, but I only recognized a couple songs from the new one, maybe one from Down the River... while most of the set came from Don't Fall in Love... (their defacto a signature album), including "Red," "Kansas City," "Westfall" and "Okkervil Song." Sheff topped the evening off with a solo acoustic number. By the time I got out of there, the rain had stopped.

<Got comments? Post 'em here.>
Weekend Update… – April 8, 2005 –



The shows ahead for this weekend worth checking out:
-- Tonight: Anonymous American, Five Story Fall, Kyle Harvey at Arthur's, 80th & Dodge. Growing up, Arthur's was the meat market for the older crowd -- that meant scoping-out 30-ish tail, back in the day when 30 seemed so old. Anyway, it's been brought to my attention that this will be the last original live music show for Arthur's. $5, 9:30.
-- Saturday: The Monroes, The Diplomats of Solid Sound, The Spring Hill Mine Disaster at The 49'r. They're calling the showcase "Estrus vs. Speed Nebraska! Episode III: Revenge of the Scythe" and for good reason. Monroes are on Speed! while The Diplomats have a new one coming out on Estrus. No pricing information for this one, but it'll probably be $5 and start around 10. More details here.
-- Saturday: VHS or Beta, Electric Six at Sokol Underground. A night of guitar-fueled disco rock a la Duran Duran. $10, 9 p.m.
-- Saturday: If you're heading east, you might want to check out The Street Urchins with Axes to the Sky and Filthy Few at Mike's Place, 162 W Broadway in beautiful Council Bluffs. I've been told by a couple folks who've played at Mike's that it's actually a pretty decent venue. $5, 9 p.m.
-- Sunday: Okkervil River, Kite Pilot, Fizzle Like a Flood at O'Leaver's. Needless to say, the "show of the weekend," and it's only $5.

<Got comments? Post 'em here.>
Column 20: Donovan Vs. the Goat; Ranch Bowl rumors; Handsome Boy tonight – April 7, 2005 –



A few notes before we get to this week's column. It appears that someone identifying himself as Ranch Bowl operator Mike Brannan has posted on SLAM Omaha -- Omaha's music scene gossip board -- that the Ranch Bowl will finally be closed and torn down. "Yes, we have made a deal to redevelop the site, it was finalized Monday," posts mb/ranchbowl. "Closing details will be released as known and we will share them asap... I look forward to putting the first proper mid sized music venue online in Omaha. I think it's long overdue..." Apparently plans to renovate the old facility were scrapped because they "lacked the local goodwill required for us to make the additional investments required."
If it's true (and everything seems to indicate that it is), it could mean some big changes for the Omaha music scene. Rumors have been rumbling that Brannan has already identified a downtown site for a new mid-sized music venue (and he also recently purchased Caffeine Dreams at 45th and Farnam). Add to that talk of yet another new indie-rock venue being announced this month by another developer and you have a veritable music revolution on your hands... More to come.
Tonight, Handsome Boy Modeling School with Buck 65 and Rondo Brothers at Sokol Underground. I'm told that this version of Handsome will include Prince Paul and Dan "The Automator" Nakamura, which make this a must-see show for any alt hip-hop fan. Interestingly, the Handsome Boy site says the show will be held at Sokol Aud, but I'm told it will, in fact, be down in the Underground. This is an early one: 8 p.m., $15.
Speaking of Sokol, this week's column is a tale spun from last week's Mountain Goats show, drawn from a number of sources, not the least of which is Matt Whipkey, mentioned in the column.
Column 20: When Donovan Goes a Goatin'
The rock legend gets shunned from the Sokol stage.



So if you're a touring band, do you drop what you're doing and let a guest musician climb up on stage? What if it's psychedelic-rock legend Donovan?



That's the question that indie band The Mountain Goats had to answer last week during their set at Sokol Underground, and heated arguments about what's right and wrong -- and what's good rock 'n' roll etiquette -- have been firing up ever since.



Seems Donovan -- penner of hippy anthem "Mellow Yellow" -- had a day off in Omaha the evening before his March 31 gig with John Mellencamp at the Qwest Center. While chilling in the Old Market at La Buvette, he struck up a conversation with a couple local ladies, who mentioned that they were headed over to Sokol for the Mountain Goats show. Donovan decided to tag along.



Once there, the long-haired legend immediately began making friends, talking to anyone willing to talk to him. A number of folks told me that Donovan was the happy-go-lucky child of the Flower Power generation that you'd expect him to be.



Things turned ugly, however, when Donovan's tour manager, "Stuart," decided it would be a good idea to get him on stage to grace the audience of about 200 with a few of his golden oldies. The idea was proffered to John Darnielle and the Mountain Goats, who had just finished their set. They passed on the idea as they were busy hocking T-shirts from the front of the stage. That sent ol' Stuart -- who I'm told looked and sounded like he just walked off the set of Spinal Tap -- right into orbit, reportedly telling the Goats that they were "f---ing negative, man," and that offering the stage to a fellow traveling musician was part of an unspoken code.



When I heard the story the next day -- April 1 -- I figured it was another Fool's Day scam. But then I heard it from another person, and another, and another -- all livid that The Goats wouldn't let Donovan do his thing.



Were the Goats out of line? My take is that it was their call whether or not to make room for the guest star. Sure, they could have easily moved their T-shirt operations to the back of the room. Sure, it probably would have made for a very special evening. But the Goats didn't feel like sharing the stage, and it was, after all, their show. Would Donovan have offered Darnielle and company the same courtesy the next night at The Qwest Center?



Well, the story doesn't end there. Afterward, Donovan and Stuart were looking for a ride back to the Hilton when along came Anonymous American frontman Matt Whipkey and his van. Whipkey says Donovan, Stuart and the ladies all jumped in and high-tailed it back to the Hilton, where they enjoyed drinks in the lounge with Mellencamp guitarist Andy York. After closing the bar, York suggested everyone go upstairs to continue the party. "Donovan said, 'Yeah, man, you can play us a song,'" Whipkey said.



Before long, Donovan pulled out a harmonica and the three musicians jammed until the wee hours. "He was extremely nice and wanted to talk about songwriting," Whipkey said. "It's the kind of conversation you don't get into with other musicians, and I was more than happy to hear any advice he had to offer."



Whipkey said that playing his songs for Donovan and York stands as one of the highlights of his career. "I was certainly star struck," he said. "Afterward, I went home and looked at my Beatles anthology and there was Donovan with John Lennon and Keith Moon. He certainly has a place in rock history."

<Got comments? Post 'em here.>
Criteria signs to Saddle Creek; Okkervil River interview – April 6, 2005 –



Rumors that Criteria signed to Saddle Creek were flying all over the place at Saturday night's Tim Kasher show at O'Leaver's. Criteria frontman Stephen Pedersen all but confirmed the rumor that night, but I still wanted to get the word from Creek itself. It came yesterday when label guy Jason Kulbel confirmed that Saddle Creek Records will indeed be releasing Criteria's next CD, which is already in the can. No firm release date yet, though it'll probably drop sometime in the late summer/early fall. Asked to comment, Pedersen simply said "Criteria is very very very... excited." And why not? Pedersen had said Saturday that being the label was a dream come true. But make no mistake about it, the signing also is a coup for Saddle Creek. It's no secret that labels have been sniffing around the band since they flew out to New York for an industry recon mission more than a year ago. Criteria fills a hard rock void created at Saddle Creek when Cursive went on what some are saying is a permanent hiatus. Rumor has it that the new Criteria album is one of the best things to come out of this town in a long time. We'll have to wait to find out though I'm sure we'll get a sneak preview of the tunes when the band opens for Trail of Dead at Sokol Auditorium April 26.
Now on to this week's "cover story": I just placed online an interview with Okkervil River's Will Sheff (read it here). Will, one of the nicest guys I've ever interviewed, talked about the band's new CD, Black Sheep Boy, and their ongoing struggle to stay financially afloat despite being critics' darlings. Since I first interviewed Sheff in 2002 (read that one here) the band has emerged as a real force in the indie-folk world. I figured they'd become big rock stars, but in fact, Sheff says they've never been poorer, which is a shame.
Some details that didn't make it into the story: Brian Beattie, the guy who produced their benchmark album, Don't Fall in Love with Everyone you Meet, is back behind the knobs for Black Sheep Boy. Beattie charges a one-time fee for recording, which all but eliminates the clock ticking on the studio meter. "You pay up front and you can take as long as you want," Sheff said of Beattie's studio. "And if you don't like it, you fix it. His studio provided a real organic environment. We had some tracks where we all played simultaneously. Some of my favorite albums, like Neil Young's On the Beach, were all tracked live, which provides a lot of grit and humanity to the performances."
Is Black Sheep Boy a concept album? Sheff says he guesses it probably is. "A lot of times concept records don't work," he said. "Pink Floyd's The Wall, for example, really doesn't hold together, while Lou Reed's Berlin feels more complete and evocative, with elements that go in other directions. I didn't want this record to tie together into a nice little package. I let it be messy and unfinished. You can be really familiar with the artistic process, but a lot of it comes from places you don't understand. In my mind, I didn't try to create a story or try to figure out who the Black Sheep Boy is; I thought about how the songs fit together and how the imagery could be woven throughout all the songs."
Fair enough. This is the fourth time Okkervil River's been through Omaha. The first two times were gigs at The Junction, which Sheff said was "crappy." Then they played an impromptu gig at California Taco before finally landing a show at Sokol Underground. "I said to myself 'We finally made it.'" That said, Sheff was concerned that maybe the band took a step backwards with O'Leaver's, that is until I told him that Tim Kasher, The Silos and a host of other great bands have played there recently. "Wow, that's good news," he said "Now I'm psyched." The show is this Sunday. Don't miss it.
<Got comments? Post 'em here.>
Happy election day... – April 5, 2005 –



Those of you in Omaha, make sure you get out there and vote. End of public service announcement.
Look for an interview with Okkervil River online right here tomorrow morning. The band's new CD, Black Sheep Boy, goes on sale today. It's a return to the tuneful songwriting that was heard on their first Jagjaguwar release, Don't Fall in Love with Everyone You Meet, and hence, is a must-have.
A few other observations on this warm April morning;
-- I noticed that Kasabian has already sold their hit, "Club Foot," to Pontiac and that it's being used in new commercials, one of which aired last night during The Finals (Congratulations Roy Williams and the Kansas Jayhawks! er, North Carolina Tarhills! I had you going down two rounds ago). I predict we will all quickly get sick of this song now, unfortunately. I also noticed that Kasabian has rolled out a live version of "Club Foot" on video that's receiving airplay on MTV2 (I have a feeling they won't be bringing that gear to Omaha). You add it all up, and the May 29 Sokol Underground show is going to sell out. It's only April, and Kasabian has arguably released the single of the year. Oh yeah, the band is currently selling out all of its UK shows. The new Radiohead?
-- CMT -- that's Country Music Television for all you Yankees -- is showing a "Behind the Music"-style documentary called "Controversy: Johnny Cash vs. Music Row," which is a must see. The hour-long "rockumentary" was broadcast last night and is a scathing criticism of Nashville's treatment of Cash throughout his career but especially during his Rick Ruben years, when the CMA and country radio failed to recognize his American Recordings releases as "country music," though they arguably were some of the most important C&W records released from the mid-'90s on. It's being rebroadcast this Friday at 7 p.m. CT.
-- The first REM/Bright Eyes reviews are in from Australia, including this brief one from theage.com. They like our boy down under.
<Got comments? Post 'em here.>
Live Review: Tim Kasher, Todd Grant, Luke Temple, The End of the World – April 3, 2005 –



I got there early and dug in for the evening along the railing with my Rolling Rock and I'd be damned if I was going to move a foot all night. It was already crowded at around 10 just as the first band -- a wonky indie outfit called The End of the World -- was about to take the stage. Within an hour the place was at capacity and then some. People crushed ass-to-crotch from my railing to the bar to the back wall, all to see a rare acoustic set by The Good Life's Tim Kasher. All the "cool kids" were there, including about half of Saddle Creek Records' stable). Temple, who I featured last week (here), knew it was going to be packed, and knew very few if any were there to hear his music. Still, why not take advantage of the situation like any other sane up-and-coming singer/songwriter?
The End of the World's music was standard indie rock fare, with a stylish frontman and a backing band that seemed ill-at-ease on stage. Most of their songs were influenced by the usual indie-rock suspects (Pixies, Strokes, My Bloody Valentine) and the vocal lines sounded like they had been improvised during band practice, gliding over the chord changes with little variance. The drummer was barely audible other than his cymbals and his rat-a-tat snare like a kitten running across the roof of a car.
I thought Temple was going to do a mostly solo acoustic set. Instead, the world-enders acted as his backing band. At one point, there were four guys playing guitars on stage. Who knows why. Temple's music, though somewhat ornate and flowery on CD, is relatively simple and doesn't require a lot of guitars. The times when the fewest people played along were the best. By the end of this set, the crowd had grown to maximum largesse and had the proper roar to accompany it. Temple ignored it completely, despite being drowned out during his closer.
Then came Todd Grant and Kasher. I didn't even know that Grant was supposed to play last night, and he sounded like he didn't know, either. Though the two came on stage together, they played separately -- Grant doing a set of six or seven songs, starting with an apology about his inebriated condition. Even in that state and though struggling to get the crowd's attention (a lost cause), there was a heartbreaking quality that burned through his songs, almost as if the alcohol and crowd frustration added a necessary layer to his music's down-and-out pathos. There is something great and tragic about Grant and his songs.
Kasher didn't get behind the microphone until at least 12:30, and he didn't sing a note until about a quarter to one. I think I've mentioned here before that although I've interviewed every band on the Saddle Creek roster -- some of them three or four times -- I really don't know these guys. I don't hang out with them, I don't party with them. They're all nice guys and gals, but I just don't fly in their circles, only occasionally bumping into them at Sokol or O'Leaver's shows. That said, I couldn't tell you if Kasher was loaded or not. He seemed loaded, but his slight slur and slouch could just have been his natural solo-performance posture.
The whole time while Grant was struggling with the crowd, Kasher had sat right off the side and listened. And burned. When he finally got up there, he was in no mood to put up with the noise, which by then had reached soccer-crowd proportions.
I can't remember everything he said or exactly how he said it. It went something like, "There's a good thing going on musically in Omaha these days. But there's also a 'scene' that's grown up around it. And now people are coming to shows to be part of that scene, not to listen to music, and it sucks." Again, I'm paraphrasing here. "I know a lot of you came here to get laid and I'm all for getting laid, but some people actually came here for some music." And "Screw it. Being a musician means playing for yourself, so I'm doing this for myself." Etc, etc...
Then he introduced his first song, saying he'd just finished writing the lyrics that day. That it was a quiet song. That it required a certain quietness from the audience. He began playing the first three chords, and playing them and playing them and playing them, then said something like, "You get the gist of the song? I'm going to keep doing this until I get people's attention." Zero impact. He kept playing the chords for a few more minutes while continuing his rather funny diatribe aimed at the roar in the back of the bar. It was like watching an Andy Kaufman routine, and Kasher was in true Kaufmanesque form. Finally, he quietly played the song, a classically simple Kasher tune with central the lyric "Don't leave me hear hanging on this picket fence."
Then Kasher turned it up a notch, challenging the bar to a fight, saying he had planned on buying everyone a shot if the show went well, but that now he just wanted everyone to shut the f___ up and he didn't care if he pissed anyone off, that he wasn't afraid of getting bruised in the face or a few broken ribs. He's 30 now, he's seen it all, been there/done that. His Kaufman rant turned into a Henry Rollins routine delivered with a smile. At one point, Grant went up behind him and mock hit Kasher in the back with his guitar, telling him to shut up and sing.
By 1 o'clock, Kasher had sung maybe three songs, all very quiet numbers, all held their own in the cloud of bar noise. See, I don't know if the whole thing was a joke or if he was pissed (both emotionally and physically). He'd warmed up as the crowd began to settle down toward the end. When he finished his last song at around 1:20, the crowd had finally died. Kasher had won, sort of.
It was a weird, wild ride, and in retrospect, probably exactly what Kasher had in mind. Or maybe he hadn't. Either way, it was memorable.

<Got comments? Post 'em here.>
A brief look at the weekend ahead… – April 1, 2005 –



Hey, what gives -- I don't go to Maria Taylor Wednesday and I skip The Mountain Goats last night? Just catching up on some sleep, kids. Like I said yesterday, anyone who has a couple minutes and the inspiration please give us a brief review of last night's Mountain Goats show here. I do plan on attending a show or two this weekend, but not starting tonight. Tomorrow night is Luke Temple at O'Leaver's with The End of the World and Tim Kasher. Should be a mob scene. Then Sunday night is a five-band show at Sokol Underground with Juliana Theory, Zao, Open Hand, The Takeover UK, & Sinai Beach. Emo band Juliana is now on Epic after being on Tooth & Nail for years. According to AMG, Zao is a Christian band. I've never heard of the others. Is this a Christian punk rock show? Well, it might be appropriate, considering that the pope is apparently on his last leg...
<Got comments? Post 'em here.>
Column 19 -- SXSW: entrepreneurs and rock stars; Mountain Goats, Kyle Harvey tonight – March 31, 2005 –



As a sidenote to this column, it seems like the number of bands from Nebraska that get accepted to South by Southwest continues to dwindle. This year it was only Statistics and The '89 Cubs, and the Cubs canceled. Last year it was Statistics and Criteria. A few years ago Saddle Creek hosted a SXSW showcase, but it's been years since the label has done anything that (though they had initially intended to do one this year). I just don't know how relevant SXSW is anymore, but it still sounds like a good time:
Column 19 -- Southwest Schmooze-a-thon



Just like thousands of other music junkies, I've always wanted to attend South by Southwest, the annual music festival/schmooze-a-thon held in Austin every March -- the perfect getaway as winter ends and spring break begins at most institutes of higher learning. But I've never made it to the Mecca for indie-music lovers.



And now I wonder if its time has passed. When SXSW was first launched almost 20 years ago, the idea was to put young and hungry unsigned bands in front of hordes of cigar-chomping record label honchos eager to find the "next big thing." Today, most of the bands accepted to perform at the 5-day event are well-established acts that are already signed to indie labels, and in fact are playing at label showcases. While only 700 people showed up for the first SXSW in '87, more than 7,000 were there last week.



Among them, fast-talking tech-wizard Jimmy Winter, the 20-something president and owner of Omaha-based Music Arsenal. No, Music Arsenal isn't some sort of weapon that sends intense beams of Slayer at unsuspecting foes, it's a web-based software service used to manage every facet of a CD's birth and life, from scheduling the CD's recording, mixing and mastering sessions, to post production, to marketing and retail sales, to organizing press, radio and the band's subsequent tour. Future versions will even allow record labels to manage inventory and royalty distribution. It's what the people in the tech biz call a "killer app."



So far only six labels have signed up for the service, but San Francisco-based Digital Rights Agency -- a broker that peddles small indie labels to online services such as i-Tunes and Napster -- just signed on, potentially bringing an additional 180 labels to the Digital Arsenal table. Not too shabby.

So like any good music entrepreneur, our man Mr. Winter decided to leave behind cold, gray Omaha and soak in some SXSW sun and fun while landing some new business. He and partner/advisor Sam Mandolfo set up five sit-downs and landed five clients. "It was total schmoozing," Winter said. "We met a ton of industry people and passed out a lot of business cards."



And saw some great bands, including The Black Halos, Tegan & Sara, Architects, The Coachwhips, 400 Blows, Radio 4, American Analog Set, newcomers Langhorne Slim and a little ol' band from Omaha called Statistics.



"That went really well," Winter said of the packed Statistics gig that was part of a Jade Tree and Touch & Go showcase at the Red Eye Fly. "We were standing right behind the music editor of The Hollywood Reporter, who was gushing all over them."



Statistics frontman Denver Dalley said the Red Eye Fly show gave the band a chance to get introduced to a few "industry types" and see some old friends who came to the show, including members of Little Brazil, Saddle Creek's Matt Maginn and some old pals from Sweden.



But is SXSW is still an important showcase for bands? "I'm not sure really," Dalley said. "It seems like there is too much going on (there) nowadays. People are running around like crazy trying to catch certain bands' sets. There are often lines that prevent people from seeing who they want to. It just seems like there is too much going on. At the same time, you can walk down the street and bump into so many friends you haven't seen in ages. It has its pros and cons."



Winter, on the other hand, said the lines weren't bad that long as you had a festival badge. "The meetings were good, but the bands were better," he said. "The worst part is that too many bands are playing at one time and it's hard to catch all the ones you want to see. You have to make some hard choices."


My guess is going back to Austin next year won't be a hard choice. And maybe this time he'll have some company. I could use the vacation.
Big show tonight at Sokol Underground featuring The Mountain Goats with The Prayers and Tears of Arthur Digby Sellers and Kyle Harvey. $8, 9 p.m. Don't miss it. I didn't make it out to see Maria Taylor last night (if anyone did, please give us a review here). I did go to the Todd Solondz film Palindromes at the Dundee Theater. It wasn't sold out but it was close to it. And it was very much like going to a Creek show at Sokol -- I saw members from four Creek bands in the audience, and well as other local hipsters, not the least of which was Academy Award Winner Mike Hill. Despite what you may have read in The New York Times, the film is far from a senseless, grueling downer; but I'm sure my viewpoint was skewed screening it with this audience, which laughed at damn near everything. Solondz took questions afterward for about an hour, sounding like a young, even more neurotic version of Woody Allen. The Dundee should try to do this sort of thing more often.
<Got comments? Post 'em here.>

Luke Temple interview online; Maria Taylor tonight – March 30, 2005 –



I just placed an interview/profile of singer/songwriter Luke Temple online (read it here). He talks about his origins as a musician, his music, etc. I mentioned to Temple that even though so far on his tour he might have only played for small crowds to expect a SRO attendance at his O'Leaver's show Saturday. "Yeah, I've been told that," he said, already aware that Tim Kasher was the opening act. Seems Kasher is pals with some of the guys from The End of the World, Temple's co-headliner/touring band.
Tonight's main attraction is Maria Taylor (Azure Ray), Steve Bartolomei and Dan McCarthy at The Goofy Foot (10th & Pacific). If I go, I'll give a rundown on the whole place in tomorrow's review. But there's a good chance I won't make it down there tonight. The Todd Solondz film Palindromes his having a special showing tonight at The Dundee Theater with Solondz in attendance answering questions following the screening. It's only $5, but I don't know if you can buy advance tickets (and knowing the dark themes in the film, if you'd need to, anyway). Then there's Mike Tulis' monthly Movie at O'Leaver's night tonight, featuring We're All Devo. Read about the film and event here.
<Got comments? Post 'em here.>
Update: Turbo A.C.'s cancel; Cops, Brazil, Harvey instead … – March 29, 2005 –



Well, it appears that tonight's Turbo A.C.'s show at O'Leaver's has been canceled. Tomorrow night's show will replace it, which means The Cops, Little Brazil and Kyle Harvey will be playing tonight at O'Leaver's. Tomorrow night is Mike Tulis' monthly rock movie night at O'Leaver's featuring the film We're All Devo. Read about it here.
Bits and pieces; Turbo A.C.'s tonight… – March 29, 2005 –



Welcome back from another long, boring Easter holiday. When will Easter become a drinking holiday like New Year's Eve and St. Patrick's Day? It can't happen soon enough…
I spent mine writing CD reviews. Check out the Reviews Matrix for about 20 new capsule reviews. Look for the

symbol for the latest ones. Many more to come.
A feature on Seattle singer/songwriter Luke Temple goes online at Lazy-i tomorrow morning. Temple is playing at O'Leaver's Saturday night with co-headliners The End of the World. Oh, and Tim Kasher (The Good Life) just happens to be opening. Damn, and I wanted to go to this one -- looks like another evening spent in the parking lot…
Speaking of O'Leaver's, New York's The Turbo A.C.'s are playing there tonight with 7 Shot Screamers and Zyklon Bees. Turbo plays "The finest surf guitar-injected punkrock since 1996" according to their website. Their last record, 2003's Automatic, was produced by The Dwarves' Blag Dahlia and was released on Gearhead. Rockabilly/horrorbilly band 7 Shot Screamers hails from St. Louis and loves The Cramps. This is another last-minute O'Leaver's booking, as the show doesn't even appear on Turbo's tour page (They play at Hairy Mary's tomorrow night).
Catching up on some old e-mail, our friends Anonymous American got a brief write up in the Minneapolis/St. Paul City Pages (read it here). Now that they've conquered Minneapolis, AA needs to book a few days in New York and L.A.
What else…
Rumor has it that The Goofy Foot down on 10th and Pacific (the old Neon Goose) is becoming something of a hot-spot. Le Beat played there last night and Maria Taylor (Azure Ray), Steve Bartolomei and Dan McCarthy play there tomorrow night. I haven't been there yet, but have been told that on any given night you can't swing a dead cat in the place without hitting a Creeker or Creek-related scenester. What could this mean?

<Got comments? Post 'em here.>
Ladyfinger at O'Leaver's; Third Men/Little Brazil at The 49'r – March 26, 2005 –



Two hot shows tonight: Ladyfinger with Stnnng and Falcon Crest at O'Leaver's. Gotta believe Ladyfinger will open since the other two bands are out-of-towners. For all the info you need, go here. The other show is Seattle's The Cops with Little Brazil and The Third Men at The 49'r. I'll be at one of them... probably.
<Got comments? Post 'em here.>

Neva Dinova, Ted Stevens tonight, Motorhead upstairs… – March 25, 2005 –



Our pals Neva Dinova will be showcasing their new CD, The Hate Yourself Change, tonight at Sokol Underground. I still have yet to hear it, despite the efforts of various publicists and Roger Lewis. And I'm still not sure what label it's on. Roger has insisted that Crank! didn't release it, but if you go to www.crankthis.com you're met with a full-screen ad for the CD. Niz in yesterday's Omaha World-Herald also reported that Crank! was their label (in this story). Meanwhile, go to the Sidecho Records site and there it is as a Sidecho release. And then there's Rolling Stone online, who says the CD was released by Sony (see here). So who knows. I always thought it would be released on Saddle Creek, but obviously that never happened. I guess it doesn't matter what label you're on if you can grab the opening slot on a Bright Eyes tour, as they did recently.
Also on tonight's Sokol dance card are Ted Stevens playing a solo set -- expect to hear some stuff off the new Mayday CD, which will be released by Saddle Creek -- and Lincoln's The Golden Age. $7, 9 p.m.
If you're going to Sokol tonight, you better get there early, folks. Motorhead is playing an all-ages show upstairs at Sokol Auditorium with Corrosion Of Conformity. Parking could be tough. I'm thinking of curling up to some NCAA action at The Brothers, which -- with these two shows going on -- will be nice and vacant.
<Got comments? Post 'em here.>

Live Review: The Silos – March 24, 2005 –



Sometime in the future, maybe 20 years from now when I'll probably still be propped up behind some sort of machine that's used for writing, I'll look back fondly on O'Leaver's and recall last night's show as a prime example of that tavern's golden age. Maybe 40 people were there last night, plenty of room to walk around, grab a beer, talk to fellow drinkers/music-goers as we waited for The Silos to get started. And the whole time wondering why more people weren't there, no crowd anyway. Here was a band that is arguably one of the inventors of what's come to be known as "alt-country" -- veritable legends -- playing in a bar with a capacity smaller than a mid-town Denny's. I shake my head in disbelief. While every local rube is whining about the hundreds they doled out and the personal ordeals suffered trying to glom onto a pair of U2 tickets so they can be corralled like cattle into a blimp hanger and assaulted by shitty sound while watching a band well past its prime perform on big-screen monitors -- for five bucks they could have seen a band that is as good -- if not better then -- they were 15 years ago while standing mere feet away from the lead singer.
But I digress. The Silos were nothing less than pristine last night. Every aspect of the trio's performance was honed to pure perfection; playing music that was more rock 'n' roll than anything I'd consider "alt country." Frontman Walter Salas-Humara played an amped acoustic guitar and sang like he's been doing it for 20 years but with a passion of a kid playing his first gig. The burley, bespeckled bass player seconded on pedal-steel, and also happened to sing perfect harmonies on almost every song. And then there was the drummer -- at least 15 years younger than Salas-Humara, he was some sort of rhythmic god, a super-realistic portrait in precision, a wunderkind of dynamics so freakish in talent that the crowd just stared in awe.
Was it the best performance I've heard at O'Leaver's? Probably. The sound guy, who's been through countless nights of shows there in the past couple years, said so. We chatted afterward, wondering why The Silos never made it big like Uncle Tupelo only to admit that Uncle Tupelo never really made it big, either, at least not while they were still together. They were big only to the people that knew them. And to a certain extent, so were The Silos. It was only due to the later success of Wilco that Tupelo is now considered a legendary band. Meanwhile, as the '90s waned, The Silos were quickly forgotten, though the band continued to soldier forward in one form or another all these years.
They played a lot of songs off their new CD, When the Telephone Rings, but also a few from The Silos record (the only one I own) that I recognized, including "Caroline" and "Commodore Peter." (While buying a T-shirt in the back of the room after the set, I noticed among the stack of CDs a plain-packaged one that said, "The one with the bird on the cover" which, of course, is The Silos. I asked Salas-Humara what happened to the artwork and he said RCA still owned the rights. He was unashamedly selling bootlegged copies of his own record.) In addition to my old favorites, the highlight was a song called "Let's Take Some Drugs and Drive Around" -- the title says it all. And the set closer, a solo number called "Susan Across the Ocean" that featured that amazing drummer, up from behind the set singing harmonies -- a real goose-bump moment.
It'll go down as just another special performance at O'Leaver's, another in what's become a series. It's a shame that none of these shows have been recorded, if only for posterity's sake. It would be nice to have a Live from O'Leaver's CD to remember all these great shows, but I guess my memory and these blog entries will have have to do.
Tonight, yet another good show at O'Leaver's -- former Thrasher photographer Nik Frietas and his band, Kite Pilot, and our old friend Mr. Kyle Harvey.

<Got comments? Post 'em here.>

Column 18: A mess o' CD reviews; The Silos tonight – March 23, 2005 –



This week's column is a recap of some of the better stuff that's made it through the i-Pod during the first quarter. I'll probably do something like this every quarter as space dictates.
Column 18 -- Muck Surfing for Roses

Probably the most common question I get: "What have you been listening to lately?" Last year alone I received a few hundred CDs in the mail for review, most of them pure crap. But hey, that's the deal. You swim through the acres of cowflop to find that one perfect rose, and when you do, you want to share it with all the other muck surfers. That's what being a music critic is all about. That said, here's what's floated to the top of the heap recently.



50 Foot Wave, Golden Ocean (Throwing Music) -- The sweet-voiced, demure Kristen Hersh who emerged in the '90s with Throwing Muses and withdrew in the '00s with her fey solo projects on 4AD, has re-emerged once again. And this time she's pissed. No woman since (early) PJ Harvey or the late great Courtney Love has rocked so hard so well with so much intensity. As punk as it is anthemic, this is a brutal, bruising guitar rock record that burns with Hersh's throaty, snarling voice singing (screaming) lines like "I've never been afraid to die / I've never been afraid before." Guttural.



Maria Taylor, 11:11 (Saddle Creek) -- Along with Orenda Fink (or is it Fink-Baechle now?) Taylor makes up the duo Azure Ray -- a folksy, mousy and somewhat withdrawn project that's all about harmonies and broken hearts. Alone, though, Taylor takes on a new intensity with music that throbs and pounds and breathes with a beauty that pops more than wilts. Which is a fancy way of saying I like this better than the Azure Ray records, mostly because it prefers to quietly rock than quietly whimper. With a Fink solo CD coming out later this year on the same label, this creativity influx can only mean good things for Azure Ray fans.



A Frames, Black Forest (Sub Pop) -- The march-of-the-metal-soldiers intro foreshadows the angular, industrial nightmare that lies ahead, like listening to a million Gang of Four robots cut loose in Kraftwerk land. Consisting of former members of Cows, Butthole Surfers and Scratch Acid, Seattle's A Frames creates a stern-faced, thick-chorded racket that bludgeoned fans of The Fall will recognize immediately for its barren, Cold War sheen. Touch my monkey. Go ahead, touch it.



Iron & Wine, Woman King (Sub Pop) -- Breathy folker Samuel Beam, a.k.a. Iron and Wine, already has been embraced by the same O.C. crowd that's been gobbling up copies of the Garden State soundtrack like they were coupons for free cell service. Don't be dissuaded by the cool-kid factor. From its rat-a-tat mantra-like title track to its urgent, harmony-tinged, finger-picking closer, any of the six songs on this EP would make perfect mix-tape fodder. An acoustic-powered gem.



South San Gabriel, Carlton Chronicles: Not Until the Operation's Through (Misra) -- The side project by Centro-matic frontman Will Johnson sports the same dust-covered rural melodies as that band's best, minus the roar. Instead of muscular feedback, Johnson prefers a pretty pedal-steel or piano part, making this dimly lit afternoon music. Johnson's gravel-pit mewing is bound to make him the Eddie Vedder of our generation thanks to a pure distinctiveness that will be emulated by every bar-whore band in the Midwest if it ever gets discovered beyond the in-the-know indie crowd.



Robbers on High Street, Tree City (New Line Records) -- Red hot from the mean streets of NYC, the Robbers have only been churning it out since the summer of 2002 and already they're this year's "future of rock" band. I don't know about that, but you could do a whole lot worse. Their laidback rock-with-an-edge gets compared to The Strokes but more closely resembles Spoon or Wheat, with a giddy-up pop-rock sheen that glows from crooner/heartbreaker Ben Trokan's sweet, sweet swagger. Produced with Peter Katis (Interpol, Mercury Rev, Get Up Kids), look for Tree City on a radio near you, eventually.


Little Brazil, You and Me (Mt. Fuji) -- Local heroes get it right on a pop-rock keeper featuring Landon Hedges' quirky, forlorn voice.


Heavy Trash, Heavy Trash (Yep Rock) -- Jon Spencer's latest is cooler and cleaner than anything that hepcat has done in years.


Holy Ghost, Welcome to Ignore Us (Clearly) -- Former Lincolnite Chris Heine (Urethra Franklin, Opium Taylor) and his gang of NYC devils vamp up their angular punk sound for the better.
A reminder about that Silo show tonight at O'Leaver's. They're the opening band and, according to their website, will be going on at 9 p.m. sharp! See you there.
<Got comments? Post 'em here.>

The inventors of alt-country at O'Leaver's Wednesday night – March 22, 2005 –



Seems like there are a lot of alt-country bands these days, so much so that alt-country has become a cliché term. People now call it Americana or Roots Rock or some such thing. But back in the day, the only term for twangy, rural-fied rock was alt-country. I was never a big fan of the style, mainly because I don't much care for the yee-haw grinnin' quality of country music. Or, as the owner of The 49'r once put it, country music makes me car sick. That it does.
That said, whenever an alt-country act would roll into town someone would ask me if I was going to the show. My reply was universal: "I'm not really into alt-country, except for maybe The Silos." I usually got a blank stare in return. No one had heard of The Silos, and around here, most consider Uncle Tupelo the originators of the genre. But five years before No Depression came out, The Silos had released Cuba, which pretty much defined alt-country, for me at least. In fact, they followed it up five years later with their RCA debut, The Silos, which is one of my favorite records. But though they won their share of critical huzzahs, The Silos never really caught anyone's attention, instead being overshadowed by Uncle Tupelo, which became Son Volt and Wilco, and so on.
So time passes and I'm clicking through the O'Leaver's website the other day, looking at the calendar of upcoming shows, and lo and behold, what's listed for tomorrow night but The Silos (O'Leaver's website appears to be down for the count right now, so you're gonna have to trust me on this). When I read it, I laughed out loud thinking some poor local schmucks took the band's name not knowing who The Silos were. It had to be a mistake, especially considering that The Silos were the opener for a bill headlined by The Dead Science (ex-Xiu Xiu) and local phenoms Le Beat -- neither of which have anything at all to do with alt-country. But just for kicks, I googled "The Silos" to see if they had a website, and of course discovered that the band playing Wednesday night is, in fact, "The Silos" (see for yourself). The band is just returning from a tour of Germany and an appearance at SXSW (playing at the GBV Hoot at Emo's no less). Of course, there hasn't been one iota of press about this show, and maybe that's a good thing considering O'Leaver's tiny capacity, etc. I beseech anyone who has even a scintilla of interest in alt-country to catch a band that really helped define the genre. You may never get another chance.
<Got comments? Post 'em here.>

Porn (Men of) tonight at The Brothers… – March 21, 2005 –



If you don't know it already, frontman and head pornmaster Tim Moss is one of the godfather's of Omaha punk rock, having glowed brightly during the city's golden age with gutter-groove band Ritual Device before being exiled to San Francisco and all its glammy decadence. The new Porn album, Wine, Women and Song, on stoner label Small Stone, continues Moss's travels into grinding, tonal, sludge metal/noise with double-digit-length songs designed to drain you of your will to live. This time out he has veteran drummer Dale Crover (Melvins) and bassist Billy Anderson (Sleep, Orange Goblin). Read about the band's history and the last time they came through Omaha here. Local metal giants Bloodcow open. I expect this to be a monster show. $5, 10 p.m.
<Got comments? Post 'em here.>
Live Review: TSITR, others… – March 20, 2005 –



Some thoughts on last night's The Show is the Rainbow CD release party at Sokol Underground, where around 110 showed up:
I missed Shineyville and Milk, thanks to Wake Forest. I caught Caught in the Fall. The guy running the show said they were a hardcore band. I wouldn't call what they do "hardcore," but what do I know? I'm not exactly an expert on the genre. The people who were surrounding them on the floor seemed into it, and that's all that really matters. Jabid was a guy who performed over recorded synth/videogame music/noise paced at about 300 bpm while gameshow footage and "shock" video (operating procedures, disease images, conjoined twins) was shown on a screen behind him. He also performed on the floor.
The Show is the Rainbow a.k.a. Darren Keen, used the screen to show a video during his performance, which took place both on and off the floor. The proceedings began with Darren lambasting the soundguy about the house music -- Joy Division's "Love Will Tear Us Apart." Said Darren, "I hate The Cure. Turn that shit off!" I still don't know if he knew… well, whatever.
Mr. Keen performed his entire CD, Radboyz Only!!!, in sequence, Cursive-style. If you haven't seen TSITR before, it's Darren singing/rapping over a CDR of his music interspersed with yelling at the crowd and assorted wicked dance moves. He's an entertainer. In the past, Darren did his shtick from the floor with the lights on, running around the crowd, yelling in their faces -- a true entertainment outreach program. And the crowd got into it. Unfortunately, most of that interaction was lost with his new video -- a homemade i-movie affair that mixed footage of Darren and his friends with mod graphics, text, etc., all sequenced to the music. Sort of like The Faint's deal, but on a smaller scale. And just like with The Faint, the crowd tended to keep its eyes on the video and not Darren, resulting in a rather dead audience.
Here's one example where the video was a deficit instead of an enhancement: In the past, one of Darren's funnier bits was his intro, where he lip-synched a prerecorded bit and filled-in the blanks, depending on where he was and who he was performing with. "It's great to be here at (fill in venue name)." It was a hoot. Now he uses a video that shows him in a shower reciting the intro (he still fills in the blanks live). Interesting, but not as funny. On the other hand, some of the video footage was hysterical and effective, such as the shot of a young GW flipping off a television camera before an interview, repeated over and over, and the footage of Keen's mouth videotaped sideways. Don't get me wrong, it was a good little film, but it took away from a live performance that's already dependent on prerecorded audio, and sucked the life right out of the audience.
The nine songs from the new CD are pure TSITR -- fun homemade beats, electric guitar touches, sound effects, and Darren's sissy rap mixed with falsetto crooning. Crowd pleaser "Up a Creek without a Saddle" was introduced as a song about how much he hates Bright Eyes. I couldn't make out the words because of the sound quality of the vocals (and I don't have a copy of the CD). A lot of it sounded more like a dig at scenesters who frequent indie rock shows. Ironically, one of the best songs off his new album, "Babe Born with Blue Eyes," is a ballad that sounds like a Bright Eyes song a la Digital Ash. I wasn't the only one who noticed this. Other highwater marks were "Jailbait Babycake," a catchy number about pop punk frontmen chasing after 14-year-old girls, and another slower number performed about halfway through the set.
All in all, TSITR's music can be fun and compelling, but it's the live show that makes TSITR TSITR. With the video, the lights out and Darren relegated to the front of the room, a lot of that live exuberance was lost. Plus there was no fake blood. When the set ended, Joy Division came back on and Darren again yelled for the sound guy to turn it off. Instead, he turned it up.
We all get a night off to prepare for Men of Porn and Bloodcow at The Brother's. Oh boy...
<Got comments? Post 'em here.>

Live Review: Low, Kid Dakota; The Show is the Rainbow tonight – March 19, 2005 –



Quite a different scene from the last Low show at Sokol Underground. For one thing, there were twice as many people there -- around 240 -- which is still somewhat disappointing, considering that Low is easily one of the most important bands currently on the road. Hell, they topped the CMJ charts for a month with their new album, and still most people around here never heard of them.
After a set by The Mariannes, which I missed due to the NCAAs, Kid Dakota took the stage as a two-piece -- just frontman Darren Jackson dressed to the nines in a black suit on electric guitar and vocals, and an intense Christopher McGuire on drums, who I'm told also performs with John Vanderslice. The music was droning rock, a good fit as an opener for Low. Jackson's voice is a facsimile of Thom Yorke's without the high-end, agreeable if somewhat limited melodywise. As the set progressed, Zak from Low joined in, along with Alan Sparhawk. I liked it, though the songs didn't sound like the stuff I've heard from the new Kid Dakota CD on the Chairckickers website. McGuire ended up being a real show-stealer. He was bundle of quirky mannerisms, changing his cymbals after every song and punctuating the set by raising his drumstick over his head then punching it through the snarehead, leaving it sticking straight out as he walked off.
Then came Low. Sparhawk was in a chatty mood, maybe he was nervous, though I doubt it. At one point he said, "I'm talking more than I'm singing tonight." The set began with "Monkey," off the new album, and from where I stood -- off of stage right, just behind the stack -- it sounded good. But Sparhawk was so disappointed that he wanted to play the song over. Apparently Mimi's bass drum hadn't properly mic-ed and couldn't be heard in the audience. After the soundguy hooked it up, Sparhawk was ready hit it again, but Zak talked him out of it. They would up playing it again during the encore.
I expected the performance to be an all-out rock bonanza, seeing as The Great Destroyer has very few lows (so to speak), but was pleasantly surprised by the mix of slow/quiet older songs with new uptempo rockers. The crowd, bustling with local music notables, was adoring -- one girl was draped over a monitor swooning the entire set, while another feverishly scribbled in a notebook -- I found out later that she was actually drawing sketches of the band (which actually looked pretty cool). One guy standing by the stage had his head bowed throughout the slower songs, reverentially. And yes, there were a few chatterboxes jawing about amps and guitars off to the side, but hardly a distraction.
Maybe because this was the first show after a few weeks off, but there were a number of noticeable technical glitches, specifically with Sparhawk's guitar rig. Pedals were missed at the worst moments (such as the explosion at the end of "When I Go Deaf"), and there were occasional dropouts. I could barely hear Mimi's cymbals all night. Despite that, it was another very special Low show, highlighted a brief acoustic set toward the middle, where Zak put down the bass and pulled out an acoustic guitar. It ended with Sparhawk dedicating "Death of a Salesman" to his dad, who was in the audience. The hubby-and-wife team of Parker and Sparhawk continue to amaze me with their pitch-perfect, brokenhearted harmonies -- the element that, for me, makes Low one of the most poignant and affecting band going these days. If you missed it, you missed a lot.
Tonight, of course, is The Show is the Rainbow CD release show at Sokol Underground with Jabid, Caught in the Fall, Milk and Shineyville. Five bands, though Darren Keen -- the show behind The Show -- tells me that Jabid only plays 11 minutes and Milk is a DVD puppet show. Watch out for flying blood.
<Got comments? Post 'em here.>

LOW tonight at Sokol Underground with The Mariannes, Kid Dakota – March 18, 2005 –



Tonight's Low gig at Sokol Underground should be something special. It's the band's opening show on this tour. "We've got some family coming down from South Dakota," Mimi said during our interview last week. I asked her what we could expect. Will it be the same sort of performance as the last time they came through? "For the most part," she said. "We're gonna be playing the new songs, which will add a new element to it. It's just us three. At one point we go acoustic. Zak pulls out an acoustic guitar. It's a break in the middle of the set."
Low is one of those bands that historically hasn't drawn well in Omaha -- only 130 in Feb 2003 (here's the review w/pics). I can't understand why. Maybe it's the lack of radio support or that fact that the band had a reputation for playing dark, hushed sets. Tonight's Low show will be anything but a downer, and for those who choose to miss this, it's their loss.
Opening the show is Omaha favorites The Mariannes and Kid Dakota, a band that's on the record label owned by Low, Chairkickers. As you would expect, Kid Dakota's music has a similar slow, quiet yet powerful sound, like a storm brewing on the horizon. Check out this song from the Chairkickers' site. See you tonight.
<Got comments? Post 'em here.>
Column 17: A peek inside the Creek, more news; Happy St. Patrick's Day – March 17, 2005 –



As always, the column is explained in the column. As a post script to the Desaparecidos comment, I ran into someone close to that project who insists that it's still on in spite of what the Creek guys told me. The original plan was for Oberst to add his vocals and other tracks to the already-completed Desa recordings via a mobile recording unit that Mike Mogis has taken with him on the Bright Eyes tour. The Creek guys said, however, that Oberst and Mogis decided against doing the recordings on the road, fearing that the recording would be sub par. That leaves a "best scenario" of Oberst recording the tracks after this first leg of the Bright Eyes tour, if it happens at all. You have to think that Creek would love to put out a new Desa record for sheer sales' sake -- it could be as big as the duo Bright Eyes' discs.
Column 17 -- Creek Runoff

It was so long and detailed that you're probably still reading last week's cover story about Saddle Creek Records. Though it clocked in at just over 3,200 words I still had to cut 1,500 of exciting -- nay important -- information to make it all fit with those strangely inappropriate photos of the Creek staff looking beaten and broken (I wasn't responsible for the photo concept or the headline used in the printed version, which had nothing to do with the article). So instead of leaving data unwritten to eventually fade from memory, here's a few items from the Q&A session with Creek yes-men Robb Nansel and Jason Kulbel that didn't make the cut.


But first, a brief tour of the Creek's lavish new world headquarters, where the company was forced to move by a combination of success and landlords. Like their old Benson digs, the new offices are unmarked, making them difficult to find among the catacombs of alleyways south of 75th and Cass -- a faceless building hidden among faceless buildings. Once inside you still can't tell you're standing in the epicenter of the indie rock world. Sure, there's CD artwork on one wall from the latest releases by The Faint and Bright Eyes and The Good Life, but little else distinguishes the place from any other low-rent, start-up squatter's flat.


Nothing, that is, except for the sound equipment stacked in a shit pile in the center of the room, stuff that Kulbel said returned on the Bright Eyes bus. Among the goodies, a box containing the broken remains of an electric guitar, it's neck a jagged piece of well-lacquered wood. Somewhere the E-bay gods drooled.


To the left, the "graphics room" where designer/hero Jadon Ulrich slouched bleary-eyed behind a computer. His walls are barren except for a cartoon-quality fan painting of Bright Eyes' Conor Oberst looking as if he's standing on the face of the moon, his hair-swoop covering his face. "That came back on the bus, too," Jadon says, grinning. "Isn't it great?"



We stroll through the stock room, where boxes upon boxes of T-shirts, CDs and other "merch" are stacked in racks -- a huge improvement over the flotsam found in the dirty basement storeroom of their old offices. Adjacent is another room used for packaging. It's empty now, but it's easy to imagine a small squadron of T-shirted hipsters bent over the long table, joylessly stuffing envelopes with oversized hoodies.



Boxed in a windowed corner office in the back stockroom is the label's new accountant, Mike Brown, also working late (It's tax season, after all). Again, no artwork on his walls. The same holds true for Nansel's and Kulbel's offices. The walls are empty while the floors are crowded with packages, CDs and other junk. Nansel's office boasts a decent stereo system with a relic from the past called "a turntable." He brazenly shows off a Metallica box set that an industry goon has mailed him. "Look, it's numbered," he points to a little metal label on the case, "but this one, see, it doesn't have a number!" Cool, are you gonna E-bay it? Nansel scowls. "No, dude, I'm gonna listen to it."



Alright, alright, enough colorful description. Where's the newsy stuff I promised?



-- Kulbel and Nansel said Creek releases for '05 include a Cursive B-sides collection, solo albums by both members of Azure Ray -- Maria Taylor (called 11:11, slated for May 24) and Orenda Fink (out some time later this year, after her wedding to The Faint's Todd Baechle), and a new Mayday record. No mention of a new Desaparecidos album. When pressed, the duo just nodded their head, saying it seemed unlikely that Oberst would be able to record his tracks while on the road as originally planned.



-- Lincoln's Presto! Studios is moving to Omaha as their old Lincoln studios has a date with a wrecking ball. Mike Mogis recently purchased a large house at around 67th and Dodge that likely will be used as a studio.



-- The Faint's last album, Wet From Birth, has sold around 65,000 copies. Was it a disappointment considering the high hopes? Not at all, said Kulbel, though Nansel said he expected more. They predict another sales spike when The Faint hits the road with Bright Eyes for the Digital Ash in a Digital Urn tour later this spring.



-- The much rumored Bright Eyes documentary, which began filming a couple years ago, is dead, Kulbel said. Another documentary, however, is on the horizon.

Before I forget -- Happy St. Patrick's day to y'all. I'll hopefully be spending the evening at The Dubliner, getting lost in a frothy cup of Guiness while studying my brackets.

<Got comments? Post 'em here.>
Low takes the kids on the road; Mimi talks majors – March 16, 2005 –



Just placed online, an interview with Low's Mimi Parker (read it here). The story's focus is on how and why the band brings their kids with them on tour, their new album and why they've gotten louder over the years. I can unequivocally tell you that the new Low album, The Great Destroyer, is my favorite of their entire catalog -- it just plain rocks.
Among the stuff that didn't make it into the interview, I asked Mimi if the momentum created from the last two rather successful albums was what drew them away from Kranky to Sub Pop. "Maybe a little bit," Parker said. "We love Kranky. We were sad to go, but at same time, Kranky does things a certain way and we respect them for it, but we kind of just decided we needed to bump it up a bit and see what Sub Pop could do. Sub Pop has been working some great bands and had big successes."
But surely Low has had interest from the majors, right?
"Not really seriously," Parker said. "We had lunch with someone once. At the same time, we did kind of decide that it would be a crazy route to take. You're such a small fish in a big pond. Majors are so unstable now. People are coming and going so fast. You sign with someone and have an A&R person who loves you, and then they're gone and you're stranded there."
Ah, that same old story. Imagine if Low were on a label. I, too, can't see how it would work. I asked Mimi how she would react the first time the label guy called after hearing the new record saying "Where's the single?" She laughed. "I'd tell him that they're all singles."
Mark it down, Low plays at Sokol Underground Friday night with The Mariannes and Kid Dakota.

<Got comments? Post 'em here.>
Live review: Todd Grant, Dolorean; Son, Ambulance, Mal Madrigal tonight – March 15, 2005 –



So I never got around to putting my thoughts down on the Todd Grant concert yesterday afternoon because I was too busy writing a feature on Low that'll go online tomorrow morning, as well as putting together Column 17 for Thursday. Thus is life. I was also too bushed to go to Head of Femur last night (a review or impressions would be appreciated on the webboard).
That said, Sunday night's Todd Grant show was a real treat. Grant's band, featuring a scorching Mike Brannan on lead guitar (Who knew he was such a cocky axman? It's been a long time since Guerilla Theater.) and hammerin' Dan Crowell on drums was remarkable (Oh yeah, and that Tim Kasher kid who stood off to the side on bass was good, too. Something tells me he could go places). Grant looked comfortable and assured in the frontman position, and sounded like he never left the stage for all those years. A guy next to me called his music "run-of-the-mill roots rock" and maybe he was right, but for whatever reason this critic, who usually yawns at this sort of thing, loved it. It was Grant's whole-hearted love of performing these songs that made the set endearing -- you could tell that each one meant something to him, was written without thinking of style or genre or trying to make a hit. Grant writes and plays music because, well, that's what he does. It's been the bane and boom of his life. Vocally, he reminds me of a cross between Warren Zevon, Lou Reed and the long forgotten Gram Parker (Who owns a copy of Squeezing out Sparks? Anybody? Come on, people!). The songs ranged between quieter folky stuff with a kick to full-blown barroom rockers. The highlight was the closing number (an old Compost song, Grant told me afterward) that just blew the place up. You'll get a chance to see Grant and his band again April 2 at O'Leaver's.
Next up was headliner Dolorean. I had planned to take off right after the Grant set to get home and finish the Low story, but was talked into catching the front end of the singer/songwriter's set. I've never heard his records before and have been told that they're amazing. His stage show, however, was less so. Dolorean, a.k.a. Silverton, Oregon's Jay Clarke, has a voice and style that resembles Neil Young's quieter stuff to a fault. I couldn't shake the comparison. And while I dig Neil Young, and liked a lot of what I heard from Dolorean, I could never get my mind off the resemblance. There has to be more to this guy than that, but I didn't have time to discover it, heading home after the fourth song.
Tonight: Son, Ambulance, Jason Anderson (Wolf Colonel) and Mal Madrigal at Sokol Underground. Should be another good one -- which would make six night's of good shows in a row. Who needs SXSW, anyway? Show's at 9, tickets are $7.

<Got comments? Post 'em here.>
Last night and tonight – March 14, 2005 –



Yes, I went to the Todd Grant/Dolorean show last night, but you're going to have to wait until later today for a live review (sometime late this afternoon). Just a reminder, briefly, of tonight's big show: Head of Femur with The Holy Ghost and The Minus Story at The Brother's Lounge, 3812 Farnam. Show starts at 10 p.m. and is a measly $5. Will it be the show of the year? Maybe. But it's not the only show tonight: The Hold Steady is at Sokol Underground with The Oranges Band and Ladyfinger. That one's $8 and starts at 9. Check back here later for more.
<Got comments? Post 'em here.>
Live Review: The Nein, Little Brazil; Todd Grant Project tonight – March 13, 2005 –



O'Leaver's continues to pick up momentum to the point where there's always an SRO crowd, at least for the last three or four shows I've seen there. Not huge, but big, respectable (though I'm told hardly anyone was there for The Flesh Wednesday night, but that's another story). The stars were out for The Nein last night. Plenty of local music notables, bands, label people. The Nein is The White Octave without Criteria's Stephen Pedersen (who was in the audience cheering on his former comrades). With a new CD out on Sonic Unyon, the band carried itself like seasoned indie rock veterans, playing tunes that sounded like typical angular indie rock with a hook. The lead singer/guitarist has a voice that (when you could hear it in the poor mix) was reminiscent of a young, gritty Elvis Costello -- a comparison that will seem out of the blue for these guys who would probably prefer to be compared to the usual suspects (Gang of Four, Pixies, etc.). Their music, of course, sounded nothing like Costello's. Overall, I guess I liked it, though we've all heard these songs before in one form or another. I think if they pulled it back they'd be better for it. That said, the CD is a keeper and worth finding.
You could blame the sound for The Nein's less than magnetic live performance, except for the fact that the band that followed never sounded better. It was the second time I've seen Little Brazil v. 2.0 and probably their best live performance. I've been hearing some of these songs for what seems like two years now (they still play the tunes that originally appeared on their self-produced demo). Little Brazil doesn't do anything terribly different than any other indie pop-rock band. They live off their rhythm section, specifically the bass lines that give all the songs an undeniable bounce. The secret ingredient continues to be Landon Hedges' clear-yet-quirky, almost forlorn voice that has the same strange lonely lilt as everyone's favorite green muppet - no, not just like it, but with that same sad, honest quality. He's got the voice of your little brother or the guy who sat alone in study hall reading comic books who wouldn't hurt a fly. He's pre-puberty Peter Brady. And maybe it's because I've heard all these songs so many times that the new one, which Hedges said they've only played live a couple times, seemed so good - a typical indie song that starts by focusing on Hedges and a spare guitar line, bleeds into a medium-tempo rocker and ends with the usual bombast, Hedges yelling the same line over and over before joining everyone else in the pounding. Little Brazil is first and foremost an indie rock band in the classic manner, but I have to wonder how they'd sound playing a set of straight-up electric ballads. As respectable as their new full-length is amidst the multitude of indie CDs crowding the bins these days, it's the next record that will push them out of that enormous and faceless pack. It has to.
Tonight, Whipkey, Todd Grant and Dolorean at Sokol Underground, $7, 9 p.m.
Statistics tonight, The Nein tomorrow, Todd Grant Sunday… – March 11, 2005 –



You got three days of shows this weekend. All good. No excuses. None. It all starts tonight with OK Go, Statistics and Rescue at Sokol Underground. I have never heard OK Go before. They're a Chicago trio. They're compared to The Beta Band, Modest Mouse and The Promise Ring by All Music. Well, two out of three ain't bad. I'm going tonight just to see Statistics again. The last time they played here, as a trio, they were lean and hungry, without any noodle-y keyboards or other flotsam, just plain ol' rock. For whatever reason All Music compares Statistics to Bright Eyes, The Faint and Grandaddy, three bands that they sound nothing like in the least (which immediately puts the OK Go comparisons into question).
Tomorrow night it's The Nein at O'Leaver's. The Nein, incidentally, is The White Octave without Stephen Pedersen. That said, they sound sort of like The White Octave without Stephen Pederson, but with a few more hooks in their bag of tricks. I've been listening to their six-song EP on Sonic Unyon and give it a well-deserved "Yes," especially for the song "Handout" which has a killer hook of its own. Opening is Doris Henson, of which I know nothing.
Then Sunday is Dolorean, a laid-back folk-rocky, harmonizing Elliott Smith-meets-Crosby-Stills-and-Nash type singer-songwriter. Pleasant enough, but I'm going for the opener, The Todd Grant Project (which I wrote about yesterday, scroll down), featuring Grant, Tim Kasher (The Good Life) on bass, Mike Brannan (owner/operator of The Ranch Bowl and Caffeine Dream) on guitar and Dan Crowell (ex-Digital Sex) on drums. Get there early to see a solo set by singer/songwriter Matt Whipkey (Anonymous American, INXS try-outs).
It doesn't stop there. There are also good shows coming on Monday and Tuesday, but we'll get to those later.

Column 16: The Return of Omaha's Original Strangled Soul – March 10, 2005 –



Those looking for the Saddle Creek story, it's here.
The origin of this week's column is explained in the lead. Todd Grant, his girlfriend Stephanie and I talked for about two hours at the Dundee Dell Saturday afternoon, discussing topics way beyond his upcoming project with Tim Kasher. Grant's role in the Omaha music scene during the '90s Golden Age can't be understated. Now he's making a new mark on today's scene with the musicians who were influenced by him. Kinda poetic, ain't it?
Grant said a sense of camaraderie is what separates today's Omaha music scene from the one 10 years ago. "One of the biggest differences is that a spirit of cooperation wasn't around back then. It was one big pissing contest," Grant said. "I was always open to working with other people, but the only ones who took me up on it was Tim (Kasher) who was 17 at the time, Pat Buchanan (of Mousetrap) and Greg Cosgrove (Clark County)." Grant remembers playing at Kilgore's back in the day with a 13-year-old Conor Oberst opening. "I'm proud of all those guys," he said, referring to the Saddle Creek artists. "Nansel and Tim and the Baechles. Seeing Tim go from The March Hares to Cursive to today, it's just phenomenal really. They say the Saddle Creek thing is a fluke, but in all the cities I've played at, I never heard bands that made you raise an eyebrow like the ones from around here."
If you went to rock shows back in the '90s you've heard of Todd Grant, either as a solo act or as part of Compost, a band he fronted with Matt Rutledge, Mike Fratt and others.


Out of the blue last fall, a buzz began ringing around the city that Grant was back and working with none other than Tim Kasher, frontman of Cursive and The Good Life. Kasher mentioned the Grant project when I interviewed him last August, saying he and drummer Roger Lewis were involved and calling Todd "a good friend and a role model."


Role model? Some would raise an eyebrow over that one. After all, where had Grant been the last five or six years?


About a week ago, a friend of mine found a used copy of Grant's 1994 solo CD, Strangled Soul, at Cool Stuff for $4.99. He passed it onto me for research purposes. I spent the next three days enjoying a collection of music that has held up remarkably well over the years. Not your usual singer/songwriter fair, Grant's songs are like listening to pain spikes or peering into a cellar of dark loneliness. The CD sports song titles like "Valium & Coca-Cola," "Happy Going Nowhere," and "The Know," with its telling line, "Wouldn't it be better / To be left alone / Where these demons inside you / Can bother no one?" Grant has a showman's charisma, belting out the lines in a style that recalls Warren Zevon, and more recently, American Music Club's Mark Eitzel.


I got Grant's number from a local promoter and set up an interview. The days leading up to it, people came out of the woodwork with odd requests like, "Check out his teeth" or "Ask him about the scar on his back." Everyone had a weird Grant story. I expected a badly damaged, war-torn lost soul to show up at the Dundee Dell and not the hip-looking guy dressed in black with long black hair and soul patch, his girlfriend, Stephanie Wyscarver, in tow. Over a couple hours, a gallon of Diet Coke and too many cigarettes, Grant, 34, told me how drugs had gotten the better of him most of his adult life, and how he has managed to free himself.


"I had a lung removed when I was 17. The medication led to other drugs, and it all caught up with me in '99," he said casually between puffs. "One thing about being an outlaw, you can never turn to the law for help."


Grant says his turnaround began after getting arrested by the state patrol, who had been watching him for months. He said his three days in jail without drugs "were hell." He would eventually get probation and re-enter a methadone program that he'd preemptively began prior to the arrest.



And then he just disappeared. "From '99 until now, I haven't been out of the house," he said. "I don't know why I stayed disconnected for so many years. Methadone was the hard part. For two and a half years I didn't have a guitar, didn't write. I was literally a zombie."


When he finished the methadone program in January 2004, Grant slowly began rediscovering old acquaintances. Among them Wyscarver, who he's since moved in with. And Kasher, who had a different opinion of Strangled Soul. "Tim thought the songs were great, but that the production was too slick and over the top," Grant said.


Kasher, who had never produced a band before, took Grant as his first project. "Tim and I got together between his tours. We started practicing in the summertime and it came together quickly."


Between Cursive and Good Life tours, Grant and Kasher laid down tracks at Mike Brannan's Artery Studios, with Kasher on bass, Roger Lewis on drums, and Brannan on guitar. Old friends Matt Rutledge and Mike Daeges also are involved, while '89 Cubs guitarist Dan Brennan manned the board.


Grant says the new music isn't much different from the stuff on Strangled Soul, "but with Tim's arrangements, there are things that are undeniably Kasher-esque." With Kasher now back from tour, Grant hopes to finish the CD in the brief window of time before he leaves again.



In that window, Grant and a band that includes Kasher, Brannan and drummer Dan Crowell will perform on stage as an opener for Dolorean March 13 at Sokol Underground.


Grant said a label has expressed interest in releasing the finished recording, and perhaps a tour will follow. But after that, his future is blurry.



"I feel like there's still a lot of work to do, but I'm now in a position to do it," he said. "When I look back at what I've done and how I went about it as a beast, it's ridiculous to think that having cleaned up my act and grown up a bit that I wouldn't be able to pull it off with a clear head. It's humbling to know that after all I've been through that so many people still care."


<Got comments? Post 'em here.>
Interview: Saddle Creek's Robb Nansel and Jason Kulbel – March 9, 2005 –



Well, the Saddle Creek Records story is online, all 3,500 words of it (Read it here). In an extensive Q&A, label operators Robb Nansel and Jason Kulbel talk about looking for new bands, Team Love Records, Bright Eyes hysteria, radio, marketing, not being millionaires, Slowdown, the Omaha scene and the label's future. The story will also is published in today's issue of The Reader, which probably won't be distributed until sometime tomorrow. The entire interview clocked in at over 5,000 words. Some of the out-takes will be used in next week's Lazy-i column (which means they'll be online next Thursday). I'll probably also include a description of Creek's swank new offices, which also didn't make the cut. Enjoy.
<Got comments? Post 'em here.>
Live Review: United State of Electronica, Aqueduct – March 8, 2005 –



Remember that scene in Ghost Busters where Sigourney Weaver's neighbor/accountant, Louis Tully played by Rick Moranis, hosts a party over at his apartment as a business write-off? The classic moment comes when Louis' blonde, pony-tailed girlfriend pouts because no one's dancing. "Maybe if we dance, everyone will join in," Louis says, and the two start doing a shag in the middle of living room. There was sort of a reenactment of that scene last night at O'Leaver's during United State of Electronica's set. Here's a band that's used to having people dance at their shows - their electrified disco demands it. Ah, but U.S.E. has never been to Omaha before, the home of sit-and-stare. About three songs into their set, I was beginning to worry that Omaha was going to live up to its no-dance reputation when the bass player from Aqueduct got up and started wriggling in front of the band in a desperate attempt to get people off their asses. Finally, someone got the bright idea of moving the tables and chairs out of the way, and the fun began. By the end of U.S.E.'s rather short set the entire area up by the band was crowded with sweaty white people trying to groove to the band's good-time music. It took awhile, but about half the crowd actually loosened up, though there were still plenty of people in the back sitting and nodding to the beat. Hey, I was dancing too... in my head.
Opening band Aqueduct was a pop trio of bass, keyboards and drums playing beat-heavy synthetic rock in sort of a Cars-meets-Ben Folds style. The lead singer/keyboardist has a smooth rock voice that works well with the band's simple pop arrangements that consist of lots of synths, percussion augmented by electric beats, and bass played by a guy with robot moves straight out of Devo.
I liked Aqueduct's style, but it was clearly U.S.E. that the packed house came to see. It took a good 20 minutes for the band to get their gear, sound and home-made light rigs set up and arranged on the time tiny "stage." There's seven people in the band, including two women backing vocalists, a guy who yelled phrases like "Omaha, we love it!" and "Bright Eyes!" and "Saddle Creek!" to get the crowd energized, and another guy who sang into a vocoder, a sound effect that epitomized the band's retro-tinged disco vibe. Live, U.S.E. rocks harder than on disc, even throwing in a few guitar solos, but overall they were somewhat rough, with a made-in-my-basement quality -- this was, after all, only the third show of their two-month tour. Regardless, it was the bass and drum track (the live drummer was somewhat lacking) that got the crowd moving, eventually. Said a stunned Jeremy the bartender, amazed at the party that erupted in in front of him, "Dude, you should have brought your camera." Omaha, it seemed, had learned how to dance.
Note to O'Leaver's: It's time to replace or fix your sound system. The static throughout both band's sets would have been distracting if the crowd hadn't been on their feet shaking their asses.
Tomorrow: The massive Saddle Creek Q&A. As a warm-up, read Part 1 -- the 2001 Lazy-i interview with Robb Nansel.
<Got comments? Post 'em here.>

United State of Electronica tonight… – March 7, 2005 –



Like the headline sez, U.S.E. tonight at O'Leaver's. The real question is whether anyone comes out to the show. With press in both the OWH and The Reader, you'd think so, but it's a Monday night and this is Omaha. On a certain level, I'm hoping people stay away just so I'll be able to get inside the place.
This weekend was something of a washout for attending live shows, for me at least. Not because there wasn't anything worth seeing, but because I've been killing myself writing a 3,500-word cover story on Saddle Creek Records for this week's issue of The Reader, which will be online at Lazy-i Wednesday morning. In addition, I ran down Todd Grant for this week's column, which'll be online Thursday morning. It's strange not going to a show over the weekend, especially with the weather we've been having, but I hope to make up for it this weekend with OK Go at the Underground Friday night, The Nein at O'Leaver's Saturday and the aforementioned Todd Grant and his band opening for Dolorean on Sunday (and that's followed by Head of Femur next Monday and Son, Ambulance Tuesday).
And speaking of giving a head's up -- U2 announced they'll be doing a show at the Qwest Center Dec. 15, with tickets going on sale March 19 ranging from $50 to $165 per. The Herald has the story on their site here. How fast this will sell out is anyone's guess. It's the first important arena show to hit Omaha in years.
<Got comments? Post 'em here.>
Last-minute add tonight… – March 5, 2005 –



Seems the singer/songwriter gods are smiling on Omaha more and more these days. In addition to the king of local singer/songwriters -- Simon Joyner -- at O'Leaver's tonight, Omaha golden-age legends Todd Grant and Scott Roth (Such Sweet Thunder) have been added to the Vago/Icarus/Civil Minded show at the Ranch Bowl, likely as the very first band. Grant, who's 1994 CD Strangled Soul continues to be relevant after 11 years, will be the focus of this week's Lazy-i column (online Thursday). Consider tonight's show a preview of what you'll hear when Grant and his new band take the stage opening for Dolorean a week from Sunday at Sokol Underground.
<Got comments? Post 'em here.>
A brief glance at the weekend… – March 4, 2005
Only two shows worth mentioning this weekend. Tonight it's Les Georges Leningrad at Sokol Underground with Lincoln's notorious Zyklon Bees and noise-rock favorites The Lepers. Using the exciting new mp3 jukebox at the One Percent Productions' website (it's just to the right of the logo at the top of the page), I listened to one of LGL's songs -- sounds like Sonic Youth-flavored post-punk, and pretty good at that. $8, 9 p.m.
Tomorrow is the return of Simon Joyner and the Wind-Up Birds to O'Leaver's with Outlaw con Bandana. The last time I tried to hear Simon at O'Leaver's I ended up doing it from the parking lot because it was so unbearably packed inside. I suspect it'll be a replay tomorrow night, especially if the weather holds out. $5, 10 p.m.

Column 15 -- The Death and Rebirth of Radio? – March 3, 2005
This week's column is based on this month's Wired cover on the end of radio as we know it, i.e., the advent of new broadcast technology. I'll be honest with you, I'm not enamored with the concept of satellite radio. Sure, it's a cool idea -- 130+ channels available anywhere coast-to-coast, with so much variety that there has to be something worth listening to. Then again, I've got more channels on my Cox Cable and I rarely find anything worth watching. The downfall of satellite is that there are two different and completely separate services -- XM and Sirius -- each offering a different line-up of content for $12.95 a month. There's no way I'm making the plunge until these two companies are forced to merge, which won't be anytime soon. Podcasting essentially is recording internet radio or similar web-based audio programs direct to your i-Pod for playback later, sort of like an audio version of TiVo. Adam Curry's The Daily Source Code program was the first podcast and remains one of the most popular, downloaded nearly 500,000 times since it was launched sometime after 2001. Great idea, but will downloading and listening to radio shows on an i-Pod really catch on? I doubt it. I think the only hope lies in Hi-Res radio, as described below. It's going to take a leap of technology to get radio out of its current staid, boring state, and once they figure it out you're going to see repercussions all through the music industry...
Column 15 -- Dawn of the Dead Air



As you're browsing through the newsstands at your local Borders, Barnes & Noble or Hy-Vee, prepare to be startled by the cover of the March issue of Wired magazine. The dark, glossy image shows a smoking bullet exploding through the front of a red transistor radio -- a take on the famous Doc Edgerton bullet-through-the apple photo.



To the left, in big, bold letters: THE END OF RADIO.



The headline, I suppose, was intended to shock. The end of radio! My God! What will we do now!



Here's a news tip for the folks at Wired: Radio's been dead for a long, long time. At least for me, and for a lot of other people who grew up listening to the FM. Back in the day, the radio was the only outlet to really hear new music besides the record store. I still remember hearing a cool new song and waiting with baited breath for the DJ -- then the ad hoc program director -- to tell me what they just played so I could run down to Homer's or Peaches or Pickles to pick up a copy to throw on my own turntable.



Those days are long gone. Tuning through the FM now is like walking through a pasture and deciding which pile of cow flop to tip your toe into. You've got a ripe choice between today's retro, today's hip-hop, today's kuntry klassics and today's goon rock -- all with a solid rotation of about 12 stale songs. The only other choice is between the talking drones on NPR or the talking jack-asses on the AM.



Radio's downward spiral began after the Telecommunications Act of 1996, which gave a handful of faceless suits the ability to gobble up every station in every market. Once in, the suits fired the programmers and sanitized the play lists by passing them through a dumbing-down process consisting of focus groups, consultants and Billboard charts. Forget the deep cuts. Forget the obscure, cool artists. The word of the day was homogeneity, and radio's new catch phrase was "Love it or leave it."



Well, it looks like people are leaving it. In droves. According to Wired, despite the fact that every week 200 million people still tune into Big Radio (their euphemism for Clear Channel and the other evil congloms), the number of daily listeners has slipped to 1994 levels, with the coveted 18- to 24-year-old demo falling nearly 22 percent since 1999.



Sounds gloomy. But if you just glanced at that Wired cover, you might have missed the real story written in parentheses below THE END OF RADIO, where it says, "(As we know it)".



The magazine's special section breaks down like this: A feature on Howard Stern going to satellite, a piece on Adam Curry's (yes, the guy from MTV) pioneering efforts in podcasting, and a story titled "The Resurrection of Indie Radio" that features a show hosted by Sex Pistols guitarist Steve Jones -- Jonesy's Jukebox -- on Indie 103, a Clear Channel-backed station in Los Angeles. What? Clear Channel you say?



Of the technologies discussed, it's the one featured in the Jones story that's the real hope for the future. They call it High Definition radio -- digital radio broadcast over the same wavelength as conventional analog radio, but with near-CD quality sound. That by itself is innovative, but the best part is that digital stations will be able to broadcast as many as six different shows simultaneously on the same channel. Stations like Indie 103 could have an "A channel" with regular programming, and a "B channel" that reruns Jonesy's Jukebox or any of their other specialty shows. Or to put a local spin on it, imagine listening to 89.7 The River and being able to hear the indie program New Day Rising whenever you wanted instead of just at 11 p.m. on Sunday night.



This is where Clear Channel comes in. They bought all the advertising time on Indie 103 and are reselling it, essentially ensuring the tiny station stays afloat. Clear Channel knows that High Def radio, which is now only in its infancy, is the only way it's going to compete with technology like mp3 players, satellite radio or podcasting. It's the only way to provide the sort of variety that listeners thirst for now more than ever. The future of radio, it seems, is in niche programming. And that future can't come fast enough.

<Got comments? Post 'em here.>
The United State of Electronica – March 2, 2005
Just posted, a profile/interview with United State of Electronica (note that there's no "s" on the end of State). Read it here. This should be a radical show for O'Leaver's -- if people show up, that is. Imagine seven disco queens jumping around O'Leaver's tiny "stage," pumping out a night's worth of thump-thump-thump disco action. Will it turn into a dance party or just another night of sitting around, leaning over the rail with a beer in hand, switching between gawking at the band and watching NCAA basketball? We'll see next Monday night. I mentioned to U.S.E.'s Noah Star Weaver that the gig would have been better suited at a roller skating rink, and he agreed. "We were actually thinking of doing a show at our local skating rink." Now wouldn't that be a change of pace...
<Got comments? Post 'em here.>
Modest Mouse tonight at Sokol Upstairs… – March 1, 2005
The big show tonight, Modest Mouse w/ Mason Jennings and Cass McCombs at Sokol Auditorium for a show that's long been sold out. As mentioned earlier, I tried to interview Modest Mouse as support for this show, but was turned down by the publicist at Sony, who suggested that I do a live review instead. Fact is, our boy Isaac Brock rarely does interviews these days, and only for the big guys. For those looking for data, here's my classic 1998 interview with Isaac, before the band signed to Sony (the trick, see, is to get them while they're young). And below is a preview I wrote that appeared in this week's edition of The Reader:
Whoda thunk upon hearing their early, weird stuff that Modest Mouse would be around long enough to either catch on or assimilate to Clear Channel acceptability? The trio of vocalist/guitarist Isaac Brock, bassist Eric Judy, and drummer Jeremiah Green started playing together in 1992 in the Seattle suburb of Issaquah, Washington, releasing their first single on Olympia's K Records in 1994. A number of singles and an EP followed before they recorded their 70-minute debut, This is a Long Drive for Someone with Nothing to Think About on Up Records. The follow-up, '97's The Lonesome Crowded West, would be their first breakthrough, igniting a major-label bidding war that Sony Records would eventually win. Last year's Good News for People Who Love Bad News was their second breakthrough, garnering immediate radio play and a spot on the Billboard top-20.



Despite the hype, the songs on Good News... fell somewhere in the middle between weird and catchy. The hits "Float On" and "Ocean Breathes Salty" would fit right in at your typical family barbecue, with its bouncing guitar lines and sing-along lyrics. But old-fashioned yellers like "Bury Me With It" and "Dance Hall," hearken back to the band's UP Records days, sounding like a weird morph of Primus, Talking Heads and a sideshow barker. But even here, there's a sense of restraint, almost as if they think they're getting too old to do weird stuff anymore. And maybe they are.
What to look forward to tonight? Well here's the Minneapolis Star Tribune review of Sunday night's show. The summary: "The Seattle/Portland, Ore. group's sold-out performance Sunday night at First Avenue in Minneapolis was, well, modest. Its lead singer, Isaac Brock, was, well mousy. And, all told, the 80-minute performance was largely underwhelming, much less satisfying than the group's million-selling, Grammy-nominated, critically acclaimed CD."
Hmm. Doesn't sound too promising. How 'bout a review of last Wednesday's show in St. Louis from the Washington University paper. The summary: "Aside from sporadic impassioned outbursts by Brock, the band members seemed reticent and unenthusiastic. And there was absolutely no interplay between the group and the audience, other than an obligatory 'How you doin' tonight?'"
Uh, oh…
Come on, they can't all be negative reviews. Here's one from Arizona Daily Wildcat. The summary: "Throughout the show, Brock (historically an unsteady live performer, a.k.a. drunk performer) conducted the band, including an additional percussionist and backup singer/upright bass player, with as much passion as he put into performing."
There ya go! Apparently last week's show in Kansas City lasted 100 minutes, so you're in for a long night. It's very unlikely that I'll be attending this one. So instead of a review, look here tomorrow for a feature on Seattle's United State of Electronica.
<Got comments? Post 'em here.>

Live Review: The Monroes, Matt Whipkey… – Feb. 27, 2005
I haven't seen The Monroes in at least a year, but their performance style hasn't changed hardly at all, and that's a good thing. Frontman Gary Dean Davis bounces around on stage just like he used to all the way back in the Frontier Trust days, finishing each tune with his trademark "Thanks!" yelled directly into the mic. Guitarist Lincoln Dickison still has that same laidback punk stance, ripping away at riffs seasoned with some tasty country pickin', while bassist Mike Tulis and drummer Jesse Render provide the bedrock to make this punk tractor go. What has changed is The Monroes' sound, specifically on the new numbers. Sure, the old standbys from the early days are as dusty and brutal as driving over a washboard in a Charger. But the new stuff, well, it's closer to pure hard rock than punk, driven by Dickison's more hook-filled, less-twangy riffs. Heck, there was even one song where everyone dropped it down, inviting a bit of crowd participation (which, this being Omaha, no one did, though Davis said the song got the crowd going at their last Lincoln gig). The Monroes continues to be one of Omaha's most entertaining and original bands that is virtually unknown outside of our state -- more evidence that when they're talking about Omaha's so-called national music notoriety, it all stops at Saddle Creek, at least in the media's eyes, and that's a shame.
The Monroes arrived late, so singer/songwriter Matt Whipkey did a solo acoustic set that kept everyone occupied and fit well with the evening's more-rural theme. The Monroes then got the crowd of 100 or so to a fever pitch for FortyTwenty, but I split before the Lincoln band took the stage.
<Got comments? Post 'em here.>

Missed opportunities; Live review: The Golden Age; The Monroes tonight; Ex-Models at Knicks… – Feb. 26, 2005
Well, I drove by O'Leaver's last night at around 10:30 and could tell that the place was packed, and quite honestly just didn't have it in me to suffer through another crush scene. The reason for the draw was Pinkerton, the Weezer tribute band featuring Stephen Pedersen (Criteria), Clint Schnase (Cursive), Zac Lorenzen (Race for Titles) and Craig Hoffman (Coast of Nebraska). I had heard rumor of this surprise gig earlier in the day, and held off mentioning it in the blog for the exact reason why I ended up not going. Regardless, I found out that the word got out when someone told me that people were heading to O'Leaver's at around 9 to "beat the crowd." Pedersen told me that Pinkerton's one-night-only engagement was in honor of Clint's birthday. If anyone was there, please post a review on the webboard. Something tells me it was one of those "should-have-been-there" performances.
Instead, I went down to Sokol Underground to see Shelterbelt and The Golden Age along with about 100 others. A quarter of the crowd could have been related to Shelterbelt -- an 8-piece ensemble that includes everything from an oboe to a violin to brass. I still say lead singer Jesse Otto sounds like Kenny Loggins, looking dapper in a brown suit as he led the band through a set of up-tempo pop tunes.
I'm not sure what happened to The Golden Age since I saw them a couple years ago. It's obvious that they can write good songs and that the band (especially the guitarist and drummer) have it going on. Unfortunately, I could barely hear the lead singer, and when I did, he mostly mumbled through the songs, a few times forgetting the words. The promoter tells me that the band broke some sort of unofficial record prior to their set by downing 48 beers, which equates to little over nine per player. If nothing else, that alone was impressive.
Tonight, The Monroes and FortyTwenty at Sokol Underground. And I promised the promoter (Someday Never) to mention that The Ex-Models are playing at Knickerbockers in Lincoln. The New York post-punk band that released an album in 2003 on French Kiss played last year in Omaha at Orifice, The Faint's practice space. I wasn't there, and I've never heard them before, but Joe tells me they're good, so I have to believe it. Check 'em out if you're in Lincoln.
<Got comments? Post 'em here.>

The Golden Age tonight; The Monroes tomorrow; headlines… – Feb. 25, 2005
Lincoln band The Golden Age is down at Sokol Underground tonight with Shelter Belt and Someday Stories. It's been a couple years since I've seen Golden Age, back when it was rumored that they'd be the next band to sign to Saddle Creek. I could see why -- they had that same ensemble sound of, well, Bright Eyes. Robb Nansel was there that night, who when asked, came back with what has become his classic non-denial denial: "They're a good band. You should check them out." He said the same thing when I asked about Ladyfinger last year. I'm told this version of Golden Age is dramatically different than the one heard two years ago. We'll see tonight.
Tomorrow night twang rockers FortyTwenty headline a show opened by twang-punkers The Monroes. I haven't caught a Monroes' show in about a year, mainly because they haven't played much around here, preferring the greener pastures of Lincoln. Saturday night will be a busy one, with No Blood Orphan down at O'Leavers (The Reader has a feature on the band this week, here) and Race for Titles at The 49'r. Decisions, decisions...
Some headlines:
Worst is better than Wonder Bread (Richmond Times-Dispatch) -- Beep Beep is getting as much press as Conor these days. Classic Chris Hughes quote: "One person yelled out, 'You're the worst band ever!' And that to me was sweet. That's a great compliment, because there are so many mediocre bands, and to be someone's worst band -- that's actually an accomplishment."
Bright Eyes, Sullen Demeanor (East Bay Express) -- The Texas comments continue to haunt Conor. This essentially is one long diss on Bright Eyes, including a poor drawing of Conor in a diaper. All you Conor haters, enjoy
Bright Eyes elicits a variety of opinions (Seattle University Spectator) -- A couple staffers discuss the BE Seattle show. Typical quote: Greg: But the kids at the show... I've never been so out-hipped in my life! Lily: Really? Then either you're not hip enough, or you don't go to enough shows, or I guess both.
Little Brazil wants to be latest in line of Omaha success stories (Quad City Times) -- A Little Brazil feature that slipped past from last week. Landon Hedges talks about the Omaha scene.
<Got comments? Post 'em here.>

Playing with (not so new) technology; William Elliott Whitmore tonight – Feb. 24, 2005
First it was the new webboard, now it's an RSS feed. What amazing breakthrough will Lazy-i introduce next?
What exactly is an RSS feed? It's a mechanism for publishing (syndicating) and subscribing to recent additions to any website -- the Lazy-I blog, for instance. RSS software tracks new blog entries, and sends them to those who have 'subscribed' to them. All RSS feeds are integrated, creating a kind of personalized newspaper. Some RSS feeds contain the entire article, others offer just the headline, or the headline with the first part of the article, with a link to the full article.
So, if you use MyYahoo (or a similar portal), you can now subscribe to the Lazy-I blog by simply going to your MyYahoo homepage, clicking on the "Add Content" link, in the "Find Content" area, click on the "Add RSS by URL" link, then enter http://feeds.feedburner.com/Lazy-I . Next time you check out your MyYahoo headlines, there will be a Lazy-I section that will have the past three or four blog headlines and a link to the blog. The same "subscribe" process works for other newsreaders.
I'm sort of testing this whole RSS process, and it can be somewhat finicky. The first day it only took about 10 minutes to "publish" the update to MyYahoo. Yesterday, it took six hours. I'm testing other RSS feeds (including an atom feed -- http://www.timmcmahan.com/past_blogs/atom.xml -- and might even attempt a podcast in the future.
Regardless, the Lazy-I blog will still be available right here from good ol' www.lazy-i.com.
It's singer/songwriter night tonight at O'Leaver's, with William Elliott Whitmore, Sarah Benck and The Wanteds. Whitmore's CD, Ashes to Dust, was released Tuesday on Southern Records. I'm listening to a track off it right now downloaded from the Southern site -- Whitmore sounds like a 70-year-old black man singing Mississippi Delta blues on acoustic guitar. He's played at The 49'r a few times over the past couple years, though I've never caught his act. The former music editor at The Reader used to rave about him. The Wanteds are one guy, Tommy Harrington, playing modern-sounding singer/songwriter fare using a variety of instruments. His new CD, Let Go Afterglow, sort of reminds me of Folk Implosion. Sarah Benck is a local acoustic-guitar playing legend who performs at Mick's every week. Should be a great show.
<Got comments? Post 'em here.>

Column 14: The return of Kyle Harvey; a couple headlines – Feb. 23, 2005
Very little intro necessary for this week's column other than to say it's good to have Kyle back in Omaha. Without further ado...
Column 14 -- The Ghost of Kyle Harvey



I thought I saw a ghost last Friday night when I was out enjoying a performance by Son, Ambulance at the Joslyn Art Museum.



It was all part of Joslyn's annual College Night festivities. Son, Ambulance was set up in the atrium beneath the Chihuly glass balloon tower that seemed to float just above Joe Knapp's nappy head. Son, Ambulance managed to pull off their best live performance in spite of the atrium's atrocious acoustics, which made the band sound like it was playing in a mausoleum.



Between sets whilst gnawing a piece of free cold pizza, up walked what appeared to be the ghost of Kyle Harvey. Could this rather gaunt individual with pants barely hanging onto his ass and the trademark yellow-and-brown striped ski cap really be the once rotund singer/songwriter?



A couple days later, I ran Harvey down via cell phone to find out why he was back in Omaha. It was only last August that he'd packed up and headed to Country Music USA, six months after releasing his solo debut, The Holidays in Spain, a bleak environmental recording that captured the emotional emptiness he suffered after breaking up with a long-time girlfriend. Harvey said his move was an attempt to refocus his songwriting and escape the monotony of the Omaha music scene. "I really needed to get out of town, just for my mental health's sake."



The weight loss wasn't the result of any Atkins diet. "You could call it the Starving Artist Diet," he said. "I guess it came from living on crackers and cans of tuna. Working in a record store in a city that you're not familiar with, you have to figure out a way to scrape by."



The comments make his existence sound harsher than it actually was. Days after landing in Nashville, Harvey landed a job at The Great Escape, the oldest independent music store in Tennessee, where he began making connections with people involved in the city's renowned music industry. Before long, he was playing in a band called The Ointments.



"The best part of being down there was the chance to step away from being consumed by everyday life and focus on songwriting," he said. "I would go out to shows and see some of the best musicians in the world, but I spent most of the time in the studio."



Before he moved back, Harvey finished laying down 12 tracks for an upcoming full-length with the working title Truth Is the Color of Teeth, recorded in the home studio of Brian Thackery, a fellow member of The Ointments. Harvey says the CD goes even further than the ambient-folk sound heard on Holidays in Spain. "There are a lot of electronic beats, different sounds and noises. It's the best stuff I've ever done."



We'll have to wait until later this spring to hear it. Harvey's headed back down to Nashville in March to mix the CD before bringing it back to Omaha to be mastered by Doug Van Sloun, the sound engineer who's mastered all of Saddle Creek Records' greatest hits. Four or five labels have expressed interest in releasing Harvey's CD, he said, including one from Nashville.



So with all that happening, why bother moving back? Seems Harvey missed his friends and family, especially younger brother, Daniel, an accomplished drummer who he hopes to work with in the future. But maybe the real reason was that his relationship with Nashville never took. "It never felt like home," he said. "I always felt like I was on vacation. The one thing that turned me off was the industry. There are a lot of people there who were all about the money instead of the art."



And how was the much ballyhooed Omaha scene viewed in Nashville? "Everybody was interested in knowing what was going on here," Harvey said. "But that's the way it is everywhere now. There's a buzz about the Omaha scene, even though most people don't know about the better bands; they only know the ones in Rolling Stone.



"Once I was away for a few months, I gained a new respect for Omaha. We really have something special here."



I guess absence really does make a heart grow fonder.
A couple brief headlines:
-- Looks like 1 Percent won't have a chance to make back all the money they lost booking the Jayhawks over the years. They've called it quits. So, apparently, has Blink 182.

-- News from the road from Beep Beep as they rolled through Sprinfield (here). Fun quote: "It wasn't like the city of Omaha was giving any of these bands a big hug and putting money in their pockets," Chris Hughes says. "They had to discover themselves by leaving, touring and getting recognition outside of Omaha."
A quiet Tuesday; Zyklon Bees tonight; Oberst's Texas bomb – Feb. 22, 2005
Not much going on as we all recover from a long President's Day weekend. I didn't go to Jesse Malin last night and probably won't go to The Zyklon Bees tonight at O'Leaver's with opening acts The Amino Acids and The Deformities -- I blame my sinuses for my absence.
News from the Bright Eyes camp has died down lately, now that the North American leg of the world tour has ended. Conor and Co. have flown to Europe for a month's worth of gigs before heading to Asia then Australia, winding it up in early April. I've had three people ask me for my take on the Oberst explosion in Texas ("hate your &*%$ state" "raping Indians" etc.) since it caught the attention of Omaha World-Herald columnist Mike Kelly over the weekend -- read his take here (Quite a departure from Kelly's typical obit column). This is old news, having happened almost two weeks ago and just now getting to the OWH desk, where the oldsters who have never heard of Oberst are quivering with outrage. Yes, the comments were stupid. Yes, Oberst was probably loaded. No, it won't impact his record sales or his fan base in the least. Those who like Oberst almost expect to hear such misguided comments; those that hate him will merely hate him even more. My advice to Oberst is to leave his "political" statements to his songs, at least while he's touring in this country. I'm sure similar comments (i.e., anything criticizing G.W.) will be met with unbridled affection in Europe.
No feature this week. It was supposed to be Modest Mouse, but they still don't do interviews. So look for this week's column tomorrow morning, where we catch up with Kyle Harvey.
<Got comments? Post 'em here.>
Live Review: The Coast of Nebraska, Bombardment Society; Jesse Malin tonight – Feb. 21, 2005
Sorry for the delay, this shoulda been online yesterday morning. Didn't make it. Blame it on fatigue. Regardless, I was there Saturday night for Coast of Nebraska and Bombardment Society. I went to see The Stay Awake, but they canceled. Apparently something was up with their drummer. Steve Micek was there to apologize to everyone, but it still sucked that they didn't play. Sounds like it could be a month or more until we get a chance to see them play again, and then it'll be at The 49'r, which means I probably won't go. Oh well...
I'm told Gnome Slaughterhouse took The Stay Awake's place. I don't know because I missed their set (which means I would have missed The Stay Awake anyway, having believed the published band order). Coast of Nebraska did a nice job. They're a brash angle-punk four-piece with a young hollerer at the lead. The music had an obvious Gang of Four post-punk influence. Not bad, though I think the two guitarists were playing the same notes throughout, and I could barely hear the drums.
There was no such quibbling about Bombardment Society. This must be the 10th time I've seen them play, but they only get better. The trio sounds completely different playing with O'Leaver's rather minimal PA compared to when they're supported by the massive stacks at Sokol Underground, where the sheer power gives them an added dimension. I like them loud, as loud as possible, actually.
It should be noted that the draw Saturday night was phenomenal. The absolutely packed house was a surprise to the promoter, who expected maybe 30 paid but instead saw 70 paid. Nice turnout. Could it happen again for tonight's show at O'Leaver's: Jesse Malin with Anonymous American's Matt Whipkey opening. I've never heard a note of Malin's music, so I can't tell you if it's any good. Whipkey says Malin knows Springsteen, so that might mean something (doesn't mean a thing to me). 9:30; $7.
<Got comments? Post 'em here.>
Live Review: Son, Ambulance; The Stay Awake tonight… – Feb. 19, 2005
Nice turnout for Joslyn's college night featuring Son, Ambulance. If I had to make an eyeball guesstimate, I'd say around 300 were on hand, all enjoying free pizza and soda while being shrouded in the echoing, booming sound of Joe Knapp and Co. I've seen Son, Ambulance perform live maybe a half-dozen times -- this was by far their best performance, spot-on in just about every way in spite of playing in a room that has the acoustics of a mausoleum. S,A played tunes from all three Creek releases, including the highlights from Key -- "Sex in C Minor," "Chlorophyll," "Paper Snowflakes" and "Case of You/Wrinkle, Wrinkle" (alas, no "Taxi Cab Driver). The boominess hindered separation and caused some overlap, especially on more up-tempo songs, but in some cases, it actually enhanced big breaks and made "Sex in C Minor" feel like a well-orchestrated symphony of noise. The whole vibe of the evening was upbeat and, well, fun. Son, Ambulance played two half-hour sets, giving students a chance to check out the galleries and enjoy dessert in the courtyard. By the end of their second set, the atrium was crushed full.
Why was this performance so much better than Son, Ambulance's other somewhat confusing appearances? Could it be the earliness of the set or the lack of booze sales? I left there wondering why Son, Ambulance hadn't been selected as an opener on the just-completed Bright Eyes North American tour instead of Neva Dinova, or in Europe, where label-jumpers Rilo Kiley has been given the slot. Instead, Son, Ambulance will be touring Europe alone this spring to what will likely be rather sparse crowds. Although their music is as good or better than other Creek bands (certainly better than Rilo Kiley's sappy last record), Son, Ambulance doesn't have the exposure or history to make a "headlining" tour work. The band needs to be paired with a more-established act, like how Beep Beep was paired with The Faint late last year. For whatever reason, this will never happen, and eventually Saddle Creek's little black sheep of a band will wander off to greener pastures.
Tonight, Sokol Underground soundman Steve Micek's other band (He also plays drums in The Mariannes) The Stay Awake explode into O'Leaver's with The Coast of Nebraska and The Bombardment Society. Expect a ridiculously packed house. The Architects (ex-Gadjits) play at The 49'r, while in Lincoln, Duffy's is hosting Beep Beep, Her Flyaway Manner and Jabid.
<Got comments? Post 'em here.>

Son, Ambulance at Joslyn; Brave Combo at Sokol Underground – Feb. 18, 2005
Tonight at 7 p.m. the Joslyn Museum hosts College Night featuring Son, Ambulance. This is one of the worst-publicized events I've seen in a long time. Joslyn has no information about it on their website, the only mention is a calendar entry with no details about who's playing, admission, etc. There's no mention in the Omaha World-Herald, either. As far as I know, The Reader and Lazy-i are the only papers that mentioned the event, and all the information came from the band itself. According to Son, Ambulance frontman Joe Knapp, students with a valid, current college ID get in free, though the event is open to the public for a $6 admission fee. The band will be set up under the Chihuly sculpture in the atrium.
Also tonight, Brave Combo is playing at Sokol Underground. Who is Brave Combo? Take a few minutes and read this September 2000 Lazy-I interview/feature on the band and its music, where your fearless writer admits to a dark musical secret of his own. The irony is that Brave Combo is a Grammy winning polka band and that Omaha has (or used to have) a large contingency of polka dancers who used to strut their stuff upstairs in Sokol Auditorium/Ballroom, not in the dark, smokey confines of the Underground. As Brave Combo co-founder Carl Finch said in my interview, "We wish we could draw a crowd large enough to book the dance hall. We do play a lot of straight-ahead polka dances, but we'll be lucky to draw 300 in Omaha." Three hundred would be a miracle tonight, considering how little exposure this show has received. The show starts at 9:30; cost is $12.
Also tonight -- according to our friends at Someday Never -- Life After Laserdisque, Le Beat, and Watch The Stereo at O'Leaver's. There is no mention of this show on O'Leaver's website, however...
<Got comments? Post 'em here.>

Live Review: Bettie Serveert; Column 13 -- Inside the INXS Auditions – Feb. 17, 2005
I have neither the time (nor space) to go into details about last night's Bettie Serveert show. Instead of bugging out early, I stayed until the bitter end -- a testimony to the rock, I guess. Opener The Third Men -- i.e., The Sons Of... v. 2.0 -- was a complete surprise. The band reinvented their sound from their old late-'80s indie garage approach that coveted bands like The Replacements and Husker Du to a new, more poppy garage approach that reminded me of bands like Roxy Music, Matthew Sweet, The dBs and Alex Chilton. They're the kind of upbeat, funloving summertime band that you'd hire to play at a party where there's lots of balloons floating around the stage; the sort of band that plays in the background during the club scenes in early Jonathan Demme films. For just their second gig, they were very tight, and it was fun to see bassist Mike Tulis adding do-waps and "ew's" to songs including a Bowie cover. I can't wait to see these guys play at O'Leaver's or The Niner.
This was the first time I saw Little Brazil's line-up with Oliver Morgan (ex-The Silent Type, ex-Ravine) on drums and Greg Edds on guitar. Their music is the same, but tighter, louder, more bombastic than with the old lineup, which is understandable considering the amount of touring they've done over the past year or so. They rolled out a couple new songs that are in the same vein as the stuff on just-released You and Me (Mt. Fuji), complete with those insidious hooks that sneak up on you when you least expect them. The band's secret weapon continues to be Landon Hedges' almost adolescent-sounding voice, that unsuspectingly swoops upwards at the damnedest moments, cutting through the grind of indie rock riffs.
Finally, Bettie Serveert, who performed a remarkable 90-minute set that included big helpings of songs from just about every album. I recognized at least four or five from Palomine (the only Bettie CD that I own other than the new one) including their "hits" "Kid's Alright" and "Tom Boy." I think they surprised anyone who expected the lighter, poppier approach heard on Attagirl, instead unrolling a mammoth cloud of guitar noise centered around the axe-wielding histrionics of Peter Visser, looking like a Dutch version of Thom from Queer Eye. The most frequently heard comment: "That lead singer looks awesome for someone who's 42." Very hot indeed.
Some statistics: It looked like about 150 were there. The sound mix was spectacular, maybe because of the huge board used last night. I would go into more detail, but I'm late for work and this is running way long, especially with Column 13, below, a recap of last week's INXS auditions provided by a source who was inside all the action. Does Matt Whipkey really have to worry about his "cred" after this experience? I don't think so. If he can get to L.A. for the next round and get copies of his Anonymous American CD in the hands of some industry hacks, he's accomplished a lot. I doubt anyone from around here really has a chance of winning the damn competition anyway, so why not take advantage of the CBS/Mark Burnett organization to get your music out there?
Column 13 -- The Devil Inside the Auditions



First, a quick rehash for those who missed last week's meditation: Mark Burnett Productions, that bastion of quality television that's eagerly trying to reinvent reality as we know it, flew into Omaha last weekend to help '80s rockers INXS find someone to front their band eight years after Michael Hutchence called it quits… literally.



The first day of auditions -- an open cattle call -- was Friday at Mick's in Benson. Closed to spectators and press, the proceedings were to be held in extreme secrecy. So naturally, it only took a couple hours before the first phone call came from someone who had been there dying to tell me the details, anonymously, of course.



Seems Mark Burnett Productions and CBS forced anyone involved -- participants and spectators -- to sign a confidentiality agreement. What vital information they're afraid of falling into enemy hands is anyone's guess. Perhaps those bastards from American Idol could swoop down and snare their potential frontman, or maybe those sons-a-bitches at Amazing Race and Queer Eye could discover Burnett's tightly held secret that makes The Bachelor such an enriching experience.



No matter, my mole wasn't afraid of no stinkin' contract. Apparently around 80 wide-eyed would-be rockers tried their hands at becoming a S*T*A*R, including the frontmen from just about every popular cover band in a four-state area. One after another, they paraded onto the stage -- with or without accompaniment -- and belted their little hearts out. The music of INXS never sounded so good.



But it was to no avail. The producers weren't lying when they said they were looking for a singer-songwriter with charisma and not just another pretty face. Only two prospects made it through the first day of auditions: An "indie looking guy" described as a cross between Conor Oberst and Ryan Adams, and our old friend Matt Whipkey -- frontman of local band Anonymous American who said in last week's column that he thought the whole thing sounded "silly." At the last minute, someone talked him into giving it the ol' college try.



Our mole said it was obvious from the get-go that the producers liked Whipkey and the Ryan Oberst clone because the cameraman who had been snoozing in the back throughout the other auditions immediately jumped into action as soon as these guys stepped foot on stage. Whipkey came only with his guitar and a couple of his own songs. The producers liked what they heard, and asked if he knew any covers. He knew a couple Springsteen tunes, he said. How about something by INXS? Nope. That didn't deter them, however, and he was asked to come back for the final round Sunday.



But before the producers let Whipkey go, they had one more question. They dropped a copy of The Reader in front of him opened to my Lazy-i column and asked, "So you think this is silly, huh?" The mole says Whipkey's face looked like he just passed gas -- loudly. After a few laughs they told him it was all good. They were just pulling his tail.



Later that evening, I was handed a copy of a CBS/Mark Burnett contract given to second-round participants. My source said it intimidated most of the contestants who had never seen anything like it before. Among the provisions -- a $5 million penalty for disclosing to anyone any trade secrets that could be damaging, and language that seemed to state that artists could lose rights to their own material if it had been forwarded to them as part of the audition process. This seemed far-fetched, but what did they know? Who had the time (or money) to run the contract by a lawyer?



Word has it Sarah Benck and one of her robbers, Korey Anderson, along with Galen Kieth from Lovetap, also made it to the final round of auditions. What happened on Sunday really is a mystery. Apparently no one -- friends or family -- was allowed in unless they were an accompanist. I AIM'd Whipkey asking about his audition, but all I got back was, "Sorry, man. Can't say," followed a few minutes later by one sentence: "Does this whole INXS thing ruin my cred?"


<Got comments? Post 'em here.>
Son, Ambulance interview; Bettie Serveert, Little Brazil, The Third Men tonight... – Feb. 16, 2005
The on-the-porch interview with Son, Ambulance just went online (read it here). Joe Knapp and his crew talk about the hazards of touring, the new CD, and their (unadmitted) black sheep status at Saddle Creek Records. Funny, when I showed up at their house it was a nice, 60+ degree evening. Joe was a little late so I waited out on the porch. When he drove up, we just started talking out there while the other band members arrived. I fired up my lap-top. But after about 30 minutes, the sun went down, and by the time we were done, I was freezing. Joe was toasty in his parka. Ironman Jesse McKelvey only wore a short-sleeved shirt but didn't seem to mind the cold at all. Tough as nails, he is.
The details on Friday night's Son, Ambulance gig: They'll be set up in the Atrium at the Joslyn Museum right under the Chihuly. Anyone can come, but if you have a current college ID (from any college) you get in free. It's $6 for everyone else.
Tonight is Bettie Serveert at Sokol Underground with Little Brazil and The Third Men -- the reincarnation of The Sons of… featuring Mike Tulis, Mike Loftus, Matt Rutledge, and Pat White, formerly of the Bent Scepters (Iowa City). Tulis says the band has taken a more psychedelic-tinged, power-pop approach. Sounds good to me. Look for a review of the show here tomorrow morning, along with Column 13 -- an inside look at the INXS auditions.
<Got comments? Post 'em here.>

Bright Eyes on the Late Late Show... – Feb. 15, 2005
I TiVo'd Bright Eyes on the Late Late Show last night. What happened to Craig Kilborn? He turned into an unfunny, geeky Irish guy in a bad suit. To be honest with you, I hated Kilborn's snarky approach and was happy to see him go. But who is this guy? What the hell? I guess he's kind of charming with his I-don't-know-what-I'm-doing schtick. Especially when he's talking about Bright Eyes:
"I'm a big fan of the Bright Eyes. The American kids look to me for their musical tastes, and I have to say, 'Bright Eyes, that's my tip for the tour.'" A lot of what Craig Ferguson says doesn't make sense. He could be Scottish. His next comment confirmed it. He said Bright Eyes is really just Conor Oberst, and compared BE to Scottish band Aztec Camera, saying that band was basically just Roddy Frame. "There was no Aztecs or cameras or anything. So when he gets out here I'm going to ask 'Are you Conor or Bright Eyes?'"
Before that, though, was Jane Seymour and the bastard responsible for writing that over-glorified piece of shit called Million Dollar Baby - not exactly A-list guests. If you don't have TiVo, really, consider picking one up. Then: "Please welcome Conor Oberst and Bright Eyes!" They played "Road to Joy," a good choice, though I'm sure it frightened a lot of people in the Heartland. Conor smashed a guitar, Nate Walcott smashed his trumpet (I'm not kidding). It was very noisy. The mix was pretty bad.
And then, lo and behold, Conor did his first sit-down interview after a performance. So are you Bright Eyes or Conor Oberst? "Mike Mogis is the other person in the band." Was anyone hurt during the destruction? "Everyone's fine, I think." Are you okay for cash? "That was an extremely expensive guitar I smashed." You rock. I love your work. I'm reading you're the new Bob Dylan. Do you like that? "There's worse things to be called. I don't see it myself, personally." Who else is an influence? (I think that's what he asked. Ferguson mumbles a lot.) "Townes Van Zandt, Leonard Cohen, Simon Joyner." Conor was funny with his shy-guy stutter, but he looked like he couldn't wait to get out of that leather chair. Next up is Leno on May 3. I doubt that Oberst will be doing any chatting afterward on that one. Oberst is playing three sold-out nights at The Orpheum while he's in L.A. Here's a review of the first night from the Hollywood Reporter.
That's it. Look for a profile of Son, Ambulance tomorrow morning, right here, including a glamorous band photo!
<Got comments? Post 'em here.>

Todd Grant, Jolie Holland tonight at Mick's – Feb. 13, 2005
I know very little about Todd Grant other than he released an album in '95 on local label Ismist Records called Strangled Soul, and that shortly afterward he formed Compost with Matt Rutledge and Heath Cole. Tim Kasher is a fan of Grant. When I interviewed Kasher for a profile of The Good Life last October, he said he'd been working with Grant on a new Grant solo album. Kasher obviously won't be playing with Grant tonight as The Good Life are currently touring in Europe. For many fans of '90s local music, this could be a special event. Tickets are $12 and the show starts at 9 p.m. The Todd Grant Project will be opening for Dolorean March 13 at Sokol Underground.
<Got comments? Post 'em here.>
Live Review: Jump Is A, Fizzle Like a Flood, The Pomonas – Feb. 12, 2005
Figuring that I'm going to see Little Brazil next Wednesday anyway when they open for Bettie Serveert, I went down to O'Leaver's last night for what I thought would be a a small crowd with a laid-back vibe. Instead, the draw was respectable (the promoter estimated 40 paid -- a packed house for such a small club). I thought there'd only be two bands, but Doug Kabourek of Fizzle Like a Flood invited his pals The Pomonas to come up from Lawrence and play their first out-of-state gig. Other than Doug (who had been knocked out by them before) no one had heard of them. It was a pleasant surprise. They are truly a diamond in the rough -- and I mean rough. A few minutes in and it was obvious that last night was only their fourth live show (as they would later announce from the stage, along with a tribute to former president Gerald Ford). Ah, but underneath all the confusion were some very fun-loving songs. Their style is pure indie-garage (perfectly suited for O'Leaver's). Doug thought they sounded like an early SST band. Doug must have been drunk. If I stretched my imagination I could maybe hear some latter-day Meat Puppets in there. These guys are poppier than that. Think of a messy, early '90s Matador band, practicing in your basement. Their attraction comes from the buzzing bass parts, played by some blond-haired guy in WuTang T-shirt (unbeatable). Vocals ranged from falsetto yelps to unison cheers to straight-on indie crooning. But messy, really messy. Hey, what do you expect? Imagine how they'll sound in six months.
Fizzle Like a Flood is slowly approaching a cuteness threshold that they dearly need to avoid. Doug's songs are precious enough on their own without projecting a Peanuts Valentine's Day cartoon on the big-screen TV behind them (I'm not kidding). What's next? Is Doug going to start wearing fuzzy earmuffs on stage? Is a 12-year-old girl in a Brownie uniform going to present him with a wicker basket filled with kittens? Maybe Doug could set down his guitar and do some knitting during the set. Sonically, they were in good form. Travis Sing backing on electric guitar (the only other member of the band last night) made all the difference. Kabourek's tunes have a sameness that begs for more instrumentation or at least a variance in the arrangements (which is the reason behind the success of his multi-instrumental 40-track recordings).
Fizzle ran long and A Is Jump didn't get started until a quarter after 12. They were an interesting little band whose frontman occasionally lilted like Morrissey and were at their best when they tried to rock; the slower numbers wore me down.
I'm looking around, but I don't see any shows of note this evening. Looks like another night at The Brothers...
<Got comments? Post 'em here.>

Tonight: Little Brazil at Sokol; Fizzle at O'Leaver's – Feb. 11, 2005
Little Brazil celebrates the release of its debut full-length, You and Me (Mt. Fuji), tonight at Sokol Underground. I'm listening to the opening track, "Now," as I write this -- fuzzy, distorted, swinging lead guitar, lazy backbeat drums, rolling bass reminiscent of The Pixies, and Landon Hedges' baby-blue vocals singing "And I've learned a lot from this / Don't trust fleeting love, don't trust your friends." Every time I hear a Little Brazil song I think about untold stories in the shadows of Hedges' career, and I'm probably wrong. Something dark is inspiring these lyrics. Maybe one day he'll let us all in on it. Are they the next big thing to come out of Omaha? Three bands are opening for Little Brazil: Bella Lea (consisting of Stephen Howard (Pinebender), Maura Davis (Denali), Matt Clark (Pinebender, Joan of Arc), and Ryan Rapsys (Euphone, Heroic Doses); Minneapolis' Clair de Lune (Deep Elm Records) and Kansas' Shots Fired (ex-Rocket Fuel is the Key). Hate to say it because I don't want to dissuade anyone from going, but if you miss the show, Little Brazil plays Sokol Underground again next Wednesday, opening for Bettie Serveert. That said, Fizzle Like a Flood is playing down at O'Leaver's tonight with Cedar Falls' A Is Jump. Is Fizzle the next big thing to come out of Omaha?
<Got comments? Post 'em here.>
Column 12: The INXS auditions and BE sales – Feb. 10, 2005
An addendum to the addendum on today's column: As posted on the Lazy-i webboard yesterday afternoon, Bright Eyes' I'm Wide Awake, It's Morning, which was #10 on last week's Billboard charts, suffered a 47 percent drop in sales, and fell to #37 this week. Digital Ash In A Digital Urn, last week's #15 album, was hit with a 55 percent sales dip, and fell to #55. Some reasons for the decline are discussed in the column below, but I can tell you it was anything but unexpected. We'll continue to see small waves of sales as Bright Eyes does guest shots on The Late Show with Craig Ferguson next Monday and Leno May 2.
Column 12: INXSessive or American Idolatry?


So you wanna be a rock star, huh?



Well, Friday just might be your lucky day. Mark Burnett Productions, the fine folks who brought us such intelligent, thoughtful television programs as Survivor, The Bachelor and The Apprentice, will be at Mick's in Benson all day looking for an "INXS Rock Star." The talent search/reality TV series is an effort to help '80s rock band INXS find a replacement for deceased frontman Michael Hutchence, who hanged himself in 1997.



"Sometimes in life, you get one shot to prove you have real talent," says the call for auditions at INXS.com. "That chance is about to happen to anyone willing to prove they have what it takes to be a ROCK STAR."



Word on the street was that they weren't just looking for a pretty face, but for serious singer/songwriters, which is why Omaha was among the 18 cities chosen to host the auditions along with Los Angeles, New York, Chicago and Sydney, Australia.



In my book, Anonymous American frontman Matt Whipkey and Galen Kieth from Lovetap, are the most qualified to audition. But Whipkey says he's not interested. "It sounds like a great way to lose all your songwriting rights and get involved in some lengthy contractual obligation," he said. "I'm sure it'll be entertaining. I will likely watch it on TV and then say, 'Boy, I should have done that,' but right now… it seems silly."



It's hard not to agree. Look, I'm an INXS fan, too. "Don't Change" from '82's Shabooh Shoobah is one of my favorite songs from my high school years. I have no doubt that this event will be an enormous success both for Mick's and Mark Burnett Productions, but let's not kid ourselves. Are they really looking for a singer/songwriter or just another stud? Isn't this just another version of American Idol?



Absolutely not, says casting director Michelle McNulty, calling from Chicago. "We're not looking for a Michael Hutchence look alike. The person has to be able to get up and front this band. He has to be the real deal."



McNulty said the show, and the band, are looking for that person who has "it."



"'It' is that charismatic quality that comes from someone who can perform in front of 50,000 people. It could be a man or a woman."



McNulty said she understood Whipkey's reticence and skepticism. "I get where he's coming from. But I'm telling you the winner will become a full-fledged member of this band and will go on a world tour." They'll also be writing music with keyboardist Andrew Farriss, just like Hutchense used to do.


McNulty confirmed it was Omaha's music scene that drew the production to town. "Look at that kid, what's his name?" Bright Eyes? "Yeah. He's blowing up everywhere."



By the way, don't bother dropping by Mick's unless you're planning on taking the stage. Auditions are closed, McNulty said, and they won't be aired like they are on American Idol. You'll just have to wait until this summer when CBS begins airing the series to see if they found any "it" in Omaha.



* * *



An addendum to the Jan. 26 column predicting Bright Eyes' first week sales for I'm Wide Awake, It's Morning and Digital Ash in a Digital Urn: According to Saddle Creek, I'm Wide Awake clocked in at #10 on the Billboard charts with 56,167 scanned during its first week of sales. Digital Ash was #15 with 45,736 scanned. That's a combined total of 101,903 sold during the first week. In addition, Wide Awake and Digital Ash also made Billboard's Independent Album Chart -- #2 and #3 respectively -- and Alternative Album Chart -- #3 and #4 respectively, as well as the BBC Radio 1 Top 40 Indie Albums Chart -- #3 and #5 respectively.



Soothsaying executive Mike Fratt, vice president of merchandising at Homer's, predicted Wide Awake would sell 32k and land in the Billboard top-10. He says widespread sell-outs of both CDs could result in a steep drop-off in sales.



"Reorders were in the 150k range, and I doubt Saddle Creek had that kind of quantity in the pipeline, so I would be interested to know how quickly restocking will be accomplished," Fratt said. "Because of this, demand in the second week could still be strong, and I would expect sales to only drop off about 50 percent. However, that number could be larger due to outages. I would guess that by the fourth week of sales, the weekly numbers will settle into the 3,000 to 5,000 range for Awake and 2,000 to 4,000 for Ash. Again, restocking issues could keep this number higher if unmet demand is not satiated within the next 10 days."



Still, Fratt says the CDs will likely stay in the Billboard top-200 for weeks to come.

<Got comments? Post 'em here.>
Bettie Serveert interview online; Le'Beat tonight – Feb. 9, 2005
Very little time this morning, thanks to the snow (oh, my achin' back!). Just placed online, a profile/interview with Bettie Serveert, interviewed via satellite phone connection with The Netherlands (read it here). Bettie frontwoman Carol van Dyk was kind enough to do an interview at 12:30 in the morning her time. She talks about living in Holland, the Palomine years and covering Bright Eyes on the band's new CD. Bettie Serveert plays at Sokol Underground next Wednesday, Feb. 16 with Little Brazil (fresh off this week's CD release show).
Tonight's big show (other than Secret Machines at The Ranch Bowl) is Le'Beat down at Sokol Underground as part of The River's Wednesday night concert series. I have yet to attend one of these gigs, tonight may be a first (if my allergies don't get the best of me). Le' Beat plays first at 8 p.m. and is followed by Good with Guns, Names Without Numbers and The Jazzwholes -- all for $5. Down at the Ranch Bowl, in addition to Secret Machines you have Autolux and Moving Units, all for $15. That one probably starts at around 9.
I might get second-week numbers on the Bright Eyes sales this morning. If I do, I'll do an update to today's blog and pass 'em on.
<Got comments? Post 'em here.>
In other old news, Bright Eyes on Leno – Feb. 8, 2005
No update yesterday because I was too busy finishing up a profile/interview of Bettie Serveert (online tomorrow) and this week's column, which is focused on the INXS auditions at Mick's Friday (online Thursday). Other than that, not a lot to report this morning. Looks like Bright Eyes has been slated to play The Tonight Show with Jay Leno May 2, according to this press release, which also includes some details about Neva Dinova. You'll notice that I will occasionally post some of the more interesting label flackery on the new webboard when it drops in my e-mail box, so take a glance.
Here's a few more headlines:
Beep Beep saddles into Tucson (Arizona Daily Wildcat) -- An amusing interview with the band from the road. Interesting pull-quote from Chris Hughes: "I don't see Omaha as this cultural hub that helps recognize artists. It's totally DIY. You accept the limitations that the city has and you try to work around it."
Watch Out, Jessica Simpson: Bright Eyes Are Suddenly Your Competition (MTV.com) -- Oberst talks about the charts and making videos (hopefully) with Alexander Payne. Amusing quote: "I do think it's cool that something released on an indie can outsell [records] that have bigger budgets and a lot more promotion behind them. It's a testament to music fans that go out and find music they like and get into it and it's just not what they are being spoon-fed."
Harmonies and Abysses (Village Voice) -- The latest Consumer Guide by personal critical mentor Robert Christgau. Includes reviews of The Arcade Fire and Greed Day (dud of the month!).
<Got comments? Post 'em here.>
Live review from outside O'Leaver's; New Amsterdams tonight – Feb. 6, 2005
As I anticipated, it was a crush scene at O'Leaver's last night for The Mariannes and Simon Joyner and the Wind-up Birds. I arrived at around 10:45, about 10 minutes before Joyner and his band took the stage. But just bending my head inside the door I realized that I wouldn't be seeing a show that evening. People were packed in like sardines, sandwiched between the railing and the bar. There simply wasn't anywhere to stand without being in someone's way. I tried anyway, and was able to buy a Rolling Rock and chat with a few people, but once the show started, I was relegated to the Golden Tee machine behind the wall. So I heard the first two or three songs from inside the venue, but never actually saw the band perform. From that vantage point, they sounded better than ever, maybe the best I've ever heard them sound, determined to play a set of loud, electric folk music accentuated by Joyner's wobbling, off-kilter voice. I went outside and listened to a couple more songs and got to wondering why Joyner wasn't out touring with this band. According to his website, he did a brief European solo tour including some dates with Bright Eyes last November, but that's about it. You also have to wonder why Saddle Creek or Team Love have never released his material when all the bands on those labels love his work. I guess that's the way he wants it. There's nothing wrong with Jagjaguwar, but I have a feeling the label doesn't provide the same level of exposure that Saddle Creek could. Anyway, two songs later and feeling cold in my jean jacket, I called it a night.
I don't suspect we'll see a replay of that mob scene tonight when The New Amsterdams -- Matthew Pryor of The Get Up Kids side project -- takes the O'Leaver's stage with The Monarch Song.
<Got comments? Post 'em here.>

A preponderance of bass… Simon Joyner tonight – Feb. 5, 2005
Notice that the headline doesn't say "Live Review: Mars Black." Look, what do I know about hip-hop? I've only written two features that involved hip-hop in the past six years -- a piece on the Midwest Alliance way back in '99 and a profile on Brother Ali (which resulted in Ali dissing me from stage because I said he was a white guy -- which he is… sort of). There's only one hip-hop CD from '04 that has a permanent place on my i-Pod -- Danger Mouse & Jemini's Ghetto Pop Life. As far as old school goes, like just about everyone I do like me some N.W.A. and Public Enemy (for the simplest of reasons -- in addition to the beats, they were the first hip-hop acts where I could understand every angry word coming out of their mouths). I'm not down with today's top acts. 50 Cent? Nothing special. Eminem? This generation's MC900 Ft. Jesus. Simply put, I'm of the opinion that if the emcee doesn't have the skills, well it all comes down to the DJ. The frontman has to be in your face. You can't ignore him. And in this day and age, he better do something I haven't heard before (and he better do it better). But the honest truth is, I just don't listen to much hip-hop, and that makes my opinion of last night's show all but worthless.
That said, I was among the 127 who showed up for Mars Black's CD release show at Sokol Underground. The crowd was a mixed bag of suburban guys dressed in character, Creek scenesters showing some Team Love love, a few black guys, and even a handful of children. I got there in time to catch all of Jamazz's set and for my money, he was better on the mic than Mars -- his rhymes were more memorable (especially the one about getting "fucking paid"). The same emcee, E'Babbs, worked both sets, so there wasn't a lot of variety. His mix was pure throwback, almost minimal bass-and-beats with a few scratch accoutrements thrown in. Jamazz did his thing solo for about 40 minutes, then he called Mars Black on stage for a guest spot that was actually the beginning of Mars' set (Jamazz never left the stage). And so, Mars did his thing for about 45 minutes. Standard issue hip-hop. Just like with his CD, Folks Music, I wasn't feeling it. The rhymes sounded old school, with some Omaha references thrown in to the usual mix of chest-beating lyrics about bitches and ho's and these mean city streets. Maybe that's the way it has to be. I'm sure there was something in there that I don't get, something unique, but it all sure sounded like that same ol' song -- or rap in this case. Or maybe there just isn't anywhere else for hip-hop to go? I don't think so. But what the hell do I know about hip-hop? Absolutely nothing, so take this for what it's worth.
Speaking of fresh lyricists, O'Leaver's will have one of the best to ever come out of this mean ol' town tonight with Simon Joyner. Opening the festivities will be The Mariannes, who are some real gangsta's on the mic. It'll be packed. Get there early, G.
<Got comments? Post 'em here.>

Mars Black tonight; New improved webboard! – Feb. 4, 2005
Tonight, Team Love recording artist Mars Black brings his own unique flavor of hip-hop to Sokol Underground. I've been withholding my comments about his new CD until I get a chance to see his "skeelz" live. Also on the bill, Jamazz & The Thoughtless Poets. Expect a full review tomorrow (if I attend).
If you have a moment, check out the new Lazy-i Webboard. The old board was riddled with pop-up ads (including insidious ads that somehow got around every pop-up blocker I've used) and was generally somewhat ugly. The new one works more like what you've seen at more sophisticated (i.e., better) websites. I'm also working with the team at eleven19.com to develop a better homepage "blog" environment. Watch for that in the future. Anyway, check out the board and leave a comment about it or anything else on your mind...
<Got comments? Post 'em here.>
Is Omaha suffering from a lack of venues? – Feb. 3, 2005
Those looking for the Bright Eyes sales numbers, scroll down to yesterday's blog entry. LinOma Rising, the show mentioned in the column below, is being re-aired again tonight on Cox Channel 17 (and if I know Cox, it'll probably be re-aired about a 100 more times). Though I don't agree with many of the bands' comments regarding local venues, my hat's off to Randy Cotton for putting the show together. It should get people talking. I know it got my attention. Here's this week's column, which is also in today's issue of The Reader:
The Forest for the Trees


Poor, poor Omaha musicians… all this talent and no place to play.


That was the message I culled from Linoma Calling, a half-hour public access show that premiered on Cox 17 last Friday night. Produced by Randy Cotton (Members of the Press, Ravine, ex-Ritual Device), Linoma Calling features band "performances, insights and opinions on the past, present and future of the local music scene." Bands included Fromanhole, Ladyfinger, Members of the Press and John Wells with April on Andelusia.


While the performance footage was interesting (though the audio quality was lacking), it was the bands' comments that struck a chord. The common plea from three out of four (Fromanhole didn't take part in the whine-fest), is that there's just no place for our local talent to shine. What happened to all those great hall shows we grew up with, asked Ladyfinger. Now it's just 1 Percent and Ranch Bowl. Why can't we be more like Lincoln?


Members of the Press couldn't agree more, and singer-songwriter Wells warned that Omaha won't be the next Seattle because "we don't have the support here we need, not only from venues but from local labels, from different promoters."


Woe is they, those besieged rock bands, ready to explode if they could only get out from under The Man.


A lack of venues? Off the top of my head there's Mick's, O'Leaver's, The 49'r, Sokol Underground, Ranch Bowl, Shea Riley's, Mike's, and Rebels, not to mention all the coffee shops, pizza joints and ice cream parlors that host performances. As someone who attended shows in the '90s -- an era often lauded as Omaha's "Golden Age" -- there are a helluva lot more places to play now then back then. These days, the problem is figuring out which shows to attend when there's as many as three going on simultaneously.


Missing, lest we forget (and none of these bands will) is the almighty Cog Factory, deified as perhaps the greatest music venue Omaha has ever seen. With a capacity of around 100, the concrete-block box located in one of the city's shittiest neighborhoods continues to be placed upon an altar of irrefutable respect.



Psst... let me tell you a secret: The Cog Factory was a shit hole, even by the admission of the folks who used to run it. It got into financial trouble and closed amid a cloud of IRS-related controversy.


Marc Leibowitz, who runs One Percent Productions with Jim Johnson, booked over 130 shows last year in five venues, but mostly at the all-ages Sokol Underground, which, by the way, may be a shit hole but is the friggin' Taj Mahal compared to the Cog Factory. He says the problem isn't a lack of clubs, but a lack of "quality venues."


"Anyone who believes the Cog Factory was better than Sokol Underground is delusional," he said. "Losing the Capitol, the Lifticket and the Howard St. was a bigger detriment than losing the Cog Factory."


He said bands' inability to draw a crowd is among the reasons why no new quality clubs have sprung up. "None of these bands complaining could even sell out O'Leaver's," he said, referring to the tiny mid-town club. "Why do they think they need a better room? The bands from Omaha that've made it figured out how to work with existing venues."


In the coming months, Sokol Underground will likely acquire a new sound board, double its PA and undergo other facility improvements. Still, Leibowitz knows there's only so much lipstick you can put on that pig. He's been trying to open his own club since he rolled back into town from Austin in September '96. He's still looking.


But for those of you who will never be happy with anything but The Cog Factory, here's some news: Leibowitz says it's for rent. Anyone can go down there right now, sign a lease and begin reliving those glory years of no bathrooms and horrible P.A. What are you waiting for? What, you don't want to take the risk? Can't imagine why when there's already a dozen venues struggling to get by in this town.
<Got comments? Post 'em here.>

Update: Finally, here are the numbers... – Feb. 2, 2005, 12:17 p.m.
So here's the scoop. According to Jason at Saddle Creek: I'm Wide Awake, It's Morning clocks in at No. 10 in the Billboard charts with 56,167 scanned during its first week of sales. Digital Ash in a Digital Urn is No. 15 with 45,736 scanned. That's a combined total of 101,903 sold during the first week, which means Aaron at KSU will be receiving a copy of the new Mars Black CD, having guessed the total sales would be 87,650. Congrats, Aaron, and thanks to everyone who entered the contest!
According to Oberst's press agent, Press Here Publicity, Wide Awake and Digital Ash will also land on the following charts:
Independent Album Chart -- #2 and #3 respectively
Alternative Album Chart -- #3 and #4 respectively
BBC Radio 1 Top 40 Indie Albums Chart -- #3 and #5 respectively
BBC Radio 1 Top 40 Albums -- #23 (Wide Awake)
Germany: #21 / #30
Sweden: #15 / #23
Norway: #9 / #15
Austria: #47 / #49
Can the CDs sales continue this momentum? We'll have wait and see. It's a long way to a gold record.
<Got comments? Post 'em here.>

And the winner is...? – Feb. 2, 2005
Don't know yet, but I have a good idea. I'm still waiting for some numbers from Creek, which will be our official source for this experiment. Some numbers are already in from different sources. Hits Daily Double, an industry website, reports that Wide Awake sold 40,784 units, landing it at No. 18 on their chart; while Digital Ash moved 33,849 units, placing it at No. 28 (No. 1 was Kenny Chesney's Be As You Are, with 303,456 units sold). That's a total of 74,633 units combined sales for both Bright Eyes CDs -- not bad, but it seems somewhat light when you consider that there have been reports of widespread sell-outs of the entire first pressing, which could mean sales exceeding 100,000 (I'm told by one source that Creek pressed more copies of Wide than Ash). Also according to Daily Double, Wide Awake was the No. 2 best-selling CD at chainstores Newbury Comics, Virgin, Tower and Dimple (The Documentary by hip-hop act The Game took the top spot). We'll just have to wait and see. Again, if I know by lunch, look for an update after lunch. No feature story this week, but I'm working on two right now: Bettie Serveert and Son, Ambulance. Tomorrow's column asks if Omaha has enough venues or just needs a replacement for The Cog Factory.
<Got comments? Post 'em here.>
Update – Feb. 1, 2005, 12:44 p.m.
Jason from the Creek says they won't have the first week numbers until tomorrow morning. Stay tuned. If this is accurate, than it would appear that Wide Awake only made it to No. 2 on the CMJ chart, while Digital Ash came in at No. 14. CMJ charts are based on combined airplay reports from CMJ's panel of college, commercial and non-commercial radio stations, not sales.
Who won? Mike Park tonight – Feb. 1, 2005
I will be trying to track down the first-week sales numbers for the two Bright Eyes CDs throughout the day. If I get the word this morning, look for an update on this here blog at lunch, with a winner declared. Clever contest-goers waited until the last minute (i.e., yesterday) to enter. I have a feeling all of us who had in a guess in mind last week will be sadly underestimating the final number.
Our friends over at Someday Never are presenting Mike Park tonight at Sokol Underground with Colossal, Jenny Choi, and Youth in Asia. Park is the visionary behind last year's Plea for Peace tour. In some regard, he's known more for his peace-and-hope endeavors than for his music, and I have to admit never hearing his music before, so I went to i-Tunes and listened to some samples -- sounds like Elvis Costello-influenced acoustic ballads, and well-done at that, but hey, you can only glean so much information from a series of 30-second sound clips.
In other news, the Coachella line-up was announced to much huzzahs yesterday. Bright Eyes, along with New Order and Nine Inch Nails, closes out the second night of the Indio, California, festival that's held April 30-May 1. I'll believe the NIN part when I see it. MTV has more info here.
<Got comments? Post 'em here.>
Last day for the BE contest... – Jan. 31, 2005
Last day to get in on the contest to win a Mars Black CD. Just take your best guess at first-week sales of the two new Bright Eyes CDs -- send it to Tim@Lazy-i.com by midnight tonight. I'll try to track down the number sometime tomorrow.
<Got comments? Post 'em here.>
Live Review: Beep Beep, Rogue Wave, Two Gallants – Jan. 29, 2005
I keep getting surprised at these rock shows. Last week it was The Terminals. This week it's Beep Beep. While I admit I've always liked the band's music for its twisted, serial-killer-next-door style and ricochet-twitch delivery, last night's performance took it to a whole 'nuther level.
The last couple times I saw them live, they were probably more disturbing than entertaining. The sonics got lost in themselves and you never really knew what to listen to. Last night they sounded like an entirely different band, thanks to a deeper, bassier mix, a richer texture from Eric Bemberger's guitar and a whip-crack rhythm section that forced itself on the audience like a cheap whore. I didn't even recognize the band for the first three or four songs -- were these songs on the CD? I think Joel Petersen is doing something completely different on bass than I remember from the other shows. The beats were much more defined, and -- shall I say it -- danceable, while Chris Hughes' and Eric's vocals (augmented at times by Joel) were high-drama girl-talk.
Bemberger, with his weird, dinosaur-arm retarded-boy gestures and look-at-me-daddy facial expressions, is downright unnerving -- at one point he tried to lick drummer Mike Sweeney's head. Thankfully, his riffage is enough of a distraction to keep you from calling the cops. Hughes, on the other hand, looks like an angry boy scout acting out in front of a mirror. Even Joel, the most normal of the front-stage triage, comes off strangely angular and exotic.
Their music has shifted noticeably away from its early dissonance to a more well-defined assemblage of method and sound. You can compare them to Devo or Pere Ubu or even Gang of Four around the edges, but it misses the point. No one around here is doing what they do, and certainly no one you'd hear on the radio.
Something tells me that they crossed a threshold last night, and not just because they managed to sell out Sokol Underground. Months and months of touring has somehow pulled the stray threads together, erased all the scribbling outside the lines. Beep Beep has become accessible to more than just the avant-'70s underground music snob who listens out of respect to the post-punk masters. The whole "you have to listen to it five times" disclaimer has flown out the window. Forget it. You either get it or you don't. On first listen. Something tells me more and more people will get it as they hit the road on a brutal North American tour that runs through the second week of March.
Our friends at 1 Percent are keeping their word -- the show began right at 9 p.m. The new time seems to be working because the place was more than half full when I got there and a steady stream of people were coming down the stairs to get in. Two Gallants, a drum-and-guitar duo, opened the show with a set of long, three-quarter-time ballads that married Arlo Guthrie with Janis Joplin (sort of) to create a nasal-esque folk-blues "explosion" that seemed to go on and on. Every tune felt three minutes too long, but I guess the guy had a story to tell.
Next up was Rogue Wave, the headliner that didn't headline. Where was bassist Sonya Westcott? After some wrangling with the sound guy through the first couple of songs, the band settled down to a nice set that sounded like their album, though the mix was much denser and bassier than you'll hear on the disc. I love this style of music when I'm in the mood for it, but I wasn't after Two Gallants' set of jalopy waltzes and knowing that Beep Beep was simmering somewhere, ready to explode. I had a feeling that the band was forced off the stage rather abruptly, that they probably had a two-song encore in their arsenal but skipped it when the lights came up directly after their "last song." They looked confused for a moment, then quickly started to put away their gear.
On tap tonight: Well there's always Shelterbelt with Five Story Fall at The 49'r -- a strange clashing of styles when you consider one's sort of indie while the other is mainstream. It'll be a treat to see how Shelterbelt gets their 8- or 9-piece rock orchestra crushed into the little stage at the Niner.
The Oberst Watch: Get in on the contest and win a Mars Black CD. Just take your best guess at first-week sales of the two new Bright Eyes CDs -- send it to Tim@Lazy-i.com by midnight Monday. I've only received three guesses so far, so your odds are looking mighty good. The latest hype:
-- Oberst's concert live on the Web (Omaha World-Herald) -- NPR will stream tonight's Bright Eyes show live from Washington, D.C., at 8:30 p.m. Go to NPR.org for more info.

-- Bright Eyes hits New York (Newsday) -- A review of the Town Hall shows.

-- Bright Eyes: 'I'm Wide Awake, It's Morning,' 'Digital Ash in a Digital Urn' (St. Louis Post-Dispatch) -- A review of both CDs. Amusing pull-quote: "Oberst's naive, tremulous, occasionally hysterical vocal style can take a bit of getting used to - he sounds somewhat like an over-caffeinated cross between Marc Bolan of T. Rex and Wilco's Jeff Tweedy."
<Got comments? Post 'em here.>

Rogue Wave tonight – Jan. 28, 2005
Tonight's big show: Rogue Wave, Beep Beep and Two Gallants at Sokol Underground. Beep Beep will play last, and I suspect this will be one of the best shows this winter. See you there.
The Oberst Watch: Get in on the contest and win a Mars Black CD. Just take your best guess at first-week sales of the two new Bright Eyes CDs -- send it to Tim@Lazy-i.com by midnight Monday. I've only received a couple guesses so far, so your odds are looking mighty good. A little bird told me that the initial guesses in yesterday's column are gonna be off -- way off -- or could be right on, if we we're talking about sales on the release date alone. This could be a monster. The latest hype:
<Got comments? Post 'em here.>
Column 10... – Jan. 27, 2005
This is sort of an update/rewrite of last week's column that didn't run in The Reader, so you might recognize a phrase or two. Added are comments from Homer's Records' Veep Mike Fratt who's been in this business for a lotta years and brings a unique commercial perspective. Things continue to heat up. Wide Awake is No. 2 on i-Tunes behind Kenny Chesney; Digital Ash is No. 4 behind the Garden State soundtrack. There are reports of the Bright Eyes 7-inch promo of "When the President Talks to God" initially fetching upwards to $40 on e-bay. There are reports of West Coast Best Buy stores selling out of copies of both CDs on Tuesday.
Column 10 -- Guessing Conor's Weight


With the release Tuesday of Bright Eyes' two CDs -- I'm Wide Awake, It's Morning and Digital Ash in a Digital Urn -- some armchair sales analysis seems to be in order. So I called Mike Fratt, vice president of merchandising at Homer's, to get his take on where the releases will wind up on the Billboard sales charts.

My own take is that the tsunami of press -- including articles in Rolling Stone, Newsweek, The New York Times, Entertainment Weekly, Alternative Press, and Time Out New York (my personal favorite) -- will push first-week sales for each CD to around 20,000 each.

Seems I'm the skeptic of the bunch. Saddle Creek Records head honcho Robb Nansel told me he expects first-week sales for the CDs to be between 25,000 and 30,000 each. "I think the (Billboard) No. 40 is about 26,000 these days," he said. Nansel thinks they'll do better on the College Music Journal (CMJ) charts, where they'll likely place No. 1 and 2.

Fratt's more optimistic. "I would say sales will be around 32,000 for I'm Wide Awake... and 29 to 30,000 for Digital Ash," he said. "Ultimately, Wide Awake will be viewed as a classic." Fratt's spies told him Wide Awake was popular with the older crowd at the Jan. 21 Sokol Auditorium show, while Digital Ash sold well with the 18-and-unders. Should his sales estimates prove right, the CDs could easily end up in the Billboard top-40.

"Right now, 100,000 or slightly under is nabbing the top spot," Fratt said. "The chart is soft at the moment, and 25,000 could place you in the top 20 or 25. He could land somewhere in the top-10 and I wouldn't be surprised at No. 4 or 5. And then the hype would be unbelievable."

Top-10 sales could lead to a slot on Saturday Night Live by the end of this season and could subsequently result in a feeding frenzy on other Omaha bands "with two to six bands being picked up by different-sized labels." (Incidentally, I made those same predictions a month ago).

All of this in spite of the fact that Bright Eyes frontman Conor Oberst has decided to retain his soul rather than sell it to Clear Channel. He's waged a one-man war against the multi-national conglomerate that controls the majority of commercial radio stations in this country, and has become a hero for it, in a Fugazi sort of way.

Fratt says Oberst's war with Clear Channel could prevent him from becoming a multi-platinum artist, but he wonders if it really matters to him. "Does he want to be a big artist or a huge artist?" he asked. "It could impact his ability to be huge, but he still could easily make it to gold (500,000 sales) without Clear Channel's assistance at all."

Bright Eyes' last full-length, 2002's Lifted or the Story is in the Soil, Keep Your Ear to the Ground, could beat both new albums to gold since its sales are at around the 200,000 mark (Nansel is quoted in AP as saying Lifted's sales are at 250,000). "What would be the average in terms of sales after the first week?" Fratt asked. "Probably 5,000 to 10,000 per week. You do the math."

It all adds up to a lot of money... for Saddle Creek Records, who in December celebrated Cursive's last full-length, The Ugly Organ, going over the 100,000 sales mark. The Faint's Danse Macabre isn't far behind. Our little local label is slowly turning into a juggernaut. Is that a new Mercedes Benz I see in Robb Nansel's future?

The Oberst Watch: A summary of yesterday's Oberst-related hype:
-- Call Him Supersensitive, He's Crafty Too (New York Times) -- World-famous critic Jon Pareles weighs in with a review of Tuesday's Town Hall appearance. This one's odd in the number of mistakes Pareles makes: He says Wide Awake and Digital Ash are "both on the Team Love label" and goes on to say Oberst is backed by Jason Boesel on drums "from yet another Omaha band, Rilo Kiley." Oops. Only in the New York Times, folks...

-- Eyes Wide Open (Miami New Times) -- a review of both discs. Interesting pull-quote: "Considering the collision of sounds and sentiments, culling the best songs from these two good albums could have produced one immediate masterpiece."
<Got comments? Post 'em here.>
Rogue Wave Interview (and outtakes) – Jan. 26, 2005
The interview/profile with Rogue Wave's Zach Rogue (I wonder if that's his real name?) is online (read it here). Zach, who wrote and recorded the first (and only) Rogue Wave album, talks about how he pulled his band together by placing an ad on an web-based want ads service. Since he's the primary singer-songwriter, I asked why he bothered to form a permanent band when he could hire rotating musicians for tours. That idea didn't appeal to him. "That could change, though, if we start hating each other," he said jokingly. "I like to feel that the people I play with are on the same page with me and share the same goals. The bands that I've always been drawn to are the ones with a real sense of togetherness -- the democracy of R.E.M., for example, when Bill Barry had that aneurysm, asking if the band should even continue. That's a powerful statement. The fact is, you're only as good as your parts, and I like relying on others." Another part of the interview that didn't make it into the final story is his take on sports. We spent the first 10 minutes or so talking baseball and football; Rogue is an avid baseball fan and goes to a lot of Oakland A's games. His idea for punishing players like Randy Moss and T.O. when they cross the line: "The penalty shouldn't be financial," he said. "Those guys should be forced to get a real job for a year, a crappy desk job, and see how everyone else lives their lives." It certainly would make for a lively office.
The Oberst Watch: Get in on the contest and win a Mars Black CD. Just take your best guess at first-week sales of the two new Bright Eyes CDs -- send it to Tim@Lazy-i.com by midnight Monday. I've only received a couple guesses so far, so your odds are looking mighty good. A glance at Amazon.com's top-seller's list shows that I'm Wide Awake is No. 1, while Digital Ash is at No. 6. Today's Oberst-related hype:
-- Morning of a new era: Oberst awakens new classic (Chicago Maroon) -- a review of Wide Awake. Amusing pull-quote: "Not bad for a 24 year-old kid from Nebraska. I'll bet that old Bob Dylan never got a mention on The O.C."

-- Near self-parody, Oberst sprinkles Ash with too much tech, not enough soul (Chicago Maroon) -- a pan of Digital Ash. Amusing pull-quote: "I'm Wide Awake, It's Morning, will surely overshadow its evil twin, a dense, claustrophobic album seemingly produced by malevolent robots in some dank cave."

-- Grooves (San Francisco Bay Guardian) -- reviews of both CDs (you'll have to scroll down). Amusing pull-quote: On Wide Awake, it's "all lovely and ready-made for a swing-states tour with Bruce Springsteen and flirting with self-important signifiers that scream, 'Important, authentic statement coming in on runway two, straight from the really real world of Omaha, Neb.'"
<Got comments? Post 'em here.>
The big drop; Guess-the-sales contest; The Oberst Watch – Jan. 25, 2005
No update yesterday as I spent the morning writing a feature on Bay Area band Rogue Wave that'll go online tomorrow morning. They're opening for Beep Beep Friday night, though talking to Zach Rogue, I don't think they realized they were "opening," as he said this was his band's first "headlining" tour (they're traveling with Two Gallants).
And over lunch yesterday, I put together this week's column -- a speculative view of how well the two Bright Eyes releases will sell their first week -- the CDs officially drop today. Adding his perspective is Homer's Record's VP Mike Fratt. Look for that column online Thursday. If you want to take part in the fun, drop me an e-mail with your guess on each CD's first-week sales -- send it to Tim@Lazy-i.com. I'll give the person who comes closest to the actual sales number a copy of the new Mars Black CD (their press agent sent me two copies). Your guess has to be in by midnight next Monday.
That said, the Oberst hype machine continues to run full blast, and today's edition of The Oberst Watch includes the following headlines (linked to their respective stories, though they can be somewhat finicky. If it 404s, retry it):
<Got comments? Post 'em here.>

Live Review: Zyklon Bees, The Street Urchins… – Jan. 23, 2005
I have a headache from two nights in a row, so I'll be briefer than usual. Around 75 were at Sokol Underground last night for the Zyklon Bees' CD release show that also featured The Street Urchins and Bombardment Society. I missed Bombardment (looks like 1 Percent is holding true to their word by starting shows at the stroke of 9). The Street Urchins played the same blend of glam/arena/punk rock they've become known for (and that I love, see the Nov. 14, 2004 blog entry), but were somewhat tamed by a larger stage and sparser crowd. The music had the same riffage and bombast, but not the same energy that I saw at their last 49'r show where they fed off a crowd that was practically on top of them. Here's a band that only gets better from the chaos of a packed house. Now they need to figure out how to create that chaos in larger room.
I've never seen the Zyklon Bees before, but I've enjoyed their recorded music for more than its faithfulness to its '60s garage roots. Fronted by The Terminals' John Ziegler, the four-piece includes Jillian Meyer on bass/vocals, Calvin Retwlaff on drums and guitarist Nick Waggoner. I thought, live, they sounded more restrained and laid-back than on CD (it's usually the other way around). Ziegler's voice borders on monotone at times, but it does what it needs to do, while the rhythm section seemed to putter along. Their stripped-down compositions don't leave much for Retwlaff to do beyond pound out a rather flat backbeat. But here's the part I can't figure out. I just read The Daily Nebraskan story on the band, I looked on their website and the Speed! Nebraska site as well, and I've yet to find a mention of Wagonner's age. Maybe people are afraid to discuss it, but it was the first thing that hits you when you see them on stage -- he looks like he couldn't be more than 15. With his flip haircut and Raybans he looks like one of those Brady kids, with stage antics like a pint-sized version of Matt Whipkey. Wagonner was the life of the party, bouncing around on stage, hamming it up in the spotlight, jumping off the drumset and once even wandering into the crowd. He reminds me (and others I spoke with) of a young Thurston Moore. His guitar work was somewhat raw and unchallenging (I'm not sure what he was trying to do with the guitar-slide on the set closer), but there were times when he ripped into some nasty solos that would force a smile on anyone's face... an amazing talent.
Tonight's hot show is Hem at Mick's with David Mead, Dawn Landes and Goodbye Sunday. I'm told it's nearly sold out. I'm gonna miss this one, exhausted by a day of playoff football and an already long weekend of shows, but it should be a mad house.
<Got comments? Post 'em here.>

Live Review: The Terminals, The Lepers; Zyklon Bees, Street Urchins tonight – Jan. 22, 2005
The Terminals that I saw last night only vaguely resembled The Terminals I saw play at O'Leaver's last April. That old version of The Terminals were okay in a retro-'60s garage band sort of way, but seemed uncertain and less than confident with their material. They were, to put it simply, a nice band.
Last night's version of The Terminals resembled four sweaty, angry punk rockers deadset on killing somebody before the end of the night. And they did. They killed the 50 or so pushed up against the stage who couldn't take their eyes or ears off this band. After watching last night's set, I'm ready to declare them one of the top three live bands in Omaha. Their lilting, sunshine '60s tone has been replaced by razor-sharp, East Coast, blackshirt garage chords, snarling, angry vocals and a double-helping of Lower East Side attitude.
The line-up is the same: The wife-and-husband team of Liz and Brooks Hitt on guitar and drums, lead guitarist John Ziegler and Dave Goldberg on keyboards. All share vocals (though the Hitts, especially Liz, take center stage) and switch instruments once or twice late in the set. Whereas the vast majority of women vocalists in this market sound like Lilith Fair cheese factories, Liz Hitt is the real deal -- straight-up, raw and confident, no woman has fronted an angry rock band like her since Heidi Ore. Her voice is big and brassy enough to cut through all the gritty filth that surrounds her without losing an ounce of sex appeal -- yeah, she's hot. Shaggy husband Brooks recalls vocalists from the trash '60s era (Them, Yardbirds, Pretty Things), while Goldberg is Goldberg, the guy we fondly remember from The Carsinogents, albeit that much more intense.
Together, their style is a loud and brawling bar punk straight out of classic CBGB's but all moderned up -- think Dolls, Lovers, Fingers propped up on X and The Pixies. In addition to using sheer force, their secret weapon is changing up -- on vocals, on instruments and most importantly, on pace and style. This isn't 35 minutes of the same 4/4 knuckle-buster punk chords -- the band throws curve balls in the form of more subtle retro sounds that push closer to R&B than punk. During one change up, when Goldberg switched instruments with Ziegler, we got a helping of pure raindrops drive-in rock -- the guy next to me said they sounded like The Crystals.
The biggest contrast from April was the band's balance -- no one instrument dominates. Back then, the highlight was when Goldberg took over the drum kit. Not last night. Though he brought a different style on the sticks, it was only different, not necessarily better.
After their set, I told a sweaty Goldberg that the band was completely different than the one I saw last year. He swears they're the same people playing the same songs, but with a little more grit -- true, if you're talking about enough grit to fill a grave pit.
The Lepers were in good form, though they're going to have to realize that their dark, tonal music will never appeal to as wide an audience as a band like The Terminals. Guitarist/vocalist Owen Cleasby has never been in better voice, and drummer Ken Brock only gets better. But for the first time during one of their sets, I wondered how much depth they could add to their music's foreboding if they added a bass player to the mix. Stand by.
Tonight I'll be at Sokol Underground to catch the other incarnation of Dave Goldberg as he sits behind the kit with The Street Urchins. It's rock pomp and circumstance that you shouldn't miss.
<Got comments? Post 'em here.>

The Dave Goldberg Weekend Extravaganza! (with addendum) – Jan. 21, 2005
It all starts tonight when Omaha's hardest working musician, Dave Goldberg (formerly of notable bands Full Blown and The Carsinogents), takes a seat behind the keyboards with his band The Thermals The Terminals at O'Leaver's (also on that bill, The Bad Sects and The Lepers). Before The Thermals Terminals leave the stage, Goldberg will pick up the sticks to give everyone a taste of what's going on tomorrow night. Also tonight, The Forms, Race for Titles, Coast of Nebraska and Riddle of Steel at Sokol Underground.
Then tomorrow night down at Sokol Underground, Goldberg slaps on the make-up with the rest of The Street Urchins and spends the night playing glam punk meets '70s arena rock (as in KISS) done up by a band that should be playing at The Roxy or The Troubadour moreso than CBs or Max's KC -- Sunset Strip Hollywood glam meets NY Dolls pomp. You will become a believer. The Urchins are opening for The Zyklon Bees Speed! Nebraska CD release show that also features The Omens. Meanwhile, across town, another former member of The Carsinogents (Marc Phillips) launches his new project, The Philharmonic, at The 49'r with The Miscasts.
And for those of you wondering how people outside of Omaha view our fair city, check out this ultra-flattering description that leads off this Bright Eyes profile that appeared in the Phoenix paper The Providence. Providence, RI, paper The Phoenix. Nice. Don't get me started on my description of Phoenix Providence... But wait! I've never been to Phoenix Providence. It wouldn't be right to describe some place I've never been to. Didn't seem to stop this writer, though. There's not too many strip-malls around where I live. I imagine there's no strip malls at all in Phoenix Providence, right? ... ah, but that would be speculation.
ADDENDUM: As you can see by the many strikethroughs, I shouldn't over-rush to get something online before I go to work. I have no defense for calling The Terminals "The Thermals" except for old eyes. The Providence/Phoenix screw-up is partially due to the design of their web site (and old eyes).
<Got comments? Post 'em here.>

Column 9, sort of...; Austin Britton at O'Leaver's? – Jan. 20, 2005
This week's column didn't run in The Reader -- it was cut for space along with a good deal of the music section. They want to run it next week, but it won't make sense in its current form, and will likely have to be severely adapted. So you get the original version here, and I'll post any new bits next week as an addendum to this one.
In the News, On the Charts?
Despite strong national press, Bright Eyes' two releases will be lucky to break into the top-40.



Just as the city's indie music scene began recovering from Bright Eyes' sold-out performance at Sokol Auditorium last Friday night, national press attention on frontman Conor Oberst began crashing onto the newsstands like a tsunami preceding the band's duo releases next Tuesday.

First and foremost was the Rolling Stone article in the Jan. 27 issue -- the one with Gwen Stefani on the cover looking like a porn star in her unzipped hoodie and bra; the one with the tagline "Rock's Boy Genius Bright Eyes' Conor Oberst." In the feature "King of Indie Rock," we get a glowing image of Conor throwing back a few cold ones at Mr. Toads over the holidays (He apparently had time to meet with Rolling Stone while he was in town, even if he didn't have time for Lazy-i). "It's a lot different out here," Oberst says, putting some mock twang into his voice. "Things don't move as quick." They shore don't, Conor. Later in the same issue, Stone gives I'm Wide Awake, It's Morning a 4-star review, saying its songs are "the most intense he's ever written, one instant classic after another."



Then there's the piece in Sunday's New York Times by east coast Saddle Creek cheerleader Kelefa Sanneh. Titled "Mr. Sincerity Tries a New Trick," the 2,100-word tome calls Wide Awake "…an addictive illusion, and when he gets the recipe right, the results are both astonishing and slightly disorienting." Included in the online edition: a photo of Oberst slouching on a dirty blue couch, crap strategically placed at his feet to give the illusion of a poverty-like Lower East Side existence.



The Jan. 17 issue of Newsweek observed that Bright Eyes "inspires one of two emotions among indie-rock fans: reverence or disdain. There's no middle ground on the guy." It then goes on to say each song on Wide Awake "is like a complete thought, with nothing more, or less, than necessary."



But mixed in with all the roses tossed at Oberst's feet are small bits of fertilizer in the form of gentle digs at Digital Ash in a Digital Urn, the other CD being released next Tuesday. The consensus: it's a failed experiment that pales next to Wide Awake. Rolling Stone only gave it three stars.



The once-respected Alternative Press, however, didn't discriminate between the two CDs. In addition to their obligatory Oberst profile -- this one set in a Lower East Side tavern -- they give both Wide Awake and Digital Ash 5-out-of-5 ratings.



Finally, there's NPR -- National Public Radio -- the hotspot for intelligent liberal discourse on your FM dial. Melissa Block on NPR show All Things Considered spoke with Oberst about making the records and how much he loves living in New York (and how restless he is in Omaha). Meanwhile, three critics gushed with praise during the All Things Considered 2005 Music Preview.



NPR is the only place you'll be hearing Oberst on the radio, other than on low-wattage college stations. And there's the rub. Because despite a mountain of press the size of which you'd expect for Eminem or Usher, both Bright Eyes CDs will be lucky to break the Billboard top-40 charts next week.



Why? Because Oberst has decided to retain his soul rather than sell it to Clear Channel. He's waged a one-man war against the multi-national conglomerate that controls the majority of commercial radio stations in this country, and has become a hero for it, in a Fugazi sort of way. Without radio, Bright Eyes will remain anonymous to most people you know.



Saddle Creek Records head honcho Robb Nansel says he expects first-week sales for both CDs to be between 25,000 and 30,000 each. "I think the (Billboard) No. 40 is about 26,000 these days," he said. Contrast that with the debut album by R&B singer John Legend, which entered the Billboard charts at No. 7, with sales of 115,656 -- about what Bright Eyes' last full-length, 2002's Lifted or the Story is in the Soil, Keep Your Ear to the Ground, sold in a year.



Still, 30,000 for the first week for each CD would be a huge accomplishment for Saddle Creek. Is it enough to top the College Music Journal (CMJ) charts? "Hopefully," Nansel said. "We'll see."
According to Someday Never, there's a show at O'Leaver's tonight with Austin Britton (Kite Pilot), Carter Tantor and Adam Weaver, but I can't verify that info because www.oleavers.com doesn't show any January dates. Go at your own risk. The worst thing that could happen is that you'd get drunk watching NCAA basketball.
<Got comments? Post 'em here.>
And the Winners Are… – Jan. 18, 2005
Thanks to the multitude of people who entered the Lazy-i Best of 2004 CD giveaway. Just like every year, a highly scientific method was used to select the five winners -- numbers were written on torn pieces of paper, then placed into an orange Captiva Island baseball cap. Each number corresponded with an entry. Blind-folded, five slips of paper were carefully drawn from the hat and announced live on The Today Show by funnyman Al Roker. Without further ado, this year's winners are:

Thomas Asewicz, Conway, AR
Scott Powers, Lincoln, NE
Sarah DeWitt, Chevy Chase, MD
Sarah Tabelski, Buffalo, NY
Christel Loar, Eugene, OR
Your CDs will be dropped in the mail tomorrow. Congratulations, winners!.
<Got comments? Post 'em here.>
Last Day… – Jan. 17, 2005

I'll make this short and sweet: Today is the deadline if you wanna get in on the Lazy-i Best of 2004 CD Compilation giveaway. All you have to do is e-mail me (tim@lazy-i.com) with your name and mailing address by midnight tonight and you'll be entered into the drawing. Tracks include songs by Now It's Overhead, The Faint, American Music Club, Arcade Fire, Kite Pilot, Rogue Wave, Willy Mason, Ambulance Ltd, The Good Life, Son, Ambulance, Bright Eyes, Danger Mouse, Her Space Holiday, Kings of Convenience and more. Details and track order, are right here. I've already distributed a number of copies to my many music associates who have asked for additional copies and been told that the remaining few are reserved for contest winners -- which means you... if you're lucky. I'll be announcing the winning names in tomorrow's blog entry -- then deleting the contest entries forever. Don't miss out on this chance to win a valuable collector's item that is destined to be a sought-after memento of the mid-'00s Omaha music scene.
And if you didn't check out Lazy-i this weekend, scroll down an enjoy. It's been a busy couple days...
<Got comments? Post 'em here.>
Live Review: SDN birthday bash with Ladyfinger and friends… – Jan. 16, 2005
Well, Ladyfinger delivered as advertised. The guitars are still ringing in my ears. I was reminded of Ritual Device and The Jesus Lizard, heavy bands from the mid-'90s powered by dark, monumental riffs. Tim Moss used to call it "gutter groove," and that pretty much sums it up. I like the fact that they can find that groove and exploit it to full effect -- their insidious melodies tucked between the twin-guitar attack set them apart from the run-of-the-mill screamo/metal bands. That, and a precise white-knuckle rhythm section that features one of the most buoyantly brutal drummers currently working in this town. Chris Machmuller's vocals are more than screams, they actually convey music. I'm told the addition of Jamie Massey as a second guitarist is also making a difference -- I can't say because this is the first time I've heard these guys. Two or three of the songs were remarkably strong, a couple toward the middle of the set were less interesting but still rocked. Don't ask me what they're about; Machmuller (sometimes joined by Jones on vocals) wasn't going out of his way to convey a message. We'll wait for the recordings for that analysis. Rumor has it that a major local label was sniffing around these guys, along with an important West Coast label. If they get back in the studio (there's a couple older tracks on their Myspace site that only give a hint of what they could sound like on CD), and if they hit the road, it's only a matter of time.
Last night's festivities were billed as the Someday Never anniversary party, and also featured Mr. 1986 (I missed them), Rent Money Big (I only saw their last two helpings of chaos, but they seemed tighter than the last time, albeit just as abrasive) and Bombardment Society (always-scorching-hot noise-punk). Joe Someday had to be pleased with the 126 draw on a cold, cold Saturday night.
Keep your eye on the Reviews Matrix as more and more comments about '04 releases go up on a daily basis.
<Got comments? Post 'em here.>

Live Review: Bright Eyes; Tonight: Ladyfinger at Sokol; BLC at The Niner – Jan. 15, 2005
The most notable thing about last night's Bright Eyes show was the lack of drama. No smashed guitars. No drunken hi-jinx. No shouting "me me me me me." Just Conor Oberst and his band playing in front of a sold-out crowd of fans come to see their local hero save the day.
Conor is now so slick with his performance, so rehearsed. There were no characteristic flubs like in the old days, no miscues. He and his band pretty much ran through the set list by-the-numbers, with Conor standing center stage, guitar in hand, making dedications between songs (including one to his mother). As horrible as this sounds, seeing Conor when he's having a bad night is 10 times more entertaining than seeing him perform a flawless set. It's like watching a car race without a wreck.
I credit his lack of consumption -- missing was the usual jug of wine. I only saw him drink water and Rolling Rock. Somewhere along the way he must have come to the realization that he'll never make it through this tour -- which includes stints of 13 straight nights of performances -- nursing brutal hangovers. Last night we saw the new, improved and thoroughly professional Conor Oberst, and it was kind of boring. Look, if you're a huge fan and you've never seen him before, you were on Cloud 9. But if you've seen him a dozen times, you were likely chatting with friends in the room adjacent to the ballroom during the set.
As expected, he played mostly tunes off I'm Wide Awake, It's Morning, the highlights of which were rousing versions of "Landlocked Blues" and closer "Road to Joy." There were a couple old tunes mixed in there as well. The band was Mike Mogis on a variety of stringed instruments, Alex McManus on guitar, Rilo Kiley's Jason Boesel on drums, The Good Life's Steph Drootin on bass, Nick White on keyboards and secret weapon Nate Walcott on trumpet. All sounded very professional, though they seemed slightly detached from our hero most of the evening.
I missed the openers. I was told Tilly put on their usual entertaining show, but that CocoRosie was almost unlistenable -- a dissonant, tuneless affair that included a guy who came out and did a rap halfway through the set. Sorry I missed that. By the time I got there at around 10, Bright Eyes had just started. It was so packed that unless you got there early you weren't going to get anywhere near the stage or even be able to see the band. I edged around all night, from either side, in back next to the sound board and up in the balcony. I thought the sound was somewhat abrasive from every vantage point -- the mix had both too much high-end and too much bass. All's they had to do was drop all the levels a notch and it would have helped. The staging was straight-forward, just like the rest of the performance. I suspect that when Bright Eyes comes back this summer backed by The Faint that we'll be in for a more entertaining evening. Maybe by then Conor will have fallen off the wagon.
Tonight is the Someday Never "birthday bash" at Sokol Underground featuring Omaha's latest "It" band Ladyfinger, along with Rent Money Big, Mr. 1986 and Bombardment Society. If that doesn't wet your whistle, grit-rock band Bad Luck Charm makes a rare appearance tonight at The 49'r. Looks like our winter rockshow draught is finally over.

<Got comments? Post 'em here.>

The King of Indie Rock tonight – Jan. 14, 2005
Bright Eyes tonight in the frigid, frigid cold. And just in time for the coronation. Our boy Conor was ordained "The King of Indie Rock" here in Rolling Stone online yesterday (I assume the story will also appear in the printed version, eventually). Looks like he had plenty of time to meet with the Rolling Stone boys while he was in Omaha (even if he didn't have time for me). Hey, come on, we're talking Rolling-friggin'-Stone here! Those guys don't do phoners.
Sokol Auditorium needs a coat room. Nothing sucks more than having to wear a parka to the show because it's 2 below, then walking into Sokol Auditorium where it's steaming hot and then having to carry your coat around all night. I guess you could tough it out and make a mad dash from your car to the door, if there's no line to wait in (and there won't be at 10, when I get there). Opening acts are CocoRosie and Tilly and the Wall. I've seen Tilly's tap-dance schtick a half-dozen times, and that's enough, thanks. I listened to a couple CocoRosie songs online and they remind me of Azure Ray without the harmonies. It's an 8 o'clock show (and 1 Percent insists that all shows will start on time in 2005), so I expect Bright Eyes to hit the stage sometime around 10 or 10:30. Someone told me they've been doing rehearsals and set-up at Sokol for the past two days -- I'm not sure why, since Bright Eyes' shows are usually fairly low-tech affairs. Are we in for a big surprise tonight? Look for a full report here tomorrow morning...
<Got comments? Post 'em here.>
Catching up with Doug Van Sloun – Jan. 13, 2005
I first met Doug Van Sloun back in August of 2003 when he painstakingly explained the process of audio mastering (read that story here). If you look at the liner notes of just about any quality local recording you're likely to fine Doug's name. And with the success of Saddle Creek Records, Doug and Studio B have attracted more and more national bands knocking on their door looking for mastering from this master engineer. So anyway, here's column 8, a brief chat with Doug about the projects he's been working on and will be working on in the coming months...
Forecasts from the Master

Every once in a while I like to touch base with Doug Van Sloun, an audio engineer who has mastered some of the area's best recordings out at Studio B, a facility he runs with partner Clete Baker. Van Sloun has worked his magic on almost all of Saddle Creek Records' best CDs (including Bright Eyes, Cursive and The Faint), as well as recordings by bands such as The Monroes, Race for Titles, Statistics, For Against, Broken Spindles, the list goes on and on.

On the day of our interview, Van Sloun was about to begin mastering the new solo CD by Azure Ray's Maria Taylor, recorded by Presto! Studio's Mike and A.J. Mogis, and Now It's Overhead's Andy LeMaster. What else has Van Sloun either mastered or will be mastering soon that'll be on the record store shelves in the coming months?

-- Omaha indie band Neva Dinova's upcoming full-length was just remastered by Van Sloun after first being mastered -- at the request of the their label -- by a studio in Hollywood. "They ruined it," Van Sloun said. Neva Dinova frontman Jake Bellows refused to allow the CD to be released in its original mastered form, so Van Sloun was brought in to remaster the recording. "I listened to the Hollywood version after I was done and was shocked at the quality," he said.

-- On the flip side, Rilo Kiley dumped Van Sloun's master of their latest album, More Adventurous, and had the recording remastered out in Los Angeles by a studio affiliated with Warner Bros. Van Sloun said the biggest difference between the two masters was in the levels. "Everything was noticeably louder," he said -- reflecting a common mastering trend with major label releases. Regardless, More Adventurous was one of Van Sloun's favorite releases in '04.

-- Two so-called "lost" Frontier Trust and Mercy Rule songs have been found and will soon grace the vinyl surface of a split 7-inch to be released by Speed! Nebraska Records.

-- Local singer-songwriter Chris Saub, a former member of the band Someday Mission, just recorded some new material with Van Sloun that was mixed by Presto's A.J. Mogis. Look for both a Saub solo CD and a collection recorded as a three-piece in the coming months.

-- Hip-hop artists Buck Bowen and Mars Black both recently had recordings mastered by Van Sloun. Bowen's tracks, recorded in his bedroom, uses only samples and vocals -- no instruments. "He's got a good head on his shoulders in terms of how he uses sounds and beats," Van Sloun said, saying the lyrics include some "fart-joke type humor." Mars Black's CD, on the other hand, doesn't have many fart jokes, and is typical middle-of-the-road hip-hop, he said.

-- A full-length CD by Chicago-based singer-songwriter Andrew Morgan released in the UK last year was remastered by Van Sloun for release in the states. Morgan writes acoustic ballads in an Elliott Smith style, and uses a bevy of acoustic instruments, from upright bass to cello.

-- A CD by New York singer-songwriter Jonathan Rice that was recorded more than a year ago by Mike Mogis will finally see the light of day. Rilo Kiley's Jenny Lewis and Jason Boesel both contributed to the recording, slated for release on Reprise in the coming months.

-- Former Omahan now Austin resident Andy Smith has a new recording slated for mastering at Studio B in the coming weeks. Smith, who recently played a gig at Mick's in Benson, used to be a regular at acoustic nights at the now-defunct Music Box.

-- Look for a new release by Omaha metal band Contusion. Van Sloun said the recording was "big, noisy, intense, Slayer-influenced hard core metal." Hey, what more could you ask for? How about a new recording by infamous local metal giants Blood Cow? Van Sloun said watch for it in the near future.

-- Illinois bands have been pounding on the Studio B doors. Look for recordings by Peoria pop-punkers The Forecast and Chicago's The Narrator.

-- And talk about obscure, Van Sloun said he just completed mastering a collection of Native American hip-hop by an artist named Native Era. "The recording is more hip-hop than Native American," he said, though the subject matter comes straight off the reservation.

Last time we talked, Van Sloun said the biggest mastering trend was studios pushing levels to ridiculous extremes, making CDs sound louder but less dynamic. A new trend could be the creation of special "i-Tunes" masters, designed specifically for downloading on i-Tunes. "A lot of Saddle Creek recordings, for example, do a lot with fading and negative space toward the end of tracks, which makes it hard to find a song's start and finish." That could make for some awkward-sounding recordings for listeners who only download individual tracks. An i-Tunes master would take those single-song downloaders into account, creating a more cohesive single-song format.
<Got comments? Post 'em here.>

Bright Eyes interview and a couple leftovers... – Jan. 12, 2005
The massive Bright Eyes story just went online (read it here). Conor talks about the media, Omaha, New York, politics, Vote for Change, Springsteen, the making of the new CDs, Emmylou Harris, the live show, Desaparecidos, Team Love, Saddle Creek, M. Ward, Tilly, and more. It's also the cover story in today's issue of The Reader, on newsstands now.
I left out very little from our interview, except for the usual back-and-forth about what his lyrics mean. I asked about "Lua," my favorite song off I'm Wide Awake, It's Morning. I told him I enjoy his songs that are almost journalistic in tone, the ones that tell a story. I said I had to believe that it was based on his real life, that I'd been told by members of other Creek bands that, regardless of what anyone says, Conor's songs are really autobiographical. "To me, it doesn't matter," Oberst replied. "I write a lot about my life, my friends... anything to me is fair game. Anything I absorb from the world comes back through the songs. It seems unnecessary to nitpick their meaning, who the pronouns correspond to is beside the point."
I asked if he ever thought about doing some other kind of writing, maybe fiction or poetry. "I've taken some swings at other writing," he said. "It's